Last night, news broke that all bars and other entertainment venues will be closed from March 26 to April 30 as Singapore fights to flatten the curve. Our hearts are with the local bar industry in these trying times. Some of your favourite joints may still be open for lunch, dinner, takeouts and deliveries (check out their social media pages), so let's support them in any way we can, while we can.
As such, our booze column — also our last until the bars reopen — is looking a little bit different this week, because, well, we do need a drink or two more than ever. In place of the usual cocktails in a glass, our list below includes a recently-released Macallan, bottled cocktails from a cool local brand, and even non-alcoholic alternatives if you're doing a Dry April.
Macallan Concept Number 2
We're lucky enough to get our hands on this beaut recently for a taste test. The second release in the distillery's Concept Series, Number 2 is The Macallan Whisky Maker Steven Bremner's love letter to his greatest passions: single malt (obviously) and music. The two, according to Bremner, are (unexpectedly) similar. "The layering of sounds (is) just like the layering of different flavours from specific cask types." Like most Macallans, this firewater is fairly easy to drink. Aged in sherry-seasoned American oak casks, it has a creamy, spicy mouthfeel with sweet notes of vanilla, citrus, and toffee. Pretty delightful, if you ask us. The not-so-great news is that it's only available at DFS Duty Free Stores at the airport. The good news is you can still get it shipped from online liquor store Master of Malt. For more top-notch whisky, pop into The Macallan Singapore Online Boutique.
Sunday Punch
Yes, you can get your cocktails delivered. This modest local "online bar" offers pre-made tipples that you just need to pour over ice. Even better, these small-batch drinks are designed to keep well. Each wax-sealed, 500ml bottle serves about eight to ten glasses, and flavours include a pineapple-lemongrass G&T called #88, a pandan gimlet, and a citrusy-herbaceous vodka-based concoction (look for Citrus & Herb) that goes well with steak. Even if you have a well-stocked bar, Sunday Punches' blends of happiness will save you on lazy days.
Lyre's
Are you sober curious? Wait, what is 'sober curious', you ask? It's a term for modern-day teetotalers who are ready to dry out entirely, or interested in cutting back on their alcohol consumption. If that sounds like you, you'll be most pleased to know that award-winning non-alcoholic spirit specialist Lyre's (pronounced 'liar'; pun not intended) will soon have its bottles stocked on the shelves of Market Place and select Cold Storage supermarkets from April. The full range, which is larger than most of its competitors like Curious Elixirs and Seedlip, consists of Dry London Spirit, White Cane Spirit, American Malt, Italian Orange, Aperitif Rosso, Coffee Originale, Spiced Cane Spirit, Amaretti, Aperitif Dry, Dark Cane Spirit, Orange Sec, Absinthe and Italian Spritz. No prizes for guessing what each one supposedly mimics. Now, we wouldn't go that far to say that they taste just like the real thing, but the Italian Spritz does come pretty damn close to the Aperol.
Bars A to Z
Need more drink ideas? Scroll down our A to Z list below for our previous recommendations!
1880
What to drink: My Damn Croissants
That's right. Croissant. In a cocktail. I know — eggs, butter, flour, and sugar don't exactly sound delectable in a drink. But strangely, this pastry-inspired concoction by 1880 works, mainly because it doesn't taste like a liquefied croissant. There's a hint of butter from the croissant-inspired syrup if you pay attention, but the drink, with clean-tasting Tanqueray gin as its base, is more tart than sweet thanks to champagne and green verjus — the latter is basically juice from highly acidic, low-sugar green grapes. And speaking of grape juice, 1880's terrace has also been transformed into a gorgeous garden bar serving Nyetimber's sparkling wines, specifically the brand's award-winning classic cuvee and rosé, in case you're in the mood for more bubbles. But it's not going to be around forever; make the trip before the pop-up ends on 31 March.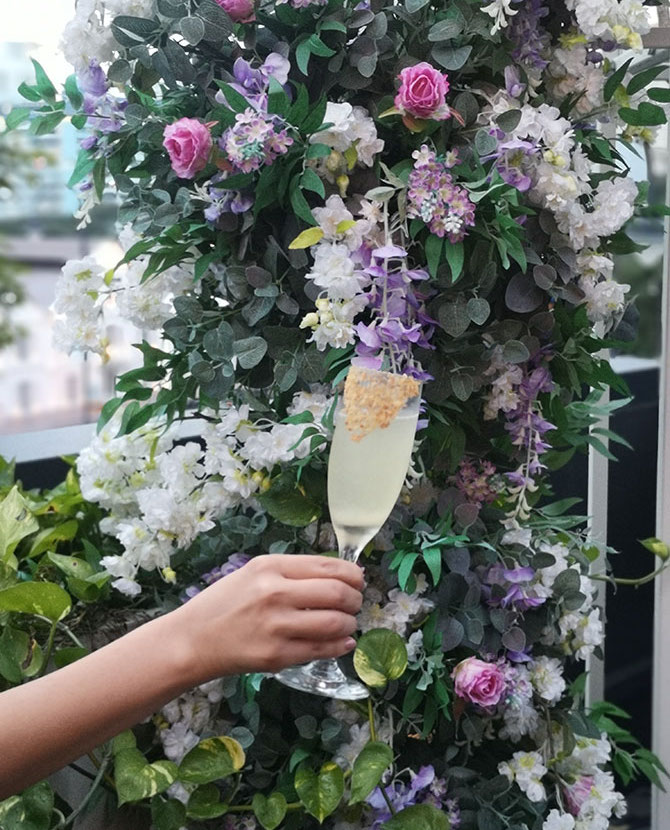 Anti:dote
What to drink: Chicha Morada
If you've been to Peru, you must have come across this dark, purple-black concoction that looks like it's best served during Halloween. The chica morada is an ancient relic, made from first boiling purple corn, pineapple rind, cinnamon, and cloves, then adding lime juice and sugar before serving chilled. For it to survive a crazy-long time (there is supposedly archaeological evidence of its consumption during the Incan Empire in 3,000-2500 BC), this elixir obviously has great health benefits: it is rich in antioxidants, has anti-inflammatory capabilities, and is said to reduce your cancer risk. So, the next time you're at Anti:dote, treat yourself to this boozed-up tonic. Here, it's stripped down to its core ingredients — sugar and purple corn — and boozed up with Barsol pisco, which gives the soft-buttery flavour profile of maize an earthy, slightly chocolatey finish.
Atlas Bar
What to drink: Art & Influence
Some F&B establishments reek of the Gatsby remake. None nails that no-expense-spared, slick twenties glamour like Atlas: soaring muralled ceilings, lots of brass, leather and velvet. It's not all theatre – the drinks are a serious throwback to the Art Deco era. Titled Interbellum, in reference to the period between the two World Wars, the mind-boggling, 25-page cocktail menu is divided into five chapters, each featuring libations inspired by a significant moment during the interwar years. With a drinks list this extensive, there's something for every mood, but if you're feeling cautious on a school night for some reason, I suggest going for or starting the night with the Art & Influence. It's a luscious, low-ABV milk punch made with white rum, ruby port, and coconut milk, then accented with tea, honey and lemon to give the drink a tangy kick. You may not realise you've hit the bottom of the glass. How did we get there? Can we have another?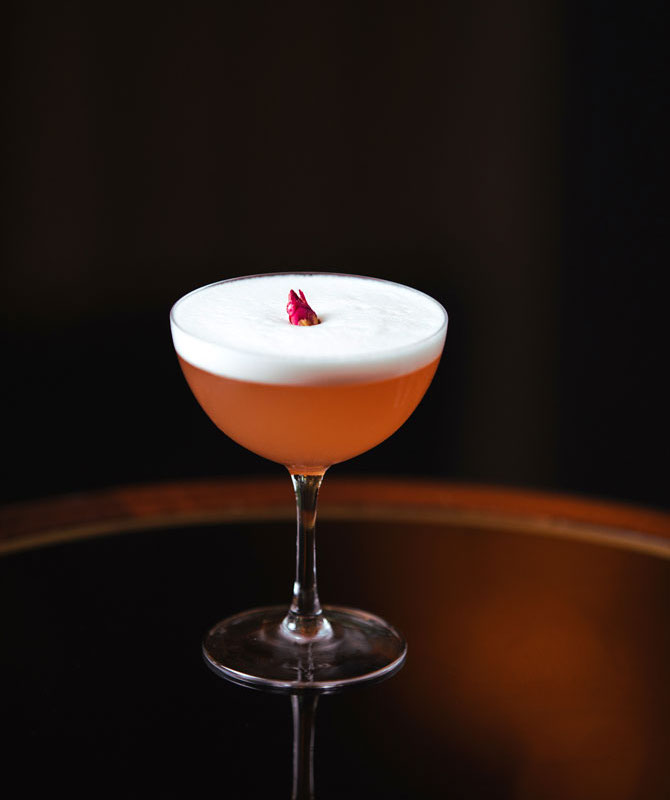 Aura
What to drink: Coco-Nuts
The description on the menu reads: "Creamy rum and mango colada with a spiced fruity kick". You're probably thinking it's going to be frosty, and sugary, and coconut-y. Wrong. The tipple looks and tastes nothing like a pina colada — sorry to disappoint — but more like a daiquiri that'll still make you want to dance to tropical island rhythms, thanks to its mouth-puckering frothy top and spicy, fruity tanginess. Made with coconut fat-washed Martinique rum, spiced mango, spiced passionfruit, and lemon, the drink isn't as rich and "fun" as its name may suggest, but it will light up your palate (and, hopefully, your heart) with all those citrus goodness. Best time to hit the bar? Between 5pm to 8pm for stunning sunset views and selected cocktails for $10++. And oh, it's a good idea to order the wonderful Italian cheese board.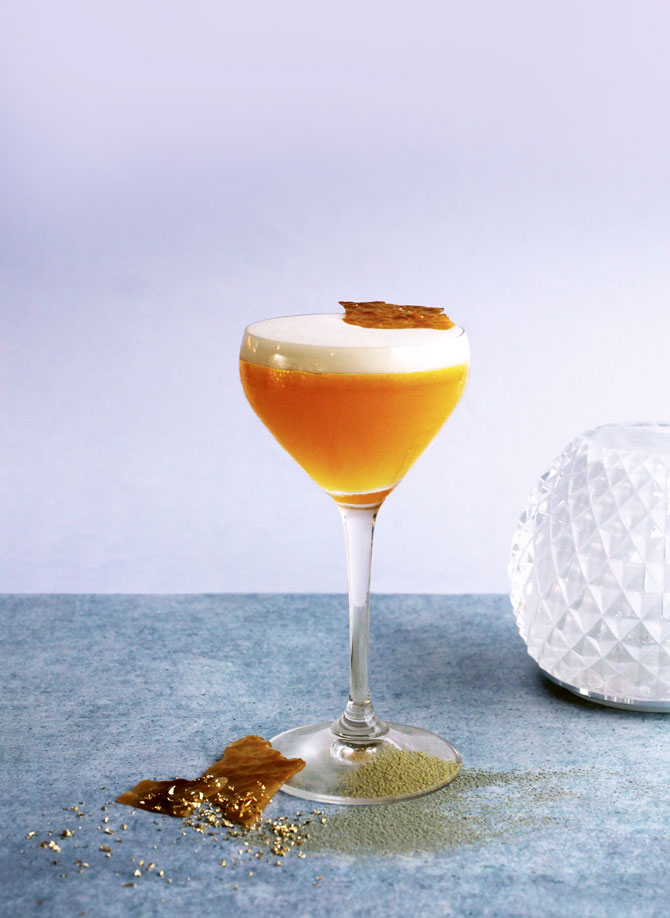 Barbary Coast
What to drink: Tea with Raspberries and Cream
Not a coffee person? No problem, reader, because here's a tea cocktail we think even coffee snobs can get behind. Concocted with not one but two gins (Beefeater and The Botanist), the Tea with Raspberries and Cream from what is currently Boat Quay's hottest watering hole is dangerously drinkable, which means it has the power to make you forget how many you've had (there will be at least two, promise) by the time you leave its Marie Kondo-thwarting, maximalistic premises. As easy going and come-hither as it tastes, it's a painstakingly clarified milk punch has lipstick traces of raspberries (of course), tannins (from the berry tea) and florals (from the gin). Complex, definitely, but a total breeze to knock back. Don't say we didn't warn you. — NK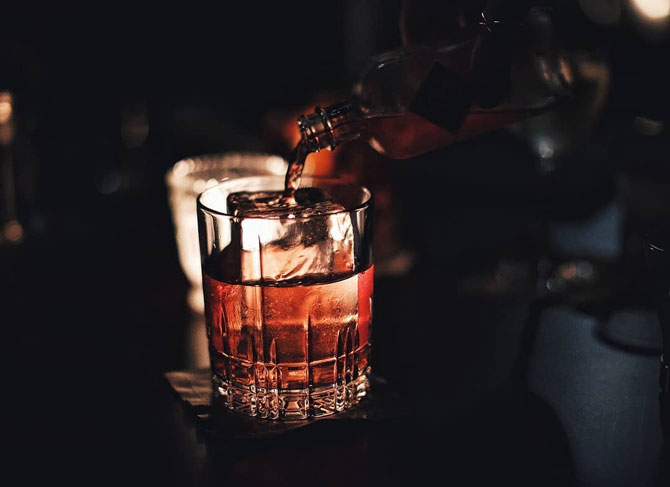 Bitters & Love
What to drink: Makan at Midnight
Not all cocktails these days contain bitters. Well, that wasn't always the case. The word "cocktail" — first coined in 1806 by The Balance and Columbian Repository, a publication in Hudson, New York — was defined as "a stimulating liquor composed of any kind of sugar, water and bitters." Cocktail cognoscenti will recognise this as the base formula for Old Fashioned and Sazarac, but the folks at Bitters & Love has gone a step further to devote their entire drinks menu to the salt and pepper of the bartending world. More than that, they've launched a line of homemade bitters inspired by local flavours — think Bak Kut Teh, Satay Peanut, and Rojak Ginger Flowers. If you're intrigued by the BKT creation, order the Makan at Midnight. It's a savage combination of basil-infused gin, chilli-infused Aperol, lime, sugar, saline solution, and of course, dashes of BKT bitters. There's nothing sweet about this tipple as you can fathom (the sugar balances out the bitterness), and it's likely that you would only drink one, maybe two of these at a time. That said, our taste buds could always do with a shake-up from time to time, and this fiery, salty, slightly tangy, and all-out herbaceous glass of boozy BKT does a pretty swell job at that.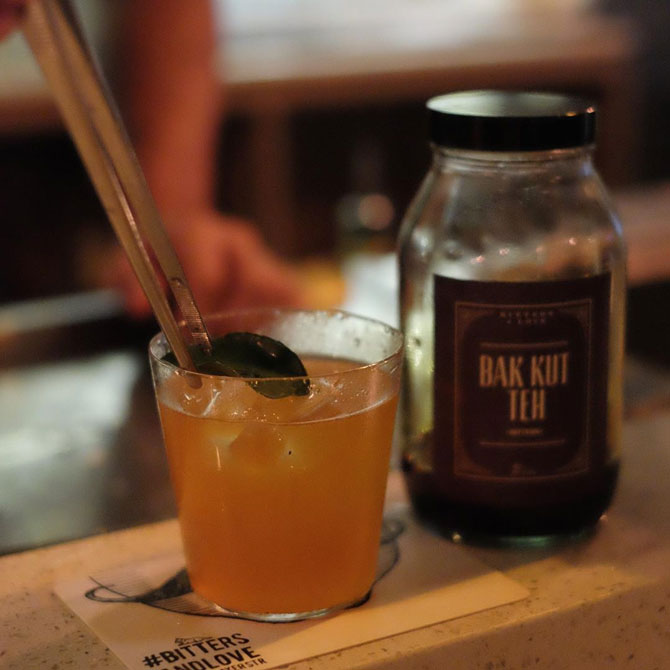 Gibson
What to drink: Wisdom Cup
There are cocktails you can guzzle everyday, like a negroni, a G&T, a margarita, and a martini. The Wisdom Cup is not that drink. But if you're in need of a sweet, postprandial fix, this lip-smacking liquid dessert is a real winner. Crème de menthe and Fernet Branca Menta give it a bold jolt of minty-freshness, while the Balinese cacao butter and pandan coated inside of the cup provides an aromatic sweetness to each sip. It's almost like having an After-Eight without the nuttiness of chocolate, but with a creaminess that's balanced with the spicy smoothness of Altos Reposado Tequila. Will drinking from the Wisdom Cup make you smarter? Well, in Aztec mythology, cacao beans were said to be a gift from Quetzalcoatl, the God of Wisdom, and the Aztecs believed that eating the fruit of the tree would bring wisdom and power. Cacao to boost our grey matter? We'll cheers to that.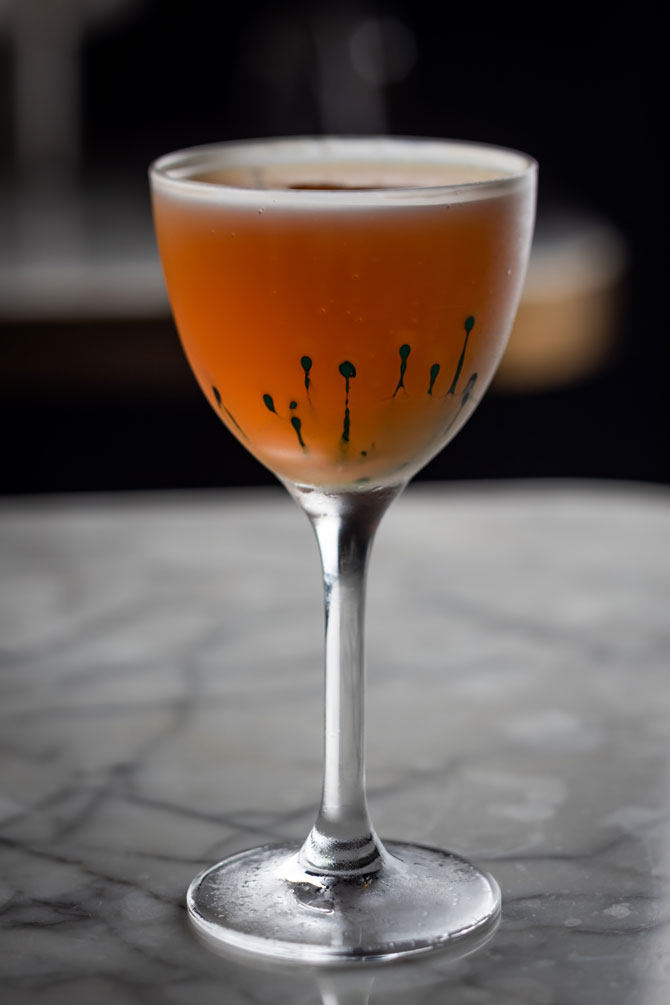 Heytea
What to drink: Baileys Boboshake
Speaking of teas, here's an unlikely but heady collab that you'll want to get your hands on, as soon as you can, as much as you can, because it won't be around forever. Baileys Irish Cream has paired up with China's top BBT brand Heytea for a boozy version of everyone's favourite chewy bevvie, and it will only be available 'till 15 March, at all Heytea outlets. Shaken with classic Baileys, Ceylon black tea and topped with whipped cream and crushed pecans, this happiness-in-a-cup also comes — wait for it — warm, to soothe those chilly bones if needed. Did we also mention that it's  less than $10? Sure, you'll be full before you reach tipsy, but, hey, a cocktail is a cocktail, and you don't find them at this price anywhere else.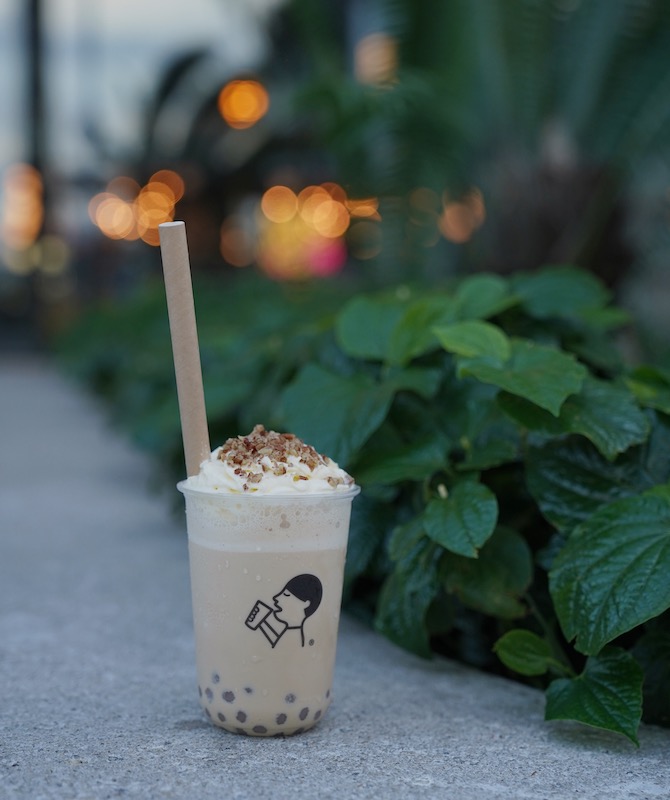 Jigger & Pony
What to drink: The Little Red Dot
Singapore Sling will probably never be usurped of its title as Singapore's national drink considering its antiquity — though I can think of a whole slew of great  "local-inspired" cocktails that make worthy contenders to the throne. One of them is Aki Eguchi's The Little Red Dot, which he created for the global finals after winning the Singapore leg of the Diageo World Class Competition back in 2012. Like the OG, this crimson-hued, gin-based tipple is a tropical, fruit-packed delight with lychee liqueur, raspberry, and grapefruit. What gives it a little bit more edge than the Sling: the addition of rose water for a hint of floral elegance.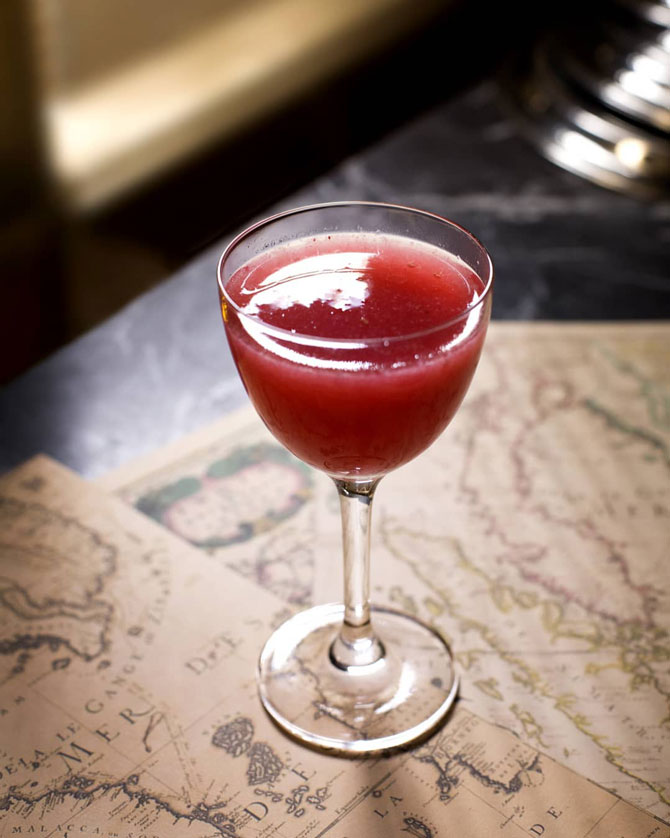 Junior
What to drink: Sweather Weather
Sometimes we want what we can't have: chilly days, snug layers, warm fireplaces, and beautiful snowy landscapes. While we can't control weather, we can hope that Junior's latest concept, Petite Chalet, may transport you to the Alps for a moment with a menu that pays tribute to the '70s après ski scene. To complete this wintertime reverie, ask for the Sweater Weather. It tastes like spiked, toasted marshmallows — except that it doesn't contain any marshmallows. Constructed with Pierre Ferrand 1840 cognac, dark rum, spiced pear, bianco vermouth, and honey, the drink is a comfort sipper that warms your bones and soul.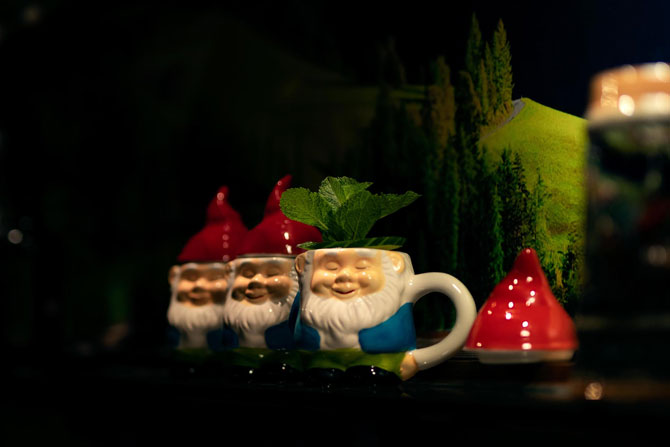 Live Twice
What to drink: Quiet Inlet
This is, without a doubt, one of my favourite drinks of the year — mainly because I love umeshu. But here's the thing: there's no umeshu in it. What it does have — which serves as the base of the tipple — is something called Kayuki, a spirit that is made by distilling, well, umeshu. This little-known Japanese liquor is three times stronger than an umeshu with 45 percent ABV, and, perhaps most importantly, dramatically less sugary, which means it won't (and doesn't) overpower other ingredients in the cocktail. Yes, you'll smell and taste ume right from the get-go, but you'll also soon notice the familiar tartness of granny smith apples along with it, followed by an almost imperceptible hint of spice at the finish thanks to the infusion of Jamaican rum by Long Pond. While it sounds like it has the makings of a fun, fruity rum tipple, the Quiet Inlet, as the name would suggest, is far more delicate in its flavours and sweetness, but with more than enough bite to get you through like a solid martini. If you're craving simplicity in a world full of complex concoctions, this one will steal your heart. Psst: read our full review of this new bar by the Jigger & Pony Group.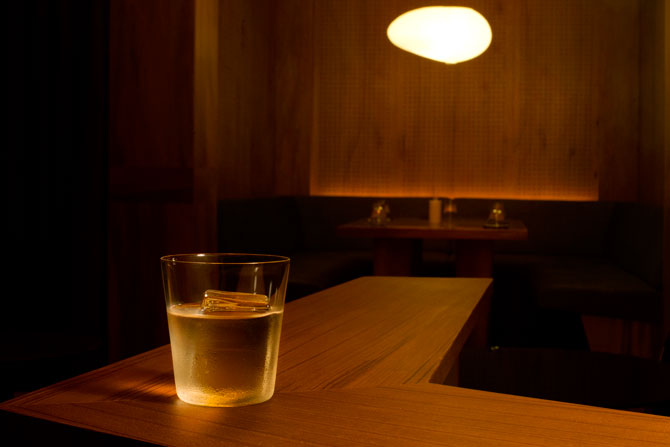 Manhattan
What to drink: Singa
In the world of serious cocktailing, vodka is often considered something of a bastard child. It's not as debonair as whiskey, certainly not as hip as gin, nor is it quite as fun and sexy as rum and tequila. But that may change in the foreseeable future with The Belvedere Collective, an exclusive panel of world-class bartenders chosen by Belvedere to get people talking about rye vodka. If you find yourself getting bored of all the talk around the spirits listed above and are curious about vodka's ability to impart distinctive flavour and dimension, go to Manhattan and ask Gabriel Martin Carlos to make you a Singa. The boozy-aromatic tipple, which consists of Lake Bart??ek vodka from Belvedere's terroir-driven Single Estate Rye Series, Italian bitter Fernet Hunter and aperitif Cocchi Rosa, is anything but sweet. Brace yourself for a heady herbaceous concoction with slight hints of floral and citrus notes that goes down smooth and finishes long.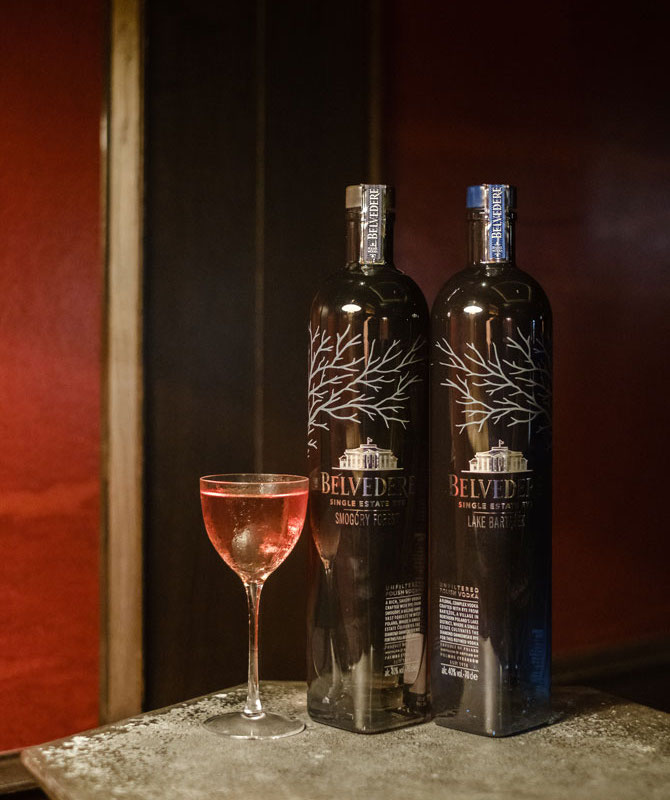 Mitzo
What to drink: Cupid's Flutes
Bubbles are romantic, as is this pretty concoction from Mitzo — but don't be fooled by its girly facade. Taking a cue from the Old Cuban, a delightful modern classic that is something of cross between the mojito and French 75, this one got Diplomatico rum for depth, Scrappy's chocolate bitters for nutty burliness, lime juice, house-made Mandarin orange peel cordial, red dragon fruit for a fruity wake-me-up, and prosecco for fizz. Think of it as a sexed-up version of the OG, tart, bubby and just sweet enough to pull you out of whatever Valentine's Day doldrums you might have. The best part? It's $30++ for a pair.
Available through 16 February.
Moonstone Bar
What to drink: Liang Teh
You cannot get more Singaporean than a liang teh. And in the realm of local herbal teas, Jia Jia's formula is king… Or so we thought, until our lips tasted Moonstone's. Brewed with chrysanthemum, luo han guo, and longan, the tea is used to flavour vodka, which is then mixed with fernet branca, gula melaka and star anise. In other words, it's Jia Jia liang teh with an edge. Isn't that neat? Now, we don't mean to state the obvious, but let's all be reminded that this drink contains alcohol — because we almost forgot when we raised our hands to ask the bartender for a third. On a school night. Can you blame us? It's a comfort drink, plus we needed something to wash down the heart-stoppingly good Bakmi Ayam (Indonesia's version of bak chor mee).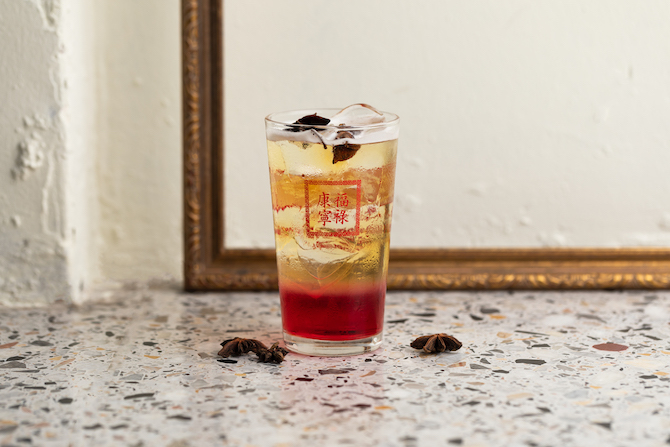 Neon Pigeon
What to drink: Not Classic
There are days when nights are long and you need both caffeine and booze to get through. Instead of downing your third/fourth/tenth cup of coffee after hours and chasing it with a stiff drink, treat yourself to this beautiful, atypical alcoholic wake-me-up. Unlike most coffee-flavoured tipples, this one has neither whiskey, vodka, rum, nor gin. Neon Pigeon is heavily influenced by Tokyo, so, naturally, Japanese — specifically pineapple-infused sake and umeshu steeped in cold-brew coffee and smoked with cinnamon wood — are used here. Finished with coffee liqueur and chocolate bitters, it tastes like a playful but solid cold brew with just the right amount of bitterness, sweetness and acidity.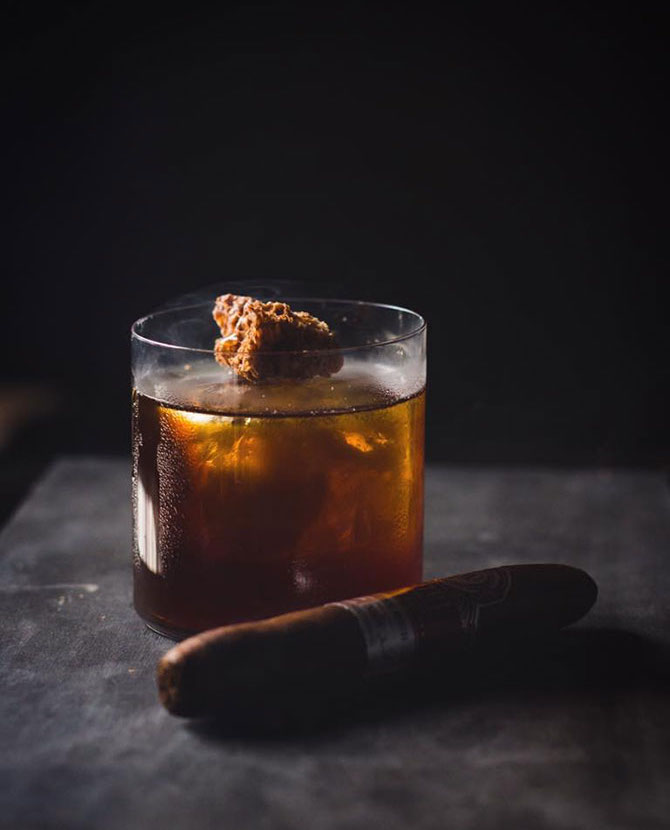 Nineteen80
What to drink: Donna Summer
Call me basic, but I'm stupidly drawn to strawberry-anything. Smoothies, juices, cocktails, desserts — if it's got strawberries (the real stuff, not nasty flavourings or syrups), it's got my attention. Got heart-shaped eyes for these heart-shaped gems too? Nineteen80's Donna Summer will make you smile, perhaps like a kid in a candy store. It's not very fascinating, sure. But it's rum and juice and very fun. Also, it's not a sugar bomb as you may expect it to be — lime juice, strawberry puree, and sumac powder makes it more tangy and refreshing than cloyingly sweet.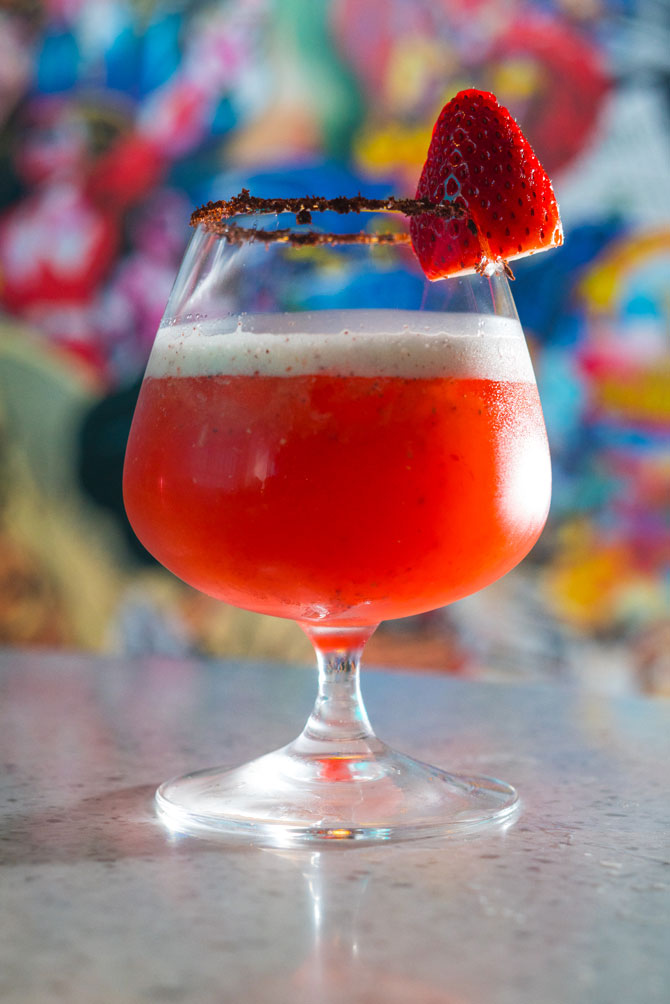 No Sleep Club
What to drink: Hay & Apple
Singapore has been a vortex of cocktail innovation for a while now, so seeing unusual ingredients in a drink list is, well, not that unusual. But hay, the stuff that horses eat? That's something we've yet to see in a cocktail. "We learnt early on from chef Andre Chiang that hay attracted the right bacteria to ferment fruit such as apples and pears," says Jessica Hutchinson, co-owner of the recently-opened and very-cool No Sleep Club. "The combination was an easy one when we thought of doing a version of whiskey soda." For this tipple, fresh, oven-toasted hay is sous-vided with a mix of blended and peated scotch to make the base spirit. Apple honey (made in-house with dry fermented apple juice, chamomile flowers and local honey) and fresh apple juice are added and carbonated before serving. If Singapore has seasons, this tipple is perfect for fall. It's sweet, with a hint of earthiness from the hay, but not too sweet; boozy but doesn't hit you as hard as some whisky-based drinks do. Drink with caution because it's easy to have one too many.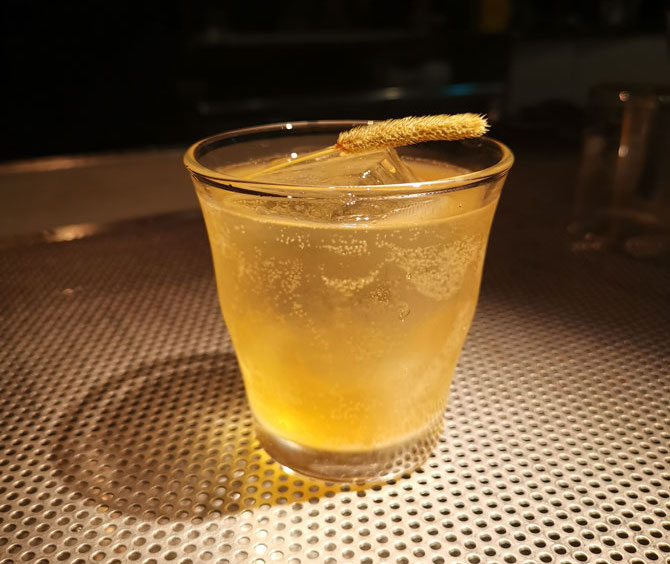 Nutmeg & Clove
What to drink: Roses & Lychees
Could we be reaching peak gin? As mother's ruin grows in popularity, brands and distilleries from all over the world are crafting versions of this versatile, centuries-old spirit with different flavours and ageing methods. Over at Hendrick's, the brains behind the gin have been experimenting with some unique ingredients for a new bottle, and the result is a curious, progressive potion called Hendrick's Orbium. Marketed as "a reimagination of what Hendrick's might taste like in a darker parallel universe," Orbium retains the same distillates of cucumber and rose, but with the addition of quinine (often found in tonic water), wormwood (found in vermouth), and blue lotus blossom to balance the overall flavour.
Unlike the ubiquitous Hendrick's Gin, Orbium is only — for now, at least — reserved for professional use, and you can find a slew of interesting concoctions made with this mysterious spirit at our local bars, including an iteration of the bandung at Nutmeg & Clove. Named Roses & Lychees, this Orbium-based drink — part of the bar's new menu that celebrates Singapore culture — is layered with lychee-and-rose-infused clarified milk, and garnished with a lychee-rose chip that's made with the leftover curd from the milk-clarifying process. While it looks nothing like our childhood drink, the clear tipple does have the familiar taste profile of bandung, albeit much sexier with floral notes, a bitter end, and a long finish.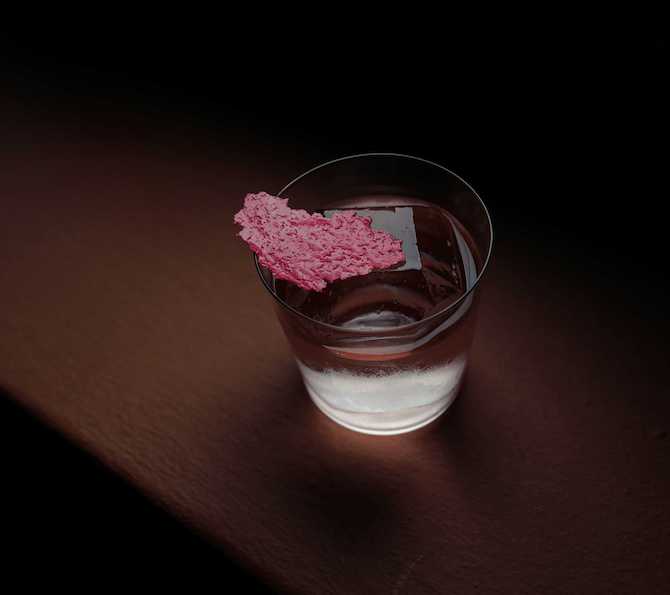 Operation Dagger
What to drink: E-701
Operation Dagger — the underground modern-day cocktail apothecary known for its wildly imaginative and sometimes bizarre tipples — has a new mad scientist at its helm (name: Thomas Girard), and he brings with him a pocketful of crazy-innovative recipes for the bar's refreshed drinks list. All of Girard's wonderfully intriguing additions (there are six of them) are worthy of a taste, but if, for some reason, you can only have one drink, make it the E-701. Don't be fooled by its pretty hue and the ingredients written on the menu (beetroot, cacao, mandarin and cheese cheese); this drink is punishingly complex with what seems like a hundred steps in its production process that includes fat-washing, fermentation, clarification, and more. To protect our fragile sanity, details about how the drink is being made won't be recounted here. But I'll break this down for you: it looks just like a glass of sparkling ribena, yet somehow manages to taste — get this — a fizzy, mildly-chocolate-flavoured drink, in a good way. It's novel, for sure, but it's also delightfully drinkable in its balance of sweetness and acidity.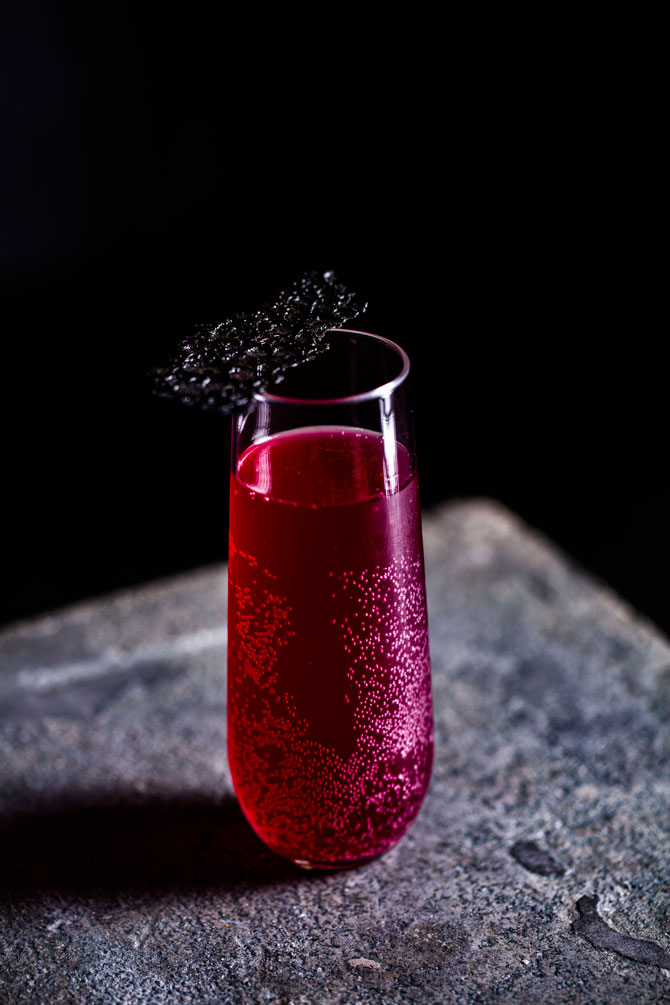 Oriental Elixir
What to drink: Marmite Sour
We can't say it's something we've ever wanted, but here it is — the Marmite Sour. Depending on your feelings about the sticky spread, this either sounds intriguing or unappealing. Well, we sit in the former camp (you see, it's kind of our job to be curious and adventurous), and we're happy to report that this curious, almost savoury twist on the whiskey sour is going in our list of "Slightly Weird but Tasty Cocktails". Because the alchemists at Oriental Elixir didn't just throw in marmite in its original form — it was made into a syrup — the big, soy sauce-esque flavour of the spread didn't overpower the sweet-tanginess of the bourbon and lemon. Now, while we do like this sour-sweet-savoury creation, it's really not something we'll have more than one of in a night. We suggest having it as the first drink to open up your palette for the other bespoke magical potions the bar can concoct.

Oxwell & Co.
What to drink: Mulled Monkey
Hot cocktails have a special place in my heart. When you're feeling chilly or under the weather, these therapeutic tonics will seep into your veins, warm you from the inside, and soothe your soul. But let's be real, unless you're stuck in a freezer, hot drinks aren't quite as appealing in Singapore's weather. So what do you do? You have them cold. Like coffee. And Oxwell & Co.'s elevated mulled wine, which has homemade mulled wine dosed with Monkey Shoulder Whiskey for added booze, citrus to balance the sweetness and egg white for body. It makes good old wine too boring for Valentine's Day.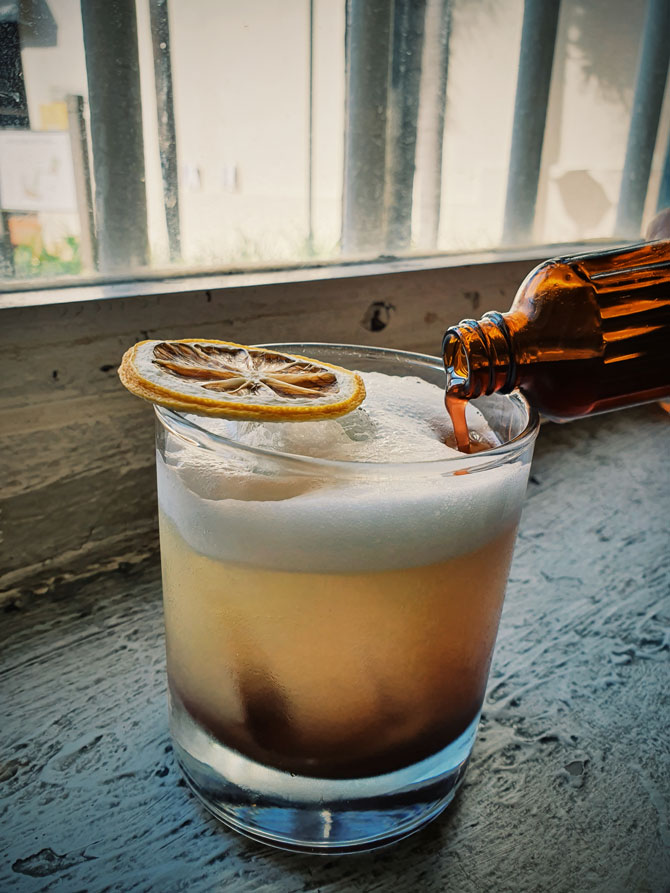 Papi's Tacos
What to drink: Mezcal Old Fashioned
It's Friday night and you're hungry for some mean tacos. Should you order the paloma, the mojito, or the margarita to go with? Neither, because it's Friday night and you deserve a strong-jawed, spirit-forward option to close a long work week. So give the Mezcal Old Fashioned a go. In place of whiskey and sugar, the folks at Papi's Tacos make theirs with mezcal and agave nectar. What results is a bonafide riff on the classic that shows off the smooth union of smoky and sweet. Friday nights should taste like this.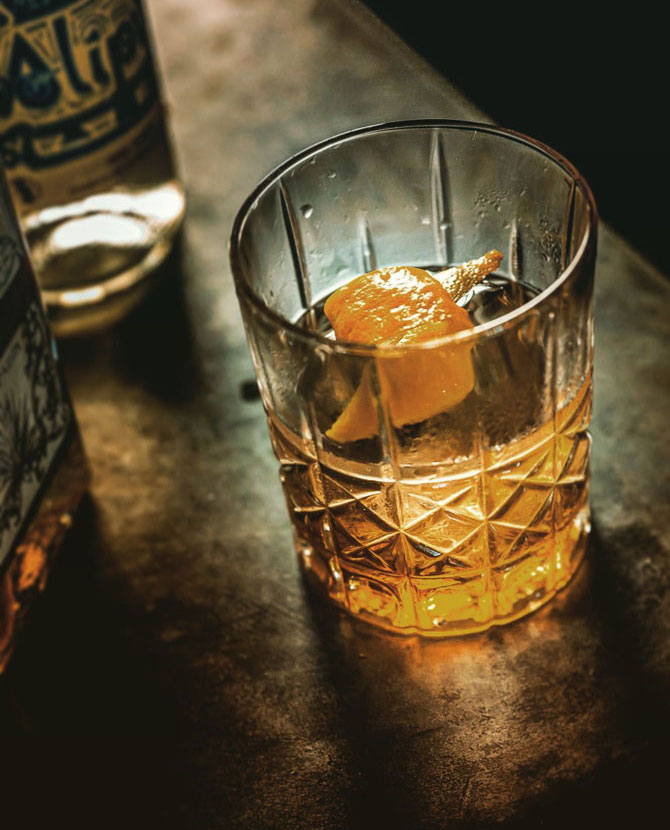 Potato Head Singapore
What to drink: Gold & Rojak
Who says you need rum to make a tiki drink? Certainly it wasn't Adam Mohamed. Potato Head's bar manager's tribute to the rojak uncle of his childhood is a riotous whiskey-based concoction full of tropical flavours — with pineapple juice, maraschino and grapefruit bitters in the mix — but tastes lighter than your typical juice-heavy tiki classic. In other words, it's refreshing, and thanks to Johnnie Walker Gold Label and chilli padi syrup, there's that slight smoky burn and fiery kick to buck you up a little in this chilly, wet season.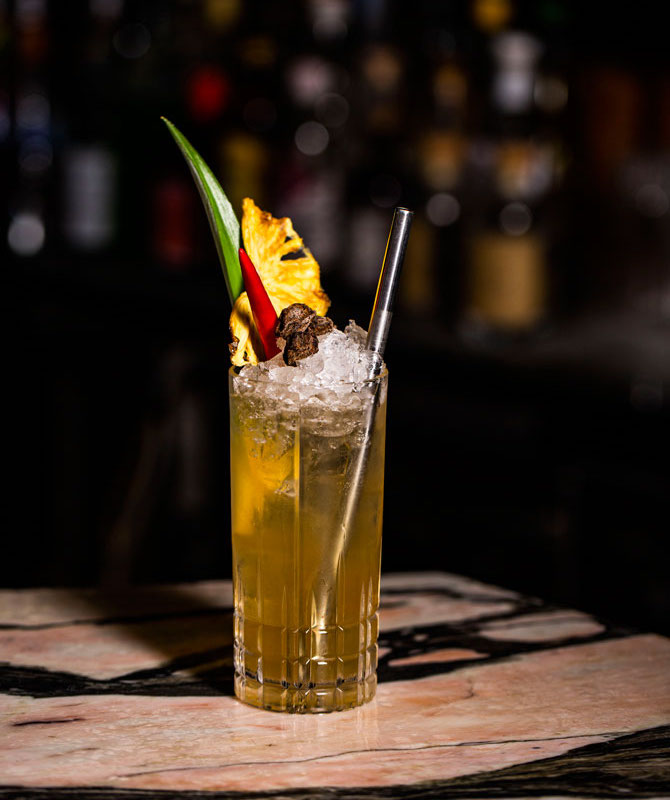 PS.Cafe
What to drink: Spring Fling
Valentine's Day can be stressful, even if you're not coupled. What to buy, where to eat, what to do, who to spend it with… A drink will help take the edge off. And because 'tis the season for love, there's no better time to indulge in a themed cocktail – one you'd roll your eyes at but secretly like because it tastes pretty damn good. PS.Cafe's Valentine's Day special (and the rest of the cocktails in this week's column) is that tipple. Made with the cult-ish Four Pillars Bloody Shiraz Gin — which combines Yarra Valley Shiraz grapes with their signature Rare Dry Gin — fig, honey, and lychee, the Spring Fling is sweet on the palette, flecked with herbality, and finishes like an semi-dry fruit candy for grown-ups.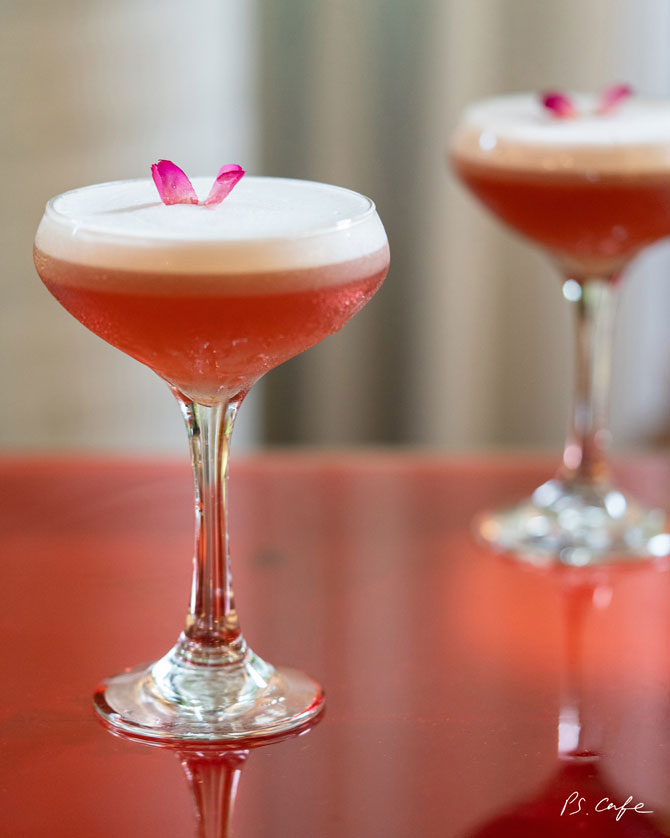 Available through 4 March at PS.Cafe at East Coast Park, Harding Road, Ann Siang Hill Park, Fullerton, Martin Road, Palais Renaissance, and JYPSY.
Queens
What to drink: Wildabeast
Delusional or not, I'm pretty sure I'm not the only one interested in drinking my vegetables — in a cocktail glass. If you're with me on this, you'll be happy to know that you can supplement your daily veggie serving at Queens, Zouk's speakeasy. Named after renowned hip-hop dance choreographer William "Willdabeast" Adams (the hidden drinking den pays homage to the OG of hip-hop), this antioxidant-rich (not a joke) tipple builds upon the classic Southside recipe (gin, lime juice, simple syrup, mint) with green pea-infused vodka, slow-juiced celery, lemon and sugar. The flavour is fresh AF, a little tangy, and has a hint of grassiness. Even better? It's garnished with a raw celery stick. Now, to get to the drink, you'll have to tell the bouncer at the door you want in for access, if you're not already a Queens member. Psst: watch this space for an upcoming review of the secret bar.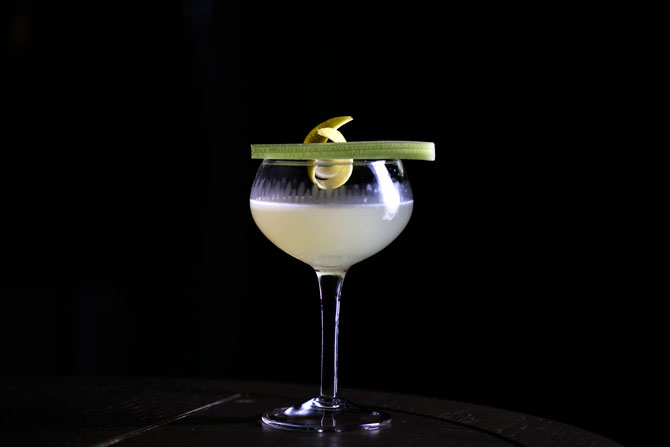 Raffles Courtyard
What to drink: Perry Cobbler
The cobbler is a pre-Prohibition oldie, said to have originated in the 1820s or early 1830s. The classic — consisting of sherry, sugar, lots of ice and some fruits — is believed to be the first-ever cocktail to be shaken. More than that, it was also responsible for bringing the drinking straw to common use (it would've been too cold to drink it straight from the glass). In the days before air-conditioning, people sipped this low-ABV tipple to cool down. So it makes perfect sense that Raffles Courtyard, Raffles Hotel's gorgeously revamped alfresco bar, has an ice-cold cobbler on the menu. Here, it's mixed with pear, Sloe gin, Olorso sherry, and fruits of the season to keep things interesting. Go ahead, guzzle this in the day or on a school night. Just be careful not to go overboard.
Sling
What to drink: 1819 Sling
Ethan Leslie Leong isn't very fond of the Singapore Sling, so he created his own. But he didn't just put his own spin on the electric tipple and call it a day. In fact, the cocktail maestro had conjured five versions of the Sling for his new restaurant-bar concept — of the same name, even — in a laudable attempt to breathe new life into our very-old national drink. Leong has always been strongly devoted to using the fresh and craft ingredients, so you can expect high standards in every sip. Your first order should be the Original Sling, which has most of the components in the classic recipe except cointreau, but with its ratios adjusted to make it much less cloying than the one Raffles Hotel served back in the day. What you'll (probably) come back for, though, is the 1819 Sling, a strong-jawed, spirit-forward rendition that pays homage to Sir Stamford Raffles, the man responsible for thrusting Singapore into the spice trade. It has a completely different flavour profile from the original, mind, with the structure of Old Fashioned enhanced with hints of vanilla, cinnamon and peppery notes. Which goes rather beautifully with the Peranakan-focused food menu that will give Violet Oon a run for her money. We suggest starting with the kueh pie tee and the DIY popiah (so much yes), filling up with the explosive nenek chicken, rendang, and lobster hey mee (flambéed tableside for drama), before finishing off with the divine kueh dadar: French-style pandan crepe topped with homemade young coconut espuma, toasted coconut shavings and gula melaka syrup. P.S.: Sling is located on the ground floor of Maison Ikkoku.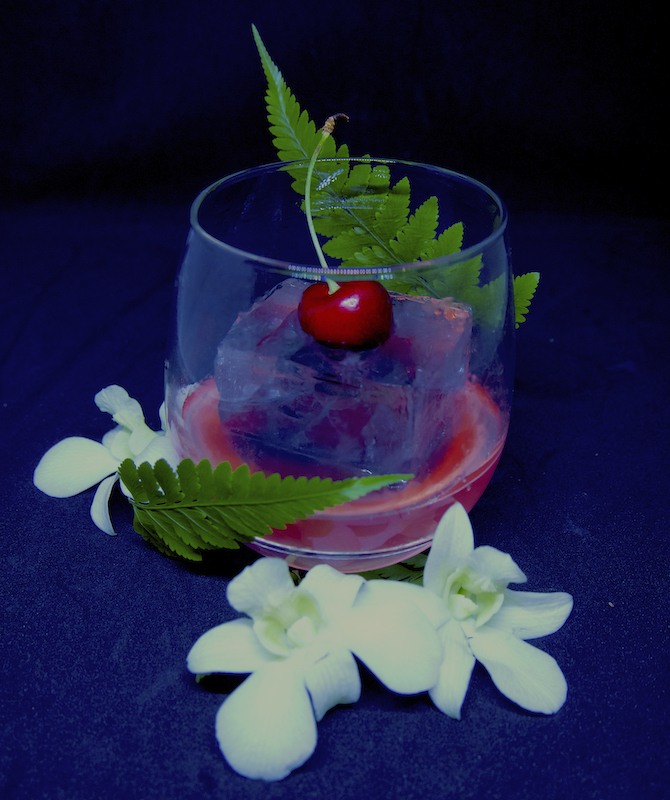 Smoke & Mirrors
What to drink: The Heart of Vincent
Smoke & Mirrors has a knack for romance. Everything about it is swoon-worthy, whether it's the plush, sexy interiors, killer views of the city's skyline, or the poetic drinks menu titled Illusions of Flavours. And most romantic-sounding tipple on the list? The Heart of Vincent, inspired by van Gogh's famous quote in The Letters of Vincent van Gogh: "The heart of a man is very much like the seas. It has storms, it has its tides, and, in its depths, it has its pearls too." Naturally, the drink is complex. Sea salt tingles the tastebuds with savoury notes. Pickled purslane comes across as grassy and acidic. The unnamed ex-wine barrel-aged agave spirit and quinine aperitif sit at the back with slight hints of bitterness and smokiness. Then there's bubbles to lighten the otherwise intense drink. It will not be for everyone, but somehow, this perplexing cocktail will intrigue you till you get to the bottom of the glass.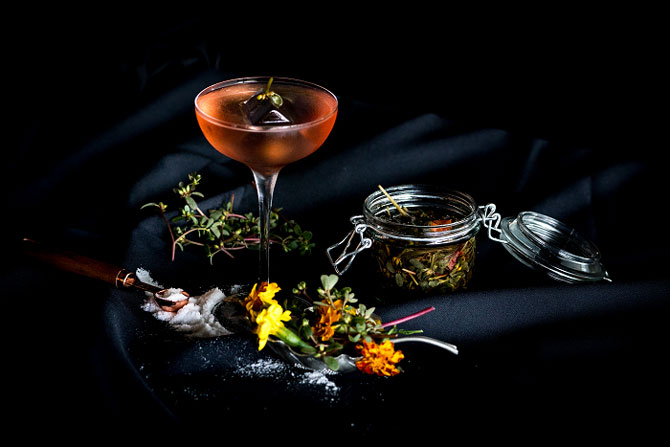 The Old Man Singapore
What to drink: Death in the Afternoon
The original instructions for Hemingway's Death in the Afternoon (the cocktail, not this non-fiction book of the same name) reads like this: "Pour one jigger absinthe into a champagne glass. Add iced champagne until it attains the proper opalescent milkiness. Drink three to five of these slowly." Now, for the sake of your liver, I don't recommend you following this recipe, but you most certainly should embark on The Old Man's interpretation instead. It honours Hemingway's creation with absinthe and sparkling wine (in healthier doses, obviously), while giving it a delicious local twist with coco-pandan yoghurt and nutmeg. Got a bit of a sweet tooth but want something suitably potent? This green-tinted, ondeh ondeh-tasting frothy concoction so effectively lubricates the black Jelly Bean taste of absinthe that it goes down the hatch with no resistance whatsoever.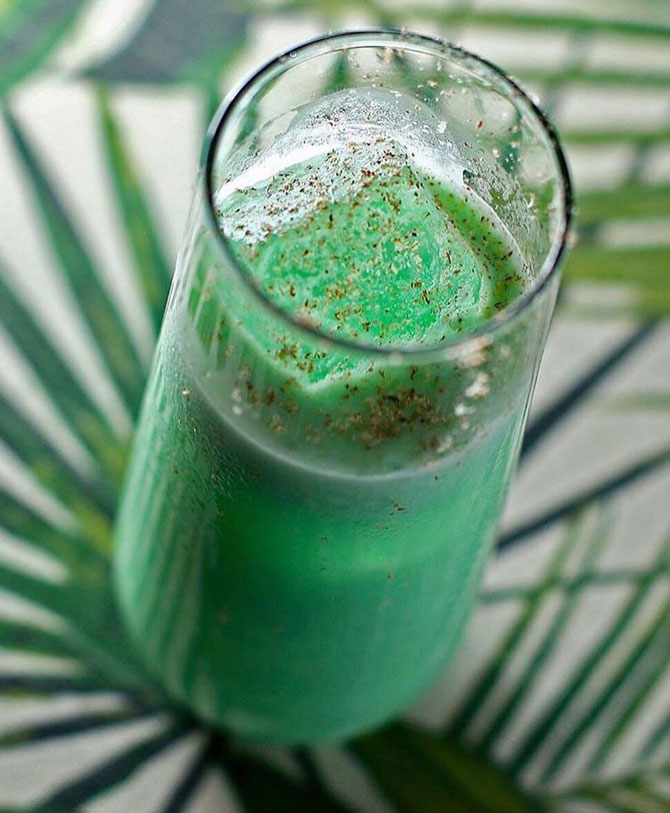 Vue
What to drink: Kaiser Goblet
If Hay & Apple represents fall and Sweater Weather feels like warm winter hug, then the Kaiser Goblet from rooftop bar and grill, Vue, is for balmy summer months. Opened just last month at the OUE Bayfront tower, Vue telegraphs itself a spritz bar, serving 14 different variations of the summer standard, including classics like Aperol Spritz and elevated concoctions like Iberian Burbuja composed of Amontillado sherry, white port and Mediterranean tonic water. All of these effervescent drinks are fine and dandy for our tropical climate, but if you're feeling particularly hot and bothered, the Kaiser Goblet, with its refreshing blend of homemade fruit cup, fresh mint, cucumber and ginger ale, will cool you down and perhaps help you drift away from reality for a bit. Pop in during sunset hours (from 5-7pm) for complimentary canapes with your spritzes.