Where we dined this week…
Da Paolo Gastronomia at Great World
Da Paolo Gastronomia isn't a stranger to most inhabitants on our shores, but most of the times, because of its prevalence, we overlook its offerings. Its newest and number eighth address at Great World City has landed to steer the brand in a different direction, rather than a takeaway deli, but a gourmet restaurant where one can linger, share a meal with loved ones, and indulge in its expanded selection of Italian favourites. Of course, all while retaining its well-loved retail section with ready-to-eat meals made fresh daily. Even a whole array of delightful gelatos are at your disposal. Interiors reminiscent of a soothing backdrop in Tuscany aim to sate any diner's appetite for travel, and moving forward, the other existing Da Paolos will adopt the same furnishings. From nutritious grain bowls with moreish picks (from Morrocan chicken thigh to a refreshing barley salad) to owning its own spin on brunch staples like avo toast where housemade multigrain sourdough takes the spotlight. It also drove home the fact that chives and little lemon drizzle can and will jazz up any avocado dish. Our next favourite fell on the humble panini — where no heavyweight protein was in sight — in its stead, sundried tomato pesto, garlic confit, mayo plied against caramelised onions. Yet another testament to the quality to which Da Paolo's produce strives for, within a simple combination of ingredients. Even something as homely as meatballs has managed to impress — made of Australian beef, housemade breadcrumbs, Parmesan, and fresh herbs like rosemary, thyme, and sage. To top it off, they're lathered in sweet tangy sauce made from Italian Roma and San Marzano tomatoes. Da Paolo has also made pastas and pizzas their own – with original flavours like agilo olio with Calabrian chili (tip: do ask for the heat to be dialled down) as the burn might outweigh the freshness of the dish, as well as a crowd favourite, carbonara layered with ndjua (spicy salami) paste. That bit of heat cuts through the cream deftly, elevating the entire dish just like that. Do remember to save space for their pies — either dining in and made on the spot or purchasing one from their retail section, a simple treat to reheat while you're home.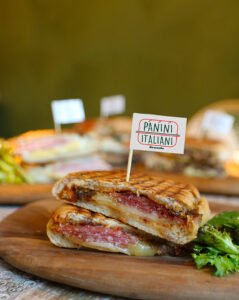 1 Kim Seng Promenade, #01-163 Great World, Tel: 6735 8382
Opening hours: 8am-10pm
North Miznon
Just last year, Miznon's famed pitas took our city by storm and now a sister restaurant has debuted in Asia. Echoing the same convivial bustle from the pita shack, North Miznon delves deeper into the heart of Tel Aviv and modern Israeli cuisine. There's a joyous chatter that fills the room, clanking of pots, and a small crowd surrounding the central area, which happens to be where the desserts sit. An infectious energy that keeps the Miznon brand grounded and in good fun at the same time. Masterchef Israel Eyal Shani's pursuit for fresh ingredients shine through on the menu, but this also means that the dishes change from time to time. But expect vegetable forward plates as well as Mediterranean flavours to come through. Here, you can easily spot chef Eyal's revered obsession for tomatoes— with a Naked Heirloom tomatoes mosaic splayed out on a cold marble stone. The specimens are simply embellished with olive oil and sea salt, and as fresh as they come. One can also rekindle a first love with baked potato, thanks to North Miznon's version of a fluffy Agria potato charred over the open fire, then stuffed with sour cream and a mix of chopped onions, tomatoes, cucumbers, and parsley. On the side, the restaurant's hospitality is presented in the form of freshly baked foccacia, a signature here, as it's served on the house for each table. Each loaf is decked with tomatoes, onions, and green chilies, and are the best mediums to mop on any leftover sauces from the dishes you've already ordered. Don't miss the daily catch specials, where you'll find a stellar list of seafood and meats, each interpreted in their own way. We had the wild grouper roasted in clay oven olive oil and white wine with optimal juices sealed within. But do yourself a favour and order chef Eyal's world-famous tomato pasta, executed simply with hand-squeezed Maggie tomato juice and garlic. That's just it. But it carries a smokiness with each strand of al dente noodle, which we haven't quite found anywhere else. Did it ruin us for future tomato pastas? Potentially. Do we regret it? Never.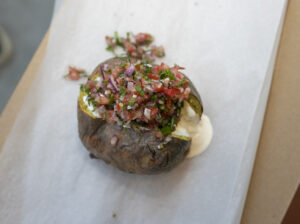 110 Amoy St, #01-01, Tel: 8028 5204
Opening hours: (Wed-Sun) 5.30am-12am
Griglia
Picture this: it's summer, you're in Italy, and the smell of coal is wafting amidst the salty breeze of the ocean. At this point, it's common to spot an outdoor cook-out, accompanied with the season's pickings. Well, that's Griglia in a nutshell (adapted from grigliata, which means beach barbecue) — with an open fire to carry on the summer vernacular of the Italians. Unlike the Italian grub that Singapore's well acquainted with, grigliata's dishes are more Mediterranean in nature, spotlighting seafood, meats, and seasonal vegetables and fruits. You can't miss the cast iron charcoal grill, which serves as the rustic restaurant's focal point — where every dish is kissed by fire some way or another. Think grilled eggplant that sits lighter on the palate, as compared to the Neapolitan pamigiana. It's joined by baked Roma tomatoes and a fluffy fondue made out of smoked caciocavallo cheese, milk, and butter. The attention to vegetables is not lost at Griglia, as a grilled zucchini stars in an awfully pretty tartlet and moulded around fresh burrata. It's a refreshing appetiser with sharp notes of balsamic vinegar and mint dotted around a single bite. And even with other elements and techniques applied, the main produce of each dish is very much pronounced, while retaining its freshness. Like the Hikka squid, plated with Palermo peppers and nduja foam, yet it's lightly grilled and perfectly cooked over charcoal, sea brine intact. For bigger mains to share, we couldn't quite choose between the grilled whole turbot and wagyu striploin. Both were equally outstanding, with the former blessed with the midas touch of Amalfi lemon dressing, and the latter, a grass-fed cut cleverly paired with roasted garlic sauce and a pickled mustard emulsion. We were also very much swayed by its side, potato puree mashed with smoked cheese and fresh horse radish. A cherry on top? A $12 dessert comprising of a fragrant almond cake, Amalfi lemon cream, and a scoop of olive oil ice cream to bind the sweet and sour flavours together.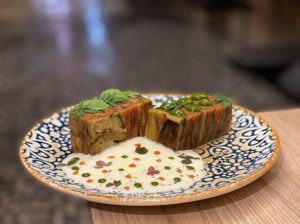 37 Craig Rd, #01-01, Tel: 8949 7011
Opening hours: (Mon-Fri) 12pm-3pm, 6pm-10.30pm, (Sat) 6pm-10.30pm
Where we're looking to dine…
Pure Imagination
Having spent her entire 15-year career in hospitality pushing the boundaries of dessert-making and art, Chef Janice Wong pushes boundaries with her latest store, Pure Imagination. It is Singapore's first ever tree-to-bar chocolate facility, where you can witness chocolate truly #Madeinsingapore. Customers will be taken on tours to have a peek into the elusive process of the chocolate making process as part of a Degusation Menu where they will be able to touch and smell raw cacao, and even taste its pulp. The real treat to look forward to however, is in November, where Pure Imagination will allow customers to create their very own customised blend of chocolate onsite. Currently, the cacao pods offered are from local regions like Philippines and Thailand, but eventually, the Janice Wong team will offer Singapore-grown pods for a true-blue hyperlocal chocolate bar. In the meantime, set your sights onto November, where Pure Imagination will launch a complete DIY chocolate kit, allowing you to make your own chocolate bar from the comforts of your home.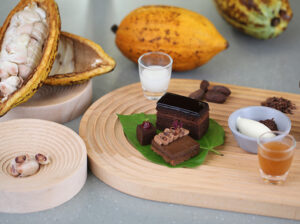 Opens October 8. 1 Kim Seng Promenade, #B1-K119 Great World
Opening hours: (Mon-Sun) 10am-10pm
Chuan by Nutmeg
Nestled in the heart of the CBD, the team behind award-winning cocktail bar Nutmeg & Clove unveils their newest concept – Chuan by Nutmeg. Located on the 60th floor of UOB Plaza, guests are treated to a breathtaking bird's eye view of the cityscape as they enjoy classic concoctions and premium tea-infused cocktails complimented with Sichuan and Cantonese bar bites with a modern twist. Something to look out for? Classics get reinvented — with Tie Guan Yin in a refreshing cocktail, called the Goddess Highball, and it's prepared with Haku vodka, Tie Guan Yin cordial, grapefruit bitters, and London Essence soda water.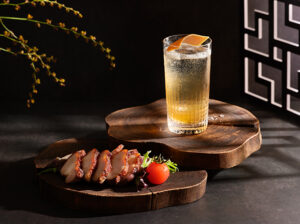 80 Raffles Place #60-01, 1 UOB Plaza, Tel: 9167 2966
Opening hours: (Mon-Sun) 3pm-10.30pm