Many know Julien Royer as the glowing hallmark of Singapore's gastronomy scene, touted for the tremendous success of 3-Michelin Odette (Asia's No.1 restaurant), and his new French dining concept, Claudine (with the Lo & Behold Group) is determined to extend the lineage of Royer even further. While Odette might seem unattainable to return as a frequent diner, Claudine (that's affectionately named after chef Julien's mother) hopes to change that, with accessible sharing dishes that speak comfort and tradition onto the table.
With Claudine, Royer is stepping forward as a restauranteur, as he works with a trusted team running the show — namely chef Julien Mercier as executive chef and general manager Glynn Tay.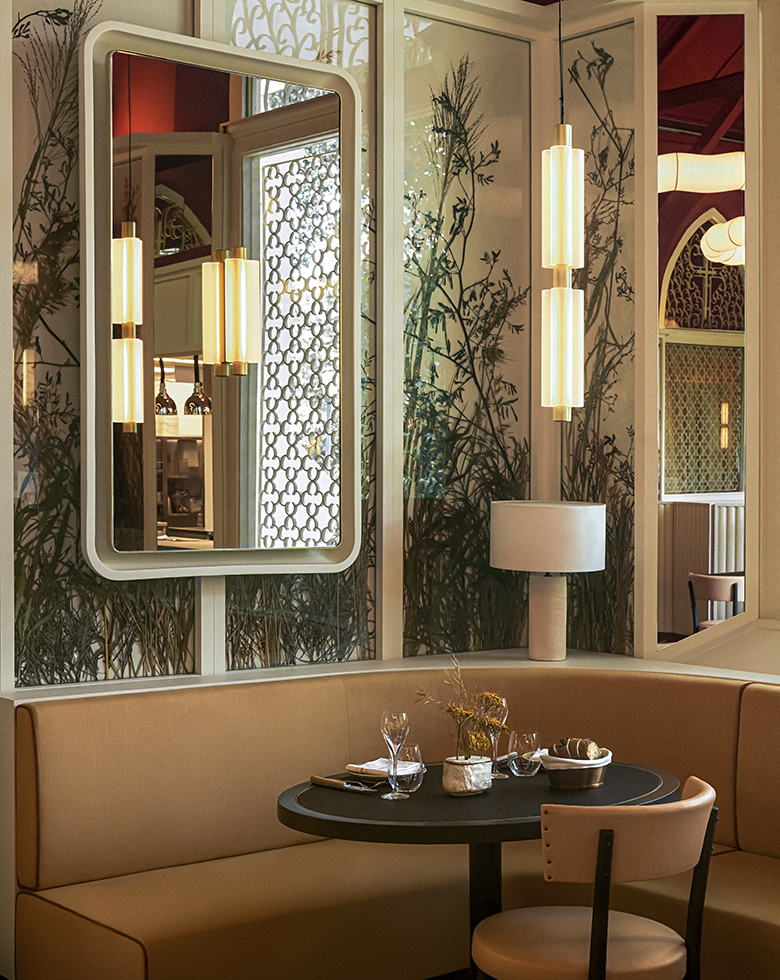 Still, on the culinary end, the same amount of focus and work is dedicated the same way the kitchen in Odette would operate. And honestly, we don't expect anything less, stepping into the grandious Claudine. The space itself, is a historic landmark — dreamed up by interior designer Sacha Leong of Nice Projects, and supported by foliage fixtures by The Humid House. Those who are familiar with The White Rabbit, would still be able to spot a semblance of the storied space, but with a new beginning, the address is very much imbued with Claudine's alchemy. Adorned with a deep red, which Royer believes could be something new linked to French cuisine, and with botanical booths plated with pressed leaves that Royer grew up with, the do-over of the Dempsey address is quite the feat.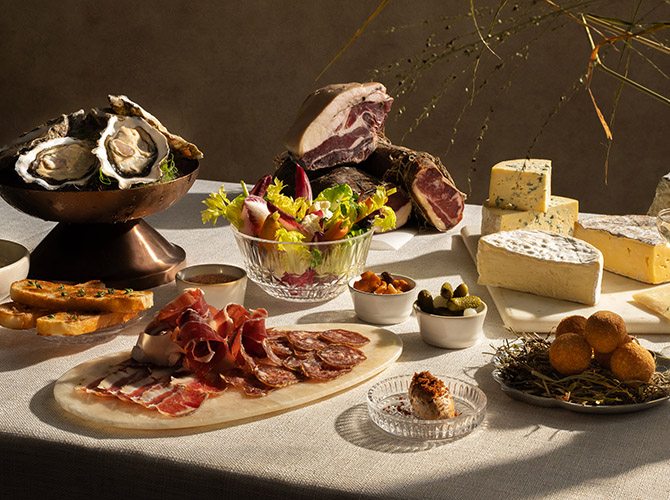 It's a refreshing interpretation to the typical French establishment, which is what Royer believes a French restaurant should be like today. As with the grub served at Claudine — they are French classics as well as personal recipes from Royer and his family. The extensive menu features what the chef-patron himself likes to eat on a personal basis, and what he cooks for his friends and family. The snacks were pretty fun to devour: crispy pork trotter croustillant — a moreish filling with a gelatinous touch, paired with a ravigota sauce made from mayo, hard boiled egg, and a slew of other herbs — as well as cured sardines on chargrilled sourdough.
Our favourite vegetable dish had to be the smoky charred leeks, sous vide to molten soft and doused in an oil ravigote, another acidic spike to ramp up on the flavour profile of the dish. Other accompaniments in the sauce include tarragon, garlic, egg yolks, and capers. While Claudine is quite the graceful sister to the likes of Odette, the food line-up does show off a rustic side that we've not quite seen from Royer.
Like the classic vol-au-vent, a French puff pastry stuffed with veal sweetbreads, morel, chicken mousse, mushroom, cartilage, and pearl onion. It's a random yet mighty combination, but also birthed from the philosophy of wasting nothing in the kitchen, and a fond memory of Royer's mother cooking this for him on special occasions. It's a robust dish, and balanced well with a light pillowy pastry, and savoured even better with a mushroom jus. A good example of how refined can still be comforting. The Claudine 'Bouillabaisse' concurs — laden with a generous portion of seafood — of John Dory, razor clam, mussel, scallop, carabinero, fennel, and potatoes. It's a rich broth that sits nicely amidst the rest of the dishes, and definitely one to share with your party of five.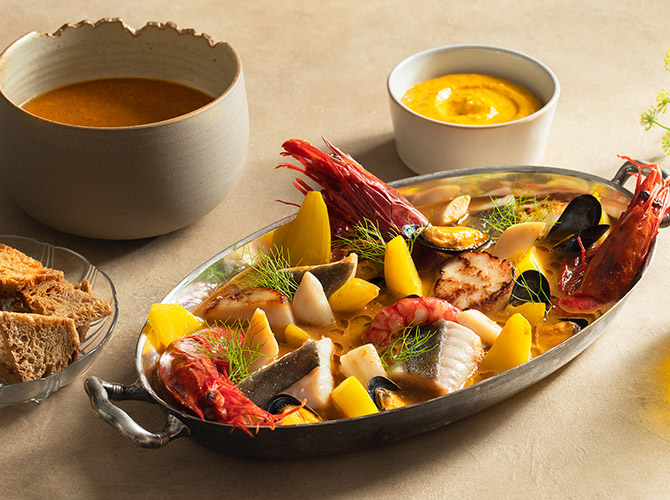 And as far as the desserts go, you can't miss the 'Pariterole', a twist on profiteroles, with light choux puffs sandwiching parfait-like vanilla cream, and topped with toasted caramelised pecan praline and a luscious drizzle of dark chocolate sauce. It's a decadent mouthful, but not one to leave you reeling from the sweetness, with an added toasted crunch for texture fun.
There's still a reasonable amount of fancy at Claudine, the prices alone will tell you this much. But what's precious about the place is about time-honoured French dishes that have been reinterpreted in a way you can't find anywhere else, well backed by exceptional hospitality.
39C Harding Rd. Make a reservation here.