Those familiar with chef Damian D'Silva's culinary work, from Folklore to Kin, would know how deeply passionate he is about keeping Singapore's heritage cuisine alive. In his newest venture, he persists in that vision, while seeking to reach out to a whole new audience in his latest milestone – Rempapa.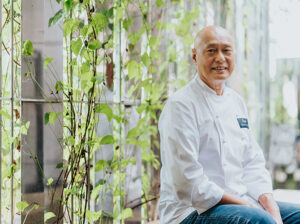 The new all-day restaurant draws on Chef Damian's lifetime custodianship and elevation of our local culinary heritage, as he seeks to engage the young and intrigue them in the meaningful stories behind our local fares. In addition to the treasure trove of multi-cultural heritage recipes generously shared, Chef Damian will also present for the first time, his 'Singapore New Heritage Cuisine', bringing to the table a spin on local dishes. Where a unique blend of familiar flavours meets a fresh yet nostalgic perspective.
But why the emphasis on the younger generation? The reason is simple – too many beloved family recipes have been lost due to indifference and disinterest from the younger generations. Chef Damian aspires to change that, by engaging the Gen Zs to ignite passion and seed interest in keeping our rich food history alive, while putting Singapore's heritage cuisine on the world map. Rempapa was born of this passion – with 'rempah', Malay for spice paste used often in local dishes, and 'Papa' which honors Chef Damian's reputation as 'the grandfather of heritage cuisine'.
Nestled in Paya Lebar Quarter's Park Place Residences, Rempapa features both indoor and al fresco dining. The space is personal, with its interior design drawing inspiration from Chef Damian's Eurasian and Peranakan heritage. Our eyes were immediately drawn to the ceiling, where blue-stained timber beams and aged-brass capped beams greeted us in a geometrical pattern. With an eclectic mix of old and new furniture, pops of terracotta and deep blues balanced with off-white creamy tones, one could linger and lounge, accompanied with local delicacies.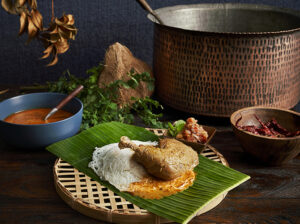 The extensive menu features dishes that encompasses breakfast through dinner, afternoon tea and bar snacks included. The starters as well, were fun to devour, with chef Damian introducing his unique takes on familiar foods like String Hoppers and Roti. Though string hoppers are typically served with brown sugar and shredded coconut, chef Damian took the savoury route and paired it with Sri Lankan Chicken Curry. The chicken thigh was tender and smooth, and paired nicely with the heat of Bombay onion, garlic and Bentong ginger in the curry.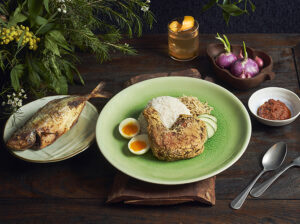 We particularly enjoyed Rempapa's take on the iconic Nasi Lemak dish. Diners will be given a choice of fish or chicken, and we'll recommend going with the deep-fried chicken thigh. It was coated in a dry rub of ground coriander seed, fennel seed, cumin seed, Kashmiri chilli powder, and turmeric powder for 36 hours, letting the spices infuse before frying twice for a superior crisp. Special attention was paid to the rice, often underestimated and forgotten but is really the foundation of the entire dish. The jasmine rice is soaked in water overnight, drained, then dry steamed for an hour. Fresh young coconut milk is added and rice is left to soak for 30 minutes. Then, it is steamed 3 more times. They also thoughtfully switched out the traditional Ikan bilis for Japanese silver fish. Though tasty, Chef Damian noted Ikan bilis had a tendency to cut the tongues or palettes, so he replaced it with its Japanese counterpart to still get that satisfying salty crunch.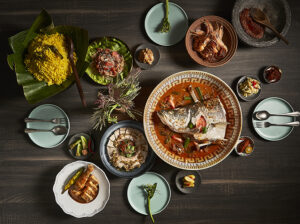 For something more refreshing, sour plum lovers would absolutely delight in Rempapa's Tomato Salad with Local Lettuce, Shallot Oil and Sesame Seed. Paying homage to his childhood of eating achar and other pickled vegetables, chef Damian drew upon a memory of his grandad picking whole tomatoes with sour plum to keep in the fridge as an afternoon snack for his grandson. He shares this fond memory with us by introducing it in this palate refresher. Similarly, the tomatoes are picked using sour plums, salt, sugar and of course, vinegar for three days. This gives the tomatoes the taste of sour plums, but in a whole new texture – forget the flakey, powdery texture of dried sour plums. The tomatoes are smooth and juicy, bursting with just the right amount of sourness. They're best eaten wrapped in lettuce and julienned onions that have been tossed with sesame oil, shallot oil, light soya sauce and calamansi juice.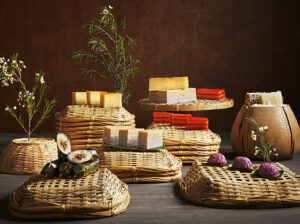 And of course, for dessert, we indulged in the local bite-sized favourite – kueh. There was the most delightful assortment of kueh ranging from favourites like Kueh Ku, Kueh Bengkah, and Talam Keladi. With a daily assortment of kuehs to choose from, you'll always be surprised each time a platter comes round.
Rempapa opens to public on 10 December 2021.
2 Paya Lebar Road #01-02/03 Park Place Residences at PLQ
Make your reservations here.