Whether you're a meat lover or not, vegetarian travel is a trend worth noting in your little black book for the year. It's time to change the way we leave our footprint on the planet, and conscious consumption beneficial to animals and our planet is one of the ways we can help out. With that in mind, we've asked the experts at Jacada Travel to shortlist their recommendations for vegetarian-friendly places to check out in 2020. From the myriad of potatoes in Peru to the bustling markets of Melbourne, this list features a selection of the hottest experiences and restaurants in some of the world's best countries suited to vegetarians.
A beacon of wellness and spirituality, it's no surprise that Bali tops the list as one of the world's most vegetarian-friendly travel destinations. Vegetarians are well catered for as the island is predominantly Hindu, and plays host to healthy food festivals that celebrate the health and wellness movement. Though vegetarian and vegan restaurants can be found island-wide, a high concentration of innovative options can be found in Ubud, with specialities including gado gado (an Indonesian salad made from tofu, rice crackers and peanut sauce), tempeh skewers, vegetarian and vegan-friendly ice cream, and more.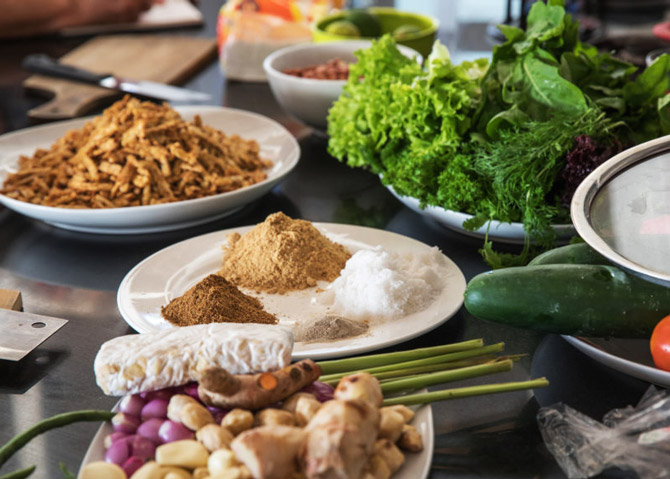 Must-try experience: Paradiso, Ubud
Paradiso is the world's first vegan cinema, which regularly hosts workshops, dance classes, yoga classes, and art exhibitions while serving both vegetarian and vegan food. If you're seeking an unprecedented experience, Paradiso is a great place to satisfy your taste buds while meeting fellow vegetarian travellers.
Must-try restaurant: Moksa, Ubud
A place that lives up to its motto of "food that loves you back", Moksa is a 100% plant-based restaurant surrounded by its very own permaculture garden that supports each element of every dish served. With a dojo for yoga and meditation, as well as special events (the Tuesday and Saturday farmers' markets are excellent) and culinary classes, paying a visit to Moksa will leave you feeling rejuvenated and inspired in every way.
Like Bali, Thailand has become synonymous with the eco-conscious vegetarian traveller. Vegetarianism isn't a recent trend in the country, though — Thai Buddhists have been eating green for generations, and the annual vegetarian festival in September and October is celebrated countrywide with participating restaurants flying a yellow flag for easy identification during the period. Call for their stir-fried water mimosa, fermented mushroom sausage, colourful Thai curries, and curried tofu with vegetables.
Must-try experience: Thai Vegetarian Festival
For a full immersion into Thai cuisine, visit the annual vegetarian festival, which is held throughout the country, from 16 to 25 October 2020.
Must-try restaurant: Gaa, Bangkok
Gaa is the culinary brainchild of Chef Garmina Arora, voted Asia's Best Female Chef of 2019. At the one-Michelin-star Gaa, Arora combines cuisine from her Indian and Thai heritage, two culinary giants when it comes to flavours. With a culinary style described as "modern eclectic cuisine", Arora creates progressive vegetarian dishes with ingredients dictated by the seasons. The assortment boasts either a 10-course or 14-course tasting menu, which can be paired with natural wines, fermentation-rich cocktails, or whole juices.
Peru is a particularly vegetarian-friendly country in South America. Their chocolate is world-renowned, and the country's cocoa beans are often described as the best in the world. As cocoa is so concentrated, few additives are required, making the majority of the chocolate ethical, delicious, and most importantly, vegan.
For those who prefer savoury flavours, the well-loved potato originated in Peru, with the country boasting more than 3,000 varieties of the vegetable, a statistic higher than any other country. Protein-rich quinoa is also commonly used in Peruvian cuisine, as it's one of the few crops that is able to withstand the altitudes of the Andes Mountains. With Peru being the world's top quinoa exporter, this delicious grain can be found in even the most remote regions of the country.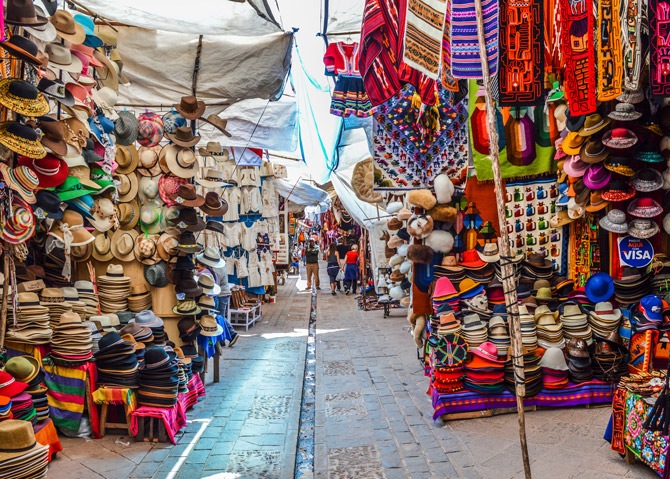 Must-try experience: San Isidro Market Visit
Start with a visit to one of Lima's most emblematic and picturesque markets, where you can see, taste and purchase the most popular ingredients used in Peruvian cuisine. In the hands of Jacada Travel's culinary expert, you'll have the chance to try fruits from the coast, mountains and jungle, such as chirimoya, pacay, aguaymanto and aguaje.
Must-try restaurant: El Jardin de Jazmin
Artsy vibes and tasty vegetarian food unite at El Jardin de Jazmin, a quaint restaurant in Lima's modern Miraflores district. The menu features Peruvian ingredients with a vegetarian twist, like stuffed bell peppers with pecans and quinoa, topped with a vegan salsa huancaina. Ask for their selection of artisan beers to complete your hearty meal.
Australia's cuisine traditionally consists of barbecued shrimp and kangaroo burgers, so you're forgiven for thinking that their vegetarian scene is nothing to write home about. But in Melbourne, more than 12 percent of the local population eats little to no meat, and the vegetarian scene has continued to flourish in line with the eating habits of the locals. Those following a plant-based diet are spoilt for choice here; options range from Buddha bowls and matcha baos to a completely vegan pizzeria. Your hipster tastebuds will be delighted.
Must-try experience: Melbourne with a Foodie
Spend the day with an expert from Jacada Travel in Melbourne's local culinary identity. Go on an edible tour through the city's fascinating multi-cultural neighbourhoods — featuring vegetarian menus of Italian, Greek, Vietnamese, Chinese, and more. This includes lunch at one of Melbourne's burgeoning restaurant precincts and a visit to an underground city cheese room.
Must-try restaurant: Smith & Daughters, Melbourne
Dynamic punk-rock duo, Mo Wyse and Shannon Martinez, not only rocked the boat of everyone's perceptions of vegetarian meals, but they blew the roof off of Melbourne's food scene as well. With a previous knack for Latin-inspired menus, Martinez switched over to Italian food after she discovered the cuisine's suitability for both vegetarian and vegan meals. Highlights from the menu include a "beef" and red wine ragout on soft polenta — made with dried, shredded and pressed mushrooms, which could fool anyone for the real thing.
Must-try restaurant: The Raw Kitchen, Fremantle, Western Australia
Housed in a 1920s warehouse, The Raw Kitchen is part restaurant, yoga, and retail store. It is fabulous for progressive plant-based fuel, with a menu that's taking Western Australia's food scene by storm. Our favourite dish? A vegan spin on Pad Thai, made with zucchini noodles, satay sauce, capsicum, baby corn, tamarind and kaffir lime.
For more information, visit Jacada Travel.