Dior Bal a Paris 2019 takes front row seats at the point where fashion, jewellery and watchmaking converge
The great thing about timepieces created by fashion houses is that the watch is not thought of as just a watch. There is a constant intermingling of style and horology that sets them far apart from the creations of traditional watch brands –just as alluring of course, but a completely different kettle of fish nonetheless.
Dior Timepieces for instance bridge the worlds of fashion, jewellery and watchmaking using nothing more than pure design genius.
For 2019, the French maison presents an exquisite selection of bejewelled timepieces reflecting creative director Victoire de Castellane's predilection for nature, as well as the many classical codes of Dior.
Dior Grand Bal Opera
Starting at the top of the Dior pyramid, the Dior Grand Bal collection introduces three new themes, all of which are different in spirit but equally dazzling in execution. Grand Bal Opera takes you to the fabulous world of classical opera – French of course. Think about the Palais Garnier with its over-the-top gilded décor and you'll get a good sense of what these pieces are about.
But there's an extra surprise in the form of the Dior Inversé 11½ self-winding calibre which replaces the oscillating weight on the dial rather than the back. A Dior signature, this feature is festooned with gold and diamonds in a layered, lattice-like style similar to the beautiful dresses of Christian Dior.
This collection of 10 unique watches comes in a new case design. A square with rounded edges evokes the baroque and grandiose architecture of Parisian opera and its splendid façade, columns and arcades.
Dior Grand Bal Dentelle Frivole
First unveiled in September 2018, the Dior Grand Bal Dentelle Frivole explores a familiar motif, the lace. Again using the Dior Inversé 11½ Self-winding Calibre, the watch's oscillating weight is made of gold and set with diamonds, but this time crafted in the style of traditional French lace.
Its intricate gossamer form swivels around and juxtaposes against the dial rich in colour and texture. White, black, pink or blue mother-of-pearl engraved in relief and laid with golf leaf by hand.
Dior Grand Soir Reine des Abeilles
Christian Dior loved gardens and so this beautiful universe constantly manifests in the maison's designs from fashion to beauty to jewellery and watchmaking. Dior Grand Soir Reine des Abeilles puts the spotlight on one of the many creatures we have to thank for all the beautiful flowers and greenery around us. Although, Reine des Abeilles means Queen Bee and technical she doesn't do any real pollinating – she literally has an army of workers to do that job. Anyhoo...
The collection of fourteen one-of-a-kind timepieces are a visual spectacle of tourmalines, sapphires, rubies, amethysts, tsavorite garnets, opals and – who would've thought – fluttering feathers. Every scintillating detail of the queen bee's anatomy is interpreted through precious multi-coloured materials. And are our eyes playing tricks on us, or does the background resemble a shimmering hive paved with hexagon-shaped diamonds?
Dior VIII Montaigne Claire de Lune
It displays our moon in different phases but the Dior VIII Montaigne Claire de Lune isn't your average moon phase timepiece. Full disclosure: It doesn't actually offer the moon phase function or any other function beyond hours, minutes and seconds. What it does give you, however, is a dazzling starry universe brimming with gold and diamonds – honestly, we'll take this over a little aperture with a boring ol' moon disc underneath any day of the week.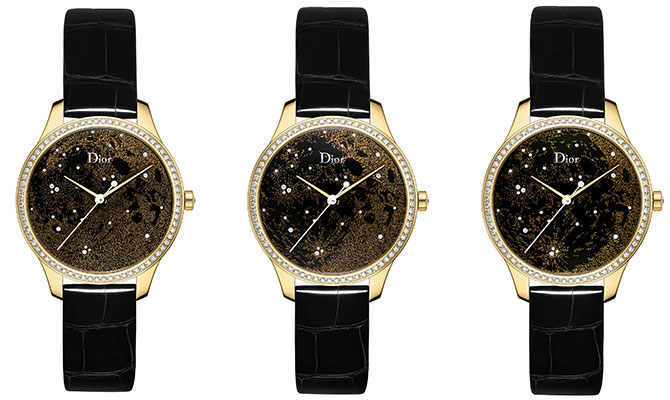 With a little imagination, you could see that the dials offer one of three moon variations – crescent, half and moon –where craters are illustrated by negative spaces and the stars, brilliant-cut diamonds (of course). Also, did we mention that the watch is cased in yellow gold, which is hilarious because yellow is the colour of cheese, and everyone knows that the moon is made of cheese – amiright? Inserts smiley emoji.
La Mini D de Dior Mosaïque
You could always trust de Castellane to bring a dose of playfulness into Swiss watchmaking. The new La Mini D de Dior Mosaïque matches mother-of-pearl in pastel yellow, pink or green with rainbow hued textile straps woven into a delightful tapestry.
Complete with a diamond set bezel and crown, these watches are all about fun. And style. And elegance. And colour. And pleasure... what can we say? It's a mosaic!
La D de Dior Cocotte
You must be wondering why Dior named a watch after a casserole dish. Spoiler alert: It didn't. Cocotte has several meanings, one of which is indeed a casserole, but it can also mean darling or love like how one might say "cherie".
Launched late last year, La D de Dior Cocotte brings a touch of Dior high jewellery to the collection, specifically, de Castellane's bold use of colours and shapes in the Coté Jardins pieces. What is normally a simple round case has now become a ring of gorgeous precious stones in five different cuts: pear, oval, princess, triangle and round.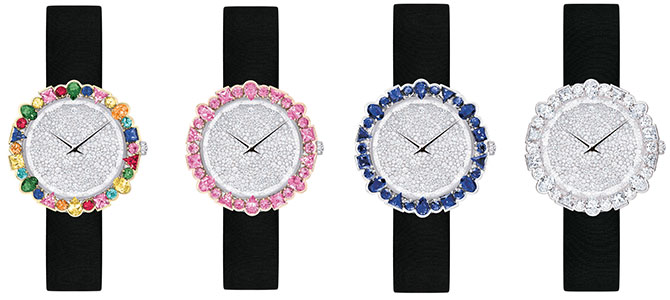 Stones providing a riot of colour include pink, yellow and blue sapphires, tsavorite garnets, mandarin garnets, rubies and Paraiba type tourmalines. There's also plain white diamonds for, we want to say, an understated look, but this much diamonds? As far as we're concerned, understatement is completely and utterly off the table.