Fashion
Gucci Love Parade and the five standout looks
All the stars
"When I started thinking about the way I wanted to celebrate this new chapter in my adventurous job, I thought about mum and her precious legacy. I thought about the worship of beauty she fed me with. About the indefeasible gift of dreaming and the mythopoetic aura of cinema. This is why I chose Hollywood Boulevard," offers creative director Alessandro Michele in the Gucci Love Parade show notes.
Michele credited his mother — who worked as an assistant in a production company — for his love of film and Hollywood. The latter, of course, has given birth to some of the beloved icons of modern history that we've (more often than not) elevated to exalted ranks of neo-gods and goddesses. And for Michele, it made perfect sense to tap on that sense of idol-worship for Gucci Love Parade, the Italian fashion house's second show during its 100th year.
It's also a celebration of Gucci's own iconic status. There's nary a person that is unfamiliar with the name, whether they're a fan of the brand or as far removed from luxury fashion as possible. Gucci's presence in pop culture and beyond, is a testament to its strength of legacy and brand, and of course, underscored by Michele's affinity for some of the brightest young stars the likes of Billie Eilish, Harry Styles, Måneskin, Florence Welch and more. Expectedly, most of them turned up for Gucci Love Parade with a select few like Jared Leto and Phoebe Bridgers acted as models for the show.
As a collection, Gucci Love Parade paid several homages to Hollywood and American culture at large. There were riffs on iconic cowboy symbology, floral corsages that alluded to prom, Hawaiian shirts, and sportswear — all while retaining that indelible sense of what Michele has done for Gucci over the past years.
If there were to be a brand that deserve to shut down Hollywood Boulevard for a fashion show, it could only be Gucci.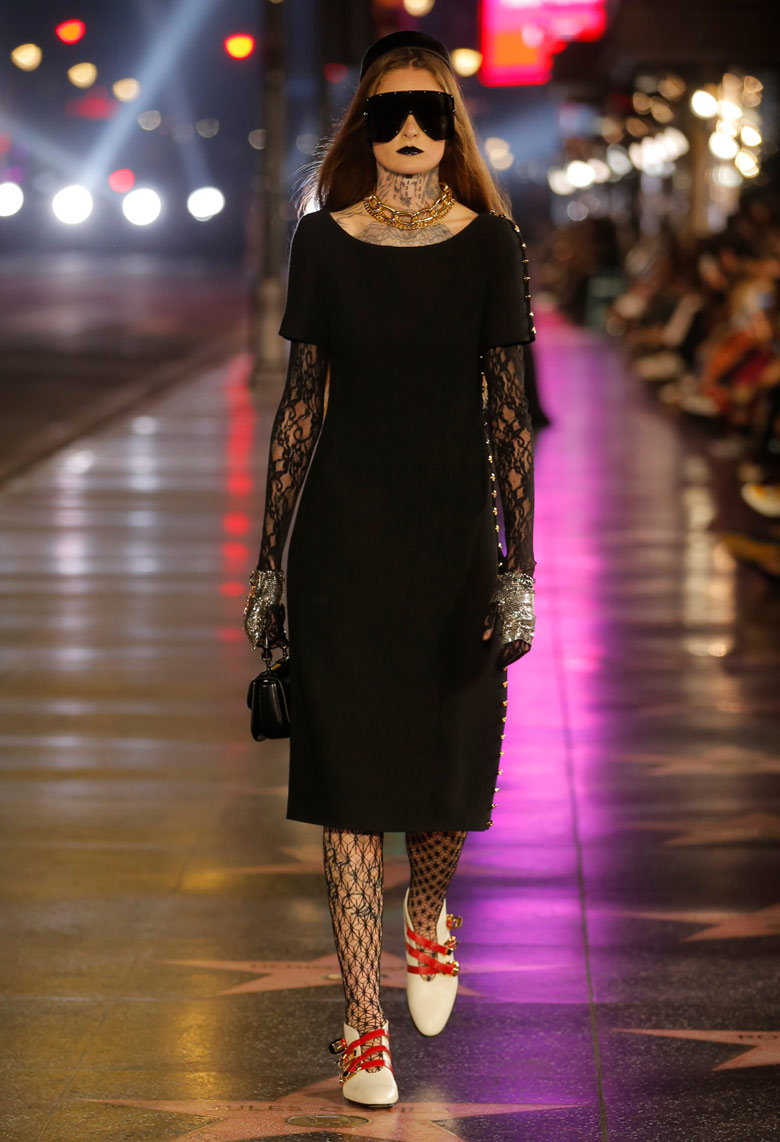 What: The little black dress remixed with button details and worn with black lace bodysuit.
Why: While Michele's work for Gucci is largely known for a more-is-more aesthetic, the simplicity of this black dress shows that he's able to just as well work with easy and simple silhouettes but still retaining that ethos.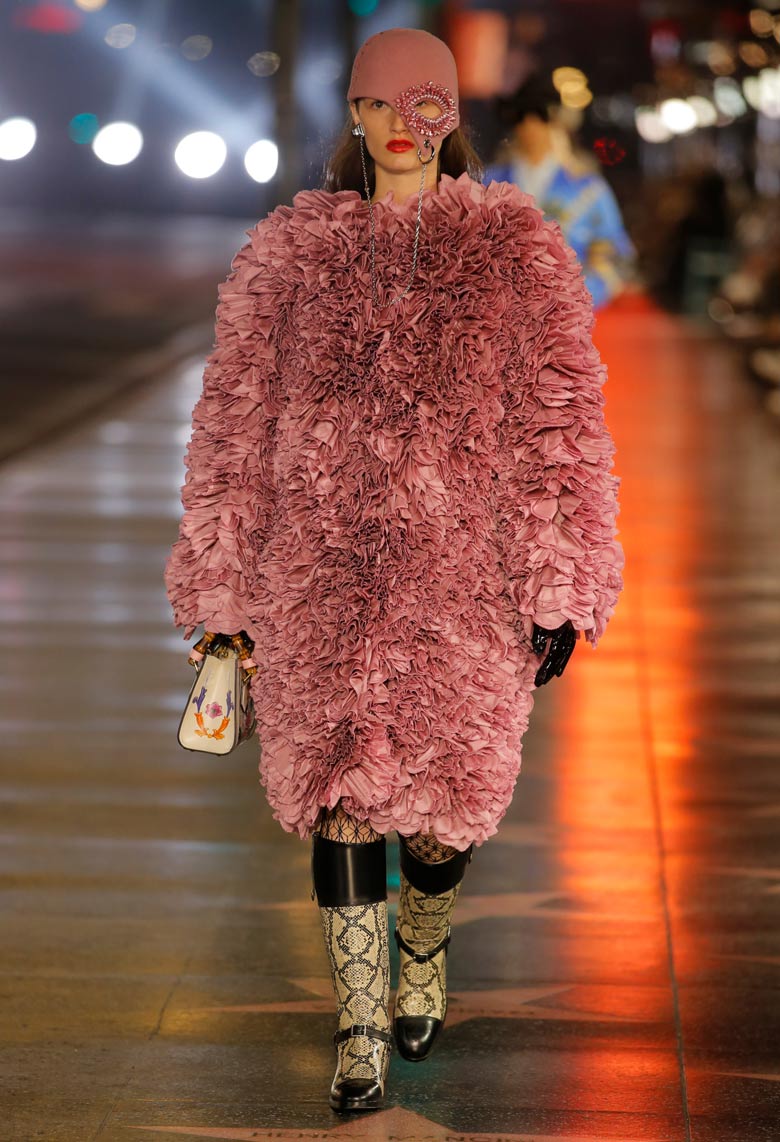 What: A beautifully voluminous petal-like coat with embroidered headgear.
Why: Then conversely, there's the excessive interpretations that are uniquely Gucci. Also, the shade of pink in this is just gorgeous.
What: Athleisure meets tailoring in this pairing of athletic sportswear with an overized blazer.
Why: Personally, this is what I'd like to see more of after ending a pilates class — post-workout gear with such fashionable finesse.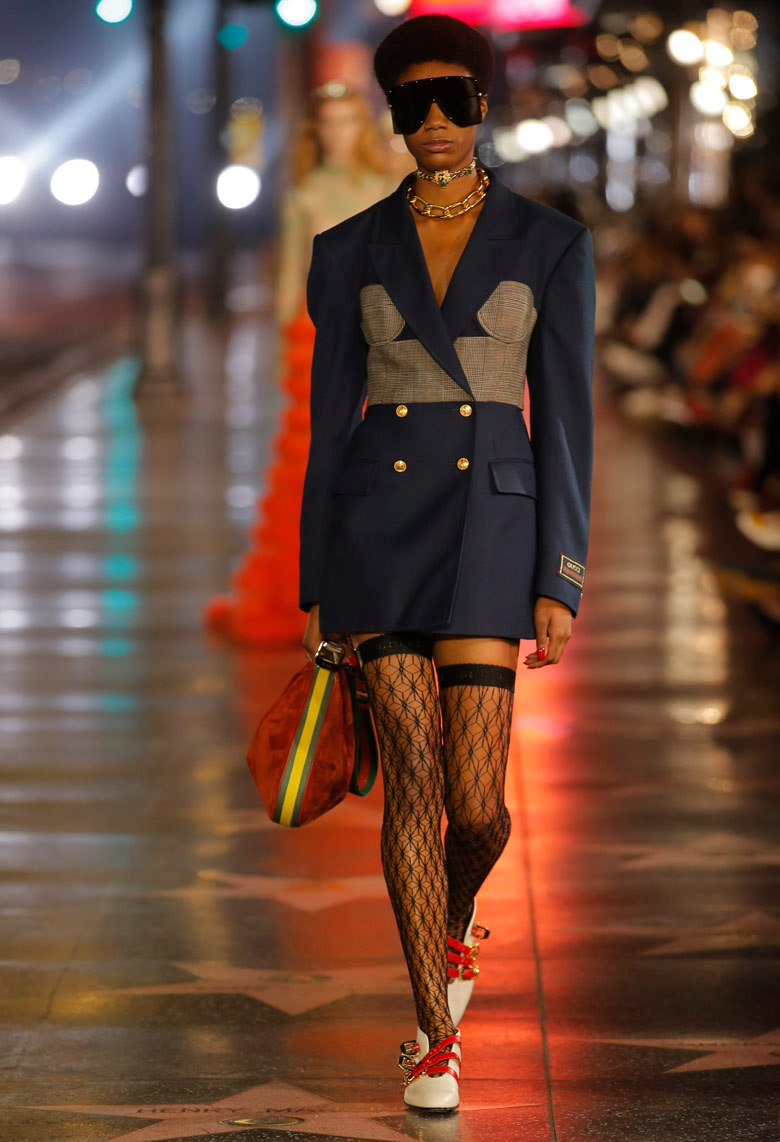 What: The allure of an oversized double-breasted topped with contrasting details.
Why: Gucci rarely does sexy in overt ways. And this corset-incorporated jacket is the kind that captures that vision really well. And what's sexier than tailoring, really?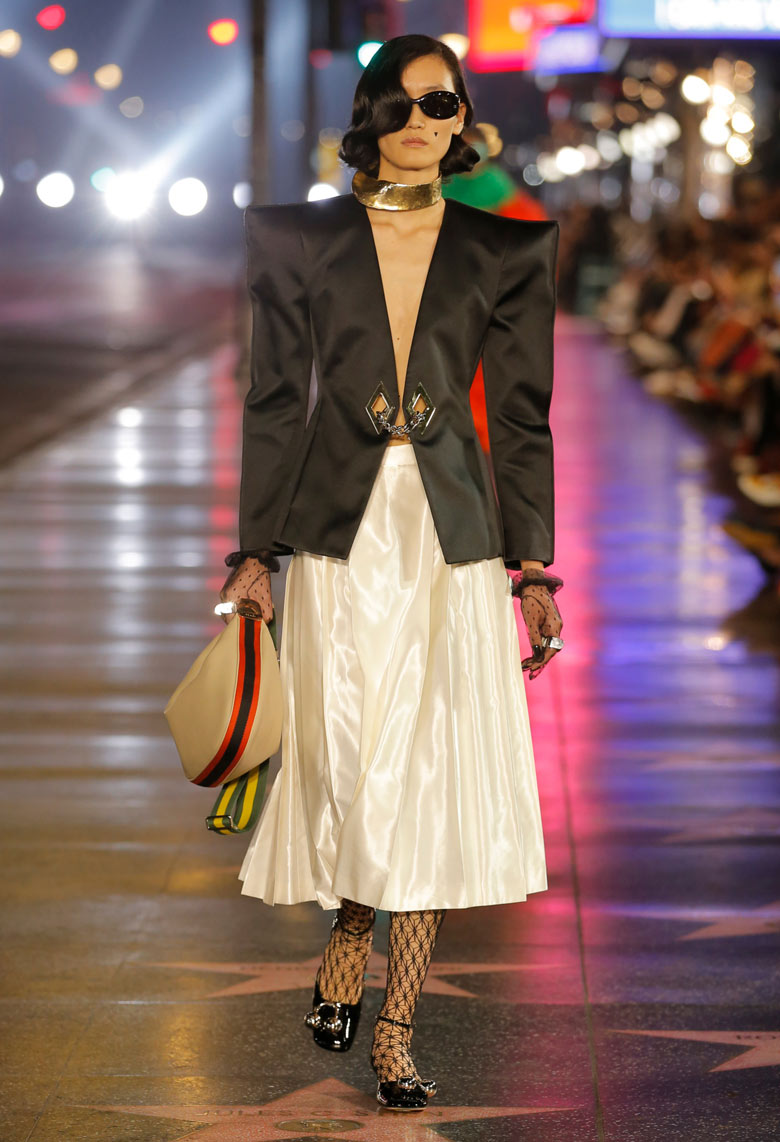 What: A power-shouldered blazer matched with a white silk skirt and pretty much nothing else.
Why: Once again, that simplicity but with this one, it's all in the details.