With events slowly coming back in tow, it's no surprise that we're all looking for something interesting, new and experiential to do in Singapore. We've Zoomed our way through meetings, conferences, baby showers, bridal parties, weddings, and endless more over the course of the last two years. With our desires for physical, human interaction at an all-time high, it's truly time to focus on where we're headed next.
Which is why Buro. Singapore partnered with Glenfiddich last month, to host the third edition of the Where Next Club in Singapore with  the ultimate 'Sip'n'Paint' night out at My Art Space (Istana Park). Hosted by Southeast Asia Brand Ambassador for Glenfiddich, Brett Bayly alongside Singapore's leading artist duo, RIPPLE ROOT, Buro.'s most creative readers came together to learn about the maverick spirit of the World's Most Awarded Single Malt Scotch Whisky, whilst envisioning their own interpretations of Where Next  in 2022 and beyond.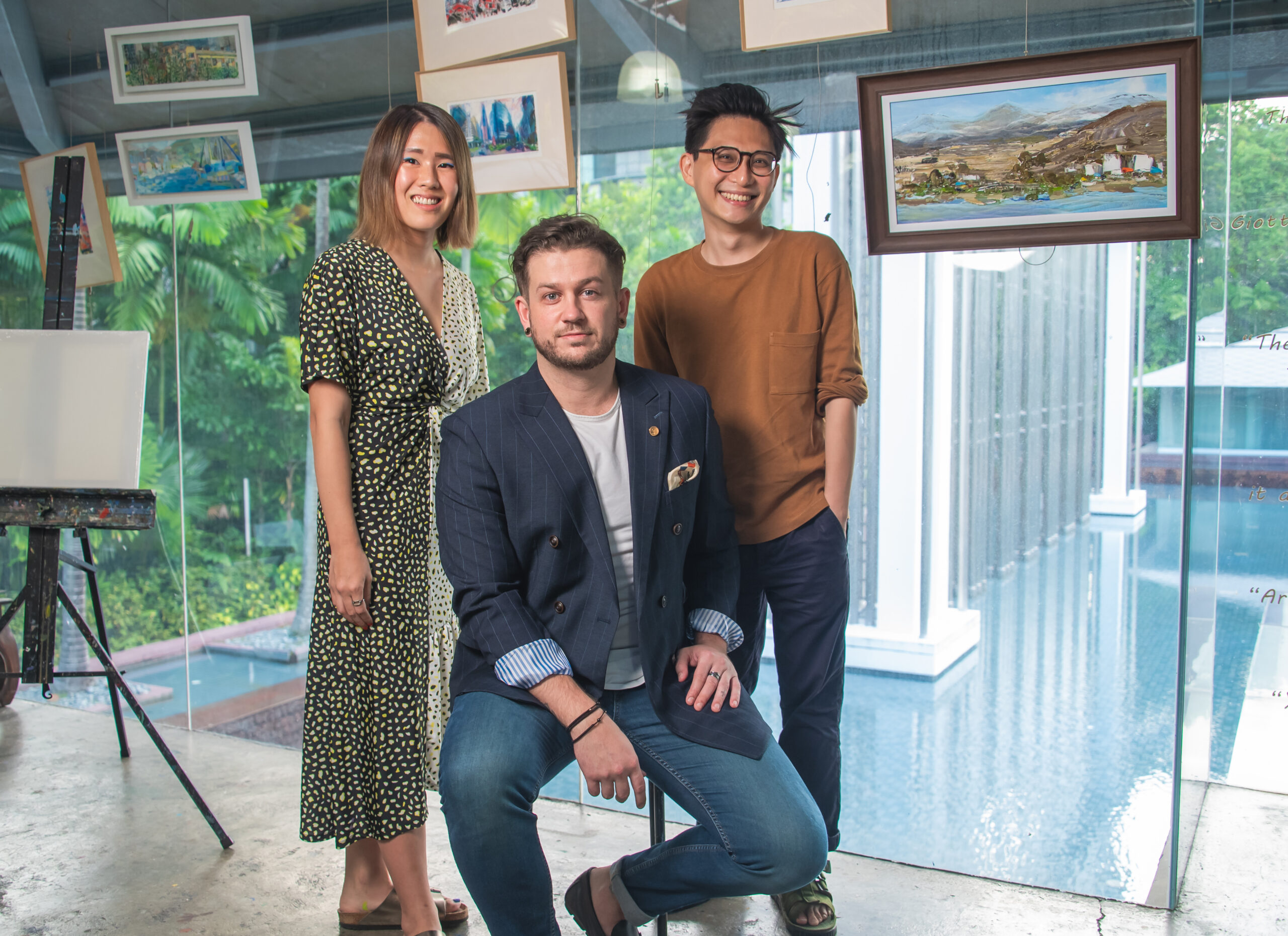 Glenfiddich's Where Next campaign launched earlier this year, focused on embodying the brand's commitment to consistent innovation and breaking new ground. In the same vein, the Where Next Club celebrates the idea that meaningful growth can come by continually embracing the unknown. Through a series of masterclasses led by mavericks in their respective fields, the Where Next Club aims to inspire others to step out of their comfort zone – to be unafraid of challenging convention and charting their own paths; pursuing excellence and breaking new ground on this grand adventure of self-discovery.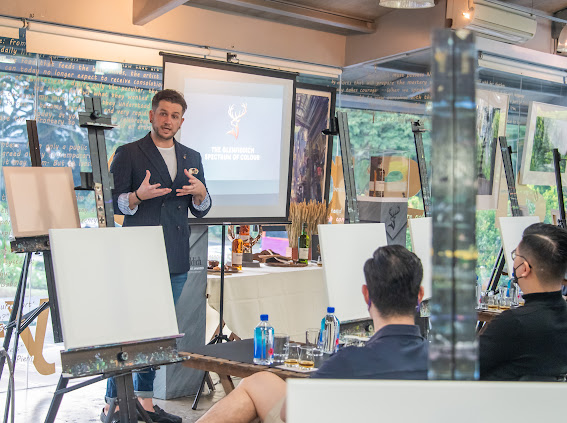 Opening the evening with a tasting session by Brett featuring two of Glenfiddich's most iconic whiskies, Glenfiddich Our Original Twelve  and Glenfiddich Our Solera Fifteen, attendees had the chance to learn about the unique flavour profiles of each drink and get their senses awakened before commencing the painting experience.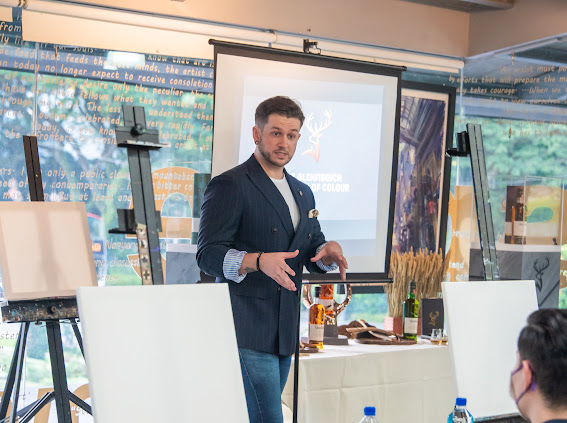 The unique colour-inspired whisky tasting session used colour as a cue  and encouraged attendees to share flavour notes that came to mind – with every colour shown, and what we took away from the same dram of whisky changed each time. Citing hints of pear and oak for the 12 Year Single Malt and hints of chocolate, honey and vanilla for the 15 Year Old Single Malt, there was a sip for every palate and palette. It was an interesting experience that demonstrated how a different approach could alter our perception of even the most familiar of subjects; a timely reminder to always keep an open mind.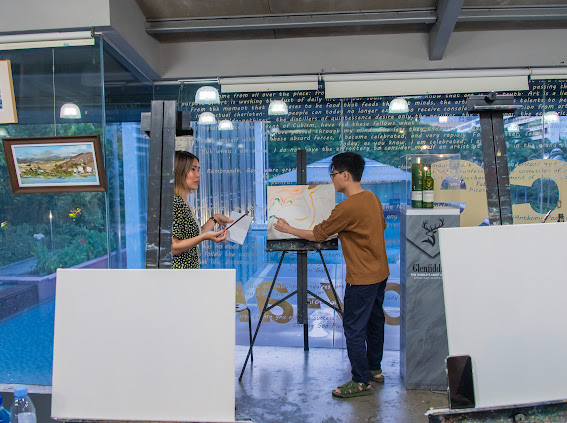 Attendees were then treated to an exclusive live tutorial by RIPPLE ROOT – the artist moniker comprising Liquan Liew and Estella Ng. Acclaimed for their collaborative, carefree works reflecting themes of nature and wildlife, the duo have become popular across Singapore and the region for their distinct Southeast Asian ornamentation; and dense, interwoven patterns that borrow from arabesque tiles and textiles. Their commissioned pieces are featured in places including the American Club, Peranakan Museum, Hilton Singapore and the Hundred Years Gallery in East London, to name a few.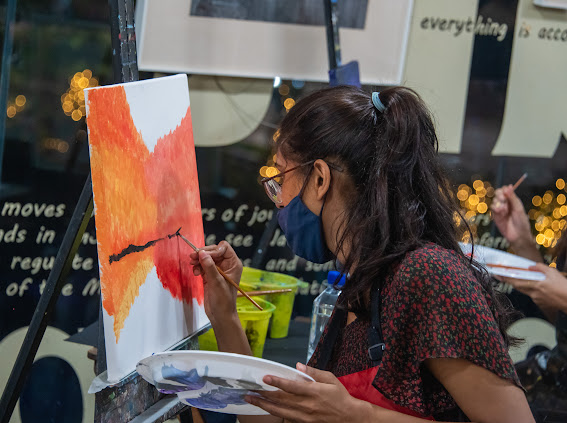 Starting out the class by explaining the fundamentals of strokes, colour choices, balancing texture and tips on how to build an art-piece from sketch to finish, the duo then gave attendees a chance to bounce off key words to inspire their own paintings. Unlike most art-jamming classes where attendees are inspired by the paint and colours, attendees were asked to imagine the flavours, scents and tasting notes of the whiskies as the muse for their unique pieces. The result? A whole new way of finding imagination in art and a true exploration of how all the senses can play a part in exploring creativity.
Also unlike most art-jamming sessions whereby participants regularly paint a subject, attendees were asked instead to explore thoughts of movement, nature, valleys, growth, possibility and discovery. All embodying the spirit of Glenfiddich. Inspiration flooded the room and suddenly, everyone was brushes to canvas; ready to create their own Where Next masterpieces – with the guidance of Liquan and Estella and their sensory companion of whisky.
Turns out our readers have quite the artistic eye! Below were some of the highlight pieces created during the session: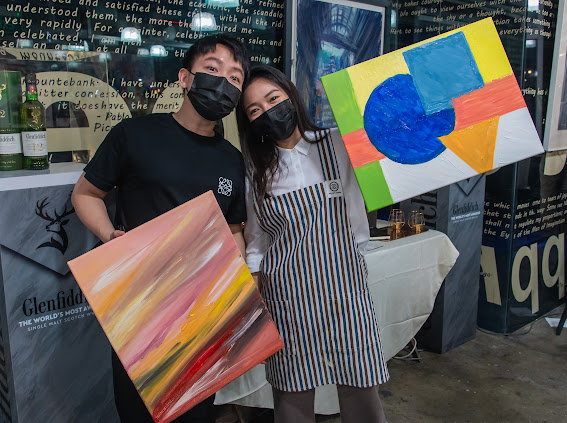 It was truly a sippingly-fabulous evening with Glenfiddich x Buro. Singapore. Thank you to all our readers who attended. To experience the World's Most Awarded Single Malt Whisky and discover Where Next for yourself, follow @GlenfiddichSEA on Instagram.