Where we dined this week…
Drunken Farmer Joo Chiat
No doubt, Common Man Coffee Roasters has been the bedrock of many delectable things — from a fresh cup of pour to perfectly cooked poached eggs — but nothing can quite compare to its alter ego, Drunken Farmer. A sundown concept that takes over the day-time cafe, in an eclectic funk featuring natural wines and grub to go hand in hand. If you've yet to check out the address down at Stanley Street, the latest hotspot now resides in Joo Chiat (good news for thirsty Easties). Apart from the dim lights and the projector splaying a series of random clips, from Pulp Fiction to Charlie Chaplin, there's something to speak for the breezy neighbourhood imbued with local charm. Grab a seat by the open window, between cute shutters and you'll get to people-watch either from the inside or outside. While it is a small, concise menu here at Drunken Farmer, one can be easily sated from the array of sourdough pizzas that pride itself on fresh cheeses, particularly chef Paul Albert's fresh stracciatella, made from locally sourced cow's milk. Best savoured atop of the Anchovy & Pesto, slathered with tomato, topped with basil-pistachio pesto, and sizeable anchovies and a drizzle of balsamic vinegar. Slices come much bigger than we remembered from the Stanley outpost, with two slices merging into one behemoth mouthful. New melty cheese additions include the Four-cheese, which yield a heady combination of creamy ricotta, mozzarella, as well as sharper selects like blue cheese and a nutty ossau iraty. Pair any one of these with the Domaine Christian Binner Is Rose, an orange skin-contact wine with a fragrant rosy opener, juicy grapefruit notes with a soothing, spicy finish. We know orange wines often don't get the best credibility, but this turned out to be a personal favourite. There's also a Drunken Farmer exclusive pour here — a Chenin Blanc from Loire, in France. It starts off delicately crisp then moulds to a rounder mouthfeel, laden with refreshing fruity notes. Pair this special number with the bistro's skewered black tiger prawns, deep-fried in a light batter. A satisfying bar grub, for sure but just ask for more smoked paprika aioli to go along. We definitely ran out mid-way through demolishing the sticks. —JS
185 Joo Chiat Rd, Tel: 6877 4884
Opening hours: 6pm-10.30pm
Claudine
While Odette might seem unattainable to return as a frequent diner, Julien Royer's third restaurant, Claudine (affectionately named after chef Julien's mother) hopes to change that, with accessible sharing dishes that speak comfort and tradition onto the table. It's a refreshing interpretation to the typical French establishment, which is what Royer believes a French restaurant should be like today. As with the grub served at Claudine — they are French classics as well as personal recipes from Royer and his family. The extensive menu features what the chef-patron himself likes to eat on a personal basis, and what he cooks for his friends and family. The snacks were pretty fun to devour: crispy pork trotter croustillant — a moreish filling with a gelatinous touch, paired with a ravigota sauce made from mayo, hard boiled egg, and a slew of other herbs — as well as cured sardines on chargrilled sourdough. Our favourite vegetable dish had to be the smoky charred leeks, sous vide to molten soft and doused in an oil ravigote, another acidic spike to ramp up on the flavour profile of the dish. Other accompaniments in the sauce include tarragon, garlic, egg yolks, and capers. While Claudine is quite the graceful sister to the likes of Odette, the food line-up does show off a rustic side that we've not quite seen from Royer. Like the classic vol-au-vent, a French puff pastry stuffed with veal sweetbreads, morel, chicken mousse, mushroom, cartilage, and pearl onion. It's a random yet mighty combination, but also birthed from the philosophy of wasting nothing in the kitchen, and a fond memory of Royer's mother cooking this for him on special occasions. It's a robust dish, and balanced well with a light pillowy pastry, and savoured even better with a mushroom jus. A good example of how refined can still be comforting. The Claudine 'Bouillabaisse' concurs — laden with a generous portion of seafood — of John Dory, razor clam, mussel, scallop, carabinero, fennel, and potatoes. It's a rich broth that sits nicely amidst the rest of the dishes, and definitely one to share with your party of five. —JS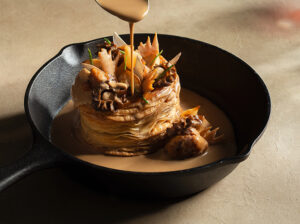 35C Harding Rd. Make a reservation here.
Opening hours: (Tues-Sun) 11.45am to 2pm, 6pm-9.30pm
Hortus
Nestled in a cosy corner of the beautiful Flower Dome of Gardens By The Bay, Hortus brings you Mediterranean flavours in sharing plates to enjoy with a loved one. All their dishes are created with the utmost attention to fresh produce – allowing its natural flavours to come through, and enhanced with fruity olive oil, bright herbs and rich spices. It's food at its best, simple and uncomplicated. To start things off, we had some small plates of freshly baked pita bread and dips to whet our appetite. We had the Greek classic Taramasalta served with crudites and pane carasau, where the smoked cod roe, garlic, almond and olive oil blend brought out the sweetness of the raw carrots and radishes, as well as a delightful crunch. Warm fluffy Pita bread baked in-house also complimented the Muhammara, a bell pepper, pomegranate and walnut dip, and Baba Ghanoush, roasted eggplants blended with tahini, spices and yogurt. The Muhammara especially, had a delightful hint of heat to it. We also indulged in Fritto Misto – fried school prawns, calamari and white bait with a serving of aioli. To freshen your palette, we'd recommend the classic Watermelon salad, where the feta cheese, confit olives and basil brought the fruit to a new level. The fresh produced shined when it came to the seafood – the fremantle octopus was cooked on a wood grill and paired with a punchy green harissa sauce, and we had a generous serving of Venus Clams simply cooked in garlic, chilli, olive oil and Raki, so that the fresh taste of the sea really came through in the large, juicy clams. To end of the meal, we'd recommend the Salted Caramel Tart. Don't get turned off just by the mention of caramel though, because it really had an amazing balance of salty and sweet, no overbearing sweetness, nor was it jelat. It was also presented beautifully with toasted pine nuts and a dusting of icing sugar. – BY
Flower Dome at Gardens by the Bay, 18 Marina Gardens Drive, #01-09
Tel: 6702 0158
Opening hours: (Wed-Sun) 11.30am-3pm, 6pm-9pm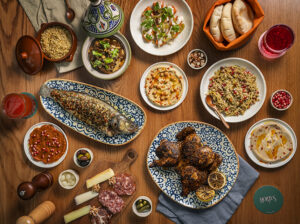 Where we're looking to dine…
Rempapa
An all-day dining concept, Rempapa is an intimate peek into Chef Damian D'Silva's childhood. He shares his multi-cultural family dishes carefully passed down from generations. On the menu, expect to find dishes that are older than 100 years, like Sambal Udang, Babi Pongteh, Debal Chicken with Roasted Pork and Hakka Fried Pork. Chef Damian also includes old heritage recipes that he gave his own spin on like Nonya Fish Cake, Sri Lankan Chicken Curry and Tomato Chutney with String Hoppers, and more. Chef Damian will also be presenting 'Singapore New Heritage Cuisine' for the first time. Bringing to the table distinct flavour profiles designed to intrigue and engage today's palate of the young, 'Singapore New Heritage Cuisine' draws from the soul of tradition and re-invented with elements of different ethnicities, to create flavour profiles that resonate. And for a step further into a truly immersive cuisine adventure, you can opt for the 'Chef's Menu'. It changes according to produce and seasonal catch available in our local waters throughout the year, and the heritage feast can be enjoyed in Rempapa's private room for an intimate family celebration. 
Rempapa will be open to the public on Saturday, 4 December 2021.
2 Paya Lebar Road, #01-01/02/03, Park Place Residences at PLQ
Tel: 9459 1603
Opening Hours: (Mon-Fri) 10.30am-10.30pm (Sat-Sun, PH) 9.30am-10.30pm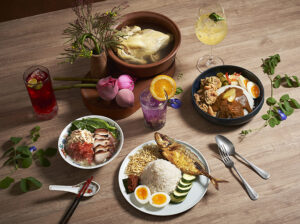 FOOL
A modern wine bar that champions unpretentious and explorative drinking, FOOL is the brainchild of Chef Rishi and Group Beverage Manager Vinodhan Veloo. Featuring an edgy and dynamic wine list, expect a global and eclectic mix of classic styles, with some modern wines of rising stars thrown into the mix as well. As you browse the menu, take a moment to read snippets of pop-culture references in thematic categories, all to showcase and highlight the stories and passion behind every bottle. You can also choose to indulge in highly sought-after English labels like the 2015 Sugrue The Trouble with Dreams 'Extra-Brut' or the 2015 Sugrue Cuvée Boz 'Brut' Chardonnay. And of course, FOOL is hardly going to let you drink on an empty stomach, so to complement their starting list of over 220 wines, have your pick of small plates of unique wine-friendly dishes like Veal Sweetbread with burnt eggplant and chimichurri on house-made blue corn taco or if you're adventurous, the Chicken Liver Éclair with date and madeira.
21 Boon Tat Street
Tel: 6221 1911
Opening hours: (Tues-Thurs) 4pm to 10pm (Fri & Sat) 12pm to 10pm