A decade ago, Twitter was a social media platform where users could lament about their everyday musings, post pictorial updates on their personal lives, and even track down their favourite celebrities. Which sounds pretty much like an average social media application. But today, there's a higher power invested in it. K-pop.  There's no other community that beats the number of tweets from K-pop. Not sports, not even the Marvel universe. It is a force on its own that has snowballed into something behemoth — an edge if one could call it, to set it apart from the rest of the pack.
I can vouch for the aforementioned. It was only this year that I revived my dusty Twitter account because I fell deep into the abyss of K-pop. Since, I've made close online connections with fellow fans from all around the world (shout out to IGOT7/ahgases in Korean), and experienced the highs of real-time support and fanfare every time a member from GOT7 had an activity or song release. So much so, I've neglected other social media platforms like Instagram and TikTok, just to catch a glimpse of what I've missed in the K-pop sphere. So to meet the woman behind it all, head of K-pop and K-content partnerships, YeonJeong Kim, was deeply enthralling. I was intrigued to know what the role of a huge undertaking could encompass, and if she actually had a bias to any K-pop idols or groups. (To my delight, she's a fan of GOT7, alongside with other groups like BLACKPINK and Aespa.) Yes, it turns out everyone has a bias.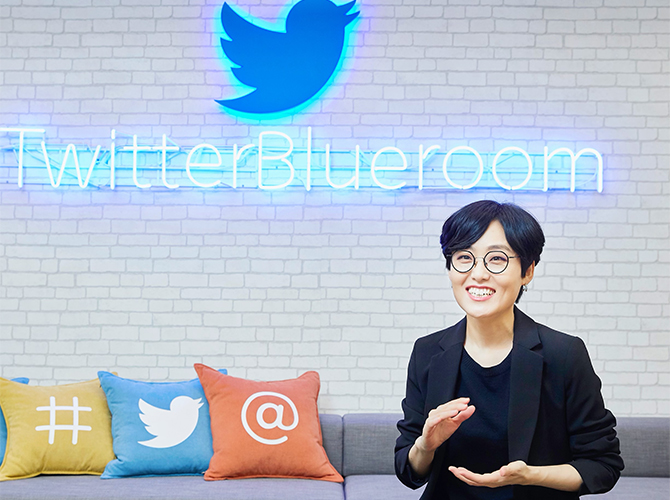 YeonJeong Kim, head of K-pop and K-content partnerships at Twitter
As part of her day-to-day, YeonJeong works closely with top entertainment labels like SM, JYP, YG Entertainment, HYBE (formerly Big Hit Entertainment), and CJ E&M to drive content on Twitter. The tie between Twitter and K-pop is a mutually beneficial one, to which both parties flourish by tapping onto each other's content and services. And even during unprecedented times, K-pop continues to dominate the conversation on Twitter globally. In the recent year between the period from July 1, 2020 to June 30, 2021, there were 7.5 billion tweets about K-pop, setting yet another record for the most number of tweets annually related to K-pop.
YeonJeong's role happened organically back in 2016, as a member on the Twitter sales team, when she spotted a great deal of potential for K-pop in the Twitter verse. During that time, albeit her lack of knowledge or interest for K-pop music as a whole, she proposed to take up the role, to develop the community of K-pop for Twitter.
The user experience and structure of Twitter is pretty fascinating, instead of relying on a said algorithm, Twitter makes use of a product called 'Topics'. You don't have to follow the artist per se, but if you follow a Topic named after that artist, you'll get insights and news updates based on that Topic. For instance, even if your favourite member from Shinee doesn't have a Twitter account, you can still follow and keep track with everything related to him just by the Topic. From there on, the algorithm links you to related topics. Another weapon they own? Trends. She explains: "Twitter is all about real-time trends. We name our trends and serve over 100 countries by region and countries, at the same time making it real-time. User can customise their feed, that even if I'm in Korea, I can see the Singapore and US Trend. For instance, Jinyoung from GOT7's topic could be trending in Korea at noon, and it could be trending in the US, because there's not much news happening during that time. So by releasing new content during that window in Korea, it could be more engaging in the US as well. With more tweets that shout out about the Trend, it's when the Trend becomes real-time for everyone."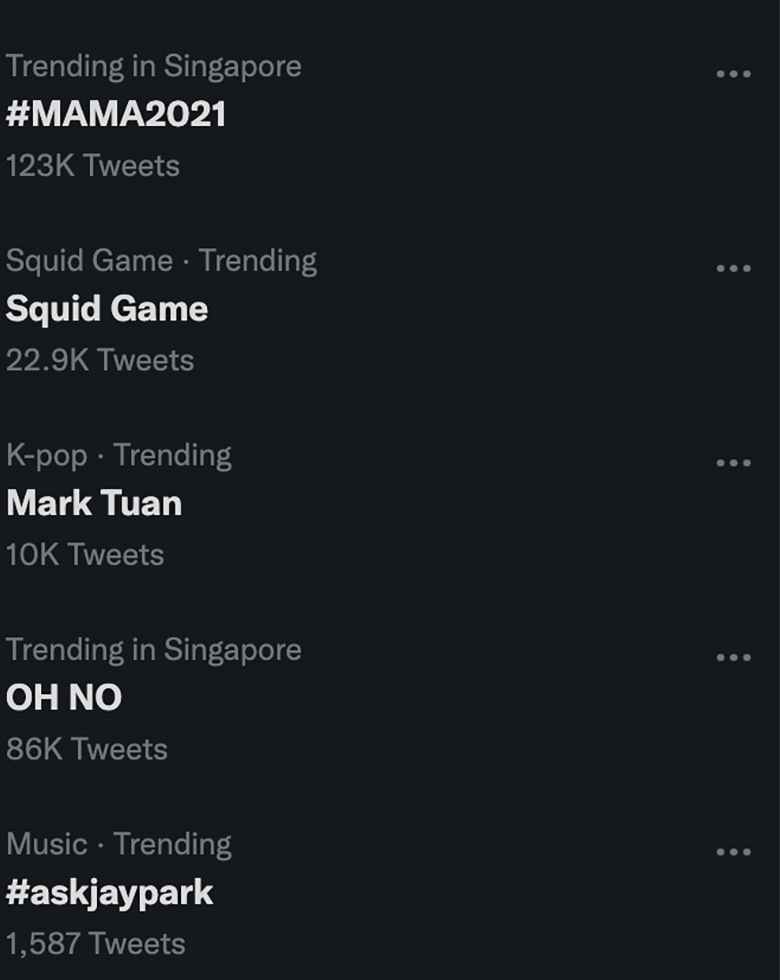 While dissecting more into the relationship between the two, YeonJeong muses: "It's all about timing for Twitter. K-pop already started 30 years ago with 0 gen, and it didn't go global because at that time there was no Internet. Even 2nd gen artistes like 2pm and Big Bang were only at the early stages of social media, so they couldn't benefit too much from the digital media. But after 3rd gen, it grew bigger, and there was powerful engagement on the global spectrum." She referenced the importance of creating an account as a K-pop group, where she pushed for EXO under SM, to create a Twitter account back in 2017 when she realised the group had a huge global fanbase. However, BTS (who was from the same 3rd generation) had already created their first Twitter account back in 2012, five years earlier than EXO. During the time-lapse, the crucial year for BTS came through in 2017 when they were named as Billboard Top Social Artist, as a result of numerous voting tweets pouring in from the sizeable Army fanbase on Twitter. "Since Twitter is a US platform, BTS had more of a chance to go global including the US market."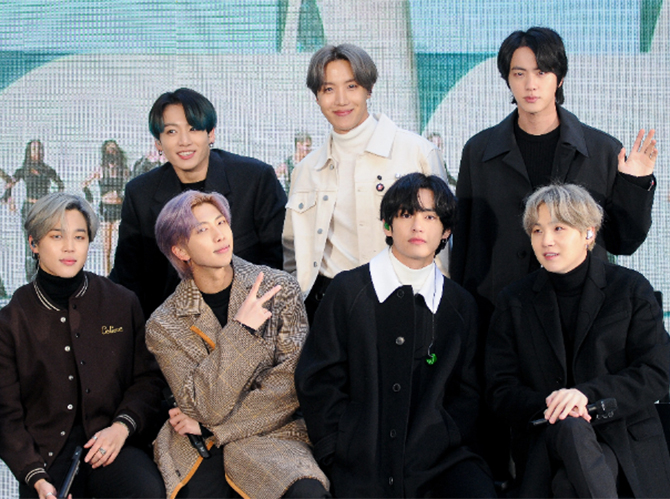 BTS
With every comeback, anniversary, or new release, it's a monumental affair in the Twitter verse. A phenomenon that can't happen in any other platform other than Twitter. To engage the fandoms, features like "Voice tweets" or special emojis drawn by the idols themselves can be accessed on Twitter. One can definitely see how the effect can further snowball and promote the artistes like never before. "We have this thing called a "a total attack", we call it "Chonggong", that whenever a new album or a birthday is happening, fans will gather together to trend the event," says YeonJeong. "They would go, hey, we are the fan group, and even if we don't know each other, we have the same bias. So why don't we drive the "Chonggong" at this time on this date. Then everyone would do it."
Which brings up Twitter's next winning feature. Beyond inaugural features and milestones, the space is limitless with connectivity. Where idols can communicate freely with their fans, whether it be directly replying to their memes or thanking them for their love and support, it is a safe space for idols and fans to interact with one another. It also brings about a more humanistic side to idols that we can't witness on live stages and engineered music videos. And beyond that, it is also how fans can connect with other fans — overcoming language barriers and timezones, and at times even bridging fandoms. YeonJeong related in excitement that this year, a Twitter Space comprising of EXO and GOT7 was formed, when an EXO fan posted a suggestion to host a collaborative space for both fandoms. Because of this fan-initiated event, the hashtag #EXOxGOT7 trended worldwide on Twitter. The prowess of a single tweet from a non-celebrity ended up spiralling into a notable milestone for Twitter. So much so that YeonJeong still remembers the date — July 2, by heart.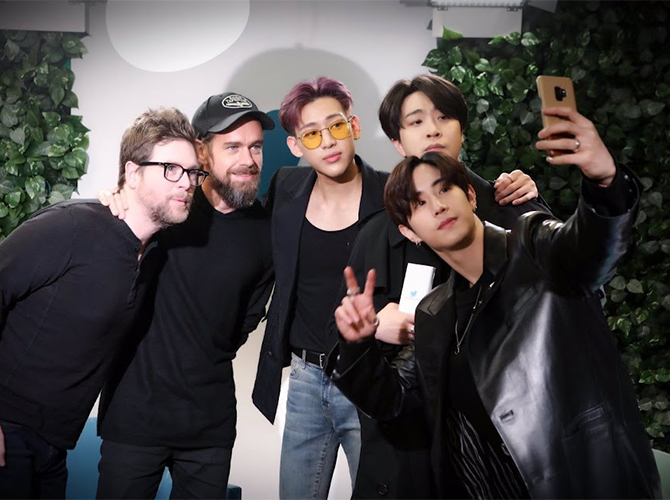 Former CEO of Twitter Jack Dorsey with BamBam, Mark, and Youngjae from GOT7
On the recent success of K-pop and Korean content as a whole, YeonJeong addresses that there hasn't been a change of content, but the reason why it is now a global success, is the current generation's knowledge and enforcement of social media. "We need to really respect the K-pop industry evolution, from the first generation to the current generation. Even in 2009, Wonder Girls were brought to the US, and they could only do promotions off-line with bus tours throughout the nations. K-pop pioneers have been trying continuously to break into the global market, so I think we need to respect the heritage of the K-pop industry and their efforts. Agencies like SM and JYP did a great job, by building their legacy for so many years. Now, we see that the hype is big, but we can't ignore how tough it was at that time."
She adds: "South Korea's society is so competitive, which is probably why we produce such high quality content since 2012. With OTT (Over The Top) streaming platforms and social media to support, it has a snowball impact. I'm really looking forward to see what kind of drama or the next K-pop artist will go global."