One of my first few memories as a four-year-old child was sitting in a crowded kopitiam in Holland Village, eating a piping hot plate of wanton noodles. That dish was the highlight of a weekly Sunday routine with my family. It was perfectly chewy, with juicy slabs of barbecued pork, and I loved peering into the kitchen to watch the silver-haired chefs make it. When we moved across the island to the East Coast, my next obsession became the char kway teow at the Marine Parade Food Centre. It was an epic mess of slurp-worthy flat noodles tossed in dark soya sauce, topped with generous amounts of lap cheong (Chinese sausage) and fishcake.
My life was probably atypical of us "born in the 80s" kids. Growing up in Singapore in the 90s was an exhilarating time for our local food scene — there was a distinctive hawker food culture, where friends and family would commune over moreish bites. It was bustling, noisy, and full of life. They'd bring their paper fans if needed, order a smorgasbord of local delights, and sit for hours. Being Singaporean was learning to enjoy hawker food that reflected so much of who we were — an immigrant society of Chinese, Malays, Indians, and Eurasians. To the average Singaporean, coffee was a dark and full-bodied local pour that consisted of high-caffeine robusta beans. It was literally, all we had; the words, "flat white" and "hipster" didn't exist back then.
Today, that scene has changed dramatically. While hawker centres and its well-priced fare still exist, they're now competing against inflated rental costs, air-conditioned food court chains, and hipster cafes that flood the Instagram feeds of millennials. More pressingly, it's a trade that the younger generation don't want to make their future.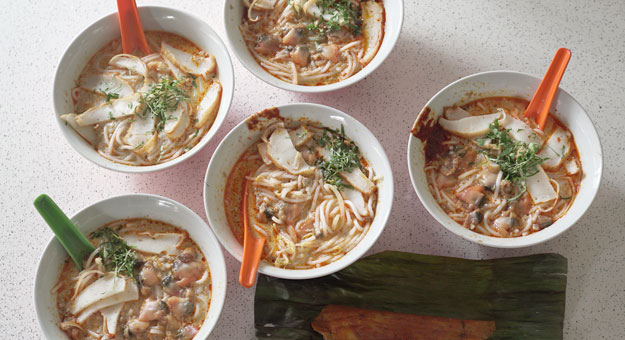 A DIFFERENT GENERATION ARISES
Joshua Tang, a second-year tourism and resort management student at Singapore Polytechnic, is a part-time chef at French restaurant Rhubarb Le in Duxton Hill. As a young boy, he often helped his father in the kitchen and by the age of 13, was cooking on his own. When the 17-year-old was asked if he would run a hawker stall, he states that the hard labour and lack of remuneration involved makes him think twice about it.
"I find things like laksa and Malay kuih a dying trade because it's very labour intensive. People of my generation are striving for work-life balance, but we've also been drilled since young that money is an important factor for survival. Some of the people I look up to most, like my father and grandfather, have a great work ethic and attitude, while people in our generation like to find the easy way out sometimes — and to them, that means trendier carriers or office jobs," says Tang. "Not many people are willing to spend years learning a craft from an uncle or auntie. It's more attractive to be an Instagram star."
"Not many people are willing to spend years learning a craft from an uncle or auntie. It's more attractive to be an Instagram star."
THE CHANGING FACE OF FOOD IN SINGAPORE
In Singapore, our version of greeting someone, similar to an Aussie's "How are you going, mate?", is "Have you eaten?". From Ramadan bazaars, to Chinese New Year snacks at a relative's house, the act of sharing food and dining together is deeply ingrained in our culture. While that fondness for food will remain, it's competition in the dining industry that will get increasingly tough. As compared to two decades ago, Singapore has a staggering number of restaurants on our tiny island — between the years 2010 and 2015, about 3,000 new F&B outlets opened its doors. These range from Michelin-starred restaurants to casual dining chains, which cater to the needs of a younger working crowd. It's no longer hawker centres alone that offer them scrumptious food options; more often than not, they're either looking for a quick option after work in air-conditioned comfort (cue Din Tai Fung, Sushi Tei, or a lacklustre food court), or somewhere fancier to celebrate the end of the work week.
The rise of social media has also taken over the stomachs of a digitally-savvy generation. Heavily influenced by the West, it's glistening shots of avocado on toast, or a colourful acai bowl that gets all the likes on Instagram. A picture of fish head curry? Not so much.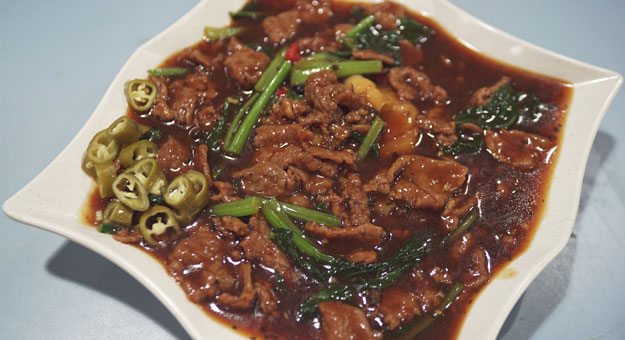 "We're exposed to cultures from different parts of the world, but I think Singaporeans need to strive to keep their identity because we're very unique," says Asha Adnan, founder of Asha & Co. "It's a waste that we shower other cuisines with so much love — traditional food can be cool, too!"
Asha & Co is a community where adults meet, experience and grow together through interactive cooking and art sessions. Adnan teaches her students a variety of recipes, from Thai and Vietnamese to traditional Malay cuisine, such as nasi padang, sambal udang, and ondeh ondeh. She is showing me how to make kuih keria, a dense Malay sweet potato doughnut, while she laments the state of Ramadan bazaars in Singapore. The colourful bazaars, open to the public a month before Hari Raya Puasa, now offer Western bites such as churros, raclette cheese and rainbow beef burgers.
"The Ramadan bazaars these days have nothing to do with heritage anymore," says Adnan, shaking her head. "While I welcome diversity, sometimes I feel that we need to learn more about our roots to keep us grounded. There's nothing wrong with innovating, but I hope that the traditional food can also be celebrated."
KEEPING THE HAWKER TRADE ALIVE
As Steven Sim prepares to retire and shut down his hawker stall, Fortune Delights, at Marine Parade Food Centre in October this year, he feels that there is still a future for hawkers, as long as they're supported. He's been running a stall selling laksa and prawn noodles for the last 34 years — waking up at the crack of dawn, picking up ingredients for the day, and preparing the gravy required for his dishes. Sim says: "It's hard work, but a labour of love that has supported my entire family of six, and saw all my children through school. The hours are long, but it is very rewarding. Singaporeans still do want food that's good and cheap, and hawker centres provide that experience."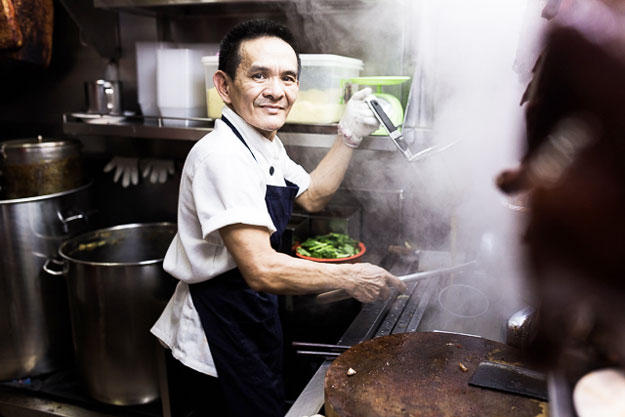 As for us mere gluttons, we need to start embracing our hawker food culture more, rekindle a love for the craft, gather at hawker centres again, and question what makes that plate of chicken rice so special.
TV host and emcee, Anita Kapoor, believes the answer is in sharing stories and to stop turning everything into an institution. "We have these dastardly horrible kopitiam-style food courts which do nothing for food," enthuses Kapoor. "We are institutionalising everything and then offering courses to become hawkers, which frankly, I find is a lot of rubbish over nothing. Food is a visceral thing; cooking is a talent and a skill."
Kapoor, who immigrated to Singapore from Mumbai when she was seven years old, says one of her first memories of hawker centres were the amazing smells that emanated from within the stalls. Her favourite hawker centres today still retain a love for food — she frequents Tekka Market, Old Airport Road Hawker Centre and Maxwell Food Centre for their kampong-style food.
"As for us mere gluttons, we need to start embracing our food hawker culture more, rekindle a love for the craft, gather at hawker centres again, and question what makes that plate of chicken rice so special."
"Get rid of some of these food courts. Let people come into their homes, meet at hawker centres, and stop treating food as a commodity," suggests Kapoor. "This is our heritage; this is our shared culture. How can it be a commodity like this? When you treat it with grace and respect, it becomes something else."
Now excuse me while I tuck in and savour my beautiful $3 bowl of laksa.