If there is some positivity to be gleaned from the events of 2020 so far, it is that the disruption of well-oiled routines have brought a malleability in us and inspired some new ways of working. The F&B industry has been a prime example of this, with many establishments reshaping their operations to cater for strictly takeaway and delivery. Even our local bars have risen to the challenge, with many offering freshly made, ready-to-drink cocktails delivered straight to you.
It's a good excuse to break the monotony, and make a night (or day, no judgement) of it. Change out of your sweatpants, call up a friend or two on Zoom or House Party, and pop on your favourite tunes. You won't even have to catch a cab home after.
When nothing beats a well-made classic
Sometimes all you want is a reliable classic to cap the day off with, and we totally respect that.
We can't enjoy the lively atmosphere of Employees Only for now, but its world-class cocktails are just mere clicks away. On the menu is a range of bottled signatures including the EO Gimlet, Negroni, and Manhattan, the latter two made with their EO Exclusive Vermouth. 350ml bottles are priced at $65, and 700ml at $120.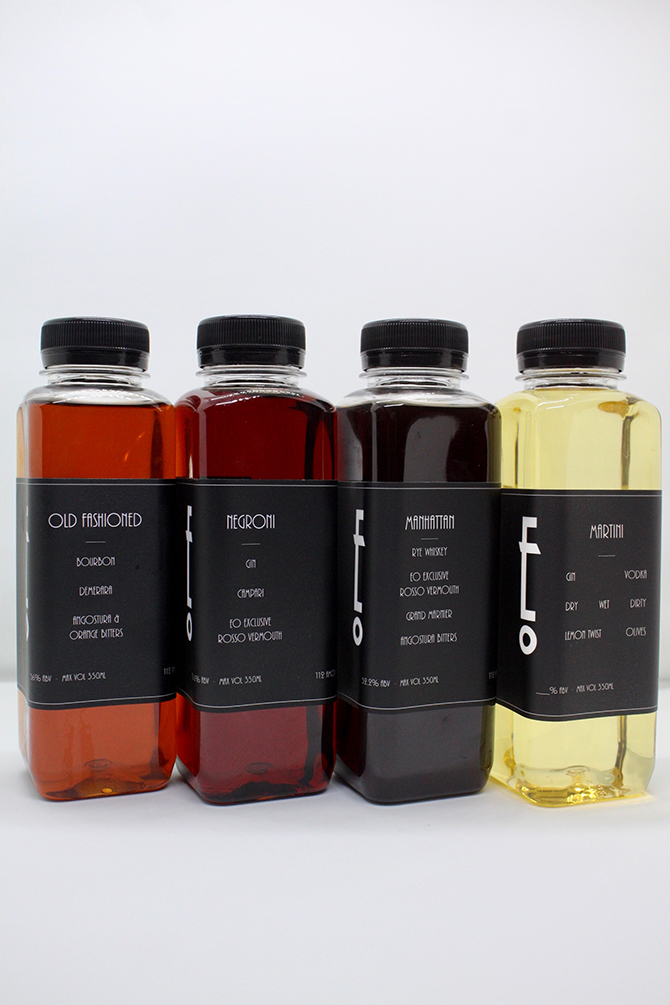 Manhattan is the go-to bar for old world sophistication and top-notch beverages, so channel some of that glamour while sipping on their namesake Manhattan ($24 for 100ml), or go big with a bottle of their Solera Aged Negroni ($198 for 700ml).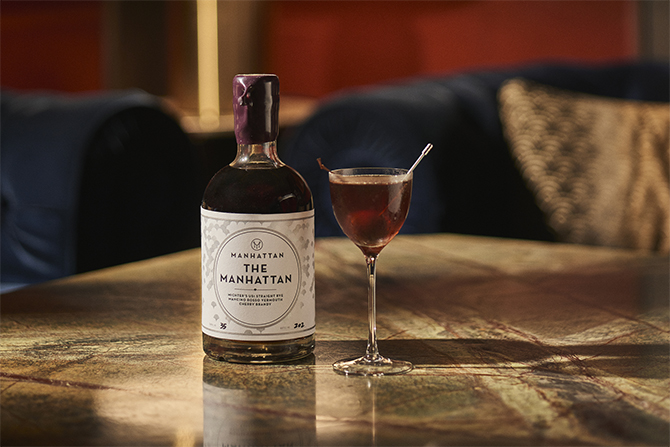 Cocktails from The Secret Mermaid are portioned for two and come with accompanying garnishes.Their classics, (priced at $35 for two serves) are made in keeping with the bar's focus on American craft spirits, such as the 92 Boulevardier made with Catoctin 92 rye, and Peated Rosemary Manhattan with Westland Peated whisky. They've also got a special Mother's Day pack and fun bundles perfect for extended drinking sessions.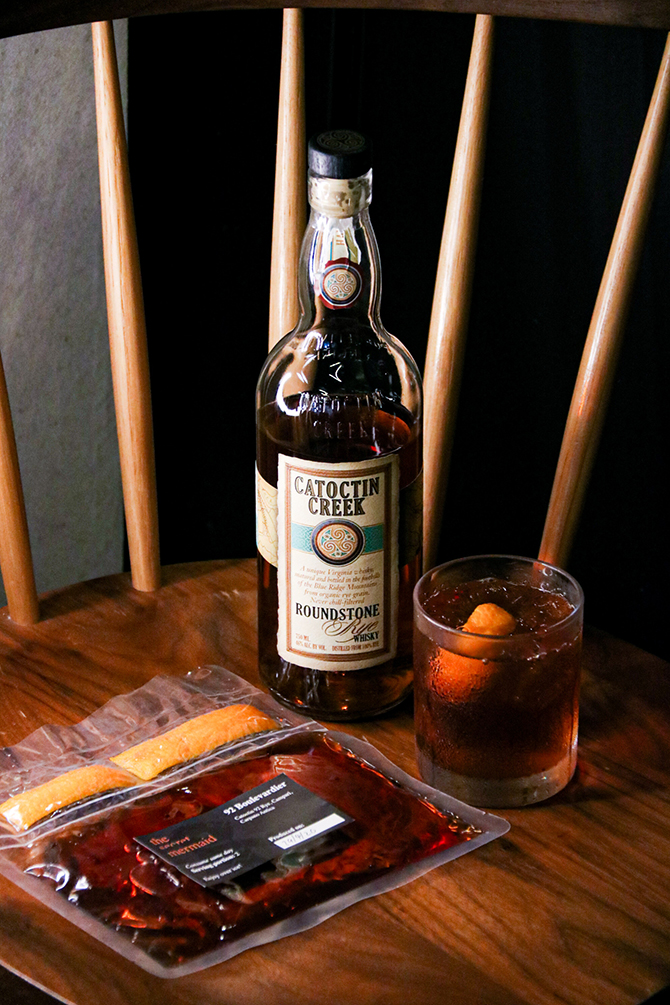 When you're up for some unexpected flavours
With all the change in the air, we've all been booted out of our comfort zones in some form, and we can't think of a better time to do the same with our drinking.
At Operation Dagger, it's all about taking classic cocktails and giving it a twist. Try So, It Wasn't Coffee – a classic gin tonic but with a twist of recycled coffee grounds or Purple Yamborghini – made with roasted yam and yoghurt. Fastest fingers first though, at $15 each, this limited edition drinks sell out quickly.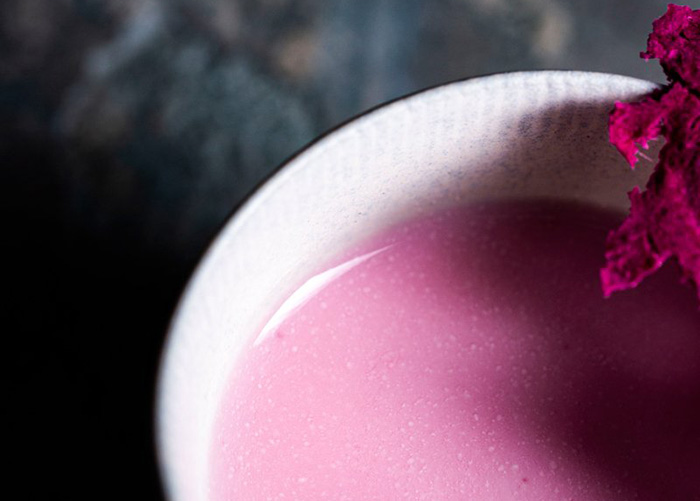 As traditional as names go, Ah Sam Cold Drink Stall is a fun cocktail spot featuring accents of authentic local flavours frequented by locals. Take the Oriental Elixir for example, you would never expect alcohol to taste herbal… and chocolatey at the same time. Other noteworthy cocktails include Tak Qiu – a milo-infused bourbon – and Silver Screen – Monkey Shoulder with popcorn syrup. The price to pay for these these fresh flavours start at $25.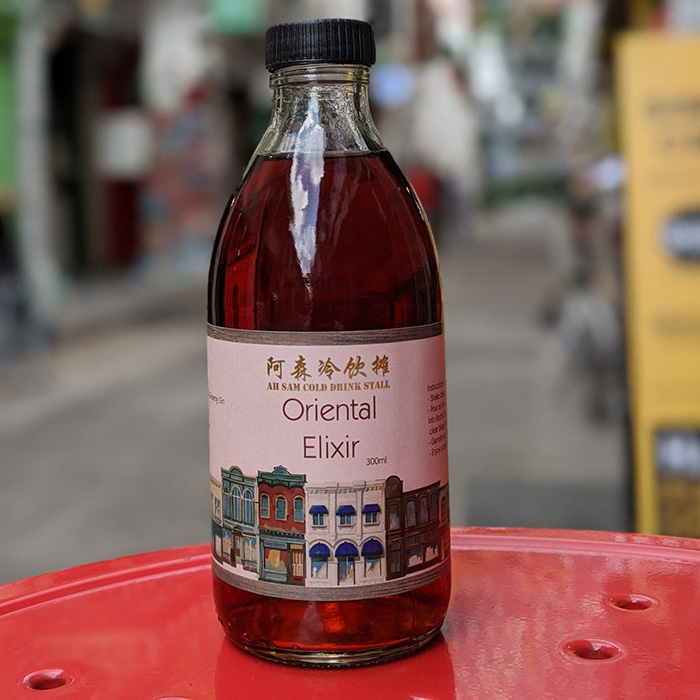 This community is dedicated to more modern and refreshing flavours. Some ingredients that are uncommon would be dark cherry, calamansi, and melon milk. Each bottle typically serves two and is best enjoyed on the rocks. At a fixed price of $26.75, pick your favourite, whether it is the Melon Down or Barrel Aged Old Fashioned.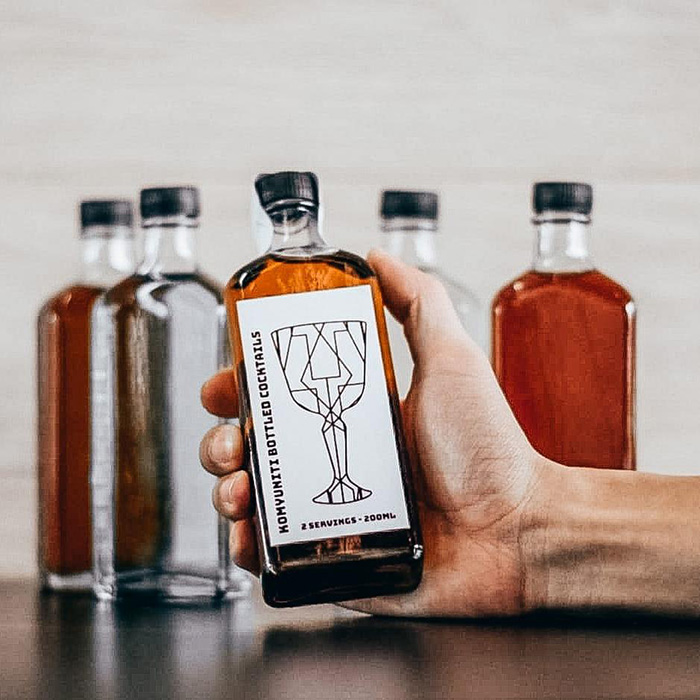 The Old Man Singapore is all about being experimental with an Asian twist, and on the list of seven cocktails are signatures such as The Sun Also Rises, made with copra fat-washed brandy, curry leaf infused Bulldog gin, Cinzano 1757 vermouth, sous-vide pandan leaves, and lime kaffir. The Papa Doble offers a dose of citrus and spice with pineapple sous-vide Appleton rum, clarified pink grapefruit and lime, and maraschino sous-vide jalapeno. Prices start at $17.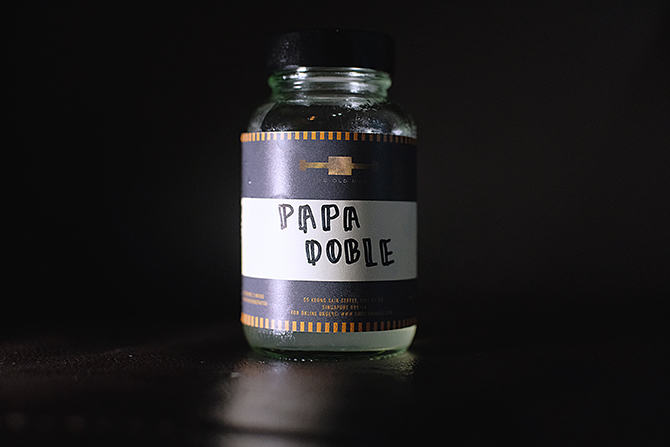 With a focus on incorporating regional products and ingredients into their creations, Native's range of bottled cocktails feature some familiar Asian ingredients. Forager's Garden is a floral and bright concoction of matcha gin, blue pea flowers, calamansi, and matcha kombucha. Warm and nutty is the Peranakan, made with jackfruit-infused rum, laksa leaves, goat's milk, candlenut, gula melaka. The cocktails come in 500ml bottles and start at $68.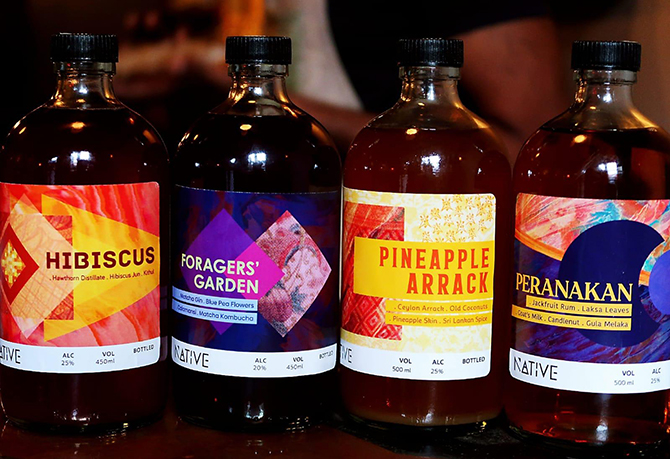 Renowned for its modern gastronomy ethos, Tippling Club is offering the same wonder and curiosity in its takeaway bottled cocktails, including the Banh Mi Sazerac, a creation of foie gras, bourbon, shio koji, maple and bitters; and The Bombe Glacée with vetiver, fig leaf, bee pollen, vanilla, tequila and citrus. Prices start from $38 for two serves.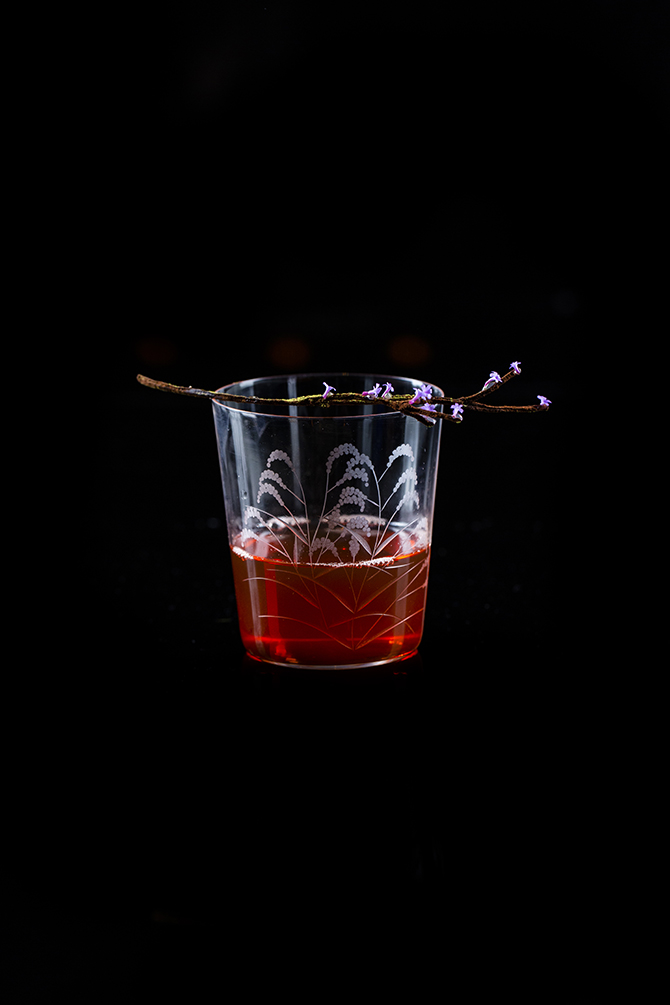 When you're after a bespoke cocktail
Have a flavour profile or spirit in mind that you want to turn into your next drink? These bars offer customisable concoctions, which also make for fun gifts.
Japanese-inspired Shin Gi Tai has made a name for itself with its well-crafted classics and you'll definitely find them on the menu, but they're also offering the option of customised cocktails, which you can personally consult on with the bar. All cocktails come in sizes of 300ml or 500ml, and prices start at $80 and $130 respectively.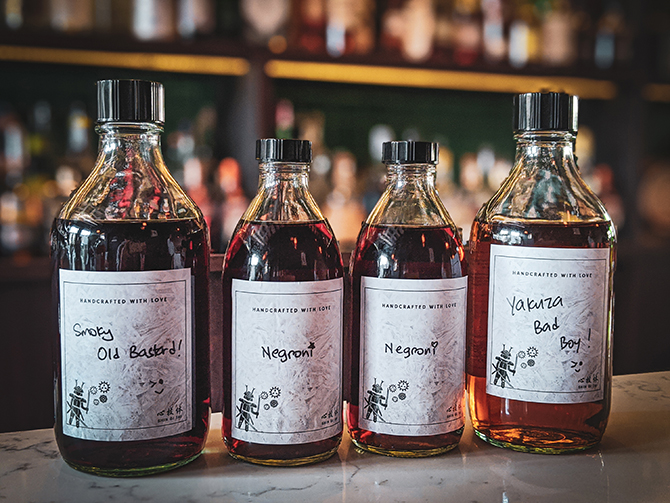 Fun and quirky Kiki's Reserve comes to us from the folks behind HopHeads and The Oyster Bank. There's a spirit of playfulness in its menu, the current line-up inspired by the local arts scene. Customise something for yourself or as a gift with their bespoke cocktail service, which come in 120ml and 480ml bottles and are priced at $25 and $100 respectively.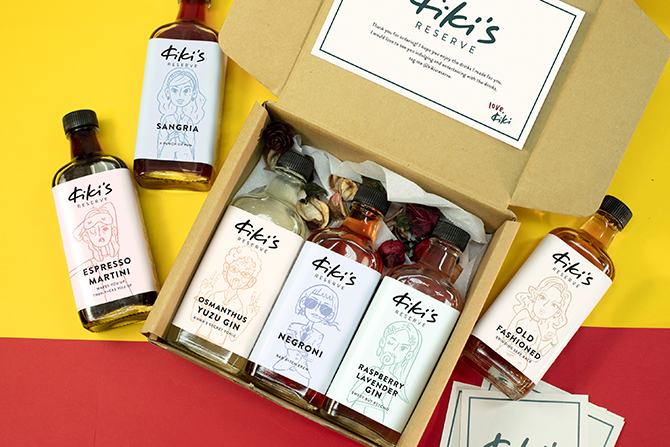 For more food delivery services, click here.