Not to brag but good grub is a rather ubitiquous happening on our shores, with streets teeming with the best of the best, from Michelin stars to that outstanding neighbourhood eatery with household clout. This statement comes hand in hand with the culinary talent we have bagged and honed — chefs who have gained a weighty presence in their own individual paths and are still, very much relentless in the pursuit of excellence.
In good spirit of reflection and self-expression, we asked chef Julien Royer, chef Damian D'Silva, chef Marcus Leow, chef Johanne Siy, and chef Rishi Naleendra about the dish that defines them and what's next in the near future in their own indefatigable endeavours.
Julien Royer, chef-owner of Odette
Julien Royer has far surpassed a household name. Since establishing Odette, the French chef has relentlessly been pushing the envelope of his native cuisine, so much so that the restaurant now has three Michelin stars under its belt. And having said that, he still isn't resting on his laurels. His new restaurant, Claudine, which serves French grub in a more casual setting, will open its doors very soon.
The dish that defines him: Kampot Pepper Pigeon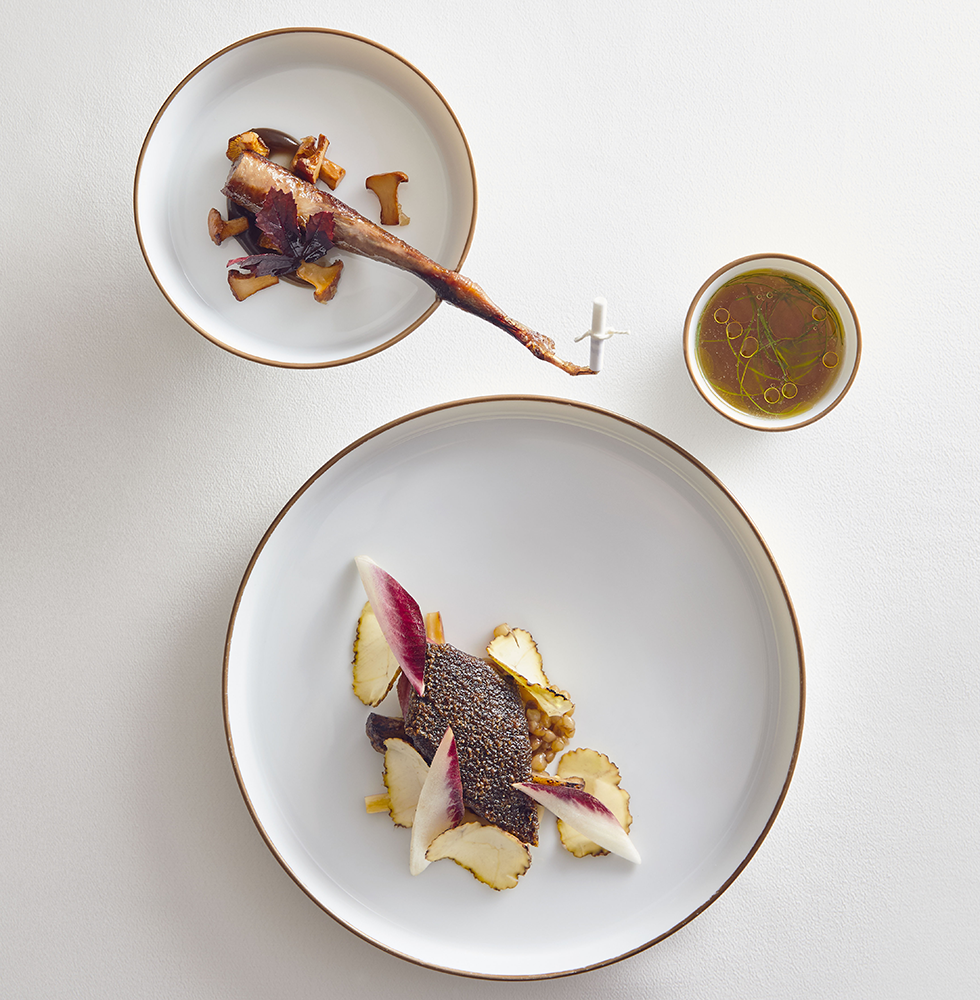 "It's a dish that perfectly embodies my approach — a reflection of my French heritage and training infused with flavours and produce from the region. The pigeon is prepared three ways, comprising confit leg, breast which is pan-seared to finish and a pigeon liver parfait to showcase the many facets of flavour and texture within, and crusted with Kampot pepper from Cambodia. I first discovered Kampot pepper,  through a friend behind Kampot Jewels in Cambodia. They work with local communities at the core of the farming process to grow pepper in an organic and socially responsible manner. The pepper has such a distinctive profile – an intense spice with a mild sweetness, and a delicate aroma which perfectly complements the fullness of game meat."
Rishi Naleendra, chef-owner of Cloudstreet and Kotuwa
The Sri Lankan-born Australian hasn't been slowing down since clinching his first Michelin star back in 2017 for Cheek By Jowl. Since then, our city has only been so lucky to witness new endeavours like Cloudstreet and Kotuwa, each presenting an entirely different facet of the veritable chef. After recently announcing the closure of Cheek Bistro (formerly Cheek by Jowl), a new concept from Naleendra now awaits in place of its Boon Tat address.
The dish that defines him: Roasted Monkfish, Kerala Style Ishtu, Bishop's Nose, Smoked Chicken Fat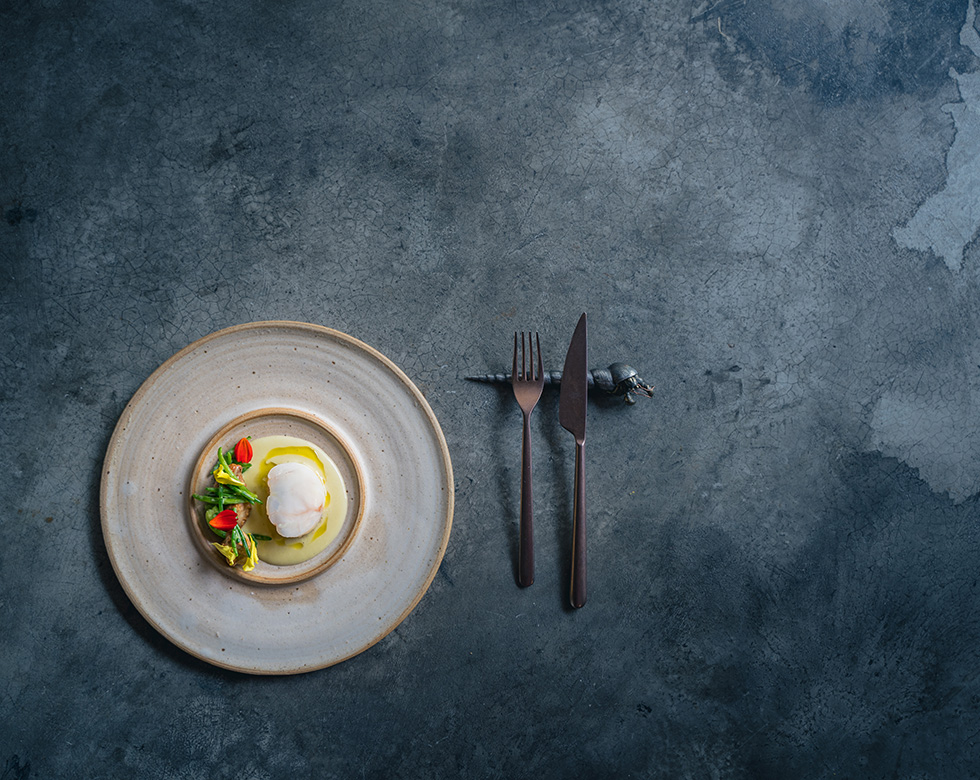 "This dish is an expression of my culinary journey because it is a perfect balance of both the eastern and western worlds. Not only is the dish treated and cooked with modern and western cooking techniques, some of the ingredients we use also comes from western countries (ie, monkfish from Brittany, France, Mussels from Boston, clams from Canada), etc. This is complemented by the subtle eastern touches and spices of the Kerala style ishtu. With careful balance, I have created a dish that really represents my background and heritage."
Johanne Siy, head chef at Lolla
Recently crowned Chef of the Year by the prestigious World Gourmet Awards, Filipina chef Johanne Siy has made produce-driven cuisine her domain at Lolla. Her philosophy? Using the best ingredients while keeping it simple and striving for minimal waste. Something we can all hope to witness in the upcoming anniversary menu at Lolla.
The dish that defines her: Koji-cured quail, adobo jus, house-made black garlic
"This is probably the dish that best expresses me right now. Every component of this dish captures an element of time – which has become increasingly important in my cooking in terms of building flavour. The black garlic tea and schmaltz that are key components of this dish are by-products of the other processes we do in the kitchen. The use of schmaltz reflects the time I spent working in New York, where there's a huge Jewish community. The inspiration for the adobo jus draws from my heritage. It is still evolving as a dish – in the sense that there is always something that can be done every single time to make it slightly better – and that resonates with me a lot too."
Marcus Leow, chef and head of product development at Naked Finn
In 2018, three young chefs rose to culinary fame when Magic Square became the underdog pop-up that gourmands vied for a seat at the table. Marcus Leow was one of them, and since he has gone on to further his skills in the kitchen — as head of product development at Naked Finn. This year, you can expect a befitting comeback of Magic Square (V.2) as he sets to continue the legacy of grooming the next crop of young chefs.
The dish that defines him: "Kanpachi and Melon"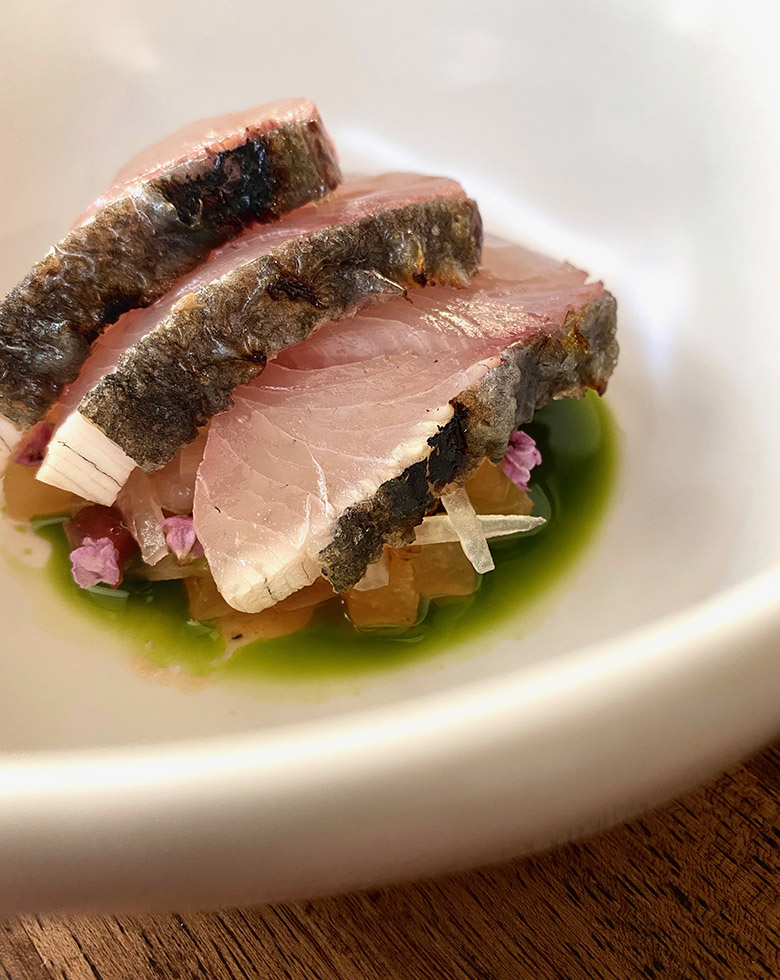 "This dish resonates with me very well as it perfectly captures my love for Peranakan flavours and ingredients as well as being reinterpreted in dishes and ingredients not commonly used in Peranakan cuisine. In my dishes, I like to use them and pair it differently to showcase its versatility. It also pleases me to use every part of the ingredient and minimise wastage. Preservation techniques in dishes too allow me to add that extra layered flavour, with a dish looking really simple but bringing complex flavour. Kanpachi, dry aged for 10 days, charred over charcoal skin side and seasoned with soy made from its bones, with its belly also dry aged and cured with dried chillies, rempah and dried orange peel and sliced thin like lardo. Hami melon is dressed with an achar dressing, with its pickled rind and belimbing pickled with shiso leaf in the style of umeboshi."
Damian D'Silva, chef-owner of Damian's Cookhouse
Our grandfather of heritage cuisine, Damian D'Silva is probably the reason why time-honoured dishes like singgang, sambal juliana, garam assam are now loved by the new Gen. And that's exactly what his vision has been about — preservation and honestly, just mind-blowingly good comfort food. In the lead-up to his new venture, with a menu that spans from heritage dishes to 1-dish meals (to open at the end of this year), Damian's Cookhouse is currently open for business.
The dish that defines him: Ikan Assam Suran (Ed's note: it was terribly hard for him to choose the one, so this one came the closest to it.)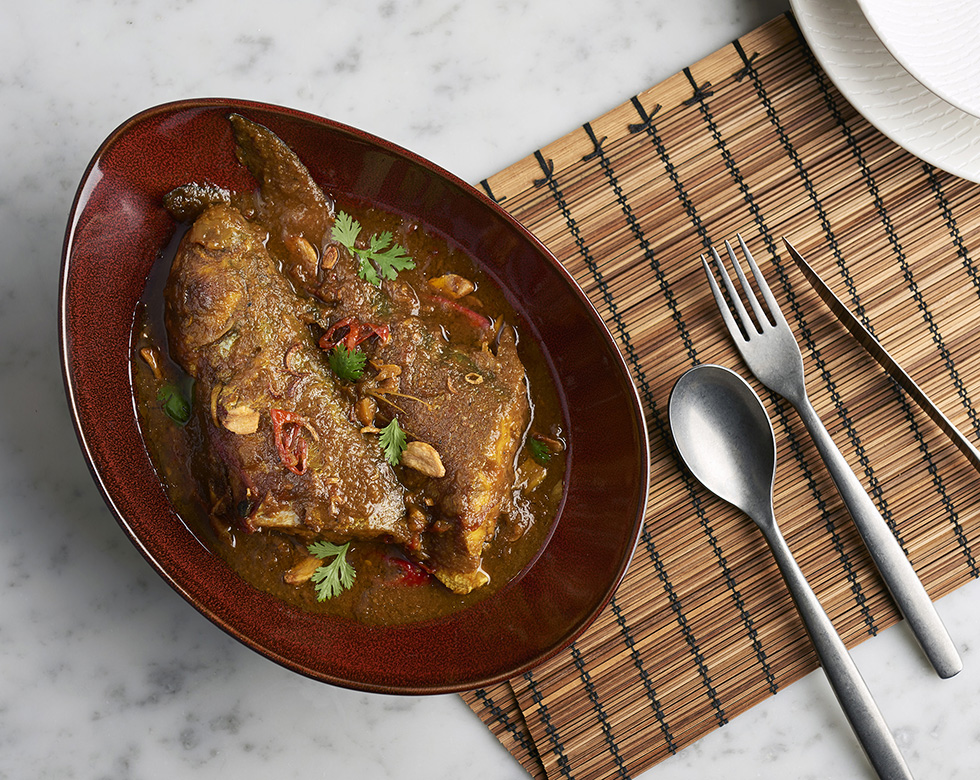 "It's a dish that is unbeknownst to most foodies and although it's Peranakan, its roots are deep in traditional Malay cuisine. Kind of like me, so mixed up but in a good way. It's an extremely difficult dish to execute and does not take too kindly to shortcuts — a trait of mine that leads me to be misunderstood, but it really does not bother me. It requires a profound understanding of the ingredients and the correct preparation of the dish, to obtain the perfect result. Besides the meticulous slicing of the ingredients, it requires patience to ensure the caramelisation is perfect and uniform throughout. Although, the "soul" of the dish only requires two ground ingredients, the consistency of the paste and the perseverance required to turn this simple mixture into a memorable one, can be disheartening or gratifying. As only turmeric and shrimp paste are used for the paste mixture, it's easily overcooked or undercooked because of the characteristics of fresh turmeric and shrimp paste. I'm very drawn to executing things with heart and this applies to nearly everything I do and sometimes, I come across as procrastinating. The two critical ingredients in Assam Surani, are like my paternal Grandfather and maternal Grandmother. Both different in many ways but when in comes to executing a demanding problem or task, they are both immaculate. It is this "soul" that I'm blessed with that makes me challenge myself all the time."