Culture
Camp Cape Kudu: An artist retreat in Koh Yao Noi, Thailand, 3 hours from Singapore
Paradise on earth
Who needs an Instagram filter when the glorious sun has painted everything with a golden halo? The warmth of its rays hit my cheek just before 7am, and I rise out of bed and head down a stoned paved path. Seated upon rattan chairs, I peer out through open folding patio doors to Cape Kudu's infinity pool and then beyond to the far-reaching shimmering waters of Phang Nga Bay. In the distance, I can barely make out a smattering of limestone cliffs, and above them, a swath of wide open sky with not a single high-rise in sight.
For four days and three nights, this was my morning ritual at Camp Cape Kudu, an artist retreat at the five-star Cape Kudu Hotel. While it was more short-lived than a typical artist residency, the notion of carving out time and space to become immersed in a new environment, culture, and community was still just as resonant.
This romantic idea of cultural travel has been documented to have a significant impact on a creative's oeurve. For Cubist artist Pablo Picasso, it was the picturesque Mediterreanean coastline of Côte d'Azur that inspired the creation of La Joie de Vivre (1946), while Marrakesh's vivid colours sparked the imagination of fashion designer Yves Saint Laurent in the 1970s. For us, it would have to be Thailand's lush coastal tropics. We were in good company too. In 2012, actress Tilda Swinton, fashion designer Haider Ackermann, photographer Ryan McGinley among others descended on the island to enjoy architect Ole Scheeren's floating cinema on the bay.
The journey to Koh Yao Noi, an exotic lesser-known island sandwiched between the tourist havens of Krabi and Phuket, transpired like a carnival bumper ride. After flying into Phuket along with a horde of Australian and European travellers, I took a 40-minute car ride that meandered through back alleys, bumped along potholes, and passed by palm plantations and mangrove swamps before arriving at a busy pier. There, with the salty sea breeze in my hair and the smell of fresh seafood stinging my nose, I huddled together with locals onto a speedboat for a 20-minute journey that ended at a nondescript concrete embankment. It was only when I headed inland towards Cape Kudu that I finally entered an oasis of calm that disarmed my city eyes: schoolboys playing barefoot soccer on the lawn, fishermen tending to their kelongs by the shore, and teenagers cruising by on scooters well below 50 on the speedometer.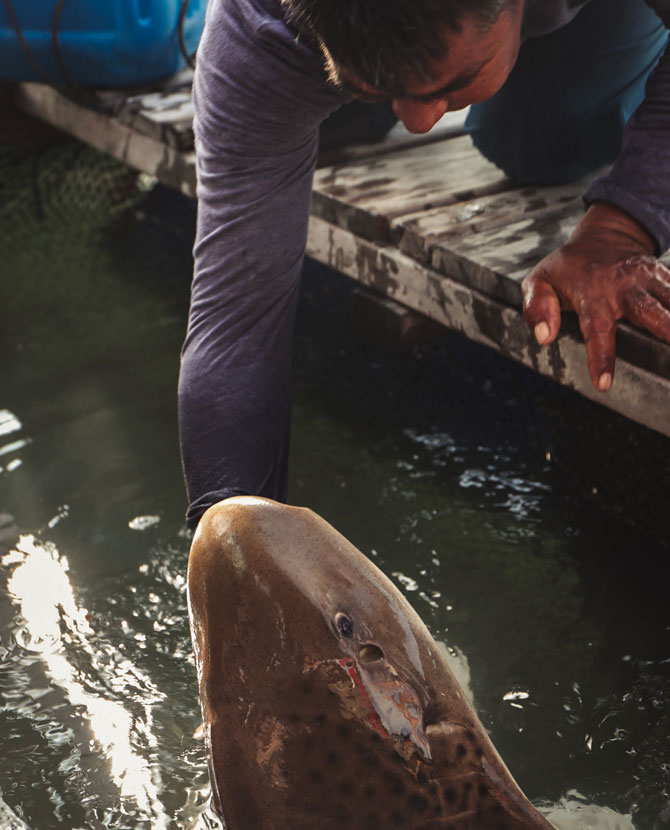 It might sound like an oxymoron, but the real joy of Koh Yao Noi was that there wasn't really much going on. While its infamous neighbours across the bay seduce with the allure of flashy neon lights, kitchsy souvenir stalls and thumping club beats with the promise of debauchery, Koh Yao Noi succeeds in its cultural authenticity, sense of community and environmental stewardship.
Take for instance, Bung Nheed's fish nursery (pictured above). Bung Nheed has been supplying technicolour rainbow lobsters to the handful of resorts and restaurants that are dotted around the island for 2600 Thai Baht a pop for years. Interest in his nursery has since grown in the last decade not only because of his prized catch, but because of the pair of leopard sharks that he had rescued after they had tangled up in his fishing nets. These days, his nursery has become a marine sanctuary of sorts for nearby schools, who visit him to learn about the assortment of sea creatures under his care. Kissing a ballooned puffer fish, he said that he is working towards creating more eco-friendly rigs for his nursery instead of the common plastic ones.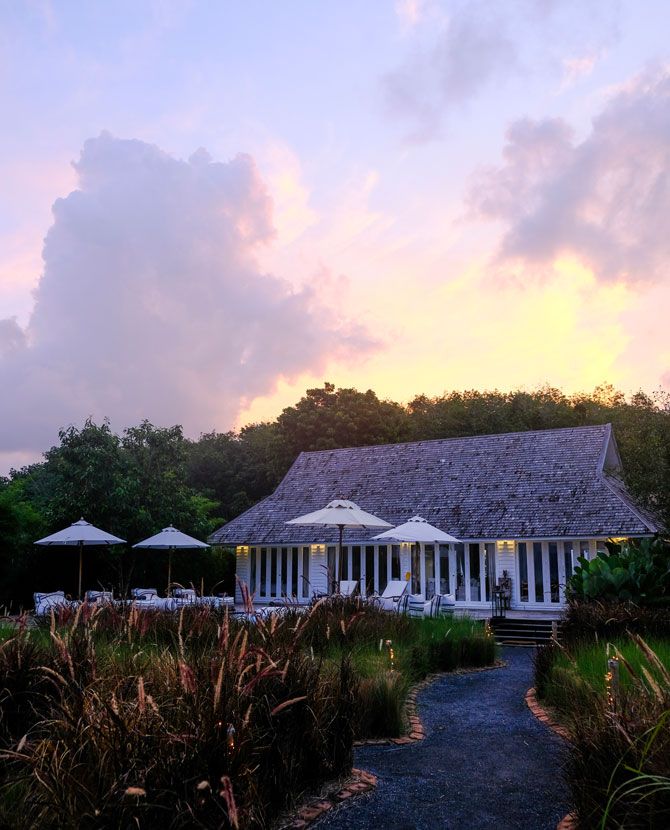 If Koh Yao Noi's mise-en-scène told a story of long-held tradition and pristine nature, the camp's host, Cape Kudu, injected a tropical air of laid-back refinement. The staff's breathable white linen outfits complemented their gentle mannerisms, while its modest palette of cream, Tiffany-blue and natural woods offered an ideal cool and composed backdrop for the camp's deep dive into the creative psyche.
When rest was on the agenda, a four-option pillow menu provided that indulgent touch while the attentive therapists at the Cape Spa pampered my wearisome sun-beaten body with an aromatic oil massage.
That sense of warmth extended to its on-site dining options too. While it might be seem unrealistic at first glance for an island in the middle of nowhere to compete with Bangkok's popular Michelin-rated street food and fine dining scenes, Cape Kudu's Hornbill Restaurant plesantly surprised with its wholesome locally sourced menu. Weeks have gone by, and yet I can still recall the lingering spiciness of a particular shredded crab salad.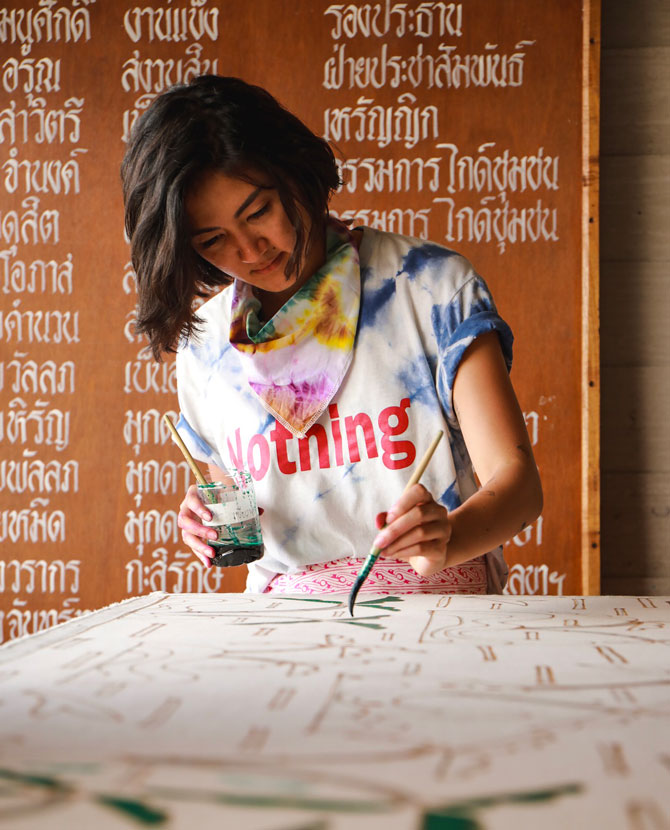 If the setting seemed resplendent, then the company I had enjoyed can only be described as a fleeting magical bubble that any one would be privileged to experience. The participating creatives were hand-picked and invited by Camp Cape Kudu's organiser Lynn Visudharomn of acorn and associates to ensure the experience had the right mix of personalities, perspectives, and professions.
"This pilot project was inspired by the exciting stories and photographs that Cape Kudu's owner Tirawan Taechaubol would share with us after her personal trips around Koh Yao Noi. They are such fun and unique experiences that we felt should be made available to the hotel guests. We also saw it as a way to enhance our community engagement efforts. This camp allowed us to test out all these activities, create things inspired by the island, much of which will be linked to future programs that give back to the local community," explained Lynn. "We have a medley of projects already lined up by all the creatives we brought with us on this trip, and we are definitely looking into making this camp more than just a one-off thing. Best part of all, most of the activities we conducted on the camp from visiting the fish nursery, batik painting to picnics in the lagoon can now be requested and arranged by the hotel staff. Essentially any guest can plan their very own Camp Cape Kudu itinerary!"
I caught up with a few of the creatives towards the end of the trip to find out how they felt about Koh Yao Noi's people and places, as well as Cape Kudu's one-of-a-kind retreat.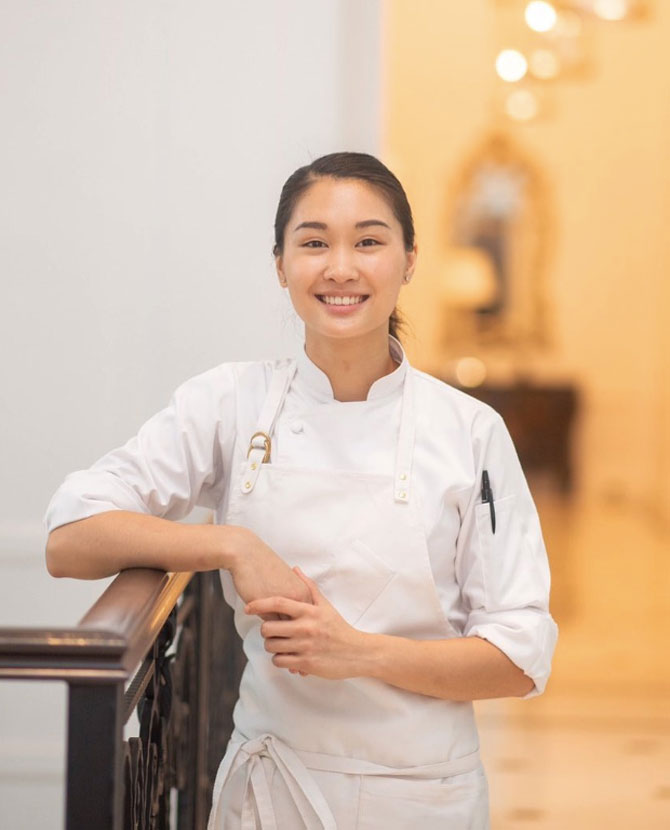 Chudaree (Tam) Debhakam, 27, Chef — Thailand
What's your background?
I pursued a six-month culinary course in New York City while working at farm-driven restaurant Blue Heart Stone Barns. When I returned to Bangkok three years ago, I competed in Thailand's edition of Top Chef, and ended up winning it. I haven't stopped cooking since.
How did you feel about Koh Yao Noi before arriving on the island?
I heard that it is a beautiful part of Phang Ngha. I love the islands in this part of Thailand. Phuket has a lot of tourists, and it feels like a city. Cape Kudu Hotel in Koh Yao Noi is much quieter and secluded, which I appreciate.
You contributed to the programming of Camp Cape Kudu by cooking a delicious locally sourced dinner. What was the process behind it?
I came with an open mind, ready to learn, and discover new ingredients and flavours. Legendary local chef Ma of Taa Ton Do was a huge part of it — talking and eating with her as well as learning from how she treated all the ingredients. When we went to the market in the morning, she taught me a few tips and tricks.
What about the dishes that you created?
The clams were amazing! A bunch of us went to pick the clams during the day. We did a deep fry and a pasta that was almost like vongole with white wine and clam stock. We also blended some oysters into the sauce. We foraged bai liang and used it in the pasta to mimic seaweed.
What are your thoughts on the culture and people of Koh Yao Noi?
Their way of living and sense of community is incredible. We drove around the town on Ma's motorbike, and she knew everyone. She greeted all the vendors, even those at the rice fields.
In art history, there's a long tradition of artists travelling to far-flung exotic locations for inspiration. Do you feel that this island and property have given you the space to be creative?
For sure! Part of its appeal is being in one place with this amazing group of creative people. The environment also allows people to be more creative than usual. I could see it from all the photoshoots and workshops going on here.
What was your key takeaway from this experience?
My key takeaway would be being mindful about how we enjoy ourselves while travelling. Learning about its people and culture is just as important too.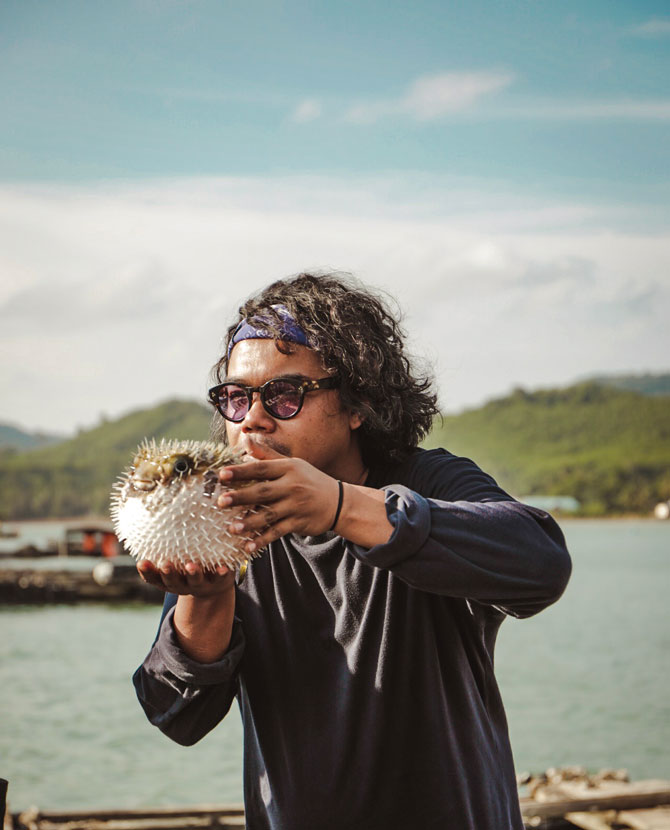 Mriz Sidah (Rizibe), 42, Artist — Singapore
What's your background?
I started at Zouk, where I became the head of creative. I designed all the flyers when Zouk was still at Jiak Kim Street. I left to join Lo & Behold Group, where I worked on branding and graphic design for their restaurants and bars. After that, I ran TSLA's branding and design arm. I left TSLA two years ago to start my own branding agency out-of-studio and focus on my art. I've done two shows in Singapore, and one show in Bangkok. I've also collaborated with Rimowa and Thai swimwear brand Timo Trunks.
I'm working on a textile project at the moment that explores and interrogates my Southeast Asian identity.
What's the underlying tension of that exploration?
I realised that I'm a child of Southeast Asia. My paternal side is Bugis-Thai, and my maternal side is Javanese-Indian. If you're brown, you're labelled as Malay, which is convenient for certain power structures but not for me. Armed with this realisation, I can go out and put things together under the artist moniker of Rizibe.
I'm interested in this idea of a borderless, integrated Southeast Asia. I've been going to Bali a lot in the past couple of years to be more connected to the bigger picture of Southeast Asia.
This trip sounds like it might be an extension of that. Koh Yao Noi is between two islands, and its people come from a mixture of bloodlines.
I find that interesting. The people here are Muslims. They make Halal food, but they are also Thai, so the notion of a border is grey here.
What has struck you the most about the island?
It's how they've managed to work with their strengths. They know that they have natural resources, but they don't take it for granted. Coming from Bali, I know that it's easy to let tourism get to your head. They've done a good job of controlling the balance.
You've contributed to the programming of Camp Cape Kudu by leading two workshops on drawing and batik printing. How was your experience?
It was great. I believe in sharing ideas, especially when it aligns with what it means to be Southeast Asian. It's not just a drawing class; it's about trying to develop and cultivate a sense of self-discovery and well-being.
What has been one key takeaway for you?
It's a reunion. The mix was right, and everyone is polite and able to get along well with each other respectfully, as well as being super talented and creative. Everyone is contributing. Similar to my vision of a borderless Southeast Asia, I hope that this creative camp can move to different parts of Asia.
In art history, there's a long tradition of artists going to far-flung exotic locations to seek inspiration. Have this island and property created the conditions for you to get inspired?
Yes obviously. The concept of island-hopping taps into my 'Bugis-ness'. The concept of tropicality and idea of sitting on a boat and being in touch with the sea, sand and nature resonates with my practice. In the workshop, we introduced shibori techniques that the locals weren't familiar with, but we also learnt about the limitations of batik from them. That's an example of how we should co-exist as creative tourists. Come in, contribute, appreciate and help them grow.
How about your experience at Cape Kudu Hotel?
I could see the sunrise from my balcony every day. It brought me back to Ko Pha-ngan, where I stayed when I was 18 in a 50-dollar a night sort of joint with less than half of the amenities available on this property. The feeling when the sun stares at your face when you wake up is incredible. I can't complain.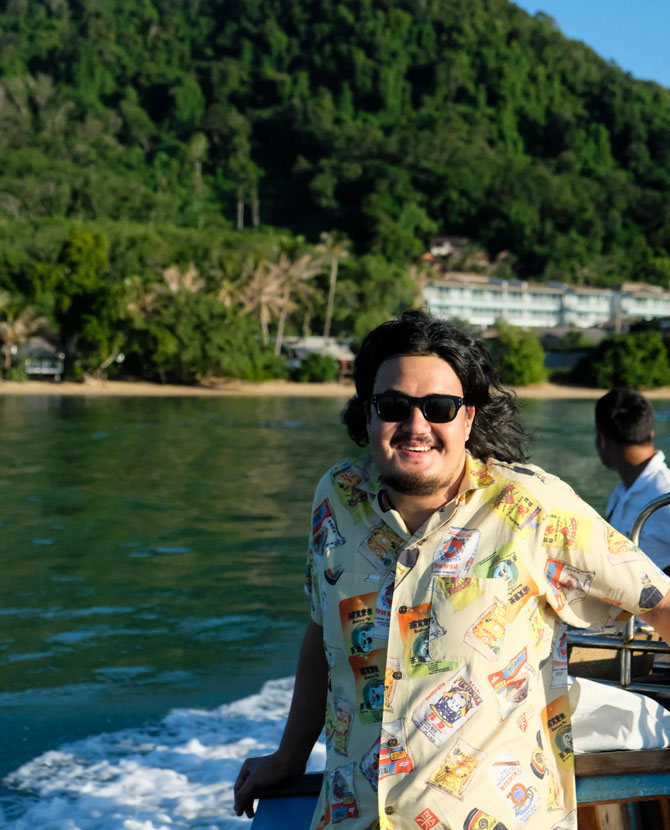 Christopher John Fussner, 31, Founder of Tropical Futures — Philippines
What's your background?
I've always been in the creative space. I was a photographer when I was young. I went on to study International Relations, but I wound up in a fashion line called Sifr for five years in Singapore with two awesome partners. I went back to school to study design research and strategy formally. Recently, I've been working on a range of different projects from architecture to cultural research to making T-shirts under a think tank called Tropical Futures. I'm an art dealer too.
How did Tropical Futures come about?
A lot of my work before Tropical Futures was dealing with futurology, in terms of speculative design. I was dealing with science fiction and design philosophy, and a lot of that did not deal with the tropics. I started thinking about the idea of tropical futures. Avatar, Predator and Star Wars have a bit of tropics in there, but most of them are clean and white. That's when I started Tropical Futures. We looking at current tropical work, not just in terms of aesthetics and culture, but also issues that relate to climate, ecology, and the underlying geo-politics around the region.
What has struck you the most about this island, its people, and the environment?
The framework that we were brought into this island with, is a very new framework. In this context, we're brought in as creative travellers. The innovation with the community was very powerful. It was all about the strong points of the community; it wasn't about how to save people. When you "save" someone, you're excluding them from the actual system that they belong to, and it becomes a client service. When it came to community interaction, it was more about building relationships. The community has also benefited. They educated us while we were getting a hands-on view about their way of living. We also obtained a sense of environmental understanding as well.
It's a new concept that I wished more hospitality groups engaged in. Traditionally, the traveller is isolated to the resort to maximise profits, but in this case, engaing with the community creates a co-generative relationship, not an extractive and symbiotic one. That was the biggest takeaway.
Where can we find Tropical Futures merch?
Check out Zha Huo Dian or Choice Cuts Goods.
Camp Cape Kudu was organised by acorn and associates on behalf of Cape Kudu Hotel. Other participating creatives included artist Eric ToBua, designer Waan Booth, and fashion designer Ekbutr Udompol. Photography was provided by Chayanee Chomsaengchun, Palida Boonyarungsrit, Piyatat Hemmatat, Eknaree Wachirabunjong, and Jon Katayama. The Camp Cape Kudu experience continues in the spirit of community engagement. Both Rizibe and Tropical Futures, along with a few of the aforementioned creatives, are in the midst of planning further contributions to the island. Rizibe will be developing the prints that he created on the trip, while Chris will be designing a line of special edition merch for Camp Cape Kudu with proceeds going back to the community's stakeholders.