Where we dined this week…
Chuan by Nutmeg
If there's one thing we took away from the experience, it's this: there's simply nowhere else better to enjoy a serene cocktail night than with the sublime creations from Chuan By Nutmeg, with access to a breathtaking view of Singapore's cityscape stretched out below you. Perched on the 60th floor of the iconic UOB Plaza at Raffles Place and brought to you by the team behind award-winning cocktail bar Nutmeg & Clove, the new concept was conceived in partnership with fine dining Chinese Restaurant Si Chuan Dou Hua. Here, traditional premium tea profiles are cleverly matched with key cocktail classics. Take the Goddess Highball for instance, a refreshing drink that soothes you into the night with a mix of Haku vodka, Tie Guan Yin cordial, grapefruit bitters, and London Essence soda water. Or the Old Treasure Fashioned, with sweet notes from the 8 Treasure Tea and coconut added to the classic concoction. From the deep smokiness of LS-D with Maker's Mark Bourbon Whiskey and Lapsang Souchong to the luscious Fancy Jasmine with Sailor Jerry spiced rum, Jasmine tea, and clarified milk punch, every cocktail is well suited for any occasion. And why enjoy them with anything else but the impeccable bar bites straight from the acclaimed Si Chuan Dou Hua kitchen itself. You can't go wrong with fire-kissed Stir-fried Diced Beef with Garlic — with juices spilling out on every bite. Even the local classics are hit with a touch of culinary flair, such as the silky-smooth cloud of Oyster Egg with XO Sauce, which had our tastebuds dancing with umami goodness. Other Chinese staples, like the Crispy Pork Belly with Fermented Beans, Pan-fried Dumplings, and La Zi Ji (Spicy Dried Chilli Pepper Chicken) fell in line with simple, yet sublime execution, perfectly paired with the bar's premium tea cocktails. Cloud nine is what we would dub this experience on the 60th floor. —MH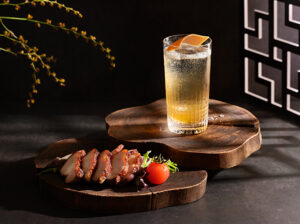 #60-01, 1 UOB Plaza, 80 Raffles Pl, Tel: 9167 2966
Opening hours: 3pm-10.30pm
Club Street Wine Room
Anyone who has maundered Club Street would know that there's a decent pool of selects when it comes to quenching your thirst. Of course, we don't mean water by any chance. Club Street Wine Room has affectionately joined the party — as part of Cure Concepts — with a charming space that's equal parts stylish and equal parts affable. Unless you're here for an intimate conversation, the bar is probably the best place to be. Where the ever so chipper (and cheeky) sommelier Amir Solay will impart all his musings to your table, while recommending your poison of choice. And judging from the extensive selection from this bar, you will need a nudge in the right direction. From soy to amphorae-aged wines, there's bound to be something, whether or not you're a traditionalist or "naturalist" in your preferences. To match up to the progressive drink programme, the grub steers away from conventional suspects, and instead take inspiration from Andrew Walsh's Irish heritage. A Welsh rarebit bread definitely stood out to us — in a molten cheesy form, leavened with a spike of booze. Albeit on the heavy side, but perfect alongside the Kitanishiki from Kyoto Japan. Don't miss the woodfired scallop and prawn vol au vent, that's held the perfect crisp pastry jazzed up with mustard, gruyere cheese, and trout roe for the flavour explosion. Our favourite had to be the Irish grilled oysters, Kilpatrick style — where bacon bits, horseradish sauce, and tomato ketchup form a mighty alliance. Sounds like a weird, questionable combination, but in fact, a clever medley that it's hard to come across in most restaurants here in Singapore. Sumoll blanc from Spain made a lasting impression, as did the riesling from Clare Valley, Australia. The magic of Club Street Wine Room can be credited to the sheer discovery an oenophile can embark on, but it's also the relaxed, casual demeanour exhibited from the staff that you can find yourself comfortably returning for seconds. Be sure not to skip the desserts, we're definitely coming back for that burnt citrus pudding. —JS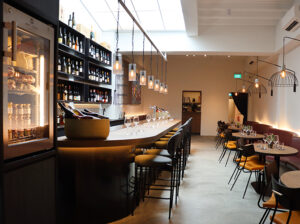 87 Club St, Tel: 6970 0190
Opening hours: (Tues-Wed) 4pm-10.30pm, (Thurs-Sat) 12pm-10.30pm, (Sun) 12pm-8.30pm
Open Farm Community
If you ever dreamt of a country getaway, you might just get it at the Open Farm Community. Nestled in the greenery of Minden Road, Open Farm Community is an idyllic retreat, with a rustic charm. Outdoor seating puts you right next to their flourishing garden, where they grow their very own produce. Using this produce, Open Farm Community' launches their new Farm Feast –  a celebration of their homegrown produce through the convivial way of kampong dining in a bid to reinvigorate the different relationships on the dining table, be it between friends and families or diners and their food. Served as a table of sharing plates, we were first presented with a platter of starters, of which the Cauliflower Wings were a clear stand out. After being battered and fried, the Cauliflower florets are tossed in a umami tamarind miso sauce, that have you licking your fingers to get more of. If you choose the fish as your main course, you'll be treated to some succulent Tiberias Barramundi, covered with a generous helping of mussels cream. Sprinkled with some puffed pulut hitam, it adds a delightful crunch for a contrast in texture. Accompanying the main was a wholesome medley of grains consisting of black rice, short grain Japanese rice, barley, sorghum and sunflower seeds. Though it sounds like a lot of grains, they blend seamlessly especially when eaten with a dollop of smashed, puree-like pumpkin. There's also a mindful reinvention of Kimchi made of fermented vegetable off-cuts. From mixed melon rinds to broccoli stems, they come together to form the Korean staple in a blend of spices. To cleanse your palette before dessert, have some mango-chilli sorbet – sweet and tangy at first, the heat follows soon after. Lastly, we ended the meal with a decadent chocolate pickings all made from Thai single origin chocolate. —BY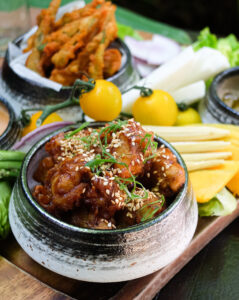 130E Minden Road, Tel: 6471 0306
Opening hours: (Mon-Fri) 12pm-2.30pm, 6pm-9pm , (Sat-Sun) 11am-3.30pm, 6pm-9pm
Where we're looking to dine…
Cluny Food Court
Located in the lush flora and fauna of the Singapore Botanic Gardens, retreat from the hustle and bustle of the city into this serene, all-day casual dining enclave. Housing five hawker-prenurial concepts, take your pick to feast on dishes from Les Amis Group-led concepts such as Mui Kee Express, S'Mao Barbecue, and Piccante Pronto; alongside Laifaba Express, presented in partnership with Cluny Food Court, and Muslim-owned Project Penyek by Ansar as a tenant. You'll also be able to quench your thirst from a drink stall offering local refreshments and favourites. If you're popping in after an early afternoon stroll at the Gardens, you'll be happy to note that there'll be no need to carry cash, for its a cashless payment system at the Cluny Food Court.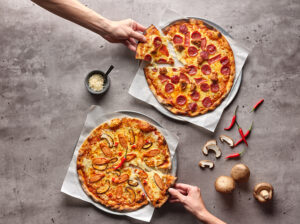 1J Cluny Road, Tel: 9625 3593
Opening hours: Daily, 8am-9.30pm
Drunken Farmer Joo Chiat
Easties rejoice, Drunken Farmer is coming to Joo Chiat with their second natural wine bar and sourdough-focused bistro concept. They'll be adding on to Common Man Joo Chiat, transforming the space into a two-faced concept. So the café will remain Common Man by day, but once dusk descends, the space will transform into a natural wine bar and bistro. But just because it's a wine bar doesn't mean it's not family friendly – Drunken Farmer Joo Chiat is set to add more colour to the estate's vibrant family dining scene, with a wholesome and gut-friendly package of sharing plates and quaffable natural wines. So if no one can take the kids for the night, why not bring them along and have a fun family night out? While you sip on your choice or natural wines spanning from red to sparking, your kids can munch on their signature Sourdough Karaage or even the perennial Sharing Spread Platter of pita bread and a trio of hearty dips.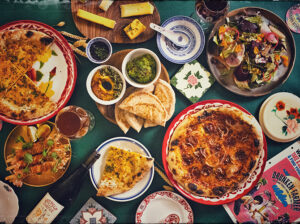 185 Joo Chiat Rd, Tel: 6877 4884
Opening hours: Daily, 6pm-10.30pm