With the Vaccinated Travel Lanes open, travel is once again at our fingertips. The excitement of travelling especially after a two year dry-spell can feel invigorating, and for some, temporarily dissolve the pains travelling can bring. Aircraft cabins that dry you out, static that makes your hair go crazy, and the inevitable butt cramps from long haul flights. Of course, this by no means deters us from booking our flights, but you'd be happy to note that from January 2022 onwards, these travel pains may very well be a thing of the past. 
Singapore Airlines has partnered with world-renowned health and wellness retreat Golden Door to provide passengers with in-flight services designed to counter the little pains of air travel, and maximise their sense of wellbeing on board its flights between Singapore and USA.
Based in California, Golden Door has established itself to be a sanctuary where they help guests reconnect and find their best selves. Through personalised fitness, spa and nutrition programmes, the resort's guests leave feeling refreshed and rejuvenated. Now Golden Door experts bring their trade secrets on board SIA, developing a broad range of menus, exercise and other content designed specifically for travellers to enjoy improved nutrition, sleep, relaxation and energy levels. This would certainly aid in minimising those travel pains on board the world's longest non-stop flights that can extend up to nearly 19 hours.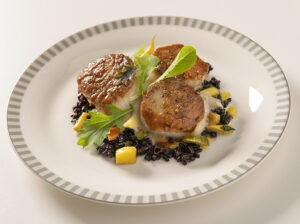 The partnership brings about a new wellness menu that will bring customers a broad range of healthy but flavourful appetisers, main courses, desserts and snacks for SIA's non-stop flights from USA to Singapore. Customers will be able to mix-and-match any of these dishes with the already existing SIA dining programmes to customise their in-flight dining experience. They will also introduce wellness-focused beverages that are designed to enhance hydration (a must have in the dry air-craft cabins) and promote relaxation and rejuvenation to get you a good rest before your next adventure begins. 
Of course, we love slothing about and watching movies as much as the next person, but for 19 hours and with minimal leg room? That's pushing it for sure. To counter these cramps and aches, trainers from the Golden Door have also developed a range of small-scale, in-flight exercises and stretches that customers can do at their seats, so you don't have to silently panic if you're sandwiched in a middle seat. The exercises help increase circulations, enhance flexibility, and also your alertness, so you're perky and fresh upon landing. 
Getting sufficient sleep is of course key to really adjusting your body clock and making the most of your first day at your holiday destination. So Golden Door practitioners are also developing a range of experience-based techniques to help maximise the quantity and quality of sleep aboard those ultra-long-haul flights. God knows how much that would mean on a red-eye.
The first menus and wellness content from this partnership will be available on SQ37, the direct flight from Los Angeles to Singapore in January 2022. Subsequently, it will be extended to SIA's non-stop services from San Francisco, New York and Seattle to Singapore.