We know, we know. It's an abyss of options when it comes to wireless earbuds. But that doesn't mean we can't fawn over the next glossy release, whenever a new product hits the shelves. Especially with this season's drop of lightweight earphones.
Seinheisser's CX Plus True Wireless Earbuds
These sure make a worthy contender of the latest AirPods. And if we were to be entirely honest, Seinheisser has always been the underdog in the audio department. Audiophiles would know this by heart. Its latest iteration of the True Wireless, features a compact case backed up by crisp, rich sound. Engineered with a TrueResponse transducer, there's now an acoustic system sealed within. On top of that, noise cancellation and transparent hearing that alternates with a light tap of a button. As it is, the sound is wonderfully layered with its treble, mid, and bass. On top of that, it's also entirely customisable with the Seinheisser Smart Control app. You get an edge with this additional tidbit, though you might want to be slightly careful with the controls, as that could mess up your listening experience if you're not careful. The default setting proves to be impeccable for everyday listening to your favourite hits, while you could attempt playing around with the app when tuning into podcasts. These also fit in effortlessly, while remaining pretty secure on a leisure jog.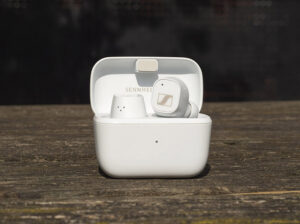 Nothing
Here's a fun one for your consideration: the London start-up's Ear 1 is now available in Singapore. With a distinct design, unlike any other notable tech brand, Nothing features the raw elements of the hardware, to expose the engineering like microphones, magnets, and circuit boards. Kinda like looking into the skeleton of your earpiece, just in a cooler fashion. Each bud weights about 4.7g and it fits really close to what your AirPods might feel like. Apart from active noise cancellation, transparency mode, there's also a big driver fitted in. What you're getting is balanced bass and optimal treble play at a really, really good price. Bonus: the transparent lid case really gets people thinking — decent flex indeed.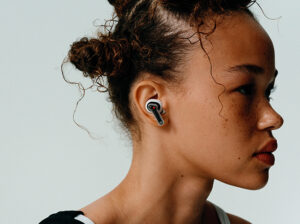 AirPods (third-gen)
Gen 3 takes it up a notch with an AirPods fit that's a little more snug — it's contoured and sits at an optimal angle for better comfort as well as to divert the audio right into your ears. The sound earns a deeper bass as compared to Gen 2, with decent audio quality to boot. There's now a high dynamic range amplifier as well as an acoustic mesh to reduce the sound of the wind while sprinting. Pro tip: you'll definitely get a better experience with Apple Music's Dolby Atmos, with the clarity backed up with crisp and clean frequencies all around. Look forward to Adaptive EQ, that tunes sound in real time, based off how the AirPods fit in your ears. It's powered by computational audio, that monitors and tunes and low and mid frequencies to make up for what might be lost due to how the tips fit within.