As far as Singapore goes, there's no such thing as food scarcity. Oh, let us revise, good food scarcity for that matter. Which sums up a good problem that most locales face while deciding on their menu for the day. That coupled with the fact that you can't exactly refund or take back something you've eaten, really drives home the fact that every meal is compelled to be a outstanding one.
Life's really too short for subpar food. So we've taken the liberty to go out and scour the city for the best of the best. Some might be new discoveries that have recently emerged or even existing foods that we've rekindled with like an old flame — here are the chart-toppers of the month.
1. Pulled pork kulchette from Revolver
Believe us when we say that every thing from the grill at Revolver could make it to this list. But if it had to come down to one: the pulled pork kulchette has to be it. (PS. it was the last savoury dish we had after about six outstanding courses, so that says a lot). The pork is first brined for 3 days then cooked with coconut masala and smeared atop a gryuyère kulchette (flatbread). Truly, one of the most exceptional two bites we had, with a comforting end that's best savoured with your hands. Probably tastes better anyway.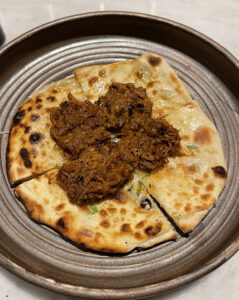 56 Tras Street
Opening hours: (Tues-Sun) 12-2:30pm, 6pm-12am
Currently, there are three introductory dining menus to choose from. $139++ for 8 courses, including a vegetarian option at $129++, and  $179++ for 9 courses. 
2. Prawn noodle somen from Ichigo Ichie
Few Japanese chefs will consider altering traditional dishes for the sake of any foreign city, but chef Akane Eno from Ichigo Ichie has adapted her famed somen dish to our local appetite, inspired by prawn noodles. Make no mistake, everything is still rooted in authentic Japanese techniques. The somen, cooked perfectly, is held together with a piquant prawn broth, spiked with sake and mirin, then topped with Japanese tiger prawn and bafun uni. Not forgetting an ode to the chili element, she made good on that with a fermented chili paste sparked with yuzu notes. Of course, don't expect a spicy kick from this, but we see the intent, and appreciate it.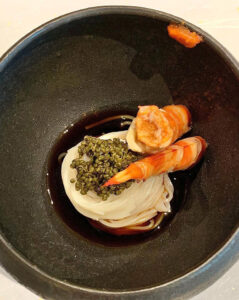 1 Nanson Rd, #02-07A located within Intercontinental, Robertson Quay, Tel: 9018 2897
Opening hours: (Mon-Sat) 12.30pm-3pm, 7pm-10.30pm
3. Meatballs from Da Paolo Gastromonia
The beauty of simple, homely fare is not lost at Da Paolo Gastronomia. And their meatballs for that matter? You can find it off the shelf to be reheated at your own convenience or from the restaurant itself when you dine in. Expect a hearty bite — made of Australian beef, housemade breadcrumbs, Parmesan, and fresh herbs like rosemary, thyme, and sage. To top it off, they're lathered in sweet tangy sauce made from Italian Roma and San Marzano tomatoes.
1 Kim Seng Promenade, #01-163 Great World, Tel: 6735 8382
Opening hours: 8am-10pm
4. Tomato pasta from North Miznon
There's a reason why (Master)chef Eyal Shani's tomato pasta has a world-famous accolade, granted that it's executed simply with hand-squeezed Maggie tomato juice and garlic. That's just it. But it carries a smokiness with each strand of al dente noodle, which we haven't quite found anywhere else. Did it ruin us for future tomato pastas? Potentially. Do we regret it? Never.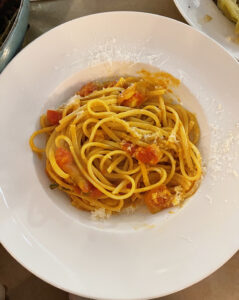 110 Amoy St, #01-01, Tel: 8028 5204
Opening hours: (Wed-Sun) 5.30am-12am
5. Grilled kimchi cheese toast from Micro Bakery
A punchy stack that meshes the umami and fermented spicy into one. But the best part of this toast from Micro Bakery is its backstory on an unsuccessful attempt at homemade kimchi, before maestro Yoon Sun (@oou_kimchi_sg) stepped in to intervene. Thanks to her, you can devour this huge sammie that we recommend sharing, just to allow stomach room for more bread options at the cafe.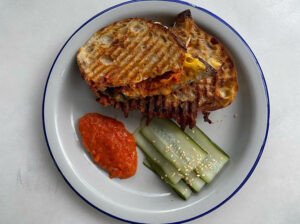 63 E Coast Rd, #01-06, Tel: 8879 4890
Opening hours: (Wed-Sun) 8.30am-4pm