Known for their beautiful padded bralettes, Perk by Kate has once again released a collection that helps women feel confident inside and out. This time, the homegrown label chose to focus on creating a collection designed especially for breast cancer recovery. The collection features bras that have strong support, beautiful designs and are made with soft, breathable fabrics to ensure women can go about their recovery process feeling their best.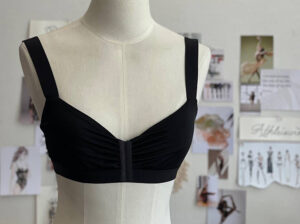 The six-piece collection was created with patients who underwent mastectomy or breast reconstruction surgery in mind. Working closely with a breast reconstruction surgeon and also honest feedback from breast cancer survivors, the team designed a collection of five different bra options, as well as a pyjama set. 
Specially made to incorporate essential functions of an ideal-post surgery bra, some key features added include a front-hook mechanism for easy wearing and easier access to wound care. They also made sure to include thicker straps and wider side panels for an all-round support and light compression on the surgical site. As swelling sometimes fluctuates over the course of recovery, the bras were also designed with roomier cups as well as adjustable straps and closure. 
A year in the making, the collection not only serves its practical use, but also is imbued with the signature Perk by Kate aesthetic complete with its delicate lace detailing. "A good bra is crucial for post-mastectomy or reconstruction surgery recovery – not just physically, but also emotionally. It is our hope to make the recovery process for women going through breast cancer more comfortable. More than that, it is also our heartfelt desire to remind these courageous women that they deserve to feel beautiful both inside and out, and we hope that our lingerie can do that for them," said Kate Low, Founder of Perk by Kate. 
The bras from Perk by Kate's Recovery Collection retail from S$69.00. To register interest in the collection, kindly email [email protected] and the team will be in touch. Perk by Kate will be offering the first piece of lingerie from the Perk by Kate Recovery collection complimentary for women who have been diagnosed with or are recovering from breast cancer.