Fashion
Saint Laurent women's summer 2022: Five standout looks
A study in Paloma Picasso's enduring style and sensibilities
Not many things during Paris Fashion Week are more Parisian than a Saint Laurent show. The fashion house made its fitting return for the Saint Laurent women's summer 2022 collection to its usual locale: right under the gaze of the Eiffel Tower. I'm not going to even pretend that I didn't choke up slightly at the sight, having viewed the entire show remotely and missing Paris. It was truly a beautiful sight.
And what was more beautiful was creative director Anthony Vaccarello's latest outing for Saint Laurent. In the show notes, Vaccarello expresses his yearning for this specific moment: "For a long time, I wanted to transpose this meeting between Paloma Picasso and Yves Saint Laurent, whose importance few realise in the designer's creative journey. It is a moment to which I am sensitive as a designer, because for me it is the defining moment when Saint Laurent's fashion creativity became a style."
View this post on Instagram
Famed and celebrated artist Pablo Picasso's daughter, Paloma, was the subjet du jour. Beyond just inheriting her father's name, Paloma is a designer and artist in her own right, having designed jewellery for Tiffany & Co. and even Yves Saint Laurent himself. She's created perfumes and starred in their campaigns, with one iconic image of her modelling the bottle while wearing leather gloves — this became one of the elements that Vaccarello introduced for Saint Laurent's summer 2022 collection.
Vaccarello's interpretation of her style — subversive with a constant juxtaposition between what's masculine and feminine — resulted in a collection that's sexy in more ways than one. There were the skintight jumpsuits, sheer crystal mesh tops, power-shouldered blazers worn nonchalantly over nothing, leather gloves in vibrant hues of Yves Klein blue and red, platform killer heels, and all supplemented by chunky, devil-may-care jewellery.
It was the feminine, boss lady energy that's always needed in this world. And Vaccarello just supplied with more options.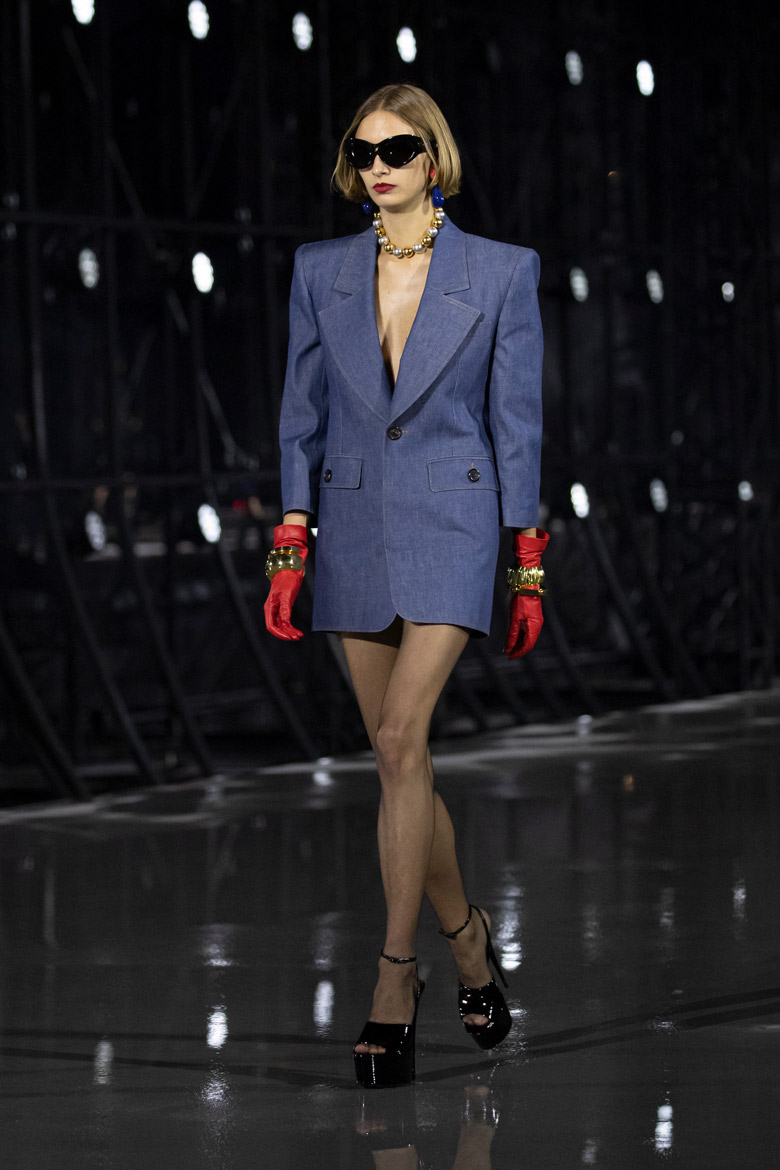 What: A sharply tailored jacket worn with nothing else but Paloma Picasso-esque accoutrements of deliciously sized jewellery, leather gloves, oversized sunglasses, and killer peep-toe platforms.
Why: It's the play in colours and proportions for this one. There's nothing that a power shoulder can't do, including creating a frame that's structured and strong. This is one lady you wouldn't want to mess with. And she's totally fine with that.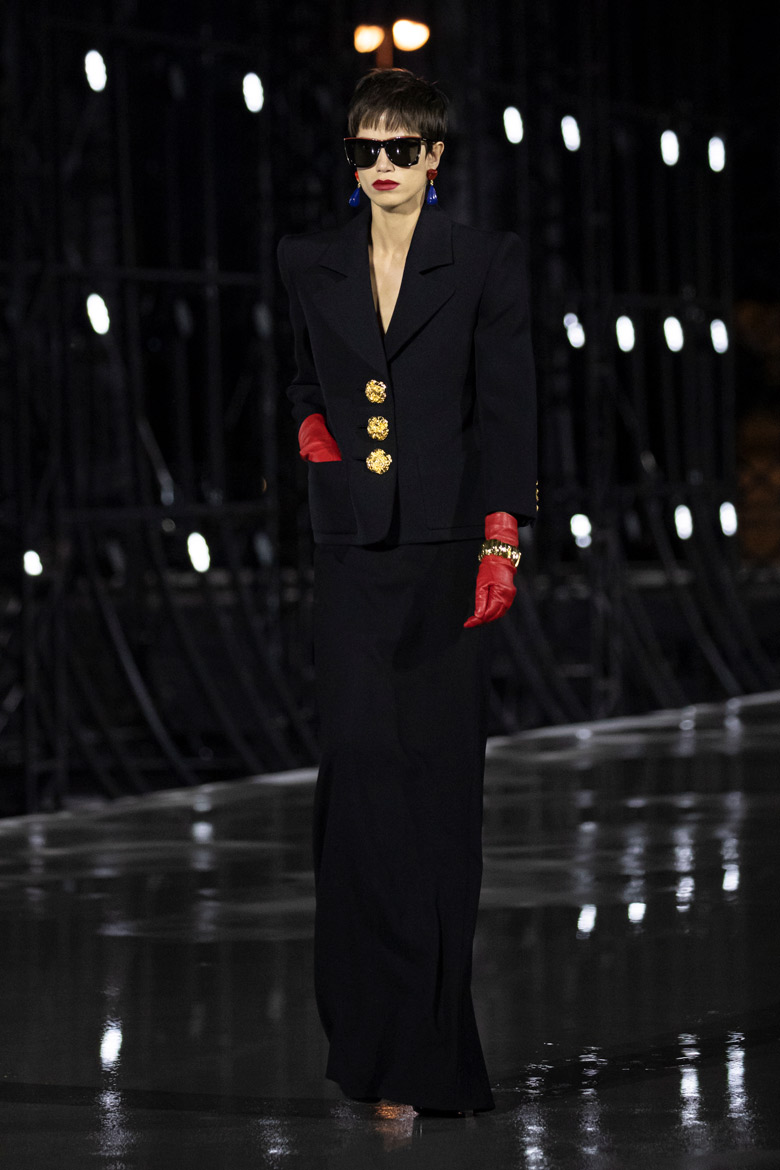 What: A super sleek and elegant number consisting of a gold-hardware jacket matched with a maxi skirt (or dress?) done in all-black and then punctuated with those Paloma gloves and jewellery.
Why: There's nothing else to say but this is super chic and so simple to achieve. Those gloves though, they really do make the whole look that much better.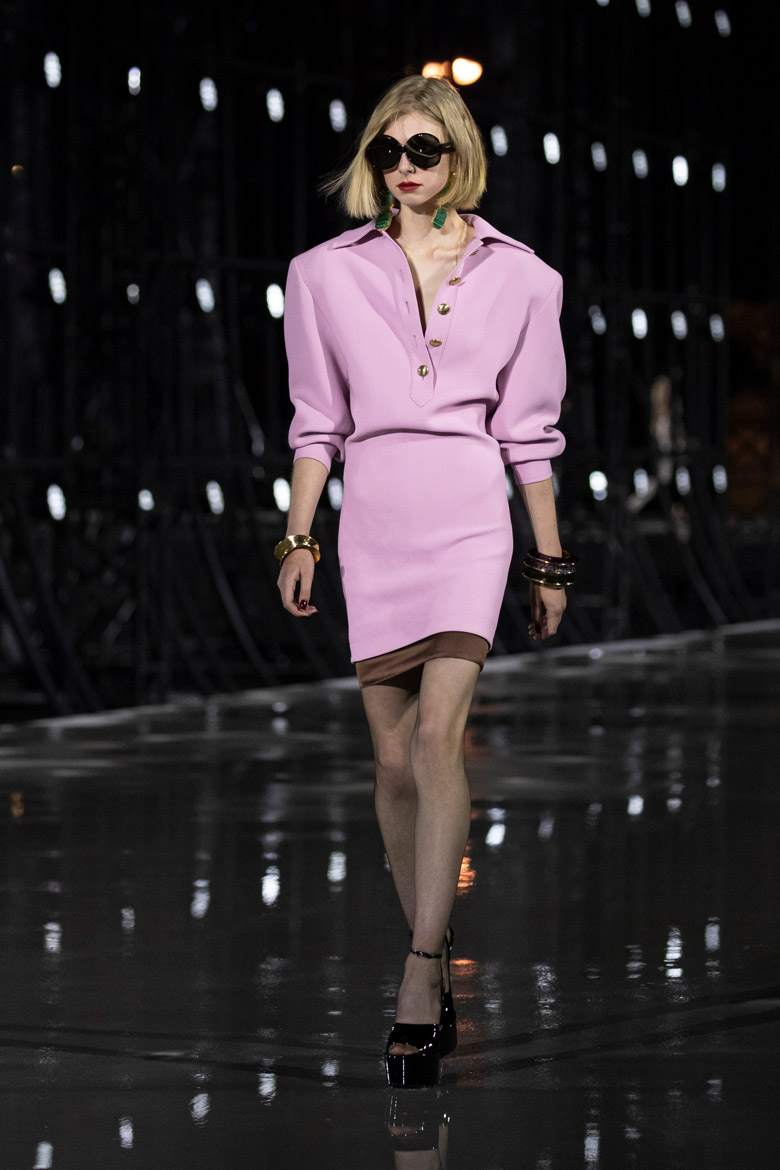 What: Thoroughly '80s in its execution and exaggeration is this power shoulder moment in the form of a polo dress in pastel pink.
Why: The overtly juxtaposed elements — the masculine top structure versus the figure-hugging bottom half — in one garment was elegantly constructed. And it's a piece that can only be amped up by those bangles.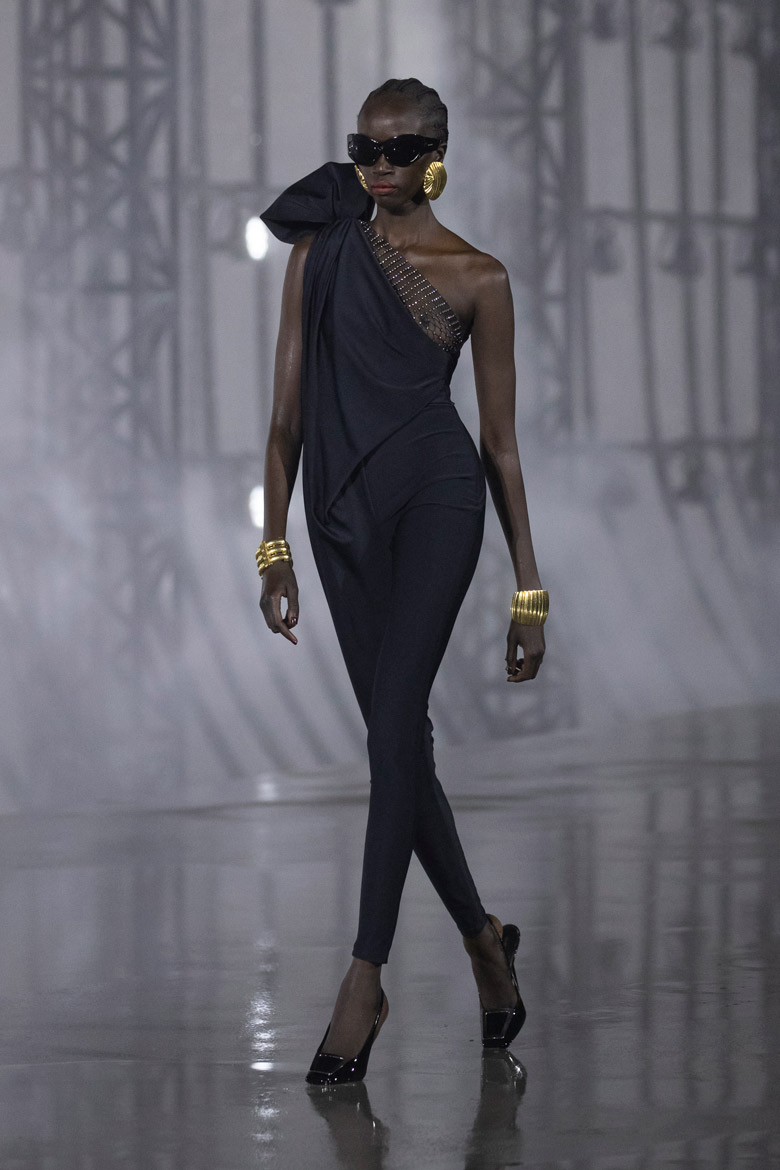 What: A one-shoulder jumpsuit (and what a bouffant on that shoulder) matched with a sheer crystal mesh inner layer.
Why: It's sculptural yet created such soft drapes; and at the same time, super elegant.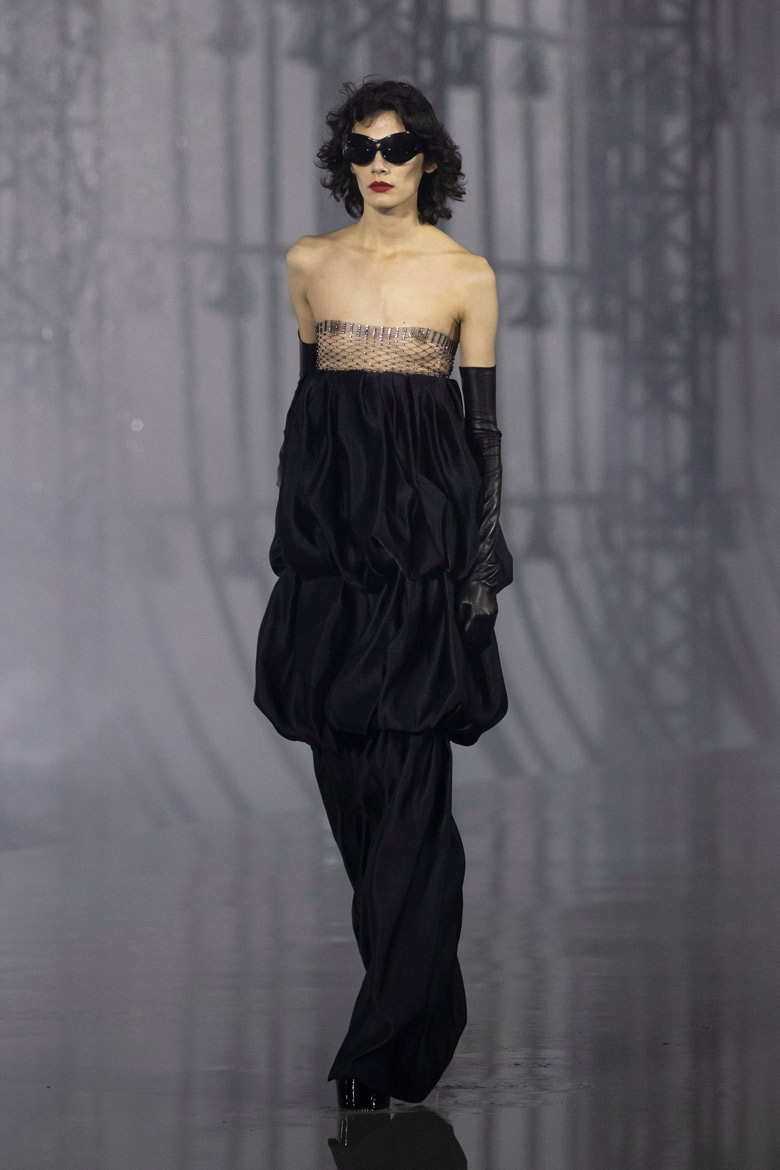 What: A tiered gown held together with a crystal mesh bodice and worn with leather opera gloves.
Why: One of the final looks of the collection, this was simply stunning the way that the crystal mesh seemed to be supporting the weight of the entire dress. If there's one dress at all that you should have in your style arsenal, this would be it. Killer.
Scroll the gallery above for the full Saint Laurent women's summer 2022 collection.