Sport and style, style and sport — two old friends who are no strangers to one another. Since the beginning of time, the world of fashion has tapped into the genius of athletic-wear, both for its functional comfort but more importantly, for its versatility. From layering to mix-and-match to pairing heels with athleisure, there is no other type of clothing in the world that can perhaps live up to the notion of being this multi-faceted and primed for personal styling and self-expression.
Enter the second season of BOSS x Russell Athletic. Following the global success of their first drop earlier in the year inspired by basketball, the international brand takes nostalgic sportswear one step further with '90s cult favourite, Russell Athletic, to bring to life the fashions of the baseball field. This latest collection champions team spirit and the energy of game day in New York City, with the classic tailoring and clean finish you've come to know and love from all things BOSS. This drop features everything from varsity jackets to hoodies to soft, butter-smooth joggers — think classic Americana goes luxe. The best part? The majority of the collection is unisex and size-inclusive (going to up a 3XL), a much appreciated initiative on the part of BOSS in adapting to the evolving needs of its consumers. Season 2 of BOSS x Russell Athletic certainly doesn't shy away from embracing everything and anything unique.
To commemorate the launch of the latest collaboration, we reached out to three unique voices across business, entertainment and sport, to pen a short guest essay on what the collection represents for them — as both connoisseurs of their personal style as well as trendsetters in Singapore. Each personality shares their personal journey to embracing their style identity, balancing comfort with elegance, and why this second season of BOSS x Russell Athletic resonates with their individual design palettes.
Anna Haotanto, Partner & COO, ABZD Capital and Founder of The New Savvy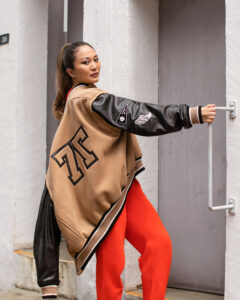 On a day-to-day basis, I wear many hats and roles and find myself often having to adapt to a multitude of situations. I'm the CEO of The New Savvy, Asia's leading financial, investments and career platform for women and Managing Director of Gourmet Food Holdings. I need outfits that can bring me to meetings, to our restaurants and events at night. That's why my personal style is all about being timeless, easy and able to take me to different places. The kinds of collections that can be kept for years and re-worn but look just as elegant and classic as ever. As someone who works frequently with women who want to not only perform their best in and out of their work environments, I always recommend pieces that fit your lifestyle, wardrobe and that you will wear throughout the years. There really is no substitute for great tailoring and attention to detail.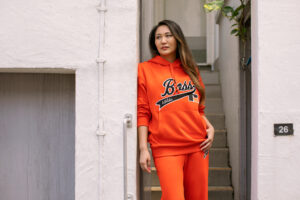 They may cost more up front, but like any good investment, you'll see the return in time. BOSS for me has always been about this vision of sophisticated, high-end workwear. I've loved and worn BOSS suits and dresses as staples in my corporate wardrobe over the years. But this collection is unlike anything I've ever seen BOSS do before. It's preppier, sportier and so well-aligned with the intersection of comfort and style we all crave today, with the same perfect tailoring and fit. Style it up, style it down, take it from day to night; it's a versatile fashionista's dream.
Bobby Tonelli, International Actor and Television Host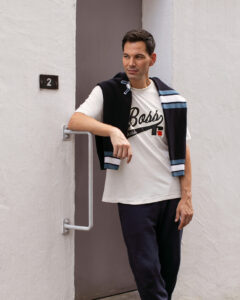 Being born and raised in the US, this collection immediately brings me back to my baseball days growing up. It's been a few good years since I've played on the field, but there's something really nostalgic about the pinstripes, varsity jackets and that classic baseball font, that reminds me of some of my fondest memories. Nowadays, it's more about NBA and football, but baseball's history is ingrained into the American culture and everything that brings us together. Baseball is classic. It's enduring and it's left an impact and legacy on sport worldwide. I loved Norman Rockwell growing up and baseball has that Americana feel. It's not difficult to see why BOSS is a perfect, even if unexpected, partner for this collection. It's perennial yet the new direction is daring without compromising the DNA of the brand — everything from the materials to the fonts used to the colours chosen. Even other countries like Japan and South Korea that are also big on baseball recognise and continue this look and tradition.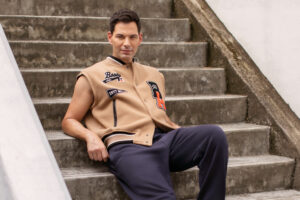 That's kind of how I see my own style evolving too. I find myself veering towards timeless pieces — clothing that transcends periods of time and remains in style no matter when or where you are. Luxury for me, doesn't have to be over-the-top. It's about the feeling and the reflection of one's personality. I think a simple way to start is by looking at the kinds of shoes you wear. It's amazing what a nice pair of shoes can do for even the simplest of looks, be it a t-shirt and jeans or a suit. A watch is an essential. Maybe eyewear. You don't need to go big to go luxe, just do whatever feels authentic to your style.
Joseph Schooling, Singaporean Swimmer, Olympic Gold Medalist and BOSS Ambassador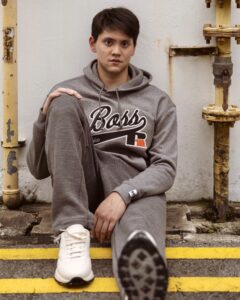 As an athlete, I'm typically in T-shirt and shorts, as I spend 99% of my time, going back and forth the pool, to my physios etc. Having said that, I do enjoy getting dressed up. It's always nice to clean up, it's always nice to go out to a nice dinner and just spice it up so you can keep things vibrant and alive. Ever since I was little, I've always liked mixing and matching my clothes and putting myself together. I remember Aunty Yolly (our helper growing up) packing clothes that I didn't like to wear together or that didn't really match, and that would drive me crazy. When I first signed with BOSS, it was a whole different world and it's a very interesting one. I enjoy it thoroughly. The BOSS team did a good job at showing me the different looks, teaching me, helping me mix and match. To me, a BOSS man is someone who is confident, who is humble and doesn't need to speak volumes about his success because people would know of him by his work. It's an embodiment of the brand's values — authenticity, quality and precision that resonate with my personal values.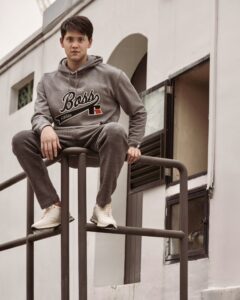 Being in sport, the industry in sporting is unlike the entertainment or fashion one. They're all very different. You're in a different spotlight, under a different scope of achievement and the key thing is about looking good to feel good about yourself. You have to be in a good state health-wise and emotionally. You also have to be comfortable and like what you wear. The majority of the world has gone through 18 months of challenging times — working from home, not being able to go out as before — that many have just been living in casual clothes. I like that this collection has upped the ante and while comfort is still key, the collection speaks of fun and glamour. Wearing this collection is like saying to the world and to ourselves: we won't let the bad times take us down. We will continue to have fun and live life and look good while doing it.
You can shop the full BOSS x Russell Athletic Season 2 collection at the following select stores:
The Shoppes at Marina Bay Sands (#B2-222)
Paragon Shopping Centre (#01-31)
Takashimaya Shopping Centre (#01-14)