Fashion
Has the high heel lost its power?
From high to low
As we all are very familiar with by now, fashion trends come and go. They do circle back at times, albeit taking on slightly different forms with each resurgence, but hardly anything ever truly sticks in fashion. If it does, it's usually something that's been so entrenched and part of culture at large. Case in point: the high heel.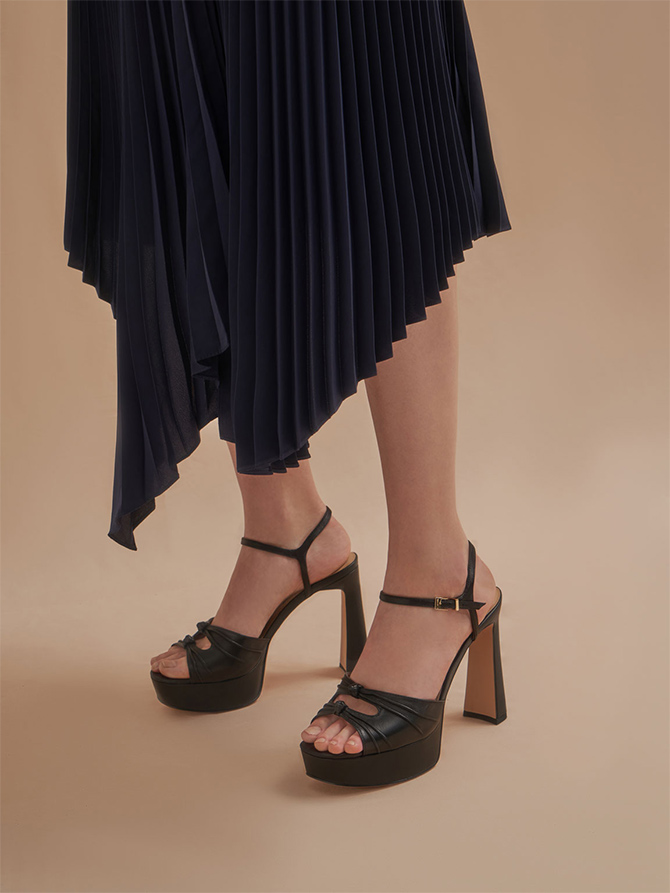 Sky high but still stable, high heels come in a wide variety. (Photo courtesy of Charles & Keith)
Now, 'high heels' are a rather broad term to describe footwear constructed with a design element that elevates the heel to at least 3.5cm. Within the category there are a host of different variations ranging from the sensible (and less painful) block heels to the 1950s invention of the classic thin stilettos we tend to envision when think of this shoe.
Yet aside from the obvious increase in height when putting a pair of these typically coveted shoes on, high heels have often been associated with strength and power.
"If one looks back at the history of fashion, high heels have been modelled by many sex symbols and showcased in various femme fatale movies. And so it's an image that's been rooted deep into minds — heels exude power and confidence," says Michelle Hee, Academy Manager at Singapore-based footwear and accessories brand Charles & Keith.
There's no denying that the 'sex sells' element here is indeed in the heel itself. Or at least that's what we've been conditioned to feel about the sleek silhouette that helps position every wearer to stand taller in more ways than one.
But the fact is this: the rise (pun intended) of the high heel is no longer. Even before the pandemic, the demand for high heels has been on the decline. Bloomberg News reported early this year that the global demand for designer shoes was down 21 percent in 2020. That collectively means that signatures that were once adored by many — the Manolos, the Saint Laurent Tributes and the like — have made way for more comfortable styles and most importantly, sneakers. Every fashion brand worth its salt has at least a flagship sneaker nowadays, and that includes luxury shoe brands such as Christian Louboutin, Roger Vivier and Jimmy Choo.
Chalk it up to the rise of athleisure and the all-round casualisation of dress. Office dress codes have evolved to be less strict (in most cases) and are more reflective of our lifestlyles. When it comes to choosing footwear, it's no longer about for just that one occasion. "There are still ladies out there looking for heels but more of a medium to low height so that they can transition easily from work to weekends. Higher heels tend to look more formal and so may not be that versatile," says Hee.
There's also the fact that higher heels tend to project an air of formality. While they may be great for corporate suits who still need to be in formalwear for work, their lack of versatility means that one only really need just a classic investment pair for situations that require them — like a dependable little black dress tucked away to the side of every wardrobe and only whipped out for emergencies and unexpected calamities.
Strength and confidence are found in more sensible footwear these days. And especially those that take some reference from the boys. According to Hee, sharply pointed toe designs as well as chunky loafers have become part of the discussion, with the latter exuding an air of androgyny that could signify a strong and masculine element.
High heels have gone the way of men's suiting. They're not necessarily needed to embody that feeling of strength and confidence that they were once regarded for. Putting a pair of heels on is now akin to taking a shot of liquid courage — you don't really need it but it's nice to have one every now and then. Strength and confidence, as evident by how we're shopping for our footwear, starts with comfort and versatility.