Fashion
Five standout looks from Loewe women's SS22
A refreshing new start for Loewe marked by experimentation
Loewe was back on the runway for Paris Fashion Week. Staged at the equestrian arena of Paris's La Garde Républicaine, the set was clean and minimal — entirely wooden and flat, save for a recessed stairway in the middle where the models entered the arena from. The set-up was rather clever. In such an open space, everyone got a clear first view of each look as they made their appearance.
It was a clean slate. Or as the show notes stated, "an experimental statement that marks a point of departure, and opens a new chapter".
The Loewe women's spring/summer 2022 collection was rife with technical experimentation. Although that has certainly been creative director Jonathan Anderson's way of interpreting fashion in today's context, it was expressed in even more rambunctious ways. Hardly anything was simple or straight-laced in its execution. Twisting and distorting the human body's natural silhouette, the show opened with dresses constructed with three-dimensional metal wire elements underneath. And then there were metal plates integrated into ready-to-wear — from column dresses to spliced up coats — that brought about a sense of otherworldliness deserving of the collection's Pontormo references.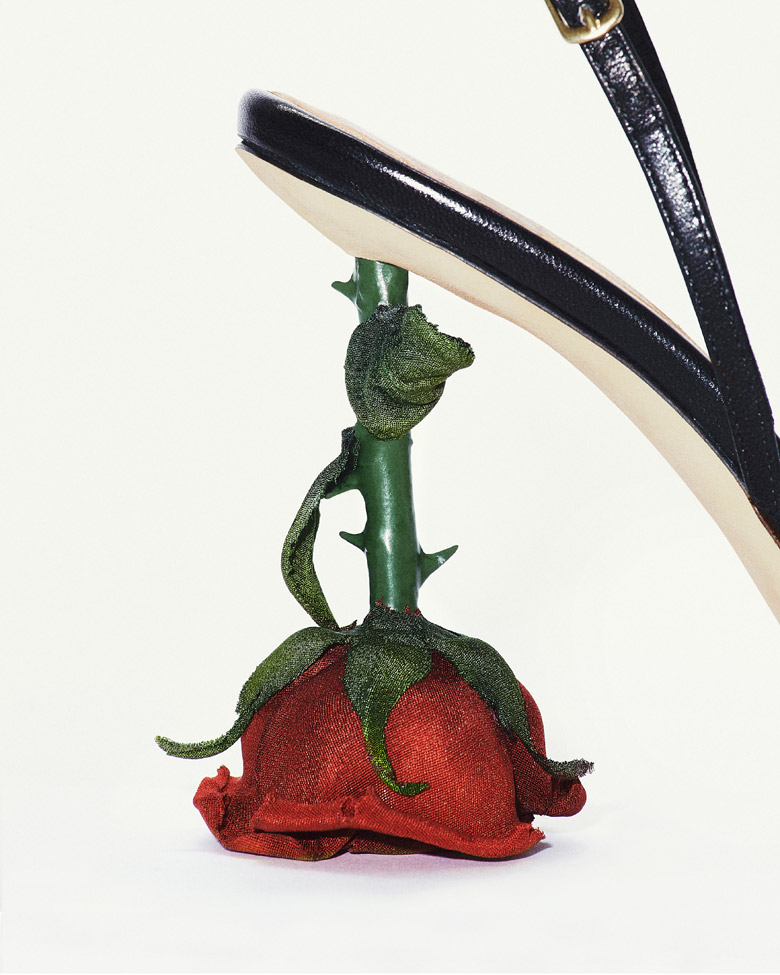 Volumes grew and evolved thanks to gathered pleating but weren't necessarily too ostentatious that had little real-world applications. But it was the beautifully excessively draping techniques that caught my eye. At times, they seemed rather freely executed as though there was never a fixed end goal in mind, but then transformed into a patchwork of colours and flounces that was consistently applied through a number of variations.
At the heart of Loewe is its slew of leather bags and accessories. For spring/summer 2022, there were a few noticeably new entrants into Anderson's repertoire. The collections draped elements were translated into the new Goya long clutch — executed in velvety fabric and topped with the Loewe Anagram motif. That same velvety texture (the show notes refer to it as 'teddy bear fabric') updated the Flamenco, while the Hammock received a new iteration in the form of the Hammock Nugget where it's turned into a sort of triangular pouch held onto by the longer top handle.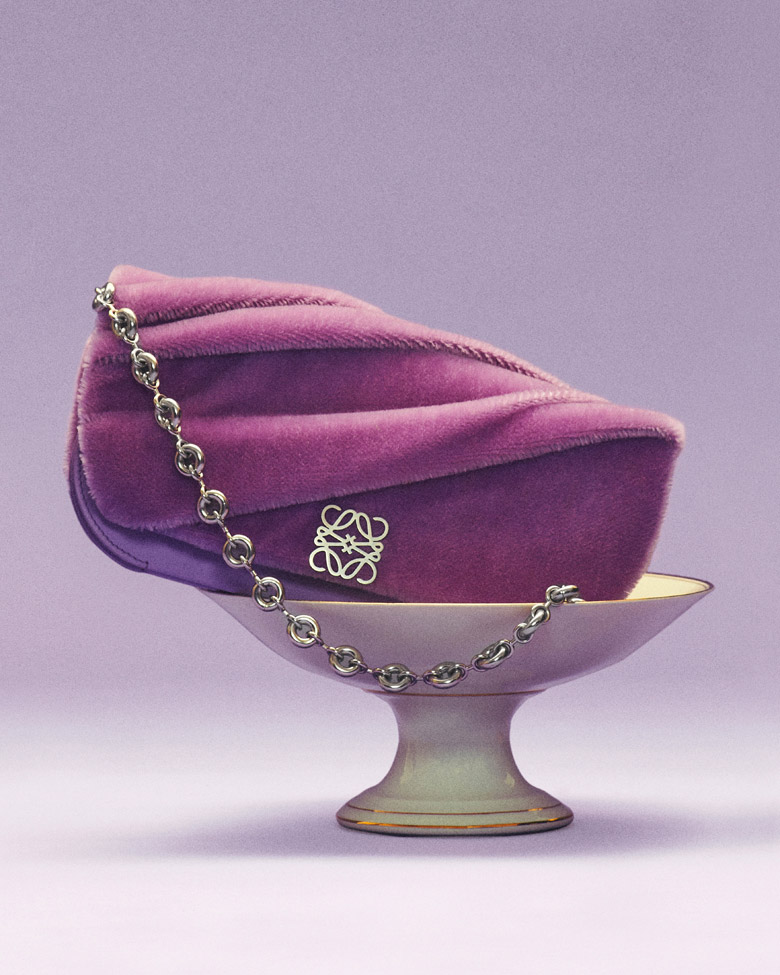 The footwear that were the clear showstoppers though. Heels took the form of delicate materials that in reality, would have most definitely be unable to hold even one step. Soap bars, candles, eggs, a nail polish and a rose, all replaced conventional heels and added touches of crafty surrealism to the entire collection. Brilliant.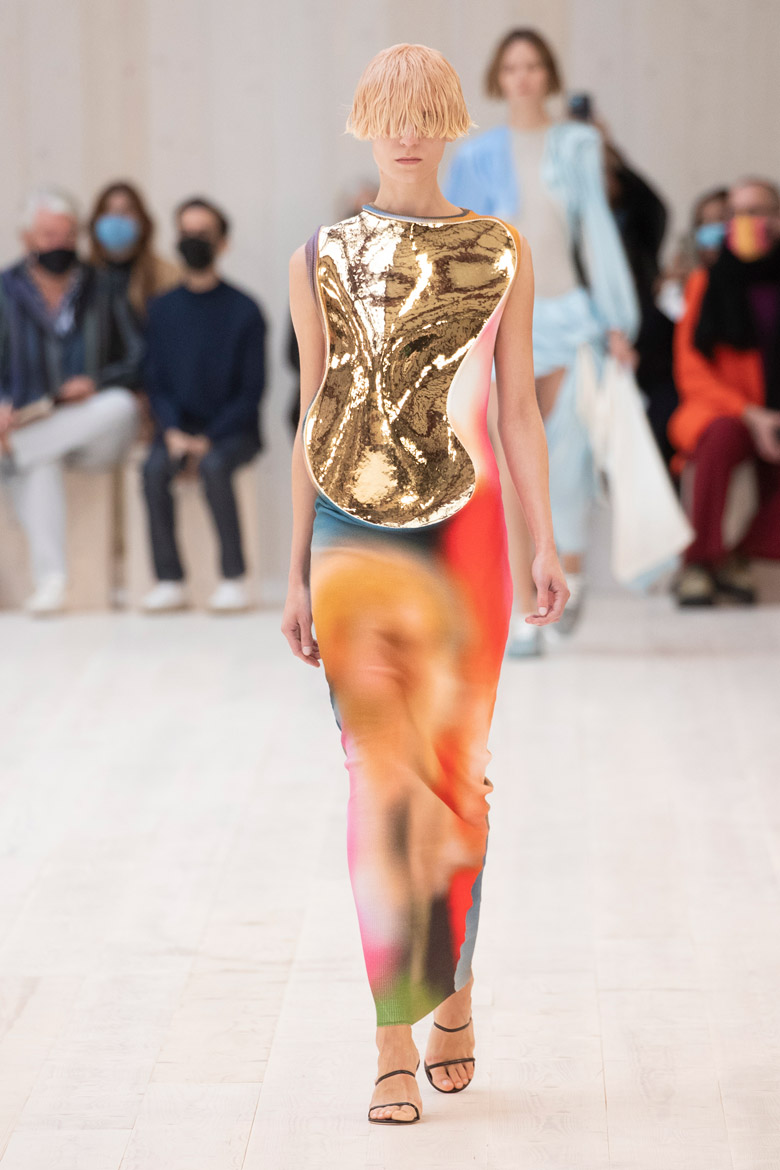 What: A jersey knit dress fixed with a twisted gold metal plate.
Why: Of all the metal plate-accented pieces in the collection, this particularly stood out due to the juxtaposition between the two materials but at the same time, matching quite harmoniously with the gradations of colours in the dress. So achingly beautiful.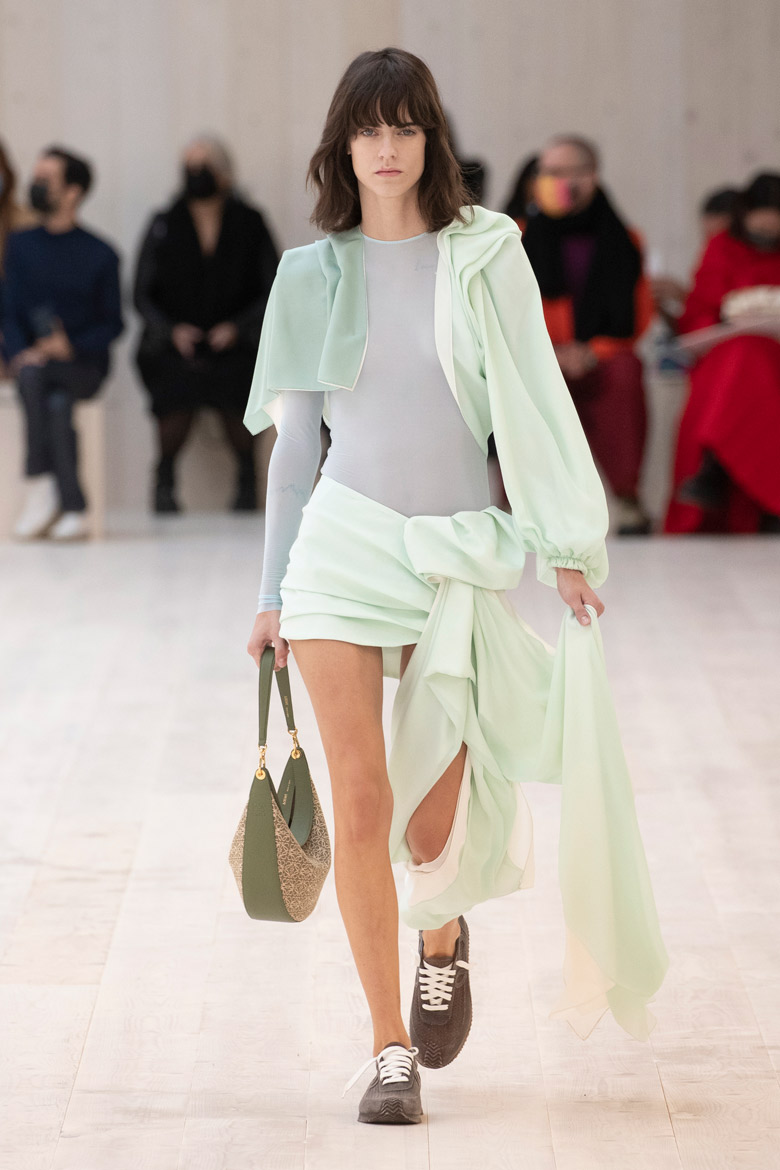 What: A draped mini dress with a flowy train sash, worn with the Loewe Flow Runner sneakers as well as the new Luna bag in Anagram jacquard.
Why: It's ethereal and stunningly balanced with the pairing of casual sneakers. Swop the sneakers for a pair of patent leather booties and that'll instantly turn the look into something that's fit for any nighttime occasion.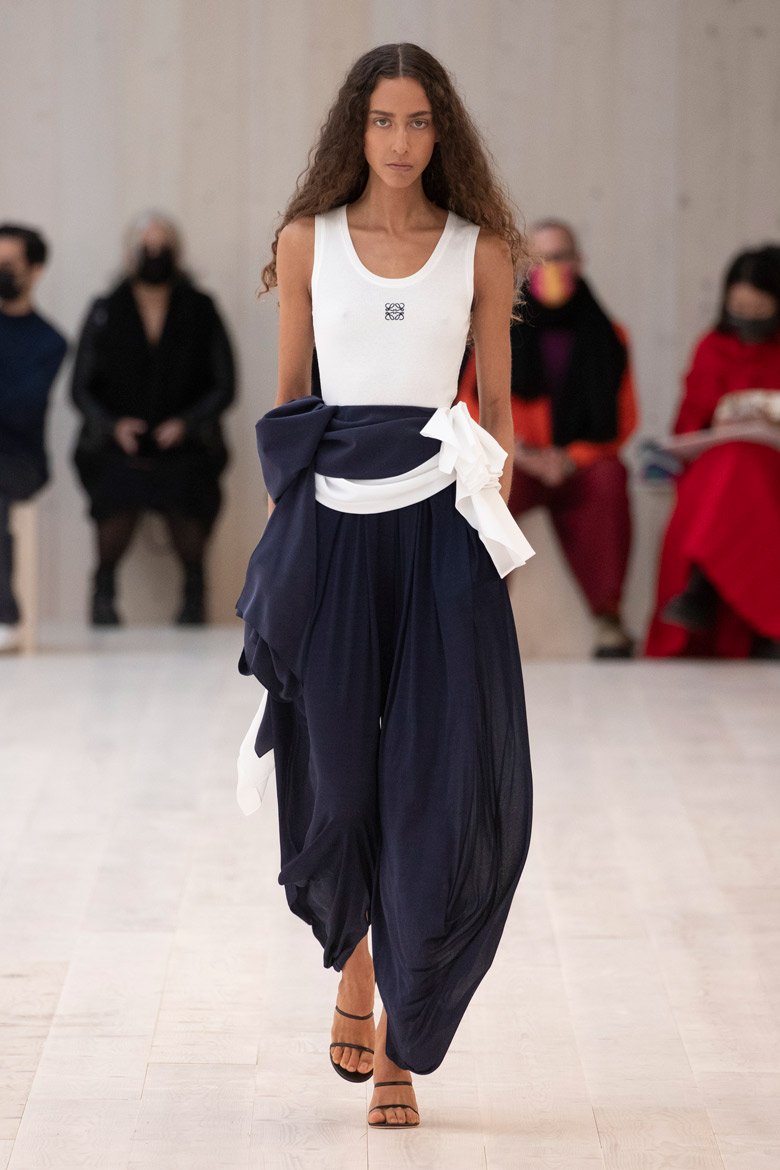 What: A tank top paired with draped harem-like trousers.
Why: It's the simplicity of the tank top letting the sheer volume and fabrication of the trousers steering the conversation in this. This is one pair of trousers I'd like to add to cart right now.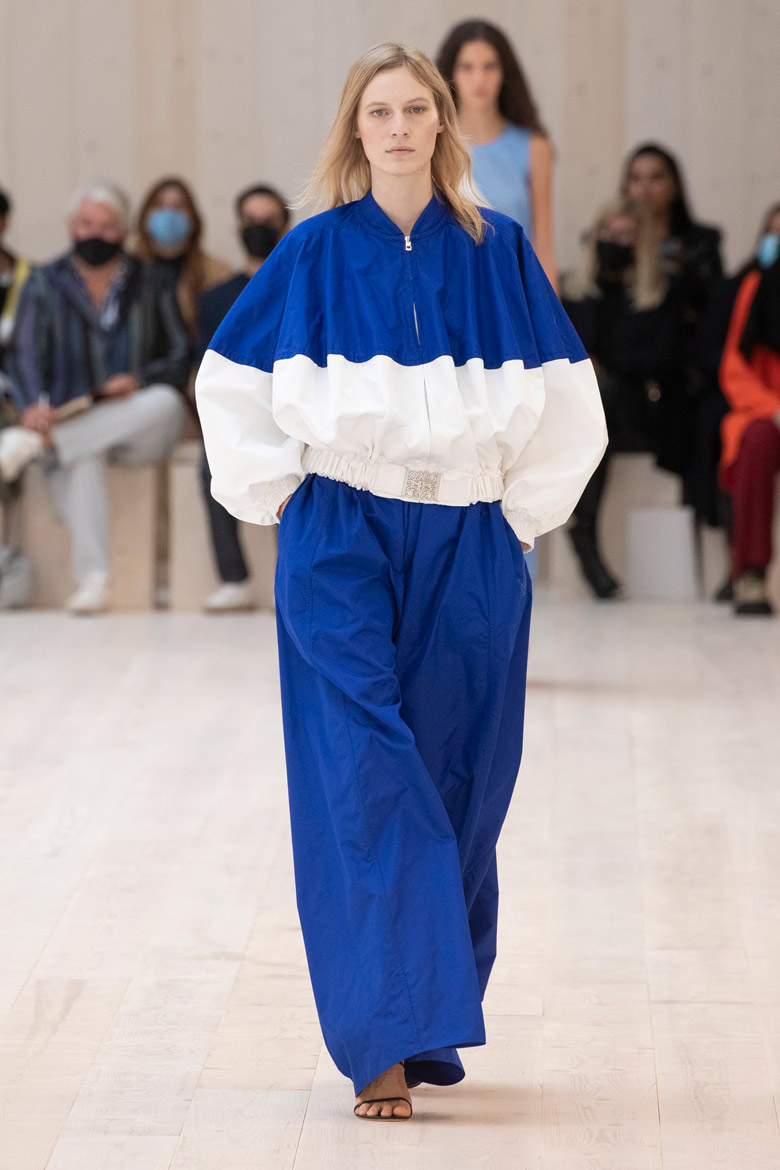 What: A voluminous bomber jacket worn with equally voluminous trousers.
Why: If anything, this was Anderson's idea of casual-but-not sweats. The addition of the Anagram hardware at the base of the bomber is such a chic touch. And really, we could all use an outfit that hides everything.
What: A dropped shoulder bomber jacket worn with briefs and the collection's latest interpretation of the Flow Runner sneakers made from compostable plastic.
Why: Lest we forget, Loewe is a leather house. And this supple leather bomber was the perfect way of showing that mastery and craftsmanship in such a contemporary way.
Scroll the gallery above for the full Loewe women's spring/summer 2022 collection.