There's no question that Disney's upcoming Cruella is a fashion film through and through. Watch the trailer and one would immediately be taken by that devilishly stunning scene of Cruella de Vil (played by Emma Stone) revealing her presence at a black-and-white ball organised by couturier Baroness von Hellman. With a drop of a flaming matchstick, Cruella's satin hood burns into nothingness and uncovers a red-hot dress and that signature half-black-half-white do. What. An. Entrance.
Cruella is the first time that we're getting a deeper and closer look into one of Disney's most iconic villains. To put together the costume and fashion that's required, multiple award-winning costume designer Jenny Beavan was up for the challenge. And it was definitely no mean feat.
Emily Stone had 47 costume changes as the titular character, while the Baroness (Emma Thompson) had 33. Horace and Jasper — Cruella's two brothers in arms — had 30 costumes each. And all these did not include the massive gala and ball scenes that involved more than a 70 cast members each.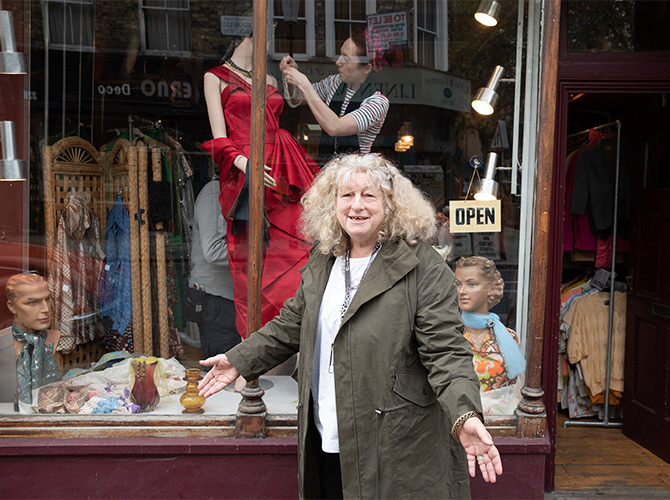 Costume designer Jenny Beavan standing in front of the vintage store as seen in Cruella.
But of course, Beavan is no stranger to such extensive costuming. She was after all, responsible for bringing to life the aesthetic of Mad Max: Fury Road as well as 1985's A Room With A View, both of which she earned an Academy Award each for 'Best Costume Design'.
We speak to the English costume designer on her process working on Cruella. And her most memorable costume for the film — that as we found out, is one of the less elaborate pieces created for Cruella. Some very slight spoilers ahead.
Obviously a lot of costumes had to be designed for Cruella and the fashion was essential to the film. How much time was spent conceptualising until creating the final product?

I'll tell you the absolute truth: I took it on with literally 10 weeks to prep that film, having never read it. We were — I'm sure it's not a secret — given a grace of an extra six weeks because Emma Stone had a minor accident and hurt her shoulder. It needed time to recover, for which I blessed her on a daily basis, so we ended up with 16 weeks.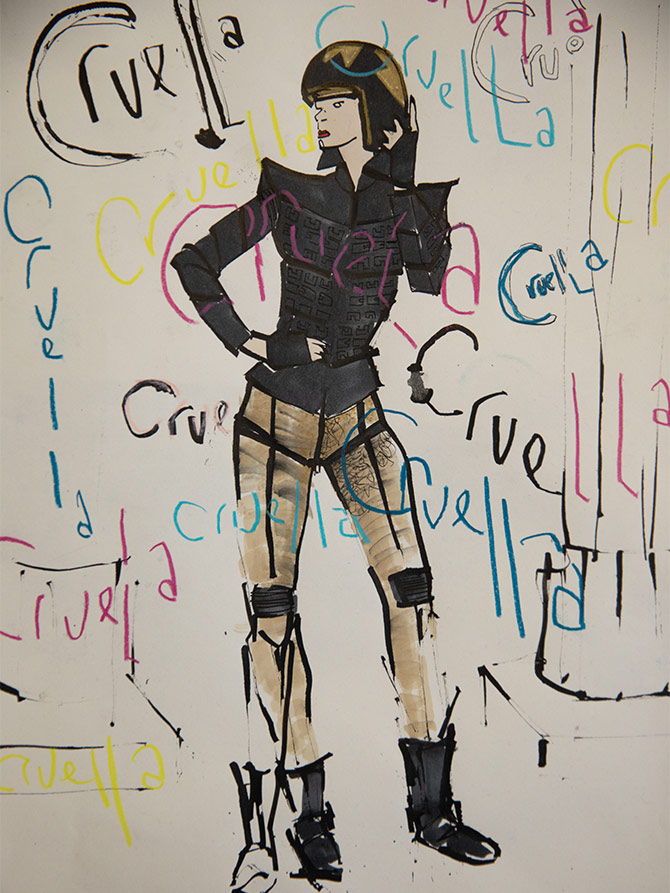 But obviously, when you're doing a film, you work in schedule order. So yes, you have an overall concept. But equally, you have to just go in the order that you're going to shoot it, and we shot it over, I don't know, 12, 14, maybe even 16 weeks. And so you're working on a sort of daily basis.
At the beginning, we just went in thinking we only had 10 weeks, like a bull in a china shop. I had three other designers, an incredible team of cutters, and everybody just basically started making things. We'd throw out images, mood boards, you know, anything that felt right.
The thing that has stuck from Cruella's trailer is that scene where Cruella basically burnt an entire silk outer and revealed herself in a red dress. What was the thought process like for that particular look?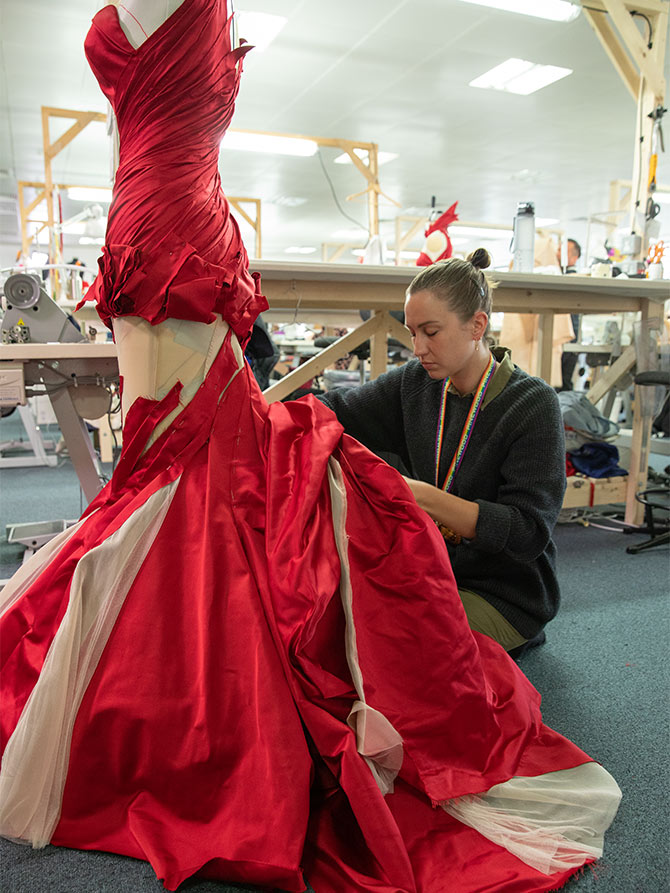 Well, obviously, it's a black-and-white ball. So you want something that's totally not black and white. The dress, the burn-off is almost possible to do for real even though it was a visual effect, but we didn't do that. And the dress has to be — it's a ball, she's got to make a massive statement. Plus in the script, that dress is remade from one of the Baroness's own dresses, which she had seen in Artie's (played by John McCrea) vintage store. But it was really a statement in red to really enrage the Baroness.
There's a very strong punk influence with Cruella's aesthetic. I immediately saw references to Vivienne Westwood, Alexander McQueen, and especially that newspaper dress element — very John Galliano. What were the considerations in punk that you wanted to inject into Cruella to differentiate her aesthetic from the Baroness?

I think I just took influences from her script and her storyline. And the newspaper thing was something she could get hold of very easily. It was full of references to the Baroness — the printing on it, not that you can probably see, it was sort of quick. But basically, she's a rebel and that was the influence I would say more than punk. Of course I looked at Westwood and Galliano and lots of designers of the '70s. Mainly, her clothes were driven by her story, and where she was, what she could get hold of and what she could afford. And then what she learns, and how she again, adapted. And then how she makes herself into the person who may become Glenn Close's version of Cruella.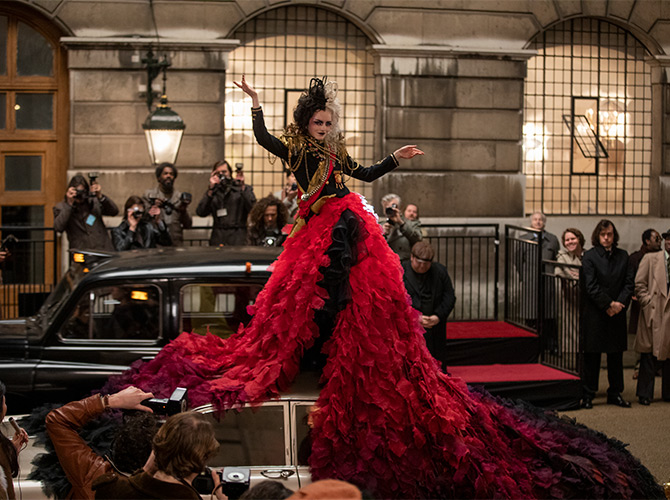 Cruella is one of the most iconic Disney villains and has been interpreted in a number of ways. Should we be expecting any homages to the original?
Not really because it's a prequel. Anthony Powell — who died sadly a few weeks ago — who designed 101 Dalmatians, was just one of the world's best designers. I was always dying to show him what I was doing. But he'd been ill for a long time, and I never got to see him. So my homage is to Anthony Powell, of course, but not directly.
I also noticed that a lot of your work revolves around period pieces mostly. Is that something that you're constantly drawn to?

You're right. I had the luck to know people who knew James Ivory and Ismail Merchant (producer-director duo) and they adopted me as part of their family. And they happen to do mainly period films. And then George Miller took a massive leap of faith on me for Mad Max: Fury Road. And that really has opened out, you know, a new career in that people now think that maybe I don't just do period. But I love period, and obviously Cruella is period. It is easier, in one way, than modern. Modern gets you into a muddle because people have more opinions, whereas when it's period clothing, I tend to know more about it and it's easier.
What's your most memorable creation from the film — not necessarily your most favourite — if you had to choose one?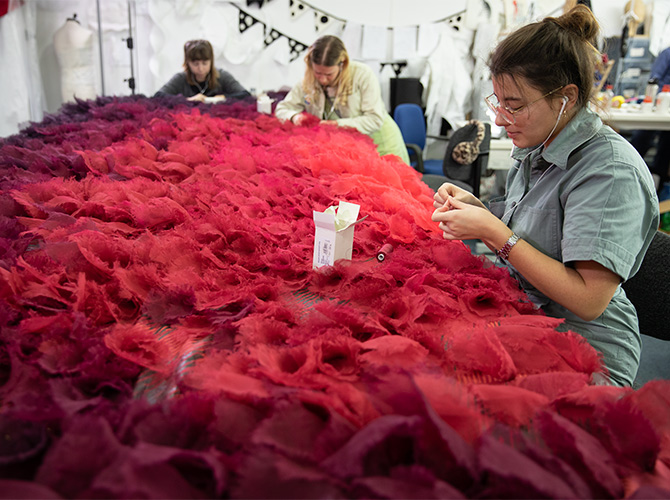 5,060 handmade petals were used for the dress that Cruella wore while standing on top of the Baroness's car.
I think it's the very last one when she's in the house. It's one of my most wonderful images because it's actually quite desolate. And you feel that however bad she is, I'm not sure she's going to be happy. And it's just very beautiful, I think. It's kind of, as far as I remember, the very last image of the movie of her, having arrived so to speak.
Disney's Cruella will be out in cinemas with sneaks on 26 May 2021, and Disney+ with Premier Access from 28 May 2021.