With the surge of electric cars on the rise, it wasn't long before Porsche developed their own: The Taycan. Joining forces with Star Wars, their first all-electric car was unveiled through a truly soul-electrifying drone show at The Float @ Marina Bay. And boy was it worth the wait. This automobile is certainly ready for the future, equipped with all the necessary features such as fast charging, an advanced cockpit and many more, not forgetting Porsche's characteristic sporty touch.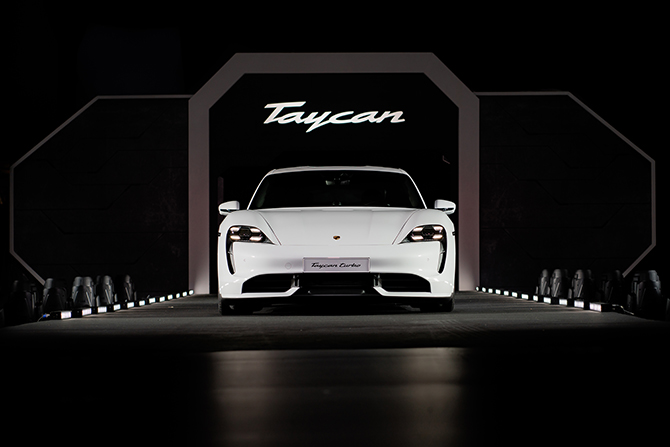 With the flagship model Taycan Turbo S, you can catapult from zero to 100 real quick in just 2.8 seconds, thanks to the 761 horsepower in combination with launch control. Its overboost feature also means you can go well over what you thought an electric car was limited. It's going to be a speedy ride, no less. Cruise along easily at a top speed of 260km/h on this all-wheel drive with two exceptionally efficient electric machines — one each on the front and rear axles. The innovative two speed transmission gears allow for swift accelerations and high efficiency at top speeds.
The Taycan will be setting new benchmarks for upcoming cars with a whopping system voltage of 800 volts as opposed to the usual 400 volts for electric cars. In just five minutes, the vehicle can be charged to enable a range of up to 100km and in 22.5 minutes, get it fully revved up, under ideal conditions. Tell that to your phone that takes hours to fully charge.
The luxe interior of a Porsche that we are familiar with, has not been compromised, as seen from the Porsche Advanced Cockpit that offers up to four intuitive displays replacing the need for tactile buttons. The driver-focused 16.8-inch curved display and control panels with Direct Touch control will keep you in control of everything from the luggage compartment to the charging flaps.
They say good things take time. Porsche definitely proved that with this stunning showstopper.
Check out Porsche's official website to find out more about the Taycan series.