There's a certain comfort that pacifies you upon entering a typical Korean eatery or restaurant. A warm greeting travelling from a small distance or just the simple act of having a full bottle of roasted rice tea waiting on the table. At Nae: um, a similar impression transpires — with warm birch tones awashing every corner of the 28-seater restaurant in that same Muji-esque pleasantry. There's no isolating hallway or overt decadence to marvel at and that's completely okay. It's comfortable and inviting to set foot, with the same courtesy extending to the kitchen, configured and designed in a way that guests can easily step into (on their way to the bathroom), as one would do in a friend's home.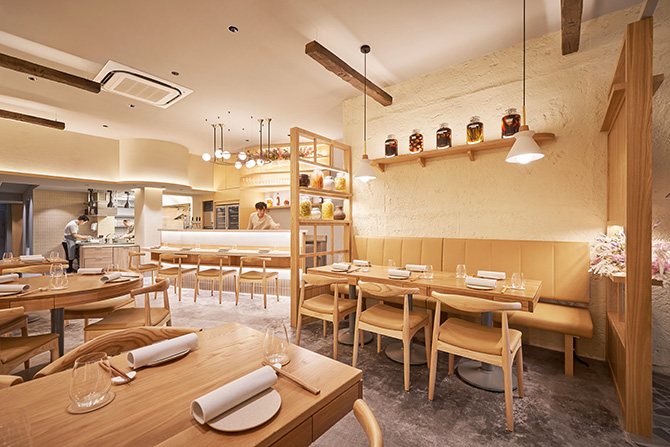 The intent is intentional, with chef Louis Han's inaugural restaurant to stand for an homage of his heritage and culinary experience in a few foreign cities. Naeum in Korean literally describes a fragrance that brings back memories, so one could interpret this venture as deeply sentimental. With prior work as head chef at the defunct Kimme and 2-Michelin Mosu in Seoul, Nae:um is chef Louis' very own stomping ground to express and flourish.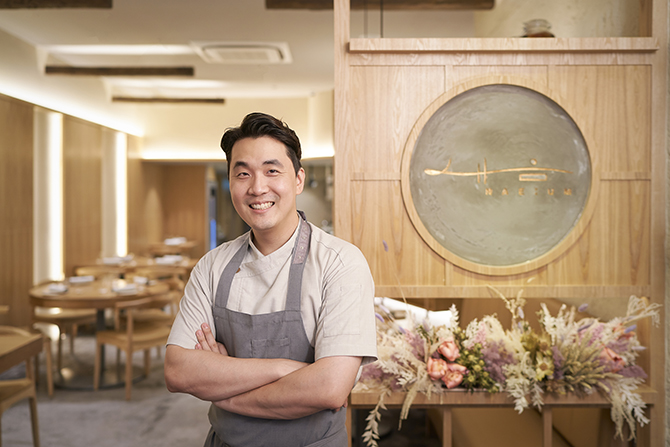 It begins understatedly with the 31-year-old's preferences: 'My Favourite Ingredients' opens the first episode of the menu (that's set to change every few months). Snacks comprise of two of chef Louis' favourite proteins — beef and duck. Beef tartare laid upon puffed brown rice crackers, with the main star of Australian wagyu diced, then seasoned with soy sauce, sesame oil, mirin, lime juice, then adorned with pickled turnip. It's a familiar ode to beef tartare you can have in one of South Korean's thriving markets, but refined in a single small bite. His next creation, duck galbi tart is a glistening duck meatball atop a tartlet. First bite in — and you are rewarded with an explosion of flavours. The ball itself is made out of duck leg meat and its fat, hand-chopped with garlic, spring onions, and chef Louis' secret gochujang sauce (a recipe from his grandmother) with a single rice cake in its core. A surprise center like what you get with a Kinder Bueno, but tenfolds better. This particular meatball ignites an instant glee with the entire ball finished off with the same gochujang sauce over binchotan.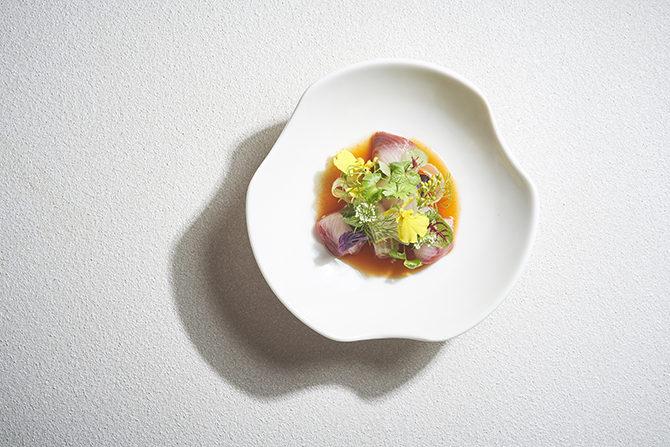 After that joyous palate trip, spirits are on a high. His sashimi dish takes on a mulhwae form, basically cold spicy raw fish soup that Koreans enjoy in the summertime. His prized picks go from aged kampachi to aged daikon, then doused in yuzu chili sauce and a drizzle of chive oil. It's a sublime course to reset and cleanse before the next one arrives.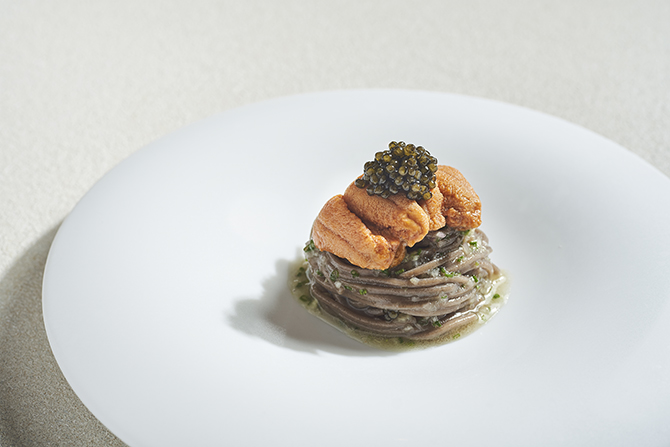 Another one of his favourites: noodles. Where he tosses handmade buckwheat Korean noodles in a dressing of chopped white kimchi, chives, and truffle oil. To pile on the umami, a generous dollop of bafun uni and Kaviari Oscietra caviar completes the dish. The richness of the uni was deftly met with tartness from the kimchi, not to mention the perfect cold chew with just enough bite. Having polarising flavours working in tandem, we found to be one of chef Louis' main strengths — as seen again in the fish course. A red grouper, first brined then steamed, makes up half of the dish. The other, is an interesting counterpart of zucchini roulade encasing a spanner crab meat seasoned then steamed, while the zucchini slices join Napa cabbage that are charred over fire. A tantalising pairing of water and fire, which held its own against the sweet, rich complexity of his beurre blanc sauce.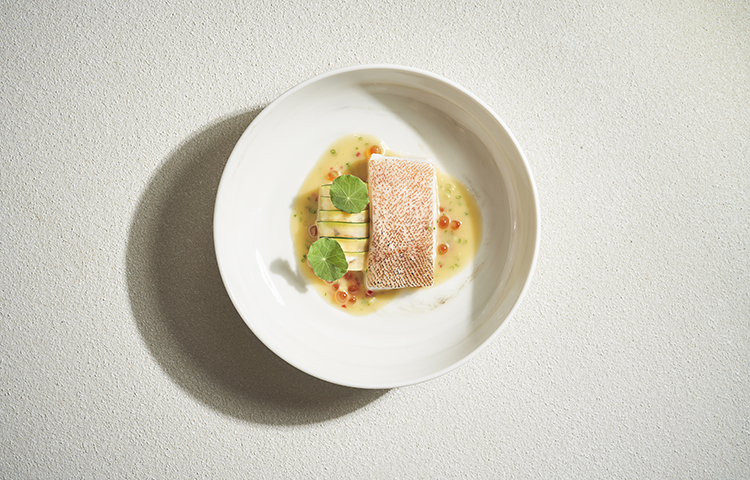 The nation's favourite bingsu also emerges in the pre-cursor dessert. Where fermentation takes centerstage as fermented whole fruits and grape granita are joined, then binded with mascaporne snow and makgeolli (fermented rice wine) sorbet. It did however, overshadow the next dessert, which could have eschewed some sweetness in its jujube ice cream and puffed multi-grain amalgamation.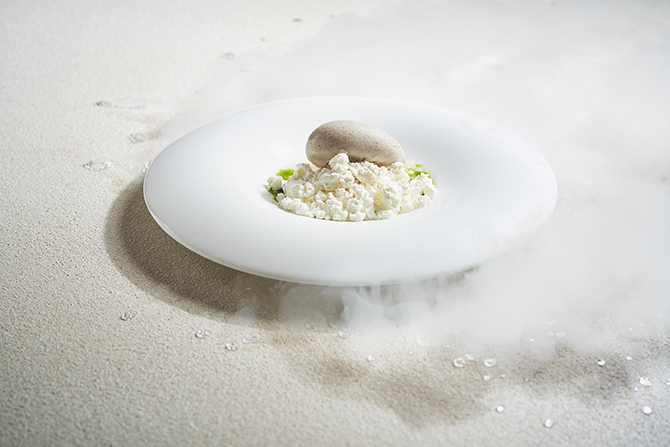 However, the sweet note came to an all-time high in the petit fours. A slab of fermented rice cake made from sugar and makegeoli, then torched to brulee. It was chewy, just the right dose of sugar, and accented with smoke. Then you have another show-stopping bite, a traditional Yakgwa cookie typically enjoyed on festive occasions. A sesame-laden treat joined with ginger and cinnamon, and just like that, our future expectations of petit fours will never be the same again.
161 Telok Ayer Street, Tel: 8830 5016
Opening hours: (Tues-Sat) 6pm-10.30pm
Nae:um Episode 1 starts at $148++ for five courses, with lunch to be introduced in the future