When it comes to whiskey, there always seems to be some sort of unspoken barrier to uncovering the many facets of the spirit. But even those who have yet to overcome the innate intimidation of the amber liquid would know Monkey Shoulder for its blended malt whiskey. Typically served in cocktails, as it is primed to be the malt whiskey made for mixing. Their formula is a signature one: a blend of only Speyside single malts, which has now been the standard as far as Monkey Shoulder blends go.
Now, a smokier peated sibling has emerged on our shores: Smokey Monkey, which had already made its debut back in 2017 in the UK and France. But with its entry finally here, this makes Singapore the first country in Asia to have this peated whiskey.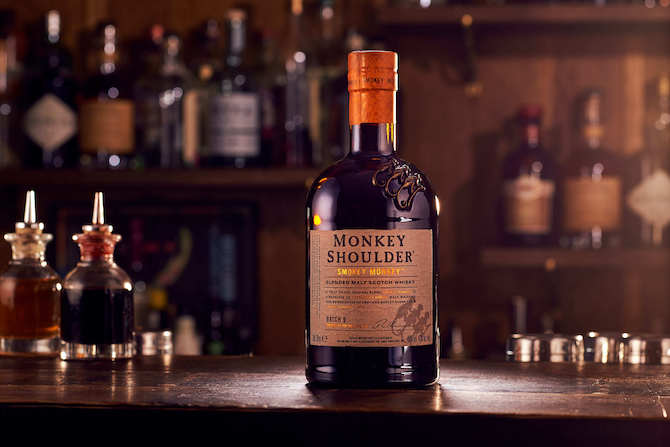 Similar to its older sibling, Smokey Monkey has the same mixing credentials but with a little something different. A smooth, creamy, sweeter mouthfeel with a subtle oaky smokiness on the nose is what you can expect when you sip on this peated whiskey.
So how does peat come into the picture during the process? Peat is a partially decayed vegetation or organic matter that is burned to create fire used to dry malt barley. This process releases compounds that give the smokey flavours to the whiskey, and it is this very process that adds a unique and delicious twist to Smokey Monkey.
"We're producing Smokey Monkey using our usual small batch and marrying methods and delivering the smokey twist by blending a distinct selection of malts. Smokey Monkey has the mellow vanilla, spicy and citrus hints of our original liquid, overlaid by a dry smokiness that comes through on the nose and the palate. Monkey Shoulder fans will both recognise its familiar smooth character and enjoy the exciting new cocktail serves it brings with it," said Brian Kinsman, Master Blender at William Grant & Sons.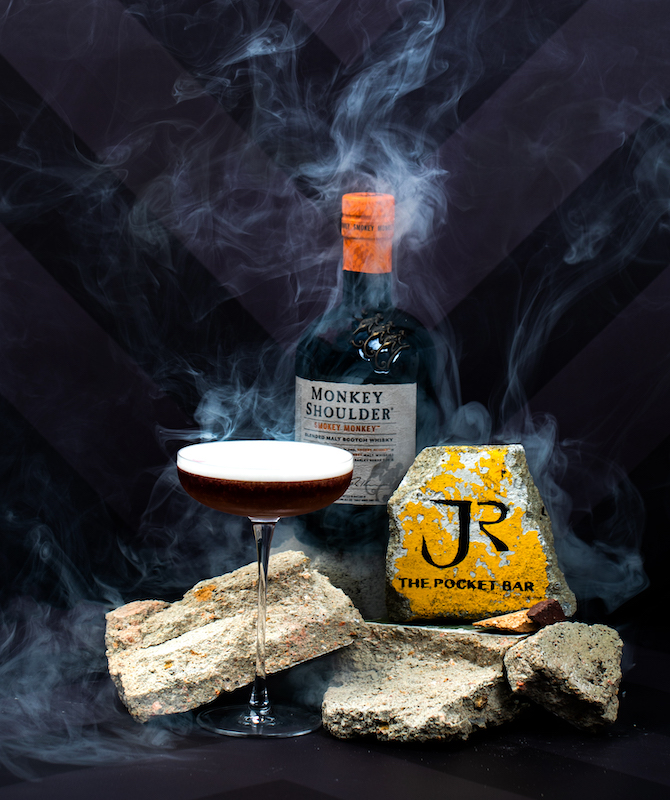 This unique whiskey was created in answer to many bartenders' demand. Monkey Shoulder always had strong relationships with top bartenders who are hungry for new ways to create new and unusual serves for their customers. And with this creation, more diverse and fun concoctions can be expected. You can too enjoy it neat or with a splash of water, with the underlying sweetness Smokey Monkey has to offer. But for now, Smokey Monkey will only be available in 15 of our city's bars in celebration of the launch — each bagging a unique cocktail specially driven by this spirit.
You may find Smokey Monkey at these local watering holes:
Ah Sam Cold Drink Stall
Drink: Smoke Screen
12 Haji Ln, Singapore 189205, Tel: +65 6391 9942
Anti:dote
Drink: Where You Wanna Go, Love?
80 Bras Basah Rd, Singapore 189560, Tel: +65 6431 5315
Barbary Coast
Drink: Chimp Off The Old Block
16 N Canal Rd, Singapore 048828, Tel: +65 8869 4798
Employees Only
Drink: Monkey Business
112 Amoy St, Singapore 069932, Tel: +65 6221 7357
Heart of Darkness
Drink: Monkey's Ca Phe
1 Keong Saik Rd., Singapore 089109, Tel: +65 6208 7940
IB HQ
Drink: Nardus
76A Duxton Rd, Level 2, Singapore 089535, Tel: +65 9025 3234
Junior The Pocket Bar
Drink: Escape from New York
6 Ann Siang Hill, Singapore 069787, Tel: +65 8121 1462
MO Bar
Drink: Sugba
5 Raffles Ave, Singapore 039797, Tel: +65 6885 3500

Nutmeg & Clove
Drink: Monkey See, Monkey Taro
8 Purvis St, Singapore 188587, Tel: +65 9389 9301

Potato Head Singapore
Drink: Caffe Nel Bosco
36 Keong Saik Rd., Singapore 089143, Tel: +65 6327 1939

Sago House
Drink: Three's a Crowd
40B Sago St, Singapore 059029, Tel: +65 8874 9963

Smoke & Mirrors
Drink: The 3 Monkeys
1 St. Andrew's Road, #06-01 National Gallery Singapore, 178957, Tel: +65 9380 6313

Tess Bar & Kitchen
Drink: Chunky Monkey
38 Seah St, Singapore 188394, Tel: +65 6337 7355

The Bar at 15 Stamford
Drink: Undead Monkey
15 Stamford Rd, Singapore 178906, Tel: +65 6715 6871

Tippling Club
Drink: Brass Monkey
38 Tg Pagar Rd, Singapore 088461, Tel: +65 6475 2217
For more information on Smokey Monkey, click here.