The term fitness has evolved inexplicably since we last saw burly men lifting weights in flash ads sellling protein powder or home gym equipment on teevo. Gone were the days where it was a hobby that only extremists could run the show. It's kinda sexy now… in an understated cute crop top/printed leggings way. That's the current look of fitness. In fact, stepping into a studio with a loose P.E t-shirt and track shorts would warrant you askance glances from the rest of your company. Everyone seems way too dressed up for a workout now; so much so that they can easily head out to brunch at PS.Cafe after. And yes, I have done that with the aide of deodorant, a slab of concealer sans the blush; just cause post-workout glow. Can't say it wasn't a good look, minus the remnant sweat.
The F-word has become a social statement; it's hip, illuminating with neon lights, and more importantly, it's fun. The scene in Singapore concurs; with the likes of boutique fitness studios, subscription models like Guavapass and ClassPass entering the market and reaping in a sizable hoard of millennials. This generation is actively seeking out a healthy lifestyle with fringe benefits like enjoyment and an avenue to see and be seen. And hey, if it encourages folks to work out for the same reason they choose a salad to post it up on Instagram, it's still good for your body right?
But where do the traditional box gyms fit in here? Could they be slowly fading out, as soon as the next generation come through the doors?
Breaking out of routine
Chief-of-Staff at Guavapass, Emma Harris says: "Three years ago, there was still emphasis on going into the gym and having a solo experience. It was a get-in, get-out routine. But now we're seeing trends that are very boutique fitness-oriented, like indoor cycling and boxing classes that seem to be on a rise."
Instead of romancing the treadmill or stuck in a rower routine on the gym floor, there's something refreshing about working out in a fitness class. They are usually interactive and engaging; with the expertise of an motivational instructor who looks like he or she belongs on the cover of a fitness magazine. On top of it all, they make you feel empowered. Like you've just done something amazing.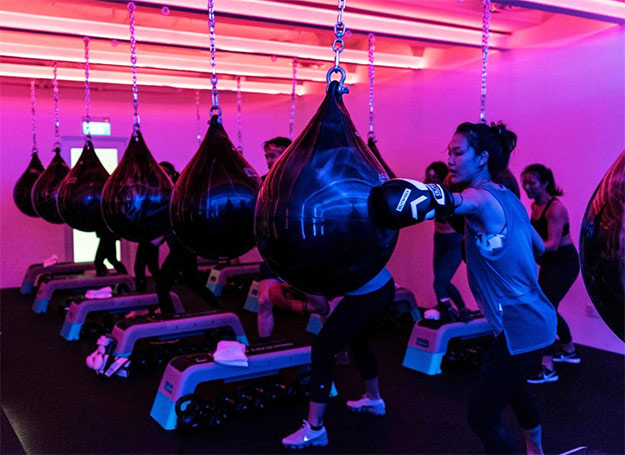 You can certainly experience that at boOm Singapore, a boutique boxing gym in the CBD that focuses on combining aqua boxing with HIIT. Only two variations of classes are currently offered in the basement space at TPI Building. "Customers are looking for more than just an exercise, especially the ones that need extra motivation to workout. They're looking for the entire experience, from when they step foot in the gym, to when they leave. We always keep in mind that we aren't only part of the fitness industry, we are also in hospitality," says co-owner Bryan Tay.
The luxury of time
Getting in and out of a productive class shouldn't take you too long; but it is also according to the studio's time, not on yours. Tan adds, "There will always be a place for a place where people can go to work out at any time they want to. The flexibility of being able to do any workout, at any time and depend on nothing or no one else but one's self, will always be appealing to some. In fact, when people mature in their fitness journey, they also tend to be more likely to workout on their own. And they can do this in a traditional gym or at home."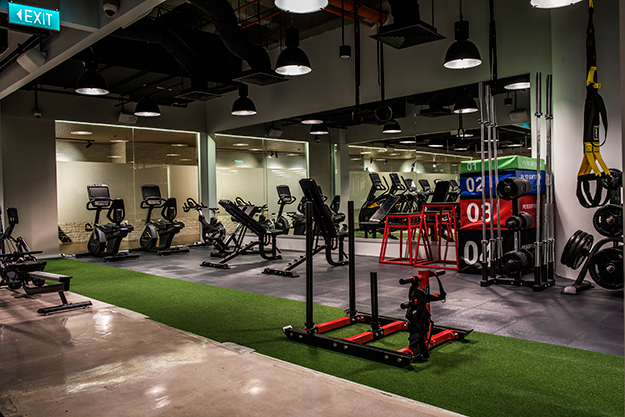 This is why all-day gyms like latest entrant, Platinum Fitness still makes a strong case for going back to the old-school routines of clocking in a workout. Co-founders Charlie Temple and Max Johnson remarks, "We are open 24 hours for gym goers who are looking for unparalleled flexibility." The gym is also here to appeal to personal trainers. "It is a space where personal trainers can build a business without being tied to a company," adds Temple and Johnson.
Maturity, matters
Why yes, we nearly forgot about personal trainers — who are crucial in this equation. Especially when they are here to cater to those seeking breakthroughs in their personal fitness journey. Pooling in Tay's point on fitness maturity, it does seem that members who have been members long before the wave of aqua boxing and spin came along, are unlikely to be tempted with the new direction of working out. Dynamic class-based workouts have undoubtedly been more attractive (but not limited) to folks who are new to the idea of incorporating exercise into their everyday lifestyle. We mean it in a good way.
Ultimately, it really doesn't matter which side you're on. There doesn't even have to be a side. Especially with mega gyms like True Fitness and Pure Fitness rolling out facilities for professionals as well as small-scale classes to appeal to the whole cohort. And then there's a whole slew dotted around our island, which offer either of the two. We all win, at the end of the day. So what's your excuse for not getting yourself some brand new activewear?
For more fitness inspo, click here.