It's always a celebration when two homegrown brands mash up in some form or another. Beloved homegrown brand Beyond The Vines have collaborated with Singapore-based coffee tech company, Morning, to dream up a vibrant and cohesive lifestyle collection. Cheekily named At Your (Self) Service, the collection consists of everyday items like fashion and homeware, all carefully designed to facilitate the rhythm of stylish everyday living. It spices up life's little moments, helping us savour the simple joys in life.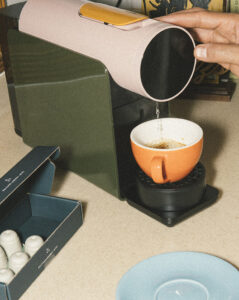 More importantly, we see the Morning Machine like never before, thanks to the midas touch from Beyond The Vines. You'll find the trusty coffee machine decked in BTV's signature colourways and design sensibilities. Available in three vibrant colors– Red, Olive and Cobalt, the Morning Machine retains all its state-of-the-art coffee machine features, including the precision-brewing technology and compatibility with the Morning Mobile App. You basically get the best of both worlds – your kitchen is one step closer to being featured in AD, and your morning cuppa just got even more perfect and idealistic. You're welcome.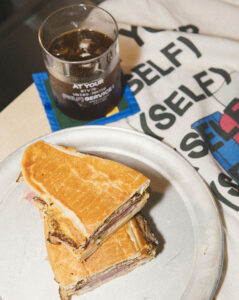 Other items in the At Your (Self) Service collection includes stylish tote bags for weekend grocery runs and such, fabric coasters, glass cups and tea towels to delightfully accent your kitchen, and more. 
You can discover the collection for yourself from 5 November, both online and in stores.