Christmas is upon us and with it comes the burning desire to pack a bag and plan a holiday. Despite some borders opening up, we're resisting the urge to hop on a plane — simply because of the endless tests mandated to embark on a foreign land. Instead we sought out a few options with a little help from Far East Hospitality who are gearing up for a very festive season right here in our very own sunny island.
So we snuck a peek at their festive staycation packages and found the best deals. You could say we made a list and checked it twice. Here are the reasons to why travel can definitely wait, for now.
The Clan Uncovers: Exuberant Edition
Located in the heart of the city is The Clan Hotel. The decor is the perfect balance between modern heritage with a touch of nostalgia. Enjoy a three day, two night stay in the MASTER Series Grand Premier Room with the new signature 庆 – The Celebratory Brew. What sold us on the experience were some key experiences such as access to The Clan Keeper's concierge services, all-day breakfast, luxurious in-room bath spa, and a distinct turndown service.
Of course, a luxurious hotel stay is not the only draw that makes this the ideal festive escape. Hop on a trishaw and explore Chinatown or soak in the sights along the Singapore River from Clarke Quay with a little help from the riverboat cruises. Of course no holiday is complete without exploring the local cuisine. Indulge in a heritage feast with The Food Playground from your second morning and continue the evening with QĪN restaurant and bar where classic dishes are reimagined with a six-course Festive Feast.
The Clan Uncovers: The Exuberant Edition; From 3 Dec 2021 till 1 Jan 2022 (3D2N from $1,888 nett. Rates exclusive to Far East Insiders only. Sign up for free here.)
The Barracks Hotel Sentosa's Exquisite Barracks Christmas
While crossing borders may seem like a lot of paperwork, hopping onto Sentosa island would save you from all that trouble. Usher in the new year in style with a three day, two night stay at The Barracks Hotel's Premier Room where you can enjoy branded bath amenities and access to The Living Room private lounge.
As a part of your stay, you can also enjoy complimentary land transfers and Eurasian Christmas private dining at your balcony with free flow cocktails. Set sail for the Southern Islands on a private trip complete with a festive themed picnic and a romantic Cable Car dining experience for two from Mount Faber. Exquisite indeed!
Exquisite Barracks Christmas; From 3 Dec 2021 till 1 Jan 2022 (3D2N from $4,588 nett. Rates exclusive to Far East Insiders only. Sign up for free here.)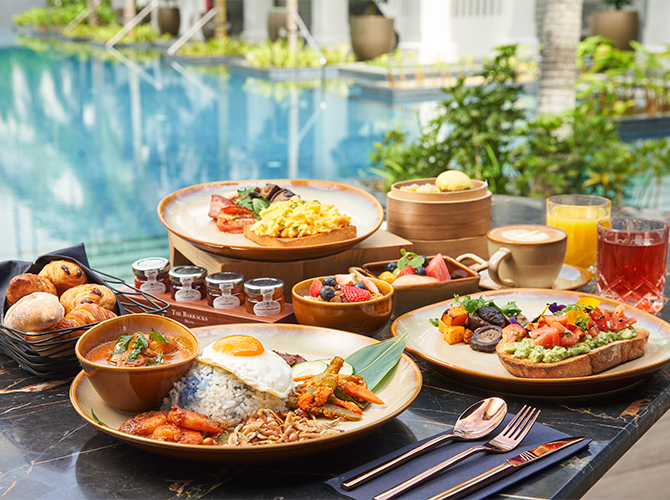 Oasia Resort Sentosa's Christmas Retreat
What better way to close off the year and ring in a new one than some much needed self-care? Your mind and body deserve this wellness retreat for three days and two nights at Oasia Resort Sentosa. Specifically, in their Junior Suite where you can enjoy the deep-soaking tub. Not only do you get to enjoy daily breakfasts but also complimentary wellness amenities, 2-way land transfer and 3-hour body ritual at Oasia Spa.
Speaking of the spa, the package comes with a four-hour Relaxation Therapy that includes a forest bathing experience within Sentosa and rejuvenates your skin with a 90-minute facial. To cap it off, your stay also comes with $300 dining credits at Bedrock Origins.
Christmas Retreat at Oasia Resort Sentosa; From 3 Dec 2021 till 1 Jan 2022 (3D2N from $3,988 nett. Rates exclusive to Far East Insiders only. Sign up for free here.)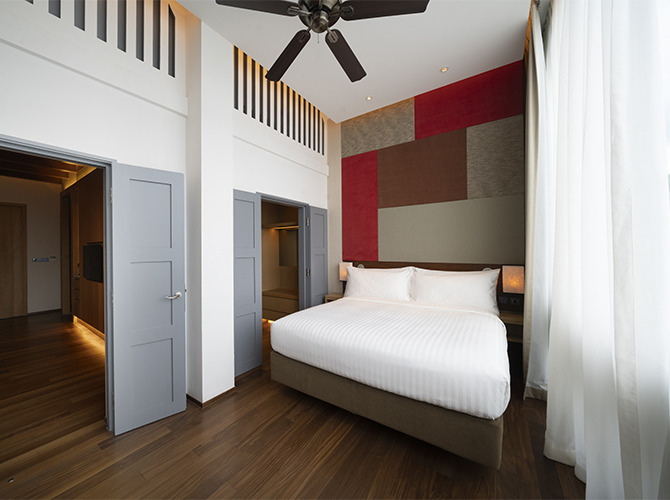 Orchard Rendezvous Hotel: Family Rendezvous X Cath Kidston
Exclusively for this festive season, Orchard Rendezvous Hotel has teamed up with Cath Kidston to bring you the Family Rendezvous x Cath Kidston package. More than a quick getaway in the city, this package features the Cath Kidston Family Room where you can treat the family to an airy 53m2 botanical-accented getaway with bunk beds for the kids. Those who are fans of the English homeware brand, will be delighted to marvel at Cath Kidston prints on a number of items within the room.
For three days and two nights, guests will be treated to classic foods, vintage car rides, a unique visit to Singapore Botanical Gardens, plus an open-top coach tour of the annual Christmas Lights over the weekend. Tis the season, after all.
Family Rendezvous x Cath Kidston; From 3 Dec 2021 till 1 Jan 2022 (3D2N from $2,188 nett on weekdays / from $2,288 nett on weekends)