Where we dined this week…
boCHINche
Moving from its old home at Amoy Street, boCHINche has opened its new doors along foodie haven – 27 Club Street in Chinatown. The revamped restaurant sports new starters and light entrees that incorporate modern cooking techniques such as sous vide, fermentation, and infusions with tons of Latin American influences. The new addition to the empanada flavours now includes a ham and provolone cheese option that oozes out, piping hot, as soon as you cut or bite into it – heartwarming and nostalgic as it resembles our local curry puffs but a little heavier on the stomach. For the adventurous palates, the crispy Argentinian spring rolls filled with chopped pig ears, piquillo and jalapeño peppers, scallion, and coriander, make for a great snack while waiting for the mains to arrive. Next up, the juicy charcoal-grilled quail served on a bed of salt-crusted beetroot, hazelnuts, mixed berries, and a rich buttermilk sauce was much lighter than expected. Quail has a reputation of being a gamey poultry but in this case, the dish served the perfect balance of sweet, savoury, and sour. The Bomba Arroz Verde is the restaurant's Spanish-style risotto with seafood as its star ingredient. Using a stock made with seafood trimmings, the rice is folded with bite-sized scallops, manchego cheese, and spices, before being topped with fresh and succulent Argentinian prawns. Of course, a steak house would not be what it is without its muse. Hailing from the land down under, Gippsland, Australia, the dry-aged bone-in vintage Galicianan striploin is a meat lover's dream come true. The marbling on this muscly cut is impeccable – running throughout the entire slab, every bite is buttery smooth and choke-full of rich beefiness. This particular breed originates from the Galician region of Spain where farmers breed older cows for a deeper and more intense flavour. Certainly, something that shouldn't be missed when visiting this new address. —BC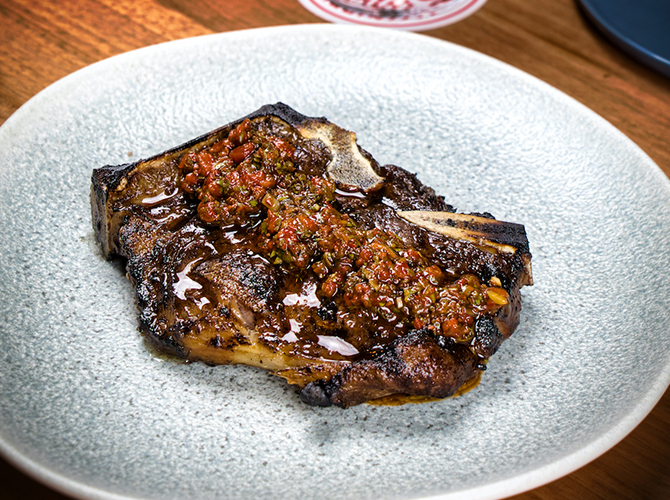 27 Club Street, Tel: 6235 4990
Opening hours: (Mon-Sat) 12-10:30pm
Thirty Six Brewlab & Smokehouse
Tucked between 36 Club Street and Mohammed Ali Lane, Thirty Six, started by local craft brewery Lion Brewery Co., houses a microbrewery and restaurant under one roof. The casual dining and drinking spot features 23 different types of craft beers on tap, with plans for a couple more in the near future. Now, let's get on with the food. First up, the English classic street snack – scotch egg. A perfectly boiled egg with a jammy yolk, wrapped with nduja sausage, impossible meat, served with fresh lime and housemade sriracha mayo, this is as good as a scotch egg can get, especially during this flightless season. The impossible meat provides more texture to the dish as designed by its makers, adding another layer of dimension to the palate. The crusted calamari was a standout; lightly coated in flour, deep-fried upon order, topped with garlic chips, seaweed, parsley, and a squeeze of lime juice made this one heck of an addictive dish – the perfect bite along with an ice-cold beer. The Thirty Six Brewlab Lah-ger pairs exceptionally well with its light body and delicate malt flavour. Moving on to some starters, the flatbread, made with pizza dough supplied by a local artisanal bakery, has everything you could possibly want from good bread: a crispy exterior and a fluffy interior. Coupled with the smoked baba ganoush – eggplant smoked on an open flame, peeled and mashed with tahini, sumac, coriander, and garlic – as a dip, it is bright and tangy unlike other hefty dips such as hummus. The Brewlab's Old Greg, a Session IPA, is a full-bodied beer and has a stronger bitter aftertaste but it made for a good vehicle to wash the bread and baba ganoush down. The halibut fish and chips, covered in a housemade beer batter using Lion Brewery's strait's pale ale, were flaky and crispy while avoiding the overly doughy texture that many other fish and chips are guilty of being. The chips are hand-cut by the chefs before soaking in water overnight to remove excess starch, and the potatoes are triple-cooked: steamed, air-fried, and deep-fried to achieve the optimal crunch. The charred beef short rib minute steak is inspired by Korean BBQ, marinated with soy sauce, garlic, chilli, and brown sugar, the meat is packed with flavour and falls off the bone with little elbow grease needed. To wrap up the meal, the burnt pandan cheesecake is lusciously creamy without feeling too heavy due to the incorporation of the floral pandan flavour. The Brewlab's raspberry beer-et will also help cut through all that dairy with its zingy tartness and the dry finish, those who prefer sweet beers would naturally gravitate to a pint of this. —BC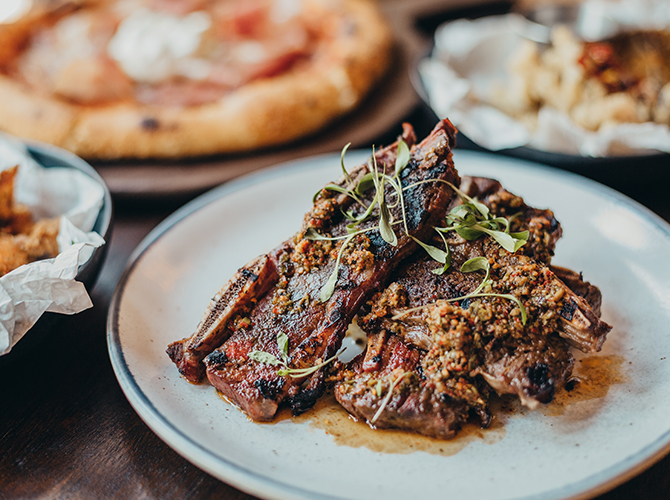 36 Club Street, Tel: 6239 0350
Opening hours: (Mon-Fri) 12-10:30pm, (Sat-Sun) 10am-10:30pm

Ichigo Ichie
There are often new learnings you pick up after a meal at a Japanese restaurant. Sanpō yoshi: the behaviour of trust and giving back, while maintaining relationships, is practised at fine-dining kappo restaurant, Ichigo Ichie. A Japanese precept fondly exemplified by chef Akane Eno, with her dedication to honour her suppliers and bring forth the best products with special menus at her restaurant. Currently, the spotlight is on Azumano Fumoto Sake Brewery. Where a part of the proceeds from the special menus will be used to purchase rice from farmers in Yamagata for the brewery to create a private label bottle exclusive to Ichigo Ichie. The ex-head chef of 1-Michelin Sushi Kimura has carried her lessons of sushi-making (where the fish takes precedence from start to end) to complement her personal style of kappa-cuisine. While most Japanese chefs are quick to fend off any possibility of change, chef Akane is open to incorporating the nuances of setting up shop in Singapore. For instance, using unconventional ingredients like cream cheese in her chawamushi and even adapting her somen dish to a local favourite — prawn noodles. Make no mistake, everything is still rooted in authentic Japanese techniques. The somen, cooked perfectly, is held together with a piquant prawn broth, spiked with sake and mirin, then topped with Japanese tiger prawn and bafun uni. Not forgetting an ode to the chili element, she made good on that with a fermented chili paste sparked with yuzu notes. Of course, don't expect a spicy kick from this, but we see the intent. Even with the odd mention of cream cheese in chawamushi, nothing tasted too heavy or out of place. On the contrary, it almost seemed like a natural pairing in the classic Japanese appetiser. In her fried dish, the merit of good producers come through. An amadai (Japanese tilefish) fried to justice, with a light batter of tempura flour. Next to it, a fresh fig tempura of tart and sweetness, then coming full circle with the use of snowflake salt. The next heavyweight main, Iga beef ribeye comes next, in a sukiyaki style, where the strong sticky sweetness is. balanced with pillowy grains of rice from Nagano, cooked in kombu. We don't think we had a ribeye quite like this, with a soft (bordering on gelatinous) bite layered with the cattle's umaminess. Did we also mention? During the ongoing sanpō yoshi menu, guests who have made bookings will receive a complimentary bottle of the exclusive sake when they return for dinner. During the meal, a complimentary glass of the sweet elixir will also be served. —JS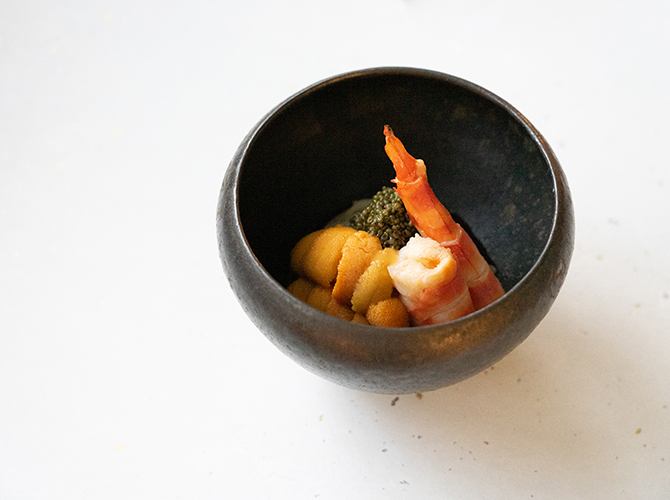 Where we're looking to dine…
Luke's Lobster
After an undoubtedly successful year since arriving on the shores of Singapore, Luke's Lobster is celebrating their anniversary with a three-part collaboration with local chefs from Tevar, Birds of a Feather, and Fatfuku. The special flavours include a curry aioli lobster roll and Sichuan aioli lobster roll. Also, with the purchase of two lobster rolls, customers will receive a complimentary donut from Mr Holmes Bakehouse.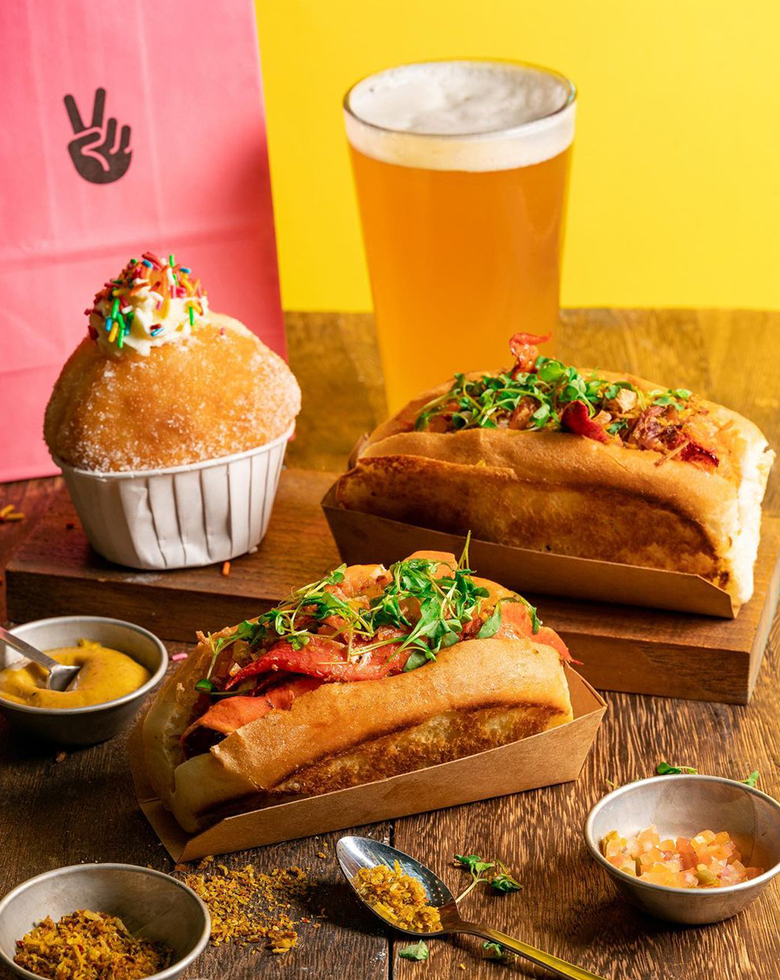 Great World, 1 Kim Seng Promenade, #01-152, Tel: 6269 9600
Opening hours: (Mon-Fri) 11am-9:30pm, (Sat-Sun) 10am-9:30pm
Gaggan Anand Residency at The Mandala Club
Renowned chef Gaggan Anand is gracing Singapore with his culinary expertise during a three-month residency that starts from 3 Nov 2021 to 6 Jan 2022. The chef is revered for his creative dishes both in taste and aesthetics, Singapore diners can expect nothing less than beautifully and thoughtfully crafted plates with local flavours and ingredients. This is a ticketed event, so you might want to purchase tickets, ASAP.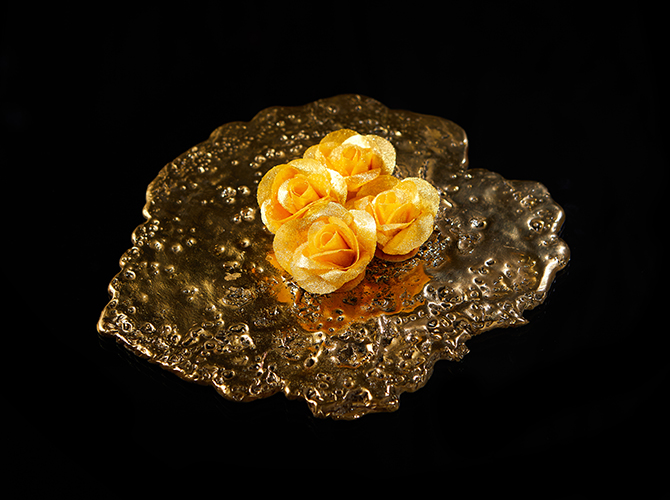 31 Bukit Pasoh Rd, Tel: 9361 0851
Click here to make a reservation