The highly anticipated October event saw the reimagined MacBook Pro we were all waiting for. With revamped hardware, amazing battery life, and groundbreaking processing, this release is designed for developers, photographers, filmmakers, or anyone who just wants Apple's latest brainchild. There's plenty to look forward to, so let's break it down.
First and foremost, Apple already bedazzled previously with their commitment in stepping away from Intel Chips, when they introduced the M1 late last year in their entry-level MacBooks. Now, the new MacBook Pros are boasting chips 70% faster than its M1 predecessors, as Apple unveiled their newest homegrown Mac processors – the M1 Pro and M1 Max chips. Releasing two MacBook Pros, the 14 inch and 16 inch models, the M1 Pro chip will be built in the 14 inch model, and the M1 Max in the 16 inch one. However, if you find yourself wanting more power but yet want a more portable option, you can opt for a built-to-order 14 inch MacBook Pro with the M1 Max chip.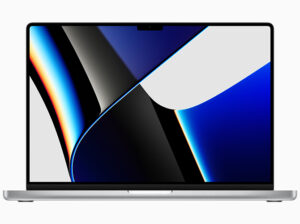 The M1 Pro chip will bring an unrivalled user experience, leaving their predecessors in the dust with a 200GB/s of memory bandwidth, 3x more the bandwidth of M1, and supports up to 32GB of fast unified memory. They also added a ProRes accelerator, which basically just boosts video-processing power to a whole new level. The M1 Max further builds on the Pro, doubling the memory bandwidth, boasting 400GB/s, and up to 64GB of unified memory. It also has two ProRes accelerators, and what this means is that there is now a huge amount of power that enables you to edit up to 30 streams of 4K ProRes videos, or up to 7 streams of 8K ProRes videos in Final Cut Pro. Content creators around the world are screaming. 
Speaking of videos, the MacBook Pro holds the best camera and audio within a notebook, with a 1080 FaceTime HD camera, which happens to handle its images with a powerful processor, just so users appear sharper but yet with a more natural finish. There are also industry-leading mics planted, where crisp and clear sounds will be heard loud and clear during your next Zoom call. Apart from all that, a six-speaker sound system to top it all off, granting 80 percent more bass. A good sign for movie nights or just blasting your favourite playlist in the middle of a #WFH day.
Battery life has improved drastically, 14 inch models let you watch up to 17 hours of videos, 7 more than previous versions, and the 16 inch of course, beats that with 21 hours of video playback. A whopping 10 hours more, and the longest battery life ever on a MacBook. In other comparisons, photographers can get up to twice the amount of battery life if they are editing on Lightroom classic, and Developers on Xcode can compile up to 4x as much code. Mindblown by how much more productive you'd be on the go? Yup, us too.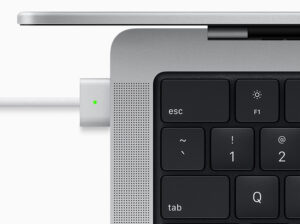 Perhaps the layman would get more of a kick from this, but guess what, after famously removing all their ports years ago for a sleeker look, the various ports are finally back. The new MacBooks will have a HDMI, SD Card and headphone jack, along with three Thunderbolt 4 ports. Rejoice! They also brought back MagSafe in the form of MagSafe 3, which features an updated design and supports more power into the system than before. But honestly, we're just glad to say goodbye to randomly jabbing our charging cables and hoping they miraculously slot in. In other news, fast charge is also introduced to the MacBooks for the very first time, charging up to 50 per cent in just 30 minutes. 
The new MacBook Pro models with M1 Pro and M1 Max are available to order soon on apple.com/sg/store and in the Apple Store app, select Apple Store locations and Apple Authorised Resellers. The new 14-inch MacBook Pro model starts at S$2,999, and S$2,769 for education; the 16-inch MacBook Pro model starts at S$3,749, and S$3,449 for education.