Just a few years ago, the impression of bakeries for the average Singaporean had mostly been confined to the monotony of neighbourhood bakeries imitating BreadTalk; and the options of premium quality bread were scant, lest you dined at a posh restaurant. Fortunately, artisanal bakeries landed on our shores to change that. Most recently, sourdough started garnering plenty of attention from the local F&B space, as many artisanal bakeries gradually stepped into the spotlight with their mouthwatering loaves endorsed on the magical space of social mediums.
For those unfamiliar with sourdough, it is a type of bread made with wild yeast instead of dried yeast, which carries a more tangy and multi-faceted flavour when compared with the one-dimensional common white bread, and it sports a chewier and harder texture. The complex and earthier flavours of sourdough make it a marvel to pair with various ingredients, allowing for innovative takes on classic bread-based dishes, including avo-smash toast and grilled cheese.
In fact, some may remember Jon Favreau's mouth-watering grilled cheese scene from the movie Chef; that too was made with sourdough. You may be wondering now: How good is sourdough exactly, and where can you have some of this mythical bread? Answers below.
TBB Diner
Tiong Bahru Bakery has been touted for localising the humble French loaf, and other respective pastries like the notable Kouign-amann. But recently, its diner spin-off, TBB Diner presents a never-before-seen ancestral sourdough "mother" waffle. Its batter was taken from a bakery in Rio with a two-day fermentation process, after mixing it with pearl sugar — then the magical process happens. The result is a creamy and savoury fluffy waffle that's best enjoyed on its own.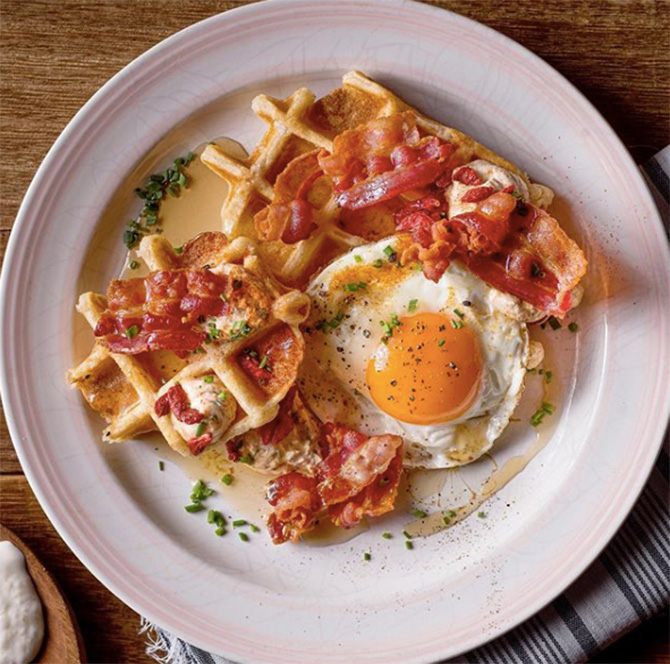 107 North Bridge Road, Tel: 6877 4866
Opening hours: (Mon-Sun) 8am-9pm
Woodlands Sourdough
There has been many changes concerning the Muslim-owned bakery who made its bones in the heartlands of Bukit Timah's Serene Center. After news of it shuttering, the respected brand has resurfaced at a new home, Upper Thomson. Their freshly baked open-faced toasts are lathered with delicious homemade spreads inspired by the owners' travels — one of them including a delectable sage cream cheese with berry compote.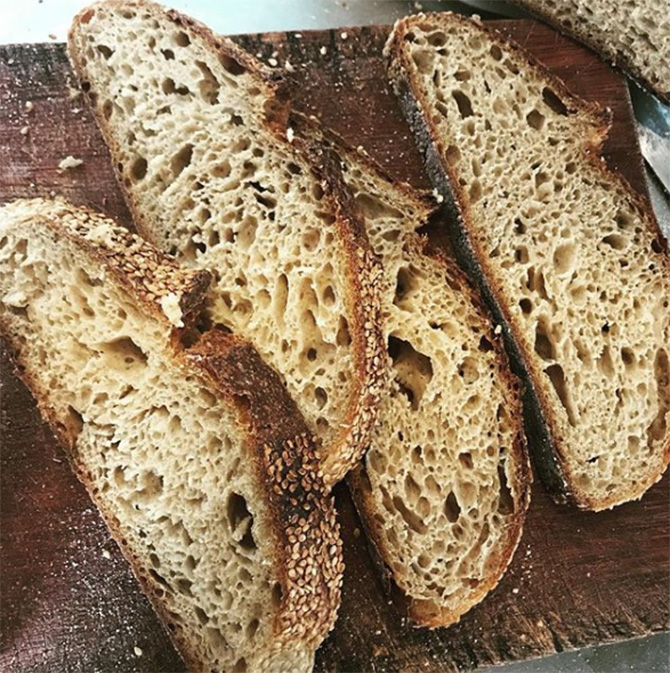 183 Upper Thomson Rd, #01-03
Opening hours: (Thurs-Sun) 8.30am-5pm
Bread Créateur
You'll get a good selection of sourdough loaves here at this minimalist bakery at Upper Bukit Timah, where bakes are accomplished on-site everyday. Although, that aside, their olive ciabatta and Kouign-amann also stand to be favourites from the lot.
182 Jln Jurong Kechil, #01-51 The Hillford
Opening hours: (Tues-Fri) 8.30am-8pm, (Sat-Sun) 8.30am-5.30pm
Starter Lab
Starter Lab earned its cult following from Bali, and now they have opened their first branch in Singapore at Havelock Road. Using their trusty three-year-old starter, bread lovers can expect the same superb quality, as well as a wide assortment, including intriguing varieties like rosemary lemon and sea salt. Aside from that, you can also expect bakes such as cookies and sandwiches, particularly their open-faced tartines which they quirkily dubbed 'posh toast'. If you need to get your caffeine fix, coffee from The Glasshouse will also be available.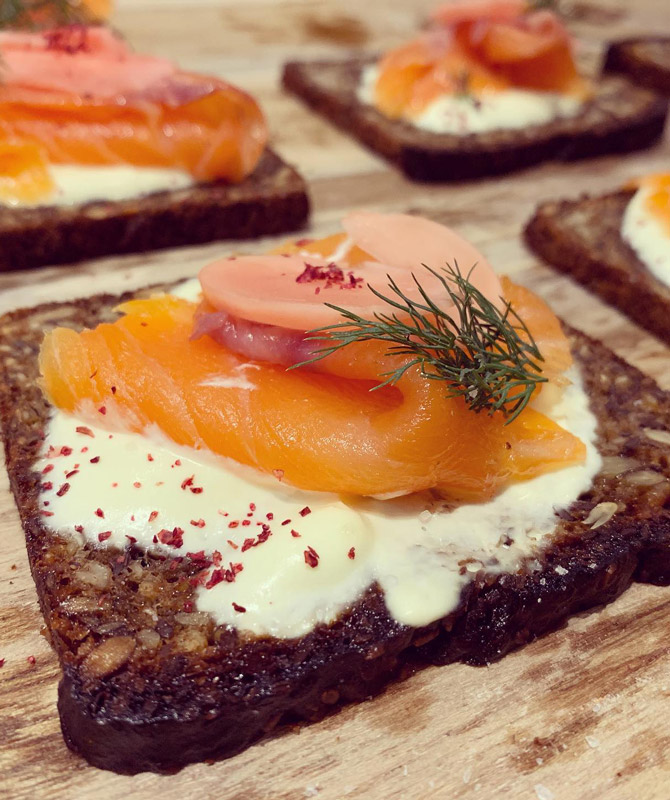 721 Havelock Road, Tel: 9839 0408
Opening hours: 8:30am-5pm
Mother Dough
Mother Dough might be a quaint bakery with limited seats, but their selection of great bakes proves to be extensive at best. Their sourdough is baked in house daily; as well as boasting a plethora of tasty sweet bakes, such as their cookies and the heavily-raved-about almond croissants, which are crazy buttery and delicately flaky.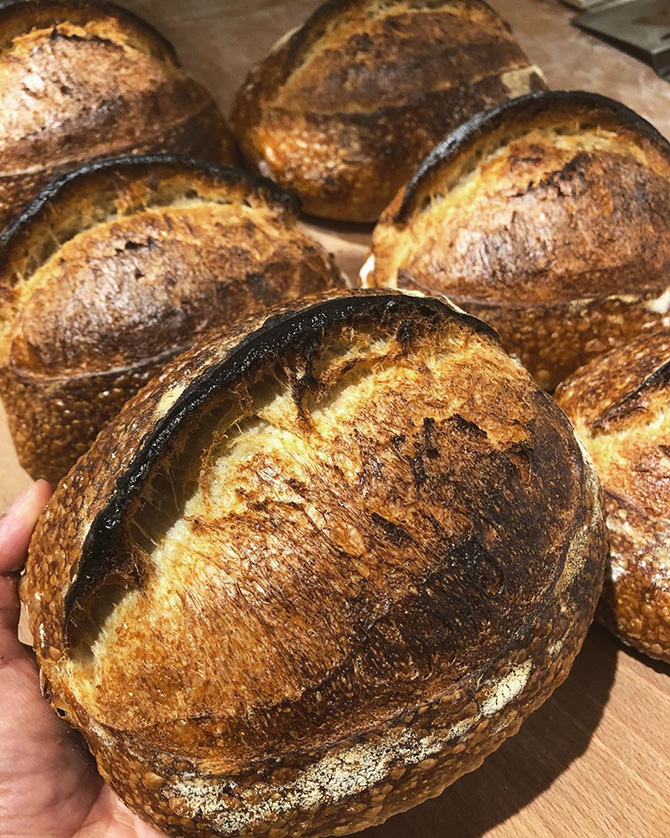 749 North Bridge Rd, #01-01, Tel: 6909 6604
Opening hours: 12pm-7pm (Tue-Sat), 1am-5pm (Sun), Closed on Mon
Nick Vina Artisan
Nick Vina Artisan is an artisan bakery entirely dedicated to the art of breadmaking, European style — from their wooden worktops to German proofing baskets. They produce an extensive range of artisanal sourdough bread with European flair, featuring everything from Italian ciabatta, French baguette to German rye bread. If this smorgasbord of artisan sourdough isn't enough, they also offer savoury sandwiches ala bistro style.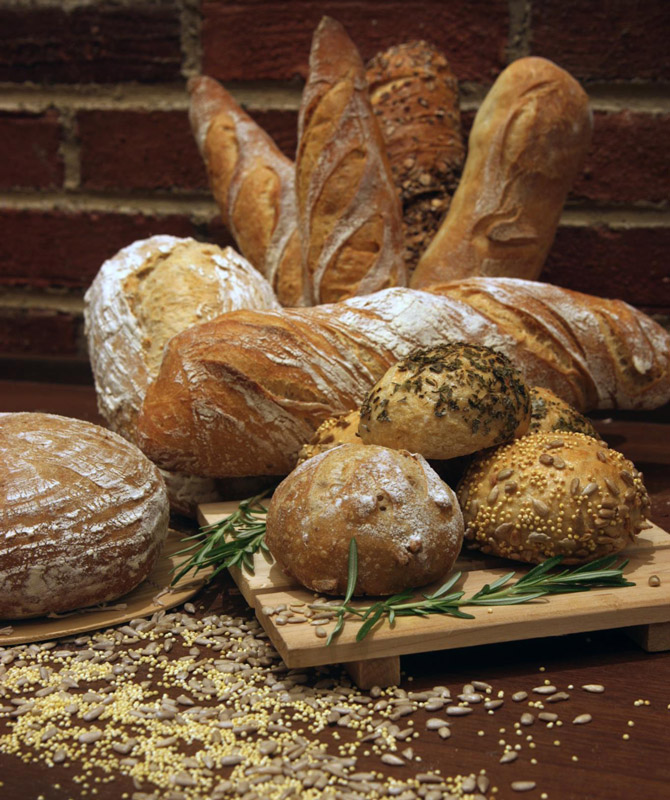 12 Gopeng Street, Icon Village, #01-54/55, Tel: 6224 7848
Opening hours: 8am-8pm (Mon-Fri), 8am-3pm(Sat), Closed on Sun and PH
Micro Bakery & Kitchen
Micro Bakery is the successor to one of the pioneering local artisanal sourdough bakeries, The Bakery by Woodlands Sourdough, which shuttered its doors last year. Micro Bakery retains the same unpretentious vibe, operating as a hole-in-the-wall at Serene Centre as they draw in a crowd of loyal customers (and their adorable pups too). They offer a myriad of different plain sourdough loaves; but not to be missed are some of their creations such as their nut butter toast and decadent grilled cheese sandwich, which is made with three different cheeses.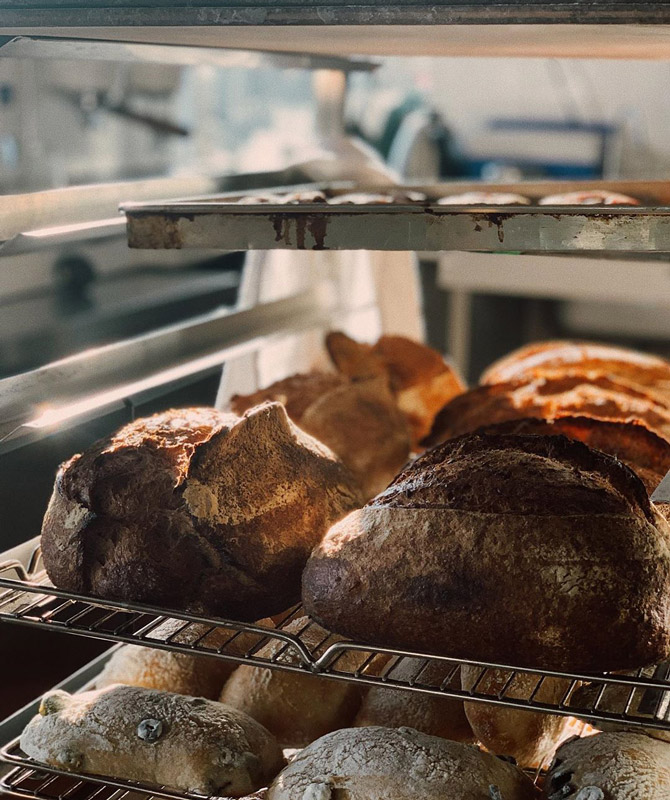 10 Jln Serene, #01-05 Serene Centre, Tel: 8339 4133
Opening hours: 8:30am-5pm (Wed-Sun), Closed on Mon and Tues