Here's a familiar picture: You're at the hottest new restaurant with your pals perusing through the menu. The first instinct is to order anything that tickles your fancy, and as soon as everyone at the table has already had a go at their individual choices, a huge spread mapped across the entire table has been ordered. Instagram Stories were captured, everyone's drunk on the feast, but an hour into the delicious meal, and the consensus is that "we over-ordered". Sometimes, takeaways happen, sometimes, your posse shrugs it off.
Our society constantly speaks of environmental repercussions, where various activists are running around with pitchforks on reusable straws, cups, bags, or advocating the plant-based diet that is said to be the future if we keep up our incessant meat intake. But in hindsight, what we're missing is food waste. A growing issue that everyone skirts around in a gourmet haven like Singapore. We eat with our eyes. We blog zealously about food. But have we been biting off more than we can chew? The answer is yes. Food waste happens to be one of the biggest waste streams in Singapore, with the total damage growing around 20% over the last decade. Take 2019 for example: Singapore generated around 744 million kg of food waste — equivalent to two bowls or rice per person per day.
It's a curse disguised under a luxury for a first-world country like ours. From commercial operations like restaurants to an average household, we should impose a responsibility to reduce food wastage, if we've been waxing lyrical about banishing plastic straws from our lives. More food waste is equivalent to more resources like building more waste disposal facilities, while increasing our carbon footprint to grow and import food, as well as to dispose of it.
Everyone can adopt their own strategy to playing their part. And for chef Drew Nocente of Salted and Hung, his stance is evident now with a zero food waste menu firmly in place. Since its opening in 2016, the contemporary gastronomic restaurant has never quite shied away from educating diners on lesser-known parts of an animal, with concept known as 'Nose to Tail', where grilling and in-house curing is heavily used across the menu. But committing to a zero waste future would mean transitioning from à la carte to a tasting menu — where stock take and servings will be easily accounted for. For a well-revered restaurant like Salted and Hung, the risk was calculated, but to chef Drew, it felt like a natural process with the plan always at the back of his head. "When we started Nose to Tail, it was a similar philosophy, it just evolved overtime. Last year, especially with Covid with the unpredictability, it kind of triggered that reaction in my mind to push our boundaries and push it out there to the people."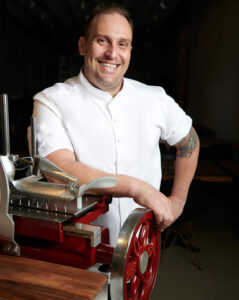 His childhood was spent growing up a farm in Stanthrope in Queensland, where he and his family lived on a diet, maximising the animals they reared and vegetables they grew. Those formative years were quintessential for young chef Drew, as he learnt the value of produce and farmers, and what it means to bring something from farm-to-market. Everything had something to give, and nothing should go to waste if there was a way for it to be eaten. So you could say, the Italian-Australian chef has come full circle with this direction at Salted & Hung. Alongside his team, he presents a tasting menu of dishes where the ingredients are used to its own maximum potential, while milking flavour and nutrition in the process.
"I don't really look at it as a challenge, but it's kind of exciting when we do menu changes, because it's not just going 'okay we'll do something with carrots, it's like okay we can do carrots, and we do this and this and this'. It makes the menu a lot more personal now, because it's not just food that I like to cook but there's this whole thought process that goes behind every ingredient that goes on to the plate," explains chef Drew.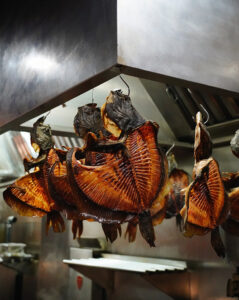 You'll see overlaps across the menu, but only when it's explicitly pointed out by the servers. The magic lies in the same ingredient being interpreted and utilised so differently across the various courses. For instance, seaweed muffins with ebi landed as one of the preliminary snacks, as the seaweed was a result of the making of kelp oil for the other dishes. Every single element on the plate is made from scratch with various techniques, from curing to ageing, to pickling, to fermenting.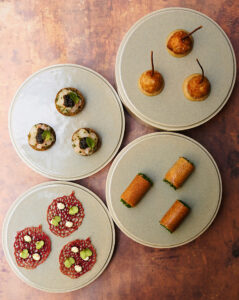 In a seemingly macabre dish called 'Head Cheese', he brines a pig's head overnight before slow-cooking it for 12 hours. The meat is removed and made into a rillette before it is coated with a sourdough batter to deep fry. Raw honey and celeriac mustard completes the playful bite. No one would have ever guessed it's made from an animal part you weren't keen on. It's an immaculate representation of exhausting every part of the animal, while serving it up in a tasteful, exceptionally delicious way.
Another main highlight — the aged turbot. It's where he showcased a new technique he learnt while putting this menu together, garum. Basically where guts are left to ferment then joined with salt, to create a funky sauce. With this, he implemented the entire turbot, with the bones made into broth, as well as a stock, the liver where it's blended and reduced to make a sauce. The accompanying vegetables are then seasoned with garum, that's made from the turbot's skin and trimmings. Extending out of this one dish, the turbot skin is further used to create collagen chips for another course, with the addition of radish mirepoix and pickle trimmings.
As you're going through the entire meal, it's clear to why the à la carte option had to be entirely removed from the restaurant. Beyond menu conceptualisation, other conscious elements are the vendors that he chooses to work with. He looks for farmers with good farming practices and chooses to use lesser-known grass-fed vintage beef cuts, and even adopted a compost bin from Pocket Greens. With it, scraps will be turned into compost, which would be used to fertilise plants at the farm, and in turn, the restaurant also sources micro-herbs from Pocket Greens. Even kitchen waste like abalone shells are upcycled into cutlery holders and steak knife handles.
In case you were thwarted just by the extent of chef Drew's efforts, that being said, there's no one fixed formula intended for everyone. Even for clueless plebians, chef Drew muses: "It's more of just looking into your fridge and not being complacent. There are ways like making fish soup from the fish bones or making dashi out of vegetables. Just so you don't have to throw stuff away."
Sure enough, the effort itself to minimise waste has to be conscious and if you're lazy, then there's really no chance of real change actually happening. So it's worth taking a step back to reflect on the food wastage you've clocked up within the past week, that should be enough to spark a new habit or goal.