Where we dined this week…
Fat Cow
As far as we're concerned, a shift in the seasons here can only be accounted for in the gastronomy department. And that's okay, we'll gladly take it. Especially if Fat Cow is concerned. In their Hari Matsuri special, seasonal produce are laid out to shine, and contrary to popular belief, the restaurant isn't just touted for its extravagant menu for red meat, but they also do a good job at championing other ingredients, as with most Japanese establishments. This season, three new specials are added and can be savoured either in omakase or a la carte fashion. We'd go for the former, knowing fully well you're in good hands and in for quite the experience. The lunch omakase starts off with a grand display of amuse bouche (that wasn't the humble beginning we were expecting), with six little bites to tease and excite. The season's all-star: firefly squid (also known as hotaruika), undeniably spoke for itself, a tiny umami burst, with chef Nigel Loh's touch of yuzu miso atop. Other standouts on the platter included the monkfish liver, soft and marinated well with ponzu sauce, the miyazaki striplin tataki sanctified with truffle sea salt, and last but not least, a deep-fried miso cream cheese for a sweet, powerful finisher. And while that ended with intensity, the palate is cooled down with baby sea eels doused in two varying kinds of vinegar. Add to that, a mix of myoga, shiso, spicy white radish to complete the dish, and it's almost like a palate cleanser, aided with the silky cold textures of the eels. Hard shell clams are the next key produce, driving a soup delicately balanced with kombu dashi and housemade katsuobushi. There's no doubt about the A5, with a fat density rendering the meat soft like butter, and especially at Fat Cow, with the Himeiji beef first cooked in a sukiyaki sauce, then joined with Japanese egg yolk, truffle oil, and shaved Italian truffle. The onslaught of sushi courses easily make a steady streak, but we did wish the wasabi could have been pared back, instead of overpowering the produce at times. While you're there, pair the grub with one of the Roku Gin cocktails. While all concoctions crafted are as good as they come, our favourite, had to fall back on the Roku G&T. It's the understated drink dabbled with a splice of ginger, which perfectly rallies every dish here. —JS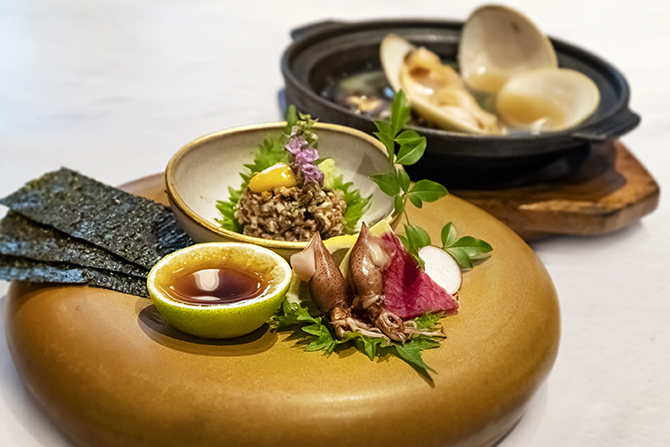 1 Orchard Blvd, #01-01/02 Camden Medical Centre, Singapore 248649, Tel +65 6735 0308
Opening hours: 12:00pm-3:00pm (Tue-Sun), 6:00pm-10:30pm (Tue-Sun)
Levant
The prowess of rooftop bars lies with being one with the breeze while getting a decent chance at towering city views from a vantage point — no matter how high that might be. Levant is the latest entry to our city's shortlist, at a prime location in the CBD — with quite the makeover story. It's lively, skewed to be Mediterranean, and even shares the outdoor space with a yoga studio. Space is the new luxury, as we gathered here. On the cocktail front, the libations are definitely a little more experimental, and falling far from the flavours that you've been used to. Some are hits, while others unfortunately miss the mark with intense combinations like bergamot and star anise, in a Negroni-inspired tipple titled Amber Constellation. On the flipside, Athena's Olive Branch sparks a sprightly mix of Gin Mare, Madeira and olives, living up to quite a well-balanced finish. Those who love their Sours can opt for Il Rhubarb Sour, infusing spices like cinammon, floral notes like hibiscus and rhubarb, with a finish of Monkey Shoulder. On the grub front, it's about mezze. From traditional options hailing from European and Middle Eastern influences to modern-day selects like TiNDLE, the plant-based substitute for chicken. Their kale börek (a type of Turkish pastry) brought on just the perfect light crisp with a warm filling of kale, while we also went a little crazy on the fries topped with a spice mix. Other crowd-pleasers include beef kofta sliders, stuffed with an eggplant fritter and plied with green chili shatta. The patties were juicy and sat well with the touch of green chili tang — deftly cutting through the fat from a single bite. There were also the smoked duck truffle samosas, that while had good smokey flavours sealed in, fell short of the truffle aspect, to which we felt the dish could have done without the mention of truffle instead. No expectations, no disappointment, after all. —JS
32 Tras St, Level 4 Signature Hotel,Tel: 6304 3298
Opening hours: 4:00pm-10:30pm (Mon-Sun)
Jaffa at SO/ Singapore
Miznon's entrance to our shores was undoubtedly, one of the most exciting openings this year. Now, there's another spot to get that pita fix, with a limited collaboration between executive chef Or Hakmimi and chef Hong Dingzhao of Xperience restaurant at SO/ Singapore — dubbed as Jaffa. Your experience here starts off a little messy, with dips like chickpea hummus, baba ganoush, beetroot salad all set to adorn Miznon's famed fluffy pita bread. The skewers arrive next: where you can have your pick from a bountiful spread of juicy and tender beef, lamb, chicken, duck, fish, seafood and even vegetarian skewers for those who don't eat meat. All of the above marinated and grilled to a tantalising smokey finish. Which is pretty much the pinnacle while dining at an Israeli BBQ fest. Wash all that down with a pitcher of housemade rose lemonade and you'll be ready for more. Apart from that, a selection of cocktails like Watermelon Lady, Date Julep, Streets of Jerusalem, and our personal favourite, Arak Limonana (a blend of rum, arak, lime juice, syrup and mint leaves) will make sure you don't leave feeling high and dry. But even so, dessert will save the day. At least this one will: Malabi, an Israeli panna cotta, certainly lived up to all expectations. Think a soft and silky cream bed to spoon in, alongside a texture and flavour play from roasted peanuts and coconut toppings.  —JT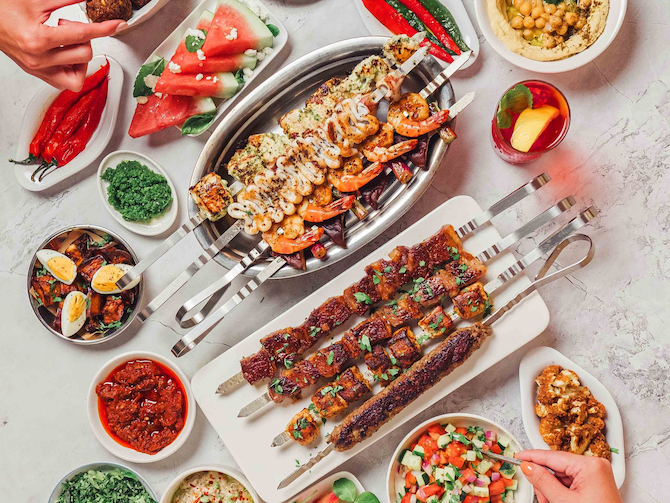 Available from the 15th of April 2021 to the 28th of April 2021.
35 Robinson Rd, Xperience Restaurant, Tel: 6701 6800
Opening hours: Lunch: 11:30am or 1:00pm (Mon-Sun), Dinner: 6:00pm or 8:00pm (Mon-Sun)

Where we're looking to dine…
Tiffin Room x Meatsmith Little India
Experience a multi-dimensional meal laden with aromatic Indian spices, textures and flavours as you indulge in a combination of Tiffin Room's signature authentic North Indian flavours and Meatsmith Little India's Indian-inspired American barbeque. This new exclusive set menu, specially created by chef Kuldeep Negi of Tiffin Room and chef Kurt Sombero of Meatsmith Little India — who are collaborating for the first time — comprises of both existing favourites and new creations. Those who don't eat meat, a vegetarian option is available as well.
View this post on Instagram
Available from the 22nd of April 2021 to the 6th of May 2021.
Grand Lobby, Raffles Singapore, 1 Beach Rd, Tel: 6412 1816
Opening hours: Breakfast: 7:00am – 10:30am (Mon-Sun), Lunch: 12:00pm to 2:00pm (Mon-Sun), Dinner: 6:30pm to 9:30pm (Mon-Sun)
Drunken Farmer
At last, the travelling natural wine bar, Drunken Farmer now has a place to call home — for good — in the heart of Singapore's CBD. Now a bistro and bar that takes over Common Man Stan, every Tuesday to Sunday night. Enjoy wines from their arsenal of over 80 natural and sustainable wines sourced from France, Italy and Spain alongside their gourmet highlights, such as the Sourdough Karaage, featuring slow-marinated chicken thigh made using sourdough discard, served with a side of house-fermented kimchi mayonnaise.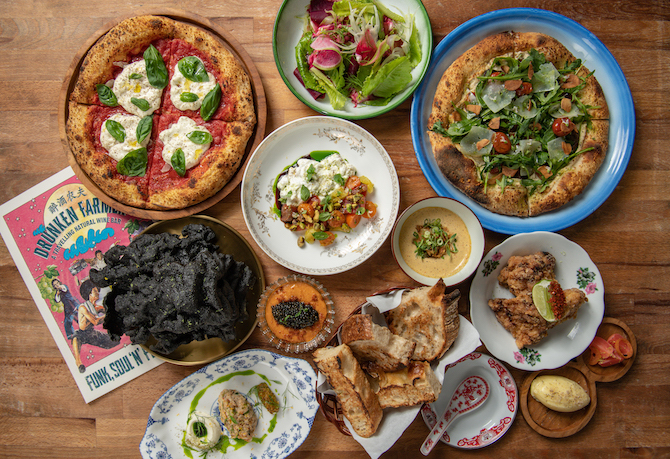 11 Stanley Street, Tel: 9620 3075
Opening hours: 6:00pm-10:30pm (Tue-Sat)