Sugary domes that melt in your mouth with every bite. Fillings so luscious that they ooze out just as you break into them. Yes, that's right, were talking about our favourite deep-fried treat — stuffed doughnuts. The yummy spheres that delighted our childhood are now coming back in force, lining bakery shelves with delicious flavours perfect for your afternoon snack. And no, we're not talking about Krispy Kreme. From aromatic flavours to layered mousses, satisfy your cravings with these doughnut hotspots in Singapore.
Doughnut Shack
Offering a generous variety of gourmet doughnuts and bombolinis, you can't go wrong with Doughnut Shack. They've got everything from toasted marshmallow to crème brulee bakes, and their menu changes every month. So if the July flavours don't float your boat, you can always check back next month to see what's in store.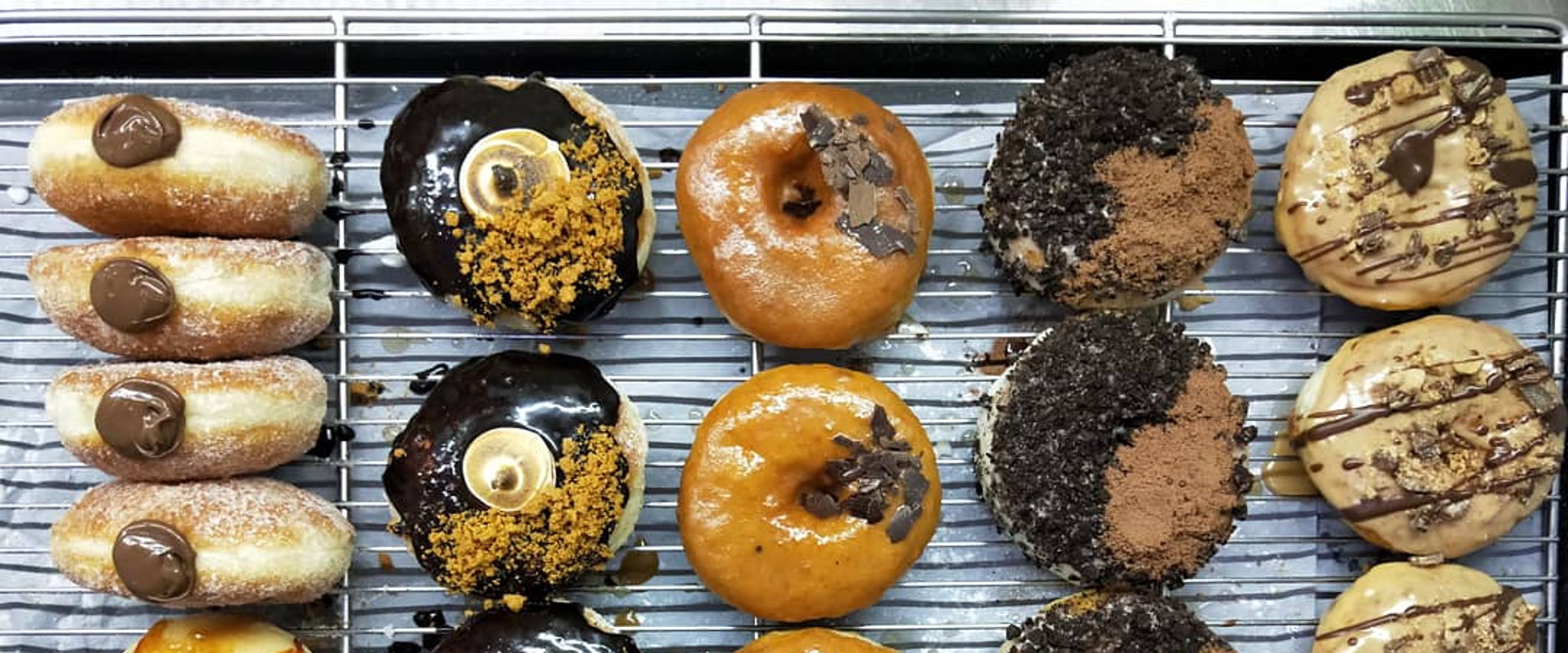 87 Whampoa Dr, #01-887
Opening hours: (Wed-Sun) 11am to 6.30pm
Burnt Ends Bakery
Love 1-Michelin restaurant Burnt Ends? Then you'd dig their bakery concept. Try Burnt Ends' Singaporean-inspired flavours like Milo Dinosaur and pandan, or if you prefer more classic flavours, order some lemon meringue, vanilla cream or Nutella doughnuts. You don't have to restrict yourself to a single pick though — select their box of 5 assorted doughnuts to get a taste of everything!
20 Teck Lim Rd
Opening hours: (Mon) 6 to 11pm, (Tues-Sat) 11.45am to 11pm
Korio
Korio is home to some of the most glorious artisanal doughnuts. Their unique selection says it all — think honey smoked sea salt, caramelised biscuit, and even pandan glazed doughnuts drizzled in salted gula Melaka.
135 Amoy St, #01-03
Opening hours: (Sat) 9am to 1pm
Bakes by NY
You'll be spoiled for choice here because Bakes by NY's offerings run the gamut. Savour the goodness of ondei ondei, Kopi C and Ovaltine, or have a bite of their ever-popular chocolate fudge doughnut. Owner Nazira Yunos always makes sure that her baked goods are stuffed with creamy fillings for that explosive flavour bomb.
201E Tampines Street 23, #01-120
Opening hours: (Mon-Sun) 11am to 8pm
Nassim Hill Bakery Bistro Bar
Bite into Nassim Hill's freshly piped brioche doughnuts, in either chocolate cream or kaya. All their sauces and fillings are made in house from scratch to ensure the highest quality. To get your hands on these treats, pre-order them before swinging by to collect them at their Tanglin bakery. Walk-ins are available too but only while stocks last.
56 Tanglin Rd, #01-03
Opening hours: 9am to 10pm
Sourbombe Artisanal Bakery
Headed by the runner-up of MasterChef 2018, Genevieve Lee, Sourbombe Artisanal Bakery is home to a unique creation. Sourbombes — a cross between sourdough and bombolini — are their signature bakes and they come stuffed with exquisite fillings like lavender lime mascarpone, basque burnt cheesecake and hojicha caramel.
9 Penang Rd, #02-03
Opening hours: (Tues-Sun) 9.30am to 5.30pm
The Fat Kid Bakery
The Fat Kid Bakery's signature bombolinis are baked using their very own sourdough starter. Choose from an array of delectable fillings, including sea salt maple, calamansi, apple cinnamon and summerberries. The doughnuts are available in boxes of 4, 8, and 12. To try them, head over to Fat Kid Bakery's website and place your orders three days in advance.
7 Ang Mo Kio Street 66, #01-07
Opening hours: (Wed-Sunday) 10am to 5pm