Granted, we've had our fair share of foreign imports, but Tiger remains to be a brand that's colloquially precious to us locales. A familiar, emblematic pour that we hit up for late night hangs and the unfailing pairing to our local grub. Of course, not all beers within the brand are the same — since its launch in 2019, Tiger Crystal has set itself as an extra smooth, extra crisp and easy to drink sessionable lager with a full flavoured taste, delivering a truly premium experience from start to finish. This perennial local favourite is brewed through a unique -1°C crystal cold filtration process that retains all the essential flavours and aroma, the result is an eminently drinkable beer that's 4.6 ABV. Crisp and sealed with a refreshing taste in our city's relentless scorching weather, it's a drink that is subtle yet fragrant. The kicker? You can have even more fun with it.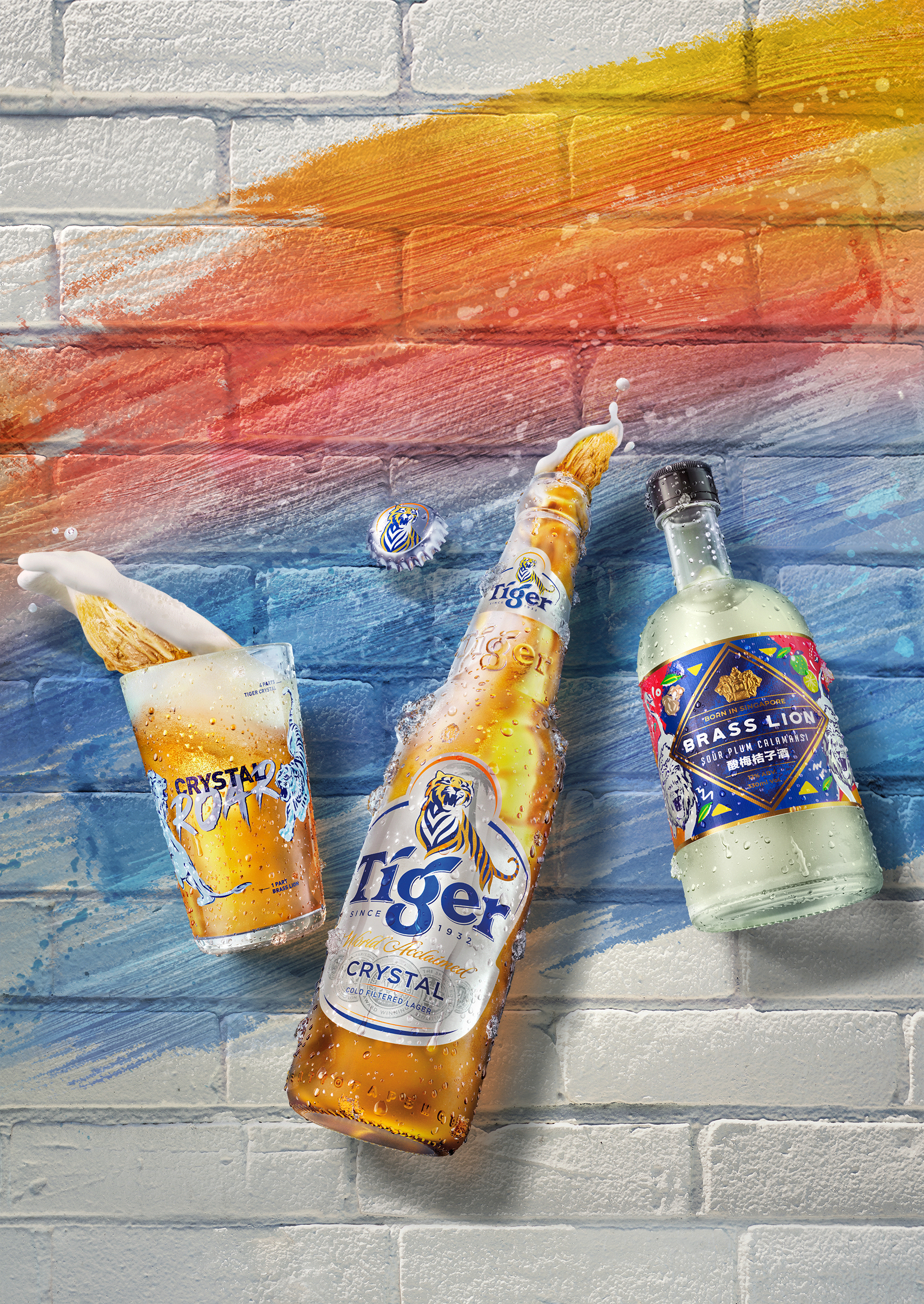 While you'll be perfectly content sipping this crystal cold and extra smooth brew on its own, there's a hidden card — which allows you to mix it to shake up a different concoction if that's what you prefer. Given the current mixing trends, Tiger made sure to unlock a new drinking experience with this product, where consumers can really uncage their own creative side. So, introducing a new concoction — Crystal Roar, a mixed tipple that's conceived in partnership with homegrown Brass Lion Distillery, weaving the beer with a special edition Brass Lion Sour Plum Calamansi, a fresh, tangy and smooth liqueur with an aromatic zesty finish. A local twist sporting a refreshing tang from citrus rinds, preserved lemons, as well as sweet plums.
"We pride ourselves on always being ahead of the curve to uncage new drinking occasions and novel experiences sought after by Millennial and Gen Z consumers. The partnership between Tiger and Brass Lion Distillery is such an instinctive one as we're both fiercely local and no one knows Singapore flavours like we do. When Tiger meets Lion, we uncage a winning combination with Crystal Roar that is truly unique, distinctive, and made in Singapore, for Singapore," said Yogender Sharma, Marketing Manager at Asia Pacific Breweries Singapore.
Think of it as the perfect marriage of part beer, part liqueur, as the smooth lager is treated with a piquant zesty finish. With this collaboration, a special Tiger Crystal x Brass Lion Glass will aid in concocting your own tipples. It boils down to one part Brass Lion, and four parts Tiger Crystal. Fill up the glass with the Brass Lion Sour Plum Calamansi up to the lion's tail, before topping up with Tiger Crystal up to the tiger's tail on the glass. Beyond that, don't be afraid to have a little fun and experimentation with your Tiger Crystal tipples. Below, here are two other recommended pairings to play around with.
Soju
Bitter in nature, Korea's signature elixir might not be everyone's drink of choice. To turn things around, pair a flavoured soju of your choice with Tiger Crystal to create your very own soju bomb. Take it from us, this refreshing mix will be dangerously addictive.
Frozen Tigerita
What you need: 
– Blender
– 8 cubes frozen Tiger Crystal
– 8 cubes frozen Tiger Radler (Lemon)
– 60ml Chilled Tiger Radler or flavoured puree ( peach or mango)
– 30ml Orange Juice
Steps: 
1. Dab the glassware rim in an orange and then dab it into some sugar
2. Mix everything in the blender
3. Garnish with an orange
Crystal Roar is now available in participating bars and restaurants island-wide. From 16 November, Crystal Roar will be available as a serve in selected bars and restaurants while stocks last. Consumers who visit any of the participating outlets will enjoy a complimentary bottle of Brass Lion Sour Plum Calamansi with every purchase of a bucket of Tiger Crystal, while stocks last. For more details, click here.