It's November. And that means that we're just slightly over a month into Christmas and the dawn of a new year. In other words: it's time to chill out (prep those self-care weekend agendas, ladies) and treat yourself. It's been quite a year and you deserve all the self-care and self-love fix to cap it off.
In the spirit of giving (yourself), we're taking a jumpstart to the festivities with a selection of pieces from Saint Laurent's autumn/winter 2021 womenswear collection. It's a jumpstart because you may not necessarily want to wait for Christmas to gift these to yourself — they're chic, timeless and designed to be perfect companions to your party style favourites.
1. Sade puffer envelope clutch in lamé leather, $2,500
There's a lot of shiny lamé treatments throughout the Saint Laurent autumn/winter 2021 womenswear collection — in fact, most of the items of this list shine just as bright as the year ahead (here's hoping). This puffer envelope clutch has quite a satin-y sheen that's more subtle as compared to traditional lamé, which makes it all the more wearable for pretty much any time of the day. Its roomy size (38cm x 19cm x 11cm) and soft construction make it the kind of clutch you can grab onto or nestle in between your arm and side rather comfortably.
2. Joe backpack in lamé leather, $3,730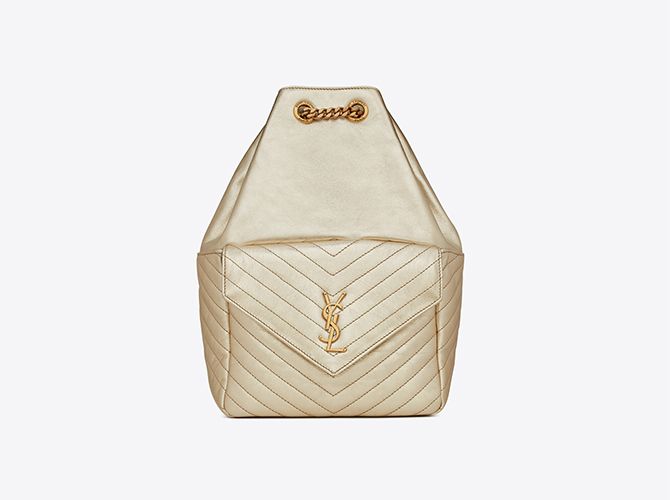 In the exact same shade as the Sade clutch is this equally stunning backpack designed with a drawstring closure. Right off the bat, you'd know it's a Saint Laurent creation with that distinctive YSL plaque that's colour-matched with the rest of the backpack's hardware. What's especially noteworthy is the fact that there's a roomy front compartment secured with a magnetic flap closure, just in case the roomy interior lacks the space required to tote around more stuff. Also, how chic would this be with everything from an oversized blazer to a simple T-shirt-and-jeans combination?
3. Vesper slingback pumps in bouclé tweed, $1,320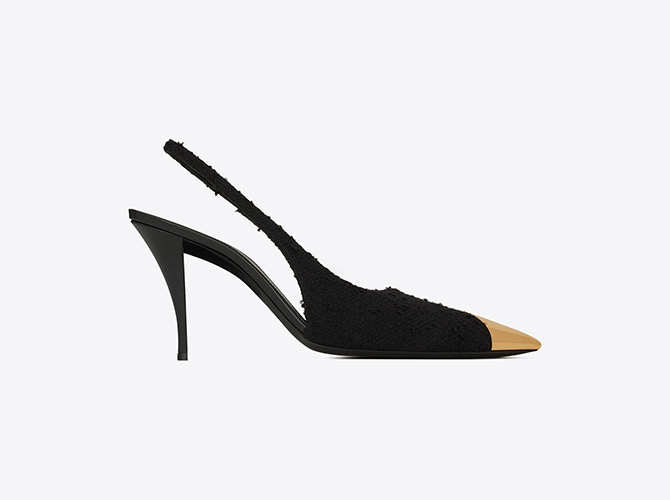 Heels are as quintessential to Saint Laurent as its bags. While the classic Saint Laurent Tribute is an evergreen choice, this season's bouclé tweed treatment on a pair of slingbacks is one to take notice. Sure, the textural tweed is a gorgeous textural element — and let's face it, elevates the entire look — but the beautifully done metal toe cap pretty much, well, caps the entire luxurious look off. A pointed toe has never looked more defined and sexy.
4. Jamie cube charm in lamé leather, $690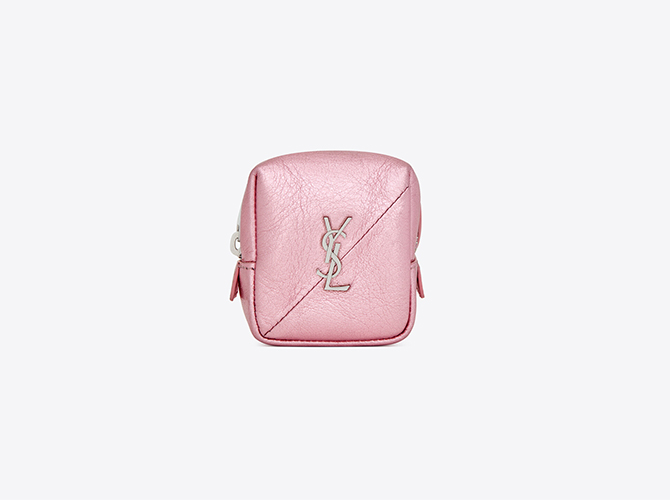 For just a touch of the autumn/winter 2021's lamé treatment, this super adorable cube charm is it. Hook this onto your existing Saint Laurent bags for a pop of colour or more importantly, an additional storage compartment. Or if you're thinking of minimising what you're bringing out for the night (especially when it's a socially distanced party), secure this onto the belt loop of your jeans or trousers and you're all set.
5. Bow-tie crop top in cupro velvet, $2,950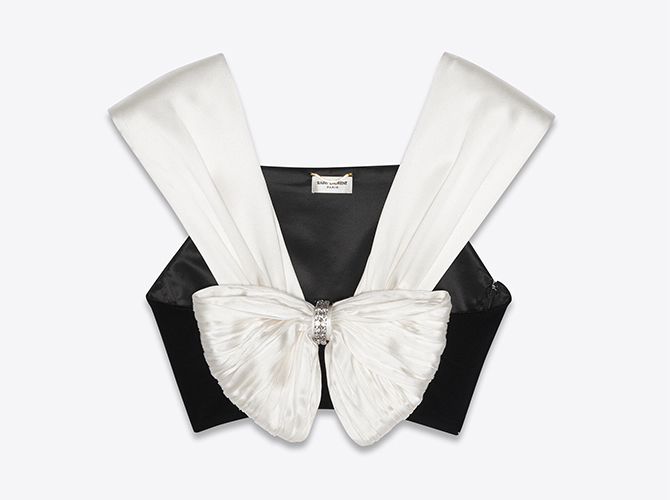 Straight off of the autumn/winter 2021 womenswear runway is this chic crop top topped off with an oversized bow detail. There's little need to accessorise your entire look, especially when the bow is decorated with rhinestones right in the middle. It is quite an investment piece, but anything Saint Laurent with a bow is pretty much a classic you'd want to keep for years.
The Saint Laurent autumn/winter 2021 womenswear collection is now available in Saint Laurent boutiques. And yes, you're allowed to gift them to others too.