Halloween is over, and y'know what that means: Christmas is coming. Besides Mariah Carey defrosting as we speak, there's also the holiday shopping to look forward to. From cute stocking stuffers to luxurious holiday collections, there are also a ton of limited edition beauty sets available to amp up the sense of Christmas cheer. So, without further ado, we've rounded up the best of the holiday beauty collections to get your hands on. Watch this space for more updates.
Ole Henriksen 
Glow from within this holiday season with Ole Henriksen's C-ing Stars Vitamin C Skincare Set. This brightening trio features three of their Vitamin C best sellers: Banana Bright™ Vitamin C Serum; C-Rush™ Brightening Gel Crème; and the Banana Bright Eye Crème. The best part? You'll be getting all three at almost half the price in this set. Tell your family and friends to brace themselves for your luminous visage this year, we say.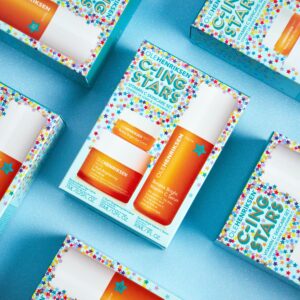 Dr Dennis Gross 
If you ever longed to hit rewind on your skin age, we'd recommend looking to Dr Dennis Gross for some help. Their Merry Smooth and Bright Kit comprises the cult-favourite DRx SpectraLite FaceWare Pro; the Advanced Retinol + Ferulic Texture Renewal Serum; the Advanced Retinol + Ferulic Triple Correction Eye Serum; and the Alpha Beta Extra Strength Daily Peel. Using these bad boys in conjunction ensures boosted collagen generation to smoothen and improve the look of fine lines, wrinkles and blemishes. Sweet.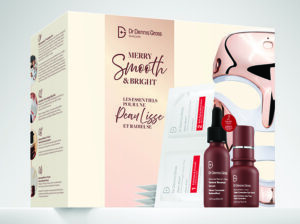 L'occitane
If you're a sucker for some aesthetic AF packaging, then this is definitely the one for you. For their holiday collection, L'occitane has partnered with renowned French illustrator, Tristan Bonnemain, to create a special print for their iconic Shea Butter range. Exclusive packaging aside, this holiday season also marks their most generous advent calendar yet — with 24 surprises incorporating popular products in miniature sizing. They've also put together holiday exclusive sets in the vein of the Reset Power Routine Box and the Immortelle Youth Box for gifting purposes this jolly season.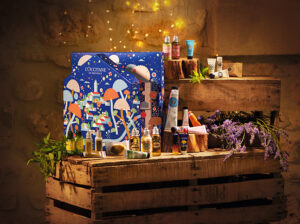 Fenty Beauty
Fenty's been reallll busy in 2021. This holiday season, we're treated to various holiday sets. Our favourite? The Fenty Beauty Resting Peach Face Cream Blush & Mini Gloss Bomb Cream Duo. Achieve the perfect rosy-cheeked, I've-been-out-in-the-(non-existent)-snow look with a full-sized Cheeks Out Freestyle Cream Blush and mini Gloss Bomb Cream Color Drip Lip Cream. And if you can't get enough of that Gloss Bomb magic, Fenty Beauty also dropped their latest Gloss Bomb Collection. We're talking three iconic shades – Fenty Glow, Fu$$y and Hot Chocolit.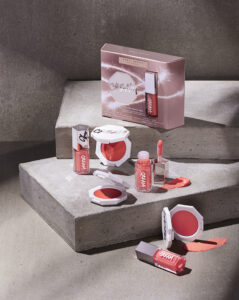 M.A.C. Cosmetics
If you've ever doubted that holiday magic exists, think again. M.A.C. is proving all skeptics wrong with some seriously spellbinding holiday gift sets. Their newest Hypnotising Holiday collection features the brand's iconic best-sellers in never-before-seen shades packed in ready-to-gift sets to save you both wrapping and time. But who are we kidding, you'll probably keep it all for yourself anyways. With transfixing colours for eyes, lips and skin — we promise you'll be entirely spoilt for choice.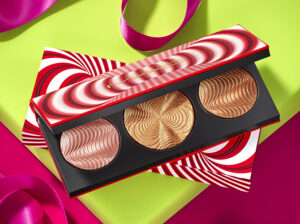 Aesop
For Christmas, Aesop has launched five seasonal assortments for their 2021 Gift Kits, each with a special meaning. The kits were each brought to life with a persona, ranging from The Advocate to The Forager – meant to honour and encourage everyday acts of kindness. Each purchase means you'll be aiding Aesop in their mission to donate AUD$100,000 each to the five charity groups tied to each set.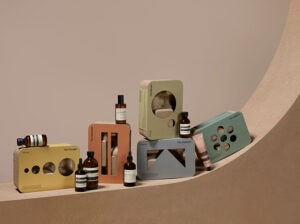 Philosophy
Philosophy is out to help shoppers claim the mantle of the best gift-giver this jolly season. Take your pick from skincare sets to fragrances, or opt for the best of both worlds with a combination of both to gift your pals. But to really get into the festive spirit, consider picking up one of their seasonal scents for the household. With five different scents to choose from, even the most finicky fragrance buff in the family will sure to be pleased.
View this post on Instagram
Sephora
Pop by the makeup haven this festive season to pick up some beauty stocking stuffers for your loved ones. Heck, it'll certainly be easy to get into the whole spirit of giving this Christmas, seeing how you'll be able to find over 600 limited-edition sets in store. And if you simply don't have the time to head down in-person, shop online or within the Sephora app itself. There's absolutely no reason not to treat yourself to that beauty product you've been eyeing all year. From cute little stocking stuffer minis to ultra indulgent sets like the Tom Ford Soleil Escape Travel Trio, we say it's time to go ham on the glam this season.
View this post on Instagram