We're just going to come out and say it: MasterChef Australia is undoubtedly one of the best iterations of the hit cooking competition franchise. There's something to be said about the level of creativity, technique, and sportsmanship from the cooks throughout the past 13 seasons; a sum of parts that make the series a healing watch, despite it being a competition. Add to that, a fresh crop of judges — Jock Zonfrillo, Melissa Leong, Andy Allen — that inject a newness in their own dynamic, and you could say the show got the "reboot" it needed after running for more than a decade.
It is also worth mentioning that Melissa Leong is the first Asian and female judge of Masterchef Australia. She also happens to be Singapore-born. Buro. Singapore recently caught up with her, as she shared more about her Singapore heritage, connection to food, and what's it like being a permanent judge on the show.
What made you take on the role as a judge and what sparked your passion for food?
I'm a food journalist. Much like the lot of wonderful judges of the last many seasons of MasterChef, there was a food journalist, Matt, and then, of course, two chefs. So, I am the storyteller of the three, coming from a background, in restaurants as a critic, a food writer, and a travel writer as well. My role within the three is to really convey the stories and encourage people to share their stories through their food. I guess my greatest qualification for being in the world of food is being Singaporean.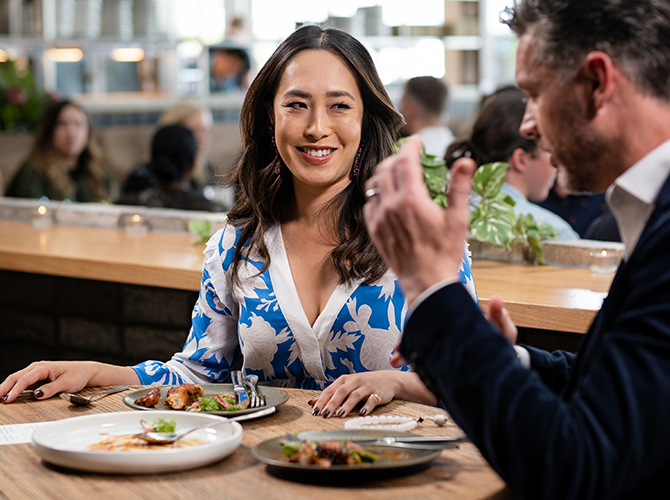 My parents are Singaporean Chinese and they moved to Australia in the 70s. I like to say that food is our love language. There are definitely times when we don't all agree on one thing, but we can always agree on good food. And I think when I was working in advertising years ago and social media was still in its early days, the way I fell into food was that we needed to be on social media in order to understand it. I chose food as a subject matter to converse with people because I felt like it spoke the most and the loudest to me. So, the running theme of my life continues to be food.
As Singaporeans who migrated overseas, what did you eat growing up?
Well, growing up when I was very little, you know, my mother cooked the food that she knew. So it was a lot of Chinese food, a lot of Nonya food, to this day, my favourite dish to make and my biggest comfort food is Hainan gai fan (Hainanese chicken rice). But as I started to go to school and become friends with people from all kinds of different cultural backgrounds, you know, you would go to people's houses for dinner, and I would come home and say: "Well, you know, Nicola had chicken schnitzel for dinner." Then my mother would say: "What's chicken schnitzel?" And then she would look it up, or she would watch Australian cooking shows.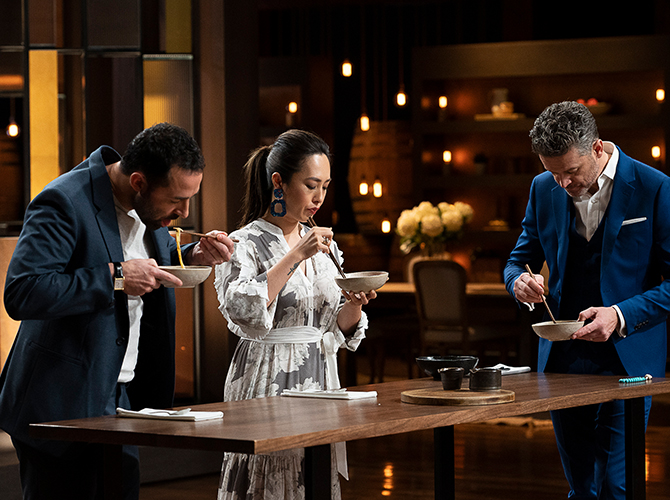 To her credit, my mother is an amazing cook and she took it upon herself to learn about the food that we were talking about, and try to recreate it in a way that made sense to her. So to this day, she's an incredible cook of lots of different cuisines and I really do miss the simplest things, even just a pork bone soup. You know, with soy sauce on the side to pour into the marrow, that's my favourite thing. So, yeah, it's been hard during the pandemic. My parents live in Sydney, and I live in Melbourne, they might as well live in Alaska, because it's impossible to get there to see them. But I speak to my mum almost every day and she always says: "What are you cooking?" or "What did you have for lunch" or whatever it is. So we're always talking about food.
As a Singapore-born who was raised in Australia, which country has better food? 
Oh my goodness. Well, look, I can definitely say I'm missing Maxwell Food Centre right now. I'm missing so much hawker food and street food in general and Singapore. I think that both places are fortunate for having a wealth and a diversity of cuisines. I think in Australia, it's different mixes in different places. But in Australia, our migrant heritage has given us authentic cuisine from all around the world. And then, of course, we pair that with being on the continent that originates the most ancient culture in the world – our indigenous Australian culture is 60,000 years old. And we're only just beginning to value the wealth of experience and knowledge of ingredients that comes with that too. 
So we have our own unique DNA of what food is like here. And then thinking about Singapore, and just how lucky we are to have such a great food culture, you can never ever, ever get sick of eating food. Because you can always find something different and diverse and exciting. And that is the best expression of. So I think right now, it's tough because I can't get there. So I'm really craving it. But I have to say, I feel very lucky to live in Australia as well and to be able to tap into such a brilliant food culture.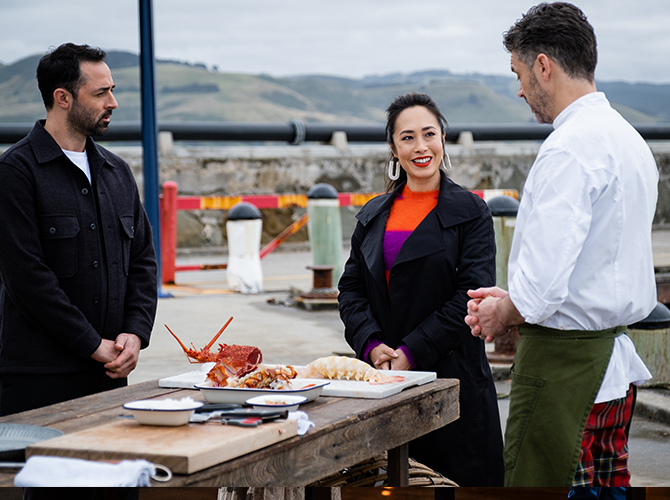 If you could hop onto a plane to Singapore right now, what would your first meal be? 
Oh, my goodness, I would probably go to Maxwell and I'll probably have about four different things. I would have the Hainan gai fan and I can't remember the name of the stall that does the mee pok with the baby abalone. I have to have black pepper crab, you know, it's just all the classic things.
I think I need a proper re-grounding of my roots in that regard. But I also really love that Singapore is one of the great global cuisine cultures in the world as well that has incredible chefs from all around the world, learning local cuisine, but also celebrating global cuisine at the same time. And so places like Burnt Ends will always have my heart and I really love eating food like that as well.
Tell us what it is like to be a judge on MasterChef Australia? 
It's one of the great highlights of my career and my life. Coming into this being the first permanent female judge and the first Asian judge means a great deal to me because I can lend my perspective and my love of where I come from to the MasterChef kitchen, but at the same time, I think being there also means representing the conversation about diversity. And I think that means inclusivity, it means celebrating cuisines and cultures from all around the world and what they contribute to Australian food culture. It's that universal connection.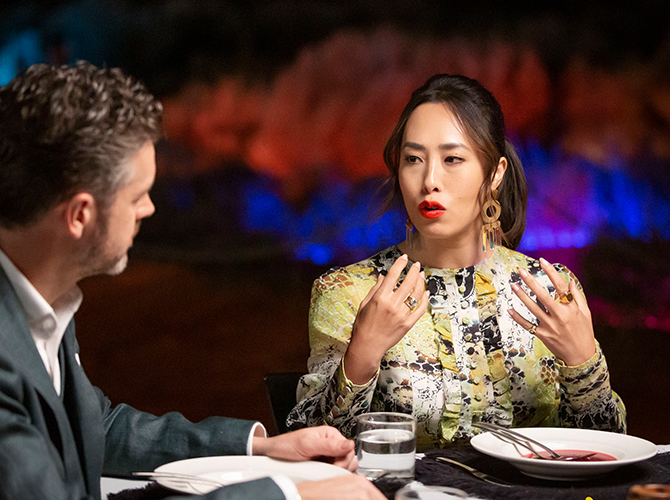 Food is the thing that binds us all. And so to be able to talk about food to learn every single day from Jock and Andy but also from the wonderful contestants, all of the incredible guest chefs and food personalities that join us on the show, it is a constant learning experience. As an individual, I really relish being human because I feel being human is to learn. It's also really fun to be able to celebrate great Australian designers and creatives through what I wear and how I express myself in that regard. It's a multi-layered experience.
What surprised you the most during this season?
I think one of the most surprising things has been to learn about other cuisine cultures from places that I'm less familiar with. I can safely say that I am not an aficionado or particularly well-versed in Bengali cuisine, so having the incredible contestant Kishwar teach us so much about her own food culture. But you know, in general, South Asian cuisine has really stepped up this year into the spotlight. And so we've seen cooks like Minoli, cooking from her Sri Lankan background, and Elise as well. And also Depinder, you know, cooking from a wealth of diversity when it comes to the Indian subcontinent. So I think what I love is, every season, there's a different focal point for cuisine around the world. I'm really looking forward to seeing what happens next.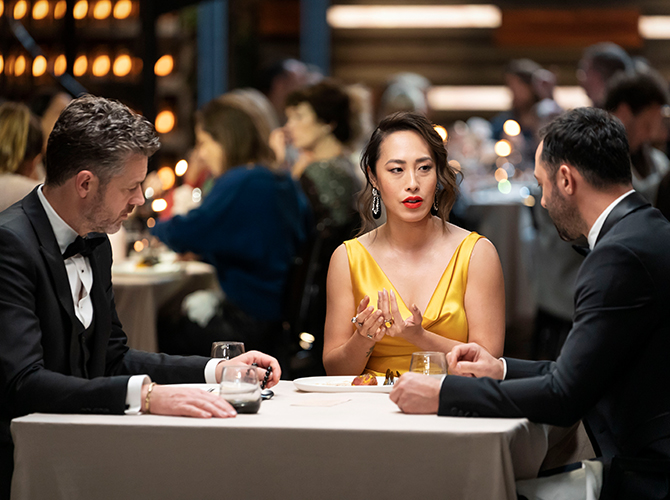 What can you tell us about the season 13 finale of MasterChef Australia? 
I can tell you that my outfits are definitely worth tuning in for and so are Jock's and Andy's. We definitely dressed for the occasion. But beyond that, the food and the skill, and the heart – the sheer heart and bravery displayed by those who make it to the end is phenomenal and very much worth watching. It's very nail-biting all the way to the end.
MasterChef Australia Season 13 finale airs on 27 and 28 Sep, 8pm, on Lifetime.