Living in a pandemic and being hurled into a #WFH situation straight after maternity leave has taught me many things about myself. I learned that things can get worse; that it's okay to be vulnerable; and that there's no shame in asking for help when I'm not feeling okay. You see, my newfound reality involves late nights — both from taking care of my baby, and from having to deal with countless Zoom meetings. This has translated to noticeably deeper eyebags and laugh lines, alongside looser, sagging skin.
During moments of despair, I found myself thinking that I looked like a shadow of my former self; my visage a reflection of my exhaustion and stress. And while ageing is a natural process that should be embraced rather than shirked, my haggard appearance was chipping away at my self-worth. After some thought, I came to the conclusion that looking okay was the first step to feeling okay. After some digging around on the Internet, I decided that Merz Aesthetics' line of treatments and injectables were definitely a good place to start.
The consultation

I grappled with some nerves before my consultation with Dr Gerard Tan from Neuglow. It was my first time seeking out aesthetic treatments, and I wasn't really sure what to expect. Thankfully, Dr Tan put me at ease immediately. He began by observating every angle of my face, and I liked his philosophy of correcting the structure of one's face before working on its interior. After I shared my areas of concern, he devised a holistic treatment plan, and proposed to separate my treatments into two sessions.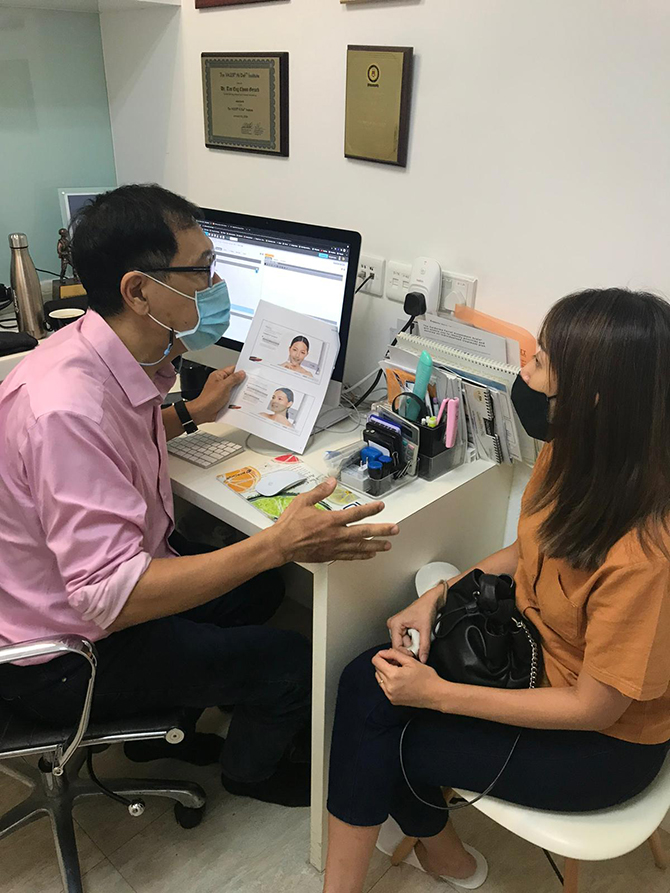 For the first session, he would lift and tighten my skin, as well as fill up areas of my mien to restore structural support and facial volume. This, therein, allows me to achieve an 'oval shaped' and less-tired-looking face. The subsequent session would comprise the finishing touches, where he would fill up my nasolabial folds (laugh lines) and smoothen out other fine lines to make them less pronounced. Ah, music to my ears.
The procedure(s)
Ultherapy
The first checklist on my treatment plan? Ultherapy. It is the only U.S. FDA-cleared non-invasive ultrasound device that stimulates new collagen production to lift and tighten skin. According to the professionals, it is designed to precisely deliver micro-focused ultrasound energy to three specific depths below the skin's surface (4.5mm; 3.0mm; and 1.5mm), thereby targeting the collagen-rich layers of the skin such as the superficial musculoaponeurotic system (SMAS) to lift and tighten from within. This layer is typically only accessible through methods such as surgical facelifts.
Numbing cream was first applied to my face, which helped to decrease the discomfort I might feel from the treatment. Beyond the SOPs, Dr Tan also kindly prepared a barista standard latte, which certainly went a long way to ease my nerves. Then, he began. Dr Tan carefully delivered ultrasound energy to my cheeks, under-chin, and forehead. I found the overall process to be slightly painful and uncomfortable, but otherwise bearable. From what I could observe, it stung a bit more around the parts of my face that were bonier.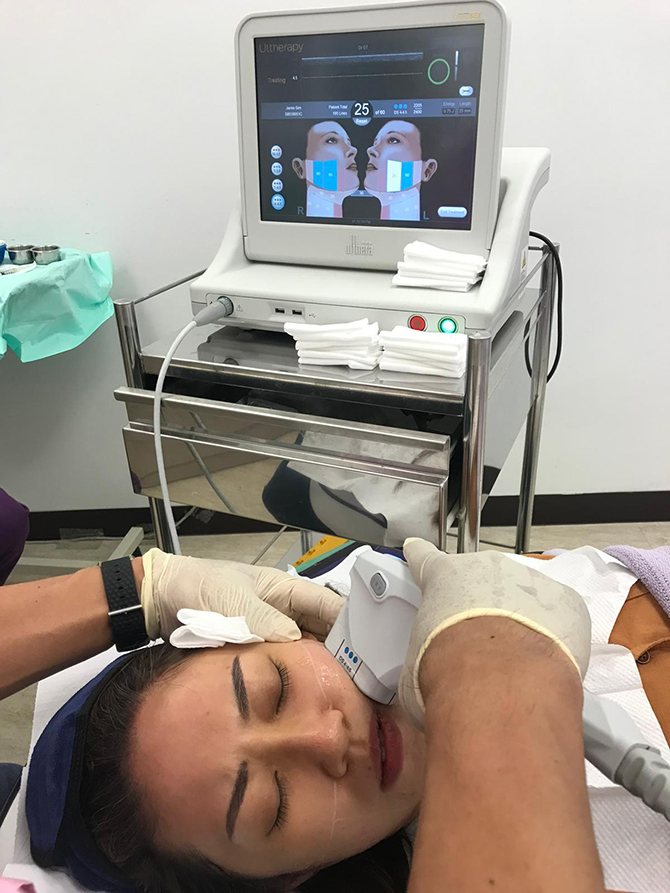 Hyaluronic Acid fillers
You might not know this, but hyaluronic acid is actually found naturally throughout the body. On this note, injectable hyaluronic acid is a type of temporary dermal filler that serves the same purpose of attracting water to hydrate and plump up the skin. Dr Tan chose to use a hyaluronic acid filler with Cohesive Polydensified Matrix (CPM) technology to achieve a more natural result. He focused on areas of my face that looked hollower, such as my temple and cheeks. I was also given fillers on my chin as it was receding slightly, where doing so would give me a more balanced side profile.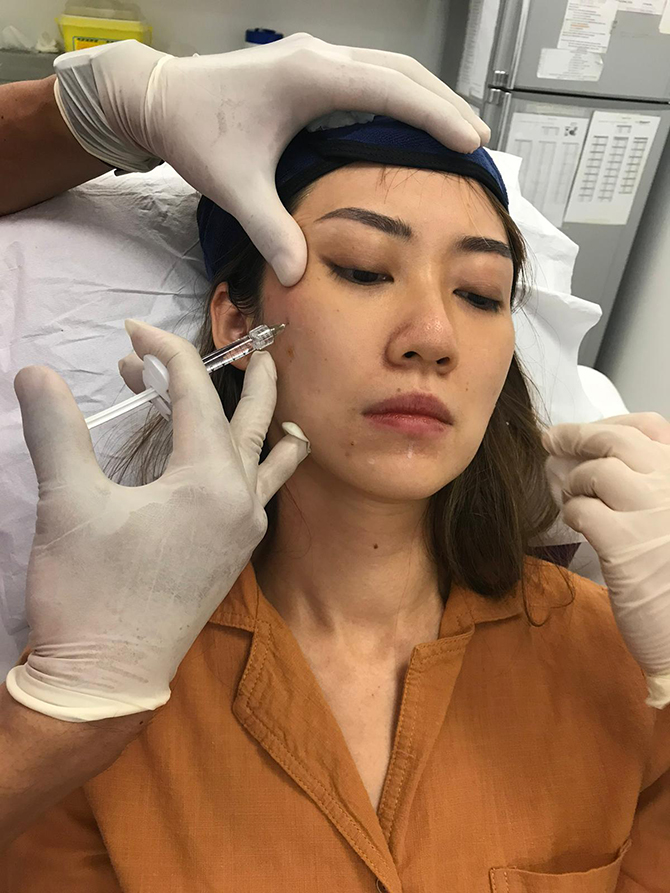 With the numbing cream in full effect, I felt nothing more than a strange pressure as the cannula was gently inserted under my skin. The filler was then gently injected. I was told that the cannula utilised functions as an alternative to a needle when administering fillers. It, essentially, allows the injector to accurately place the filler over a larger surface area and on multiple areas of the face via a single entry point in the skin. Neat. And because the filler can be distributed in a smooth and uninterrupted manner along the tissue plane, it gives a more flawless yet natural effect. I liked how Dr Tan would pause and observe the changes on my face before continuing.
For our second session, Dr Tan used two kinds of fillers: both with Cohesive Polydensified Matrix (CPM) technology. First, he used a softer filler to smoothen out the superficial fine lines on my face. Next, he injected a firmer filler into my nasolabial folds to gently lift up the laugh lines and soften the appearance of my skin folds. The whole process took less than 15 minutes, but I noticed results immediately. It was immensely satisfying to witness.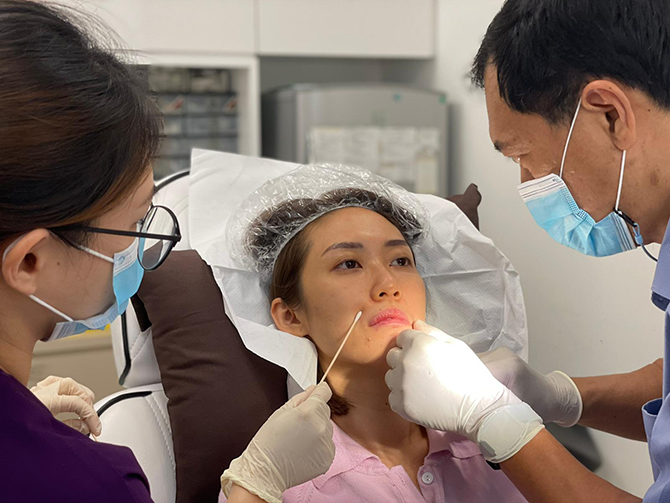 Botulinum toxin injections
And for the final touch, Dr Tan used a uniquely purified botulinum toxin — free from complexing proteins — on my forehead and crow's feet. This was done so as to relax the facial muscles and to reduce the appearance of wrinkles. The entire process took about less than five minutes, and proved to be the most painless of them all.
The result
After the procedures, I was advised not to apply too much pressure on the injection sites to allow the swelling to go down. Besides a slight achy feeling, there was really little downtime for these treatments. I was advised to watch out for bruising over the next few days, though I didn't experience that. The swollen, tender sensation from Ultherapy lasted for a week; a bearable experience for the most part.?? The biggest takeaway from my experience with Merz Aesthetics' Treatments was the subtle and natural changes imparted upon my visage. I was told that the effects of Ultherapy can take up to two to three months to be more visible, and continue to improve up to six months.
Above all else, I am just grateful that these quick-fix solutions exist. To have a radiant, healthy mien requires sustained and long-term efforts in both one's diet and skincare — but in the meantime, this proves to be a stellar alternative as I work towards my larger goal. In short: definitely an incentive when you're constantly finding yourself fighting against the hands of time.
The results after the 1st session: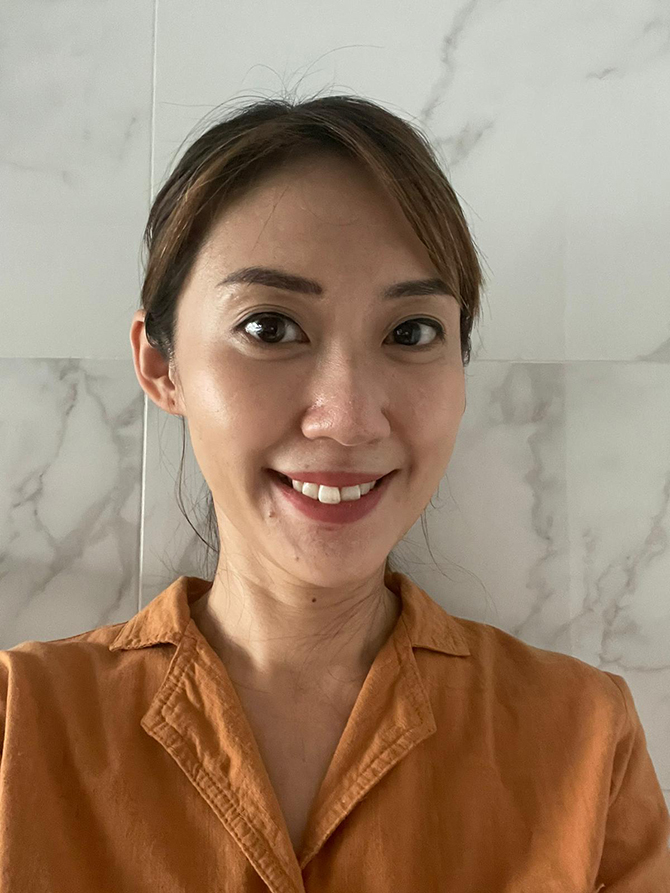 The results after the 2nd session: