The release of Watermelon Sugar has fans speculating that Harry Styles may be working on a beauty brand. And surprise surprise, they were right — for the 27-year-old singer has just recently unveiled his new line: Pleasing. To be fair, we're sure the Internet was delighted as it is when Styles posted a series of photos posing in a nipple-cut-out top and motorcycle, but we digress.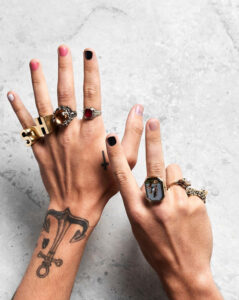 Styles's love for nail polish is no secret. And so, it stands to reason that it'd be a part of the brand's first drop: Perfect Pearl. Housed in glass bottles inspired by the look of vintage perfume decanters, the nail polish bottle's unique silhouette had fans doing second takes. Perhaps misled by the brand's name, fans really thought for a moment that Styles was pulling another Watermelon Sugar by paying homage to its spherical shape.
View this post on Instagram
On his new brand, Styles told Dazed that he was inspired by the little moments in his life that brought him joy. "Whether it be, you know, end of the night under the stars or a perfect bite of food, or where you're sitting with your friends and think, 'Oh, I'm never gonna forget this.' It's always those moments that have the longest-lasting effect on me, in terms of sparking something wonderful in me. I really think that is the essence of what Pleasing is: looking at those moments, finding them, highlighting them, and helping other people find them." Other products in the same drop include a dual roller ball lip and eye serum, as well as a facial serum. They range from USD$20-$75, and are available for pre-order online.