If there's one benefit that we have reaped from this #WFH situation, it's snoozing till the very last minute before rolling out of bed and into your desk chair. This works out pretty well until you realise the first thing on the agenda is a Zoom meeting, which cues in the mad rush to look bright and peppy for the virtual call. It's times like this we're once again thankful that they can only see and not smell us… because in between tearing through your wardrobe for something suitable to wear and locating the Zoom link, there definitely wasn't time to brush your teeth. 
Good news, Monkey Shoulder has found the perfect way around this morning rush – the Pyjama Suit. Think: a smart, professional-enough looking suit that not only has you looking polished like a boss, but also comfy enough to have you sleeping like a baby. The best of both worlds is what it is. Eschewing the trouble to find a presentable ensemble in the morning, this fit shaves off precious minutes that could be better spent in bed, and perhaps some leeway to brush our teeth and check off other rituals like that morning cuppa… 
Co-created with Laughing Tiger, this head-turning outfit is part of Monkey Shoulder's Don't Let The Grind Get You Down campaign, aimed at helping the hard working population in Singapore escape the stresses of the rat race and the monotony of working from home.
If you'd like to snag a pair for yourselves, the Pyjama Suit will be exclusively available via an online contest from 12 November to 5 December. To qualify, all you have to do is purchase a bottle of Monkey Shoulder from anywhere across the island, upload your receipt here, and answer a question. You'll stand a chance to win yourself a Pyjama Suit and WFHamper — which includes the new Monkey Shoulder 20cl Ginger Monkey pack, a set of coasters and also a set of Zoomtails, limited-edition cocktails that are a playful ode to relatable Zoom jargon and tired phrases, created in collaboration with Sago House.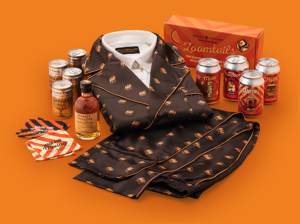 So if you swore to never turn on your camera in a work call with your boss, well…you'll be changing your mind real soon. This Pyjama Suit will have you looking suave and dapper, yet lounging with ease during that meeting that could have easily been an email.