For most in Singapore, perhaps our knowledge of Mexican food starts and ends with what 'Guzman y Gomez' has to offer on their menus. Things like burrito bowls or enchiladas seem so exotic and delicious as compared to our local fare. But Chef Randy Torres from the Super Loco Group begs to differ. He draws parallels between Asian and Mexican cuisines – both of which have a tradition of serving up family-style dishes, and a strong emphasis on togetherness, family and celebration.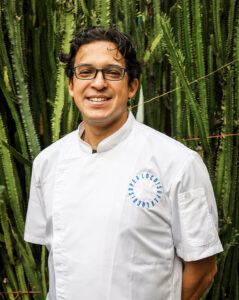 Chef Randy's passion for food was borne from a tender young age, stemming from countless afternoons of watching his abuela (grandmother) cooking traditional Mexican food in the kitchen, using meat that his abuelo (grandfather) hunted and adopting a nose-to-tail philosophy in her cooking. This keen love for cooking runs in the family: his aunts often cooked together with his grandmother, and Chef Randy was introduced to traditional Mexican dishes often presented with an individual twist. So with Mexican food playing such a large part of his life, it's no surprise that Chef Randy attributes his love for food to bonding with people over a good meal.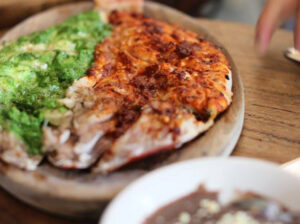 Food can be a lot of things; friendship, love, sustenance and much more. And it's this versatility that Chef Randy loves about it. "It can be adventurous when you get creative with new dishes or recipes, it can be romantic when you're cooking for your partner, it can be a point of unison by bringing everyone closer when served at family gatherings, and it can be hopeful when you use and practice sustainable cooking and healthy eating." Perhaps to more aptly put it, Chef Randy compares food to religion: "It's different for everyone but meaningful to all."
Of course though, Mexican food holds a special place in his heart; seeing as it is after all, part of his culture and heritage. But it's not all just fatty and heavy foods that make up the Mexican cuisine (even though it is very scrumptious), Chef Randy shares that there's a wide versatility when it comes to his heritage cuisine. It can be both delicious and healthy, he said, and lists Super Loco Robertson Quay's superfood weekend Mexican brunch, Quinoa Achiote Marinated Tofu Taco, Sea Bass y Salsa Verde as some examples. In fact, they also have vegan-friendly dishes like enchiladas that still hold fast to the Mexican spirit for even healthier options.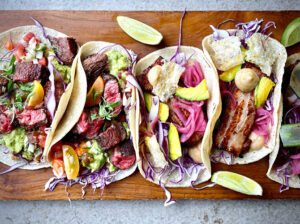 "Using fresh, quality ingredients, incorporating modern cooking techniques with traditional Mexican flavours, putting a creative twist on different textures to create a dish that is in a class of its own and introducing our guests to the rich regional diversity of Mexico's gastronomic cuisine is what we really try to showcase and embrace at Super Loco Group."
Intrigued and craving Mexican food now? Well, you can always order off their festive delivery menu for your family celebrations this upcoming holiday season. They'll have Mexican roast banquets, sides and desserts available to order at Chico Loco as well as special Christmas dine-in dinner menus at Lucha Loco and Super Loco this December. 
If you're having second thoughts because you might be afraid your more traditional relatives may have trouble adjusting to the cuisine, remember that at its core, they're not all that different! In fact, Chef Randy can think of several dishes from our local fare that have Mexican counterparts – Curry Puffs and Empanadas, Naan and Tortillas, Chicken Curry and Chicken Mole etc etc, TLDR, is that there are many flavour overlaps. So if you're craving something out of the ordinary this holiday season, Mexican food may be the perfect first step. And really, there's no better way than to celebrate the festive seasons with your loved ones with a cuisine and culture that basically embodies values of togetherness and family.