How does one begin to explain the various intricacies and intersections between K-Dramas and K-Beauty? If we were looking at it through a simplistic lens, we suppose describing it as symbiotic would be a fair assessment. The — oftentimes, ensured — virality of Hallyu productions ensure wider visibility for said beauty brands, with such partnerships paving the way for more collaboration opportunities between the actors or media companies involved.
It is a sound strategy as any, resulting in sell-out status for specific products as demonstrated via 2020 Netflix drama, Start-Up (Lancôme Cushion Teint Idole Ultra Wear Cushions); My Love From Another Star (YSL Rouge Pur Couture Lipstick); as well as 2021's controversial Nevertheless (Charlotte Tilbury's Luxury Palette in Pillow Talk.) Is it fair to say, then, that this is how cult beauty offerings are borne? Bet on it. And since we're all about staying ahead of the curve, we've decided to turn our focus onto tvN's latest ratings darling: Hometown Cha-Cha-Cha.
Its premise proves simple: City girl moves to a quiet seaside town; shakes things up; and meets a homely — if, charming — man along the way. Amidst its quaint and engaging plot lies some seriously enviable beauty moments as served up by lead actress, Shin Min-a. Read on to get the lowdown on the exact products and shades she utilised that we discovered through some (intrepid) sourcing.
The lipstick: Givenchy Beauty Le Rouge Deep Velvet Matte Lipstick in Rouge Graine
Nothing says you mean business quite like a blood red lippie. This hue first made its appearance in episode 3, when Hye Jin decided to make her grand entrance at a dental conference (snooze) looking her best. It's one of the brand's most popular red hues, which — incidentally! — Shin Min-a also dons in an official campaign for the label. The model-turned-actress was named a brand ambassador in June 2021.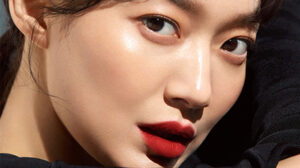 The (other lipstick) Givenchy Beauty Le Rouge Deep Velvet Matte Lipstick in Beige Nu
This peachy coral shade makes more of an appearance throughout the series, with Hye Jin preferring a more subtle pink for her day-to-day look. The brand's site touts it as a highly-pigmented, long-wearing formula that works to preserve hydration for up to six hours. In short: A hard-worker perfect for anyone with a rigorous schedule (aka the town's only dentist). Makes sense.
View this post on Instagram
The base makeup: Givenchy Beauty Teint Couture Cushion Foundation
But is it really a K-Drama until someone whips out their cushion foundation for a touch-up? This obligatory scene occurred in episode 12, though Hometown Cha-Cha-Cha does veer from convention by having Hye Jin attempt to apply it on male lead, Du-Sik, as well. Its transfer-proof, brightening formula boasts buildable coverage and a second-skin like texture that "stands up to all your emotions for 24 hours." An apt choice, seeing the turn the episode took in its latter-half.
View this post on Instagram