Let's set the record straight: I'm no adrenaline junkie. I don't get off on plunging headfirst from a cliff or petting a cobra just for an Instagram photo op. My choices in life have always been considered safe and calculated — or at least I like to think so.
Naturally, a trip out to Utah had never been in the books. After all, most venture to the stunning canyons of Moab to seek out the most exhilarating experiences — rock climbing, off-road driving, and probably the most intense kind of biking one can have. The terrain you encounter while scouring the deserts of Moab was practically made for the likability of an unforgettable adventure you can take home to brag about.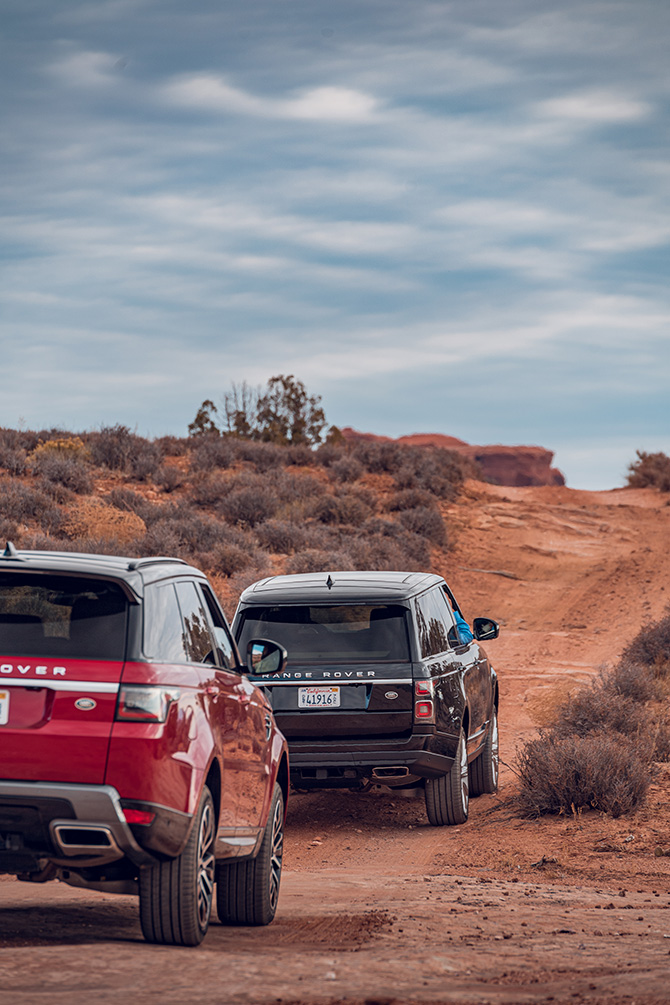 But here to diminish a set of prefixed fears and misconceptions (I might be generalising this), is Land Rover. No, not just their robust cars, but a stellar team that is tied to the automotive fleet. Part of the Land Rover adventure travel offerings from the group, is a three-day off-road driving escapade in Moab, Utah. Other destinations they venture out include Iceland in the heart of the frozen north as well as ice driving across the Swedish Arctic Circle.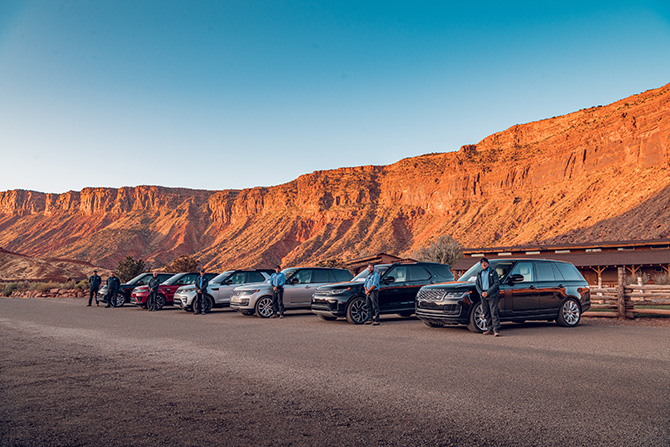 In Utah is where you'll stay relatively dry. But that said, I did brave a colder-than-usual October climate. That's not to discount the sun, which will be your savior and your best friend on the trip. The adventure starts from the very moment you land in Moab (a transfer included from the nearest airport you choose to fly into) — with a bed to rest your head at Red Cliffs Lodge. Nestled by the banks of the Colorado River and cornered by towering Canyonlands and cliffs is this charming respite, that you'll find easy to call home. For the most part, when you're that deeply seeded in nature, it's a blessing coming home to a cosy cabin complete with a fireplace and tub. In true Southern hospitality, you'll never go hungry with the lodge's endless offerings of hot breakfasts, grilled meats, and a healthy supply of beers, lagers, you name it. Despite your circumstances in the middle of…well nowhere, you'll have everything you need at Red Cliffs Lodge — from a pool to a gym. And if you don't, well the lodge staff will make sure that's taken care of.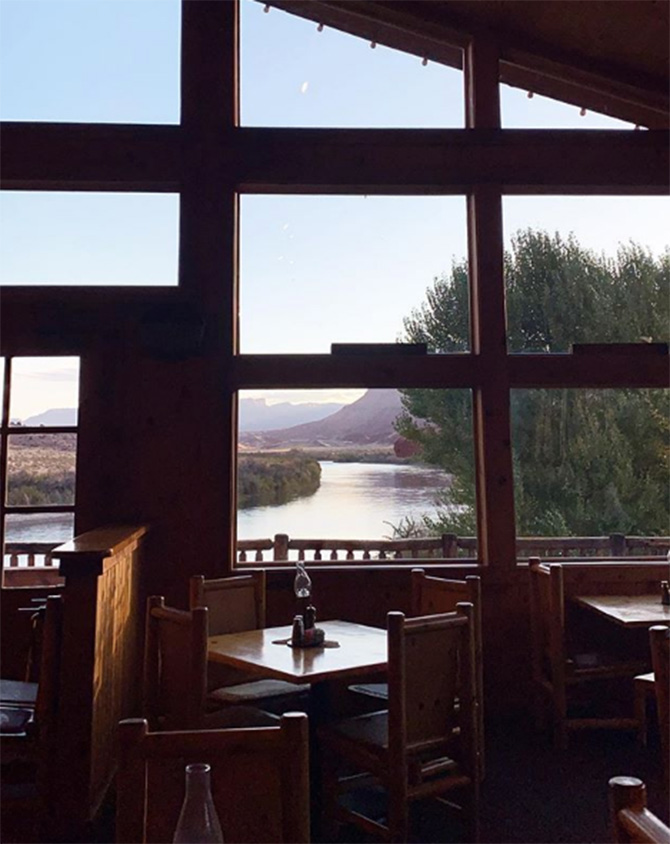 For any driver new to a 4×4, the adventure is totally safe and doable. But even if you have had ample life experiences off-road driving, that's not to say you'll be taken off the edge. The thing is, the routes to conquer in the experience are unexpected at every turn. The obstacles are different and demands focus, initituion, and an open mind in order to glide over the steep, sharp terrain here. What will surprise you will undeniably be the cars.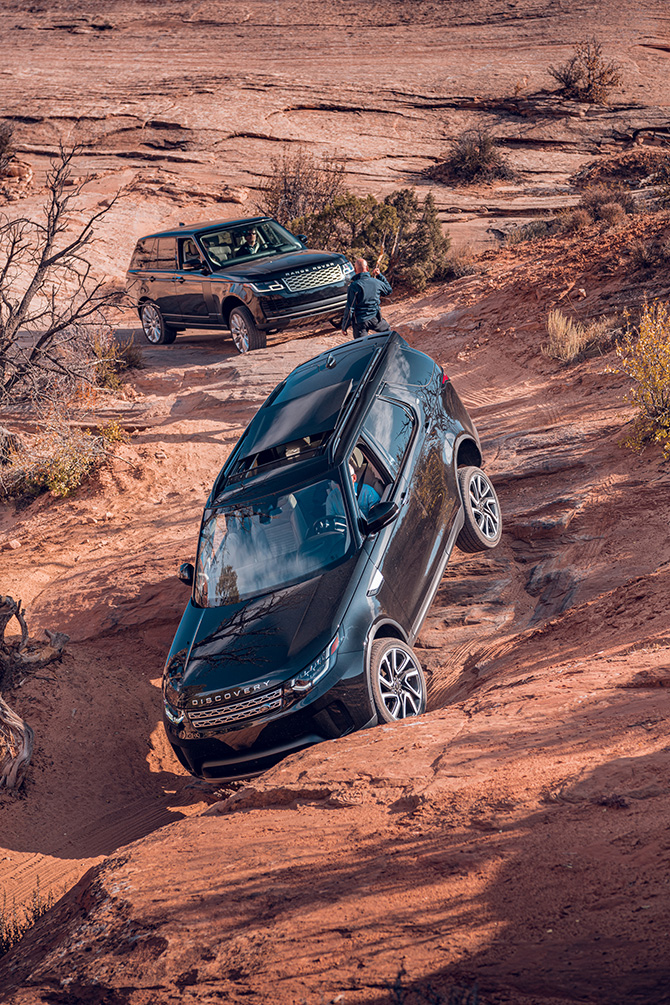 Off-road driving, whether it be in a Range Rover or Discovery automobile, might look physically impossible. Just because these cars are the same ones we cruise over highways, narrow lanes, and even the kind that ferries our kids to school. But once you're inside the vehicle, everything changes. The four-wheel-drive action is locked in gear — navigating through towering hills and bulldozing desert sand like the beast that is is. Then you realise, you're the real beast who's behind the wheel. And while you might be only going at two miles an hour — off-roading in a Land Rover is about "going slow and gentle" (quoting my instructor), the adrenaline is pulsating at full speed.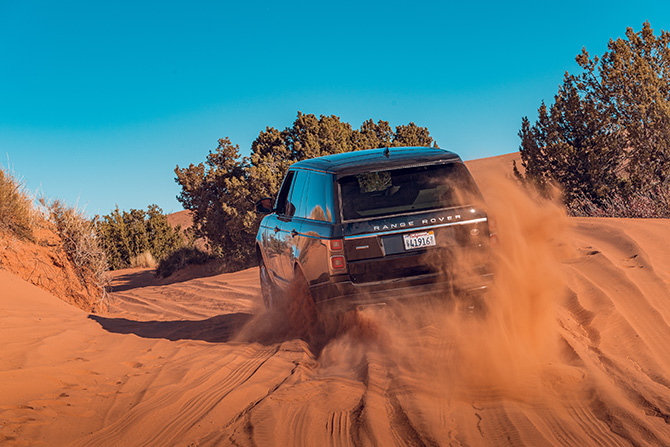 There's a certain satisfaction when you ease down a cobbly obstacle with minimum impact on your vehicle. How you know this is: No cringy scraping sounds of the bumper and minimal movement or audible screams from your passenger next to you. Another good indication is the look on your instructor who is the real MVP, walking on foot to guide your next steps. A crucial part of surviving the adventure is mutual trust between yourself and the instructor. Most of the time, his or her hand signals will be instrumental in making sure you miss that huge boulder right next to you or keeping you up to speed with the rest of the pack. They're also the key to assuring any frantic novice (i.e. yours truly) that everything is going to be okay. Fortunately, they actually mean it.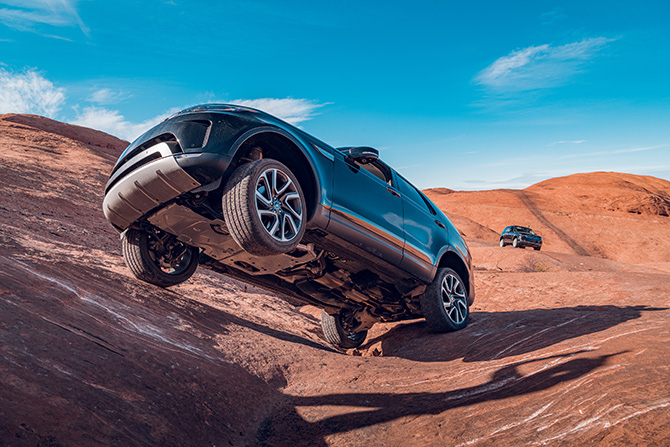 Having said that, there will be moments when you can't see your aide — at all. That when you're scaling a 45 degree hill — with the only things in sight being the bright blue sky and the roomy dashboard. In that scenario, the best thing to do is listen to advice prior to moving along and to trust your instincts. I did say a little prayer at some instances, and the reward was a solid hi-5 from my beaming instructor. And once the adrenaline wears off, everything feels surreal — from overlooking snow-capped mountains, chancing upon the stunning Colorado River, and enjoying a picnic spread from the vehicles' boots while admiring the view of canyons and canyons alone. It's a real 'pinch-me' moment when you find yourself stepping back to center ground — which is essentially the open desert. Safe to say, relieving oneself within a secluded spot in the razor-sharp shrubs here is another thrilling event in itself. Because when you think about it, you never know when a dirt mountain bike would swerve around the corner.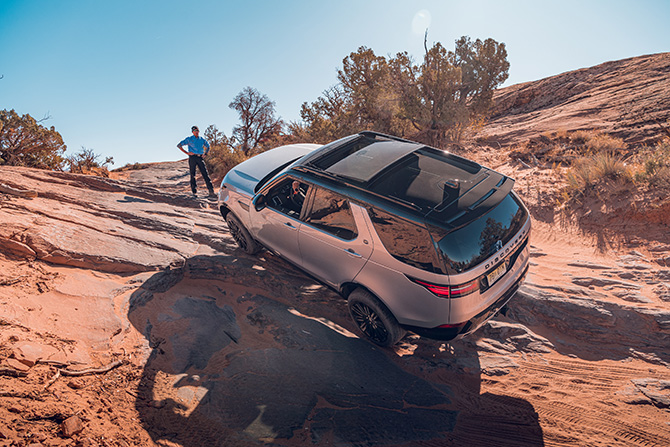 After a trip out like a Land Rover adventure, you take home a newfound self in your driving abilities — not because you didn't crash and burn — but you hit the sweet spot of control, pressure, and better maneuvering of the wheels. Shop talk aside, nights here end with roasted s'mores as well as live country music by the open fire. Now hand me a cowboy hat and a full tank of gas, and I might just be willing to camp out in the desert for a tad bit longer.
To book an adventure with Land Rover or to find out more, click here.