I've always held a comfortable and calculated distance towards the realm of K-pop. Only South Korea's behemoth multi-billion dollar industry. On the flip side, I'm well-acquainted with their alternative entertainment arm that is K-drama. Like many others, my obsession and admiration for South Korea's TV arena only grew over the years. Adept camera work, swoon-worthy love stories, creative reality shows, and actors that could emote immaculately whether you were a B- or A-lister in the business. Anytime you get attached to a certain drama, the world momentarily becomes a better place, and I found myself getting sucked into the vortex over and over again.
But K-pop. For the longest time, it was a line I just couldn't cross. And I couldn't get how the fandom was only spreading like wildfire and was puzzled to how people from my circle could blow a considerable amount of money on band memorabilia. Especially for idols who were supposedly engineered to look a certain fetching way with songs that sounded quite the same to me. Female idols were cutesy and male idols were prettier than me — so, hard pass. Even when groups like BTS and BlackPink recently soared to global influence, I have to say I was baffled by all their success. Nothing, not even the Grammy's or Coachella could sway my preferences.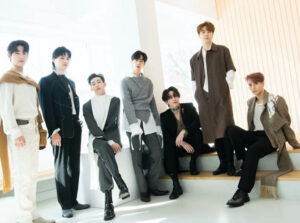 Things took a 180 last week, at a time where I was grappling with some bad news in the family that I discovered GOT7 on Youtube, out of sheer curiosity for one of the members who had a role on television. The first video piqued my interest, which I could either allude to the song or visual impact of seven dapper men in suits dancing in perfect rhythm. No resistance there, as I justified the septet as a global sensation — comprising of four vocalists and three rappers, with a long impressive history of seven years as a top-tier K-pop group. Within the group, the three rappers happen to be foreigners — Jackson, who's from China, Bambam, who's from Thailand, and Mark Tuan, who's from LA. Every member from GOT7 owned an individual sound, each with a distinctive voice and brought a different facet to the entity. The intersections of moulding rap, R&B, pop, and EDM in their songs were fascinating, while bearing strong resemblances to the sounds I was captivated by when I was 11 and had the posters of Backstreet Boys plastered up on my bedroom wall. 
Soon, video recommendations started pouring in, and while I was cautious at first about tainting my Youtube algorithm, that fear quickly went out the window by day two.
Day three was diving into the history of the septet, only to find that at the beginning of this year, they announced their departure from the entertainment giant, JYP after seven years since their debut. That realisation was bittersweet with the group assuring their fanbase (affectionately named IGOT7 – ahgase in Korean) that this did not mean a disbandment, but rather a new beginning for all members. A statement that the fans desperately needed, especially with all seven of them having already achieved successful solo careers on their own and in a climate where K-pop groups were privy to the seven-year curse, which stipulates the period of the contract with their agency. Scanning through the comments from the fanbase, it was heartening to see an outpour of support, while gaining more context to the septet's questionable history with being neglected by their former agency. After news broke of their departure from the agency, the boys bought over their rights over the name GOT7 from JYP, with the leader Jay B stepping up to sort out agreements with the members' new companies —  now with all of them diverging into separate agencies — all to make sure GOT7 could still remain intact. I felt a strange sense of calm and attachment while taking this piece of news in, and it was then that I could finally admit that I was officially invested.
Day four was poring over seven years of discography that I missed out on while sleeping on them. And boy was it illustrious — with a total of five studio albums, 22 singles, and a good handful of reality shows and variety show appearances.
On live stage performances, they were electrifying and seemingly untouchable, but on the other hand when it came to reality shows, the boys' individual personalities shone through, letting on an unfiltered side to a K-pop idols that I haven't quite seen before. As fans would know, the septet's interviews are often chaotic, filled with inappropriate slips, and are mainly about them dissing and being annoyed at each other. Which is exactly what is most likely to happen when you put seven boys — of differing characteristics and cultures together. Unlike the stoic, collected, "squeaky clean" image that South Korean entertainment stars often put across, GOT7's authenticity made it easier for fans to understand each and everyone of them. Throughout the seven years, they've been refreshingly vocal about their internal arguments, stating how close they've grown through conflicts and even upfront about frustrations regarding their songs being remixed and some singles overlooked by their management. 
Day 5 was when I discovered jargons like 'bias' and 'wrecking my bias'. You use it when you have a favourite in the group before another member starts ruining it by being your new favourite. Just from the comments on Youtube, I picked up so many individual quips from the boys, learnt so much about the production of each song, and connected with other fans all over the world. At worst, the unravelling of the septet's history can be seen as my own way of escapism, but at best, it is a cathartic release that I'm planning to hold onto for as long as I can.
Day six was swearing my undying support for the group that I had only known for less than a week. I was thrilled to discover their last single, 'Encore', which was their first one after they announced their departure from JYP Entertainment this year. Written and co-produced by one of the members, Jinyoung, it is a pop-R&B track specially dedicated to their fanbase. It was a promise to the aghases that while it might be a long time before we see an official comeback from them, they expressed that the group would still remain together, with lyrics stating "we can continue to do it, now comfortably". In comparison to their previous music videos produced under the wealthy hand of JYP, 'Encore' was stripped back — with honest lyrics, featuring barefaced members recording and hanging out in a recording studio owned by Jackson Wang. Even as Mark Tuan jokingly stated how the video was "low-budget", the effort from the group was largely significant in the history of K-pop groups, which only cemented their affirmation to remain together, despite solo careers skyrocketing from each member. 
It's pretty evident that my serendipitous experience is very much personal and one-sided, and everyone else probably holds their own testimonials with their favourite K-pop groups. But I now hold a newfound appreciation and understanding for the entire fandom — regardless of whether you're fond of TWICE or Super Junior. While I haven't exactly levelled up to the point of reciting GOT7's fanchant, best believe I would easily nail it on the day where I finally get to see them live.