The first time we were acquainted with the sound of Gentle Bones (i.e. Joel Tan), he was only 19. Yet, songs like 'Until We Die' and 'Geniuses & Thieves' unearthed a deeper meaning to the singer-songwriter. His sound was quiet, alternative, yet held sorrowful vocals that hinted at a host of emotions bubbled under. Yet, even as he quickly rose to fame after his debut, there wasn't an urgency to release an album. Instead, Gentle Bones took his time to learn about the different facets of music. Now, 27, after 8 years since his debut, he releases his first album, self-titled, Gentle Bones.
"I think creatively as an artist, I was trying to experiment with many different genres at first. I was always interested in new genres and new types of music as I created music as well. I kind of create in the way I consume, and first delved into experimenting with a lot of different sounds. I started with folk-pop music, made a jump to R&B and electronic music and I think in the middle of that, a huge passion for electronic music and production took over so I was very interested in that. Discovering how sound design and musicality played a big part in making electronic music sound great took up quite a bit of time, because initially I started with an acoustic guitar. There were also other practical reasons like budgets and timelines where I wasn't able to gather the sufficient resources. But thankfully with the help of producers and other artistes, we were able to pull something significant together."
View this post on Instagram
His first fans would notice that the sombre, tortured narrative we first heard 8 years ago, is of yesteryear. The Gentle Bones of today, is lighter, more upbeat, and seemingly happier? Well, true enough. Tan is elated and proud for this release."It's the first time that I feel like I'm genuinely creating something that I feel is missing out there. The first time I'm making music that is intentionally meant to be positive and uplifting. Hopefully, it gives a new perspective on how I want my music to be heard. I guess it's up to the listeners to what they extract out from the album, but I'd like to be able to just bring some joy. At the same time, I want to personally create a landmark for my musical journey."
Despite the wait for a debut album, Gentle Bones kept up with producing singles and expounded to collaborative tracks over the years, that gradually unveiled a different side of his music identity. "It is a natural choice that I work with many artists that I really respect. Before the album, I worked with Joie Tan, Charlie Lim, Gareth Fernandez, and we came together with no expectations of what the music should be. It allowed us to create something that we both enjoyed and once we reached a mutual consent of the song being cool enough to release, it naturally became a song that was well done."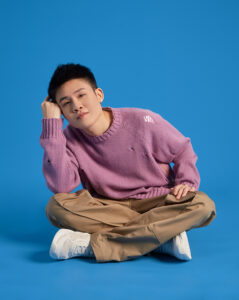 I'll be honest, 'Until We Die' was the first song that got me curious about local music. How different is Gentle Bones in 2013 and Gentle Bones now?
Thanks for enjoying 'Until We Die' and allowing that to open the doors to local music for you. In 2013, I was 19 years old and now I'm 27 so there's definitely a significant amount of growth there. As an artist as well, just learning about different facets of music, not just from the production and musical songwriting side, but also all facets of the music business from management to marketing and all that. I think it's quite a holistic process, which I've been constantly dabbling with — the importance of not just creating a good product but also being able to factor in the consumer experience and the way it is presented and delivered. That also plays a huge role in how the music is perceived. At the end of the day, I see my music as a form of entertainment and a form of service, in the sense that music should be a joy for others to consume and that's what I've been constantly trying to improve on.
There's a more playful side to Joel Tan in this album, as we can see from the music videos. Do you resonate with that Joel or is that something to suit the album?
I think it's mostly to do with growth. The way I'd like to expand my artiste identity is more towards putting out stuff that is more uplifting and in a more positive direction so I think that plays to that as well. I'm glad you see it as playful. I think, as with all forms of art, it's very important for the ones creating it to enjoy themselves because it conveys that experience to the listeners. I've found that enjoying the creating process and really getting to a space of pure joy in creating first, always ends up benefiting the music. It's a process that I've developed and learned along the way from many different people.
If you had to choose, what would be your favourite track off the album?
My favourite track would be 'Better With You' with Benjamin Kheng. I think it's a really great song. I've looked up to Benjamin Kheng for a long long time and coming together to create something, like I said, two minds coming together is always better than one. I feel like it allowed us to kind of distill our own struggles and our own experiences and ideas, and making it into a song, which I feel is uplifting and encouraging for the consumers and the listeners outside of ourselves.
View this post on Instagram
How do you think the local or regional music scene has changed since your debut? 
I think it's grown a lot. Like you said, 'Until We Die' opened the door for you to get curious about local music and I think a lot of artists have done that to the local music scene as well, with their various song tracks. As a young country, we are still very much developing the music industry with major strides over the past decade, at least in terms of how the Internet has assisted us in reaching out to the rest of the country and outside of the country as well. Many great acts have done many great strides inside of Singapore and I think it all comes back to benefit everybody as a whole. A good example would be, Clara Benin, who is a Filipino artist that I've collaborated with, gamaliél, who is an Indonesian artist, Benjamin Kheng, and myself. We really came up because YouTube gave us the metaphorical trampoline to jump to greater heights so I think I foresee more of that happening through the Internet, and I think we'll be in an even better place as we go along.
Gentle Bones is now available to stream on all digital platforms.