It's hard to pinpoint why my love affair with Louis Vuitton first started, but I can never forget the moment when I knew it would be ever-lasting. 
It was December 2015 and my parents asked me what I wanted for Christmas. I stumbled and stuttered over my words, before finally asking them for a couple of hundred dollars as cash investment. I'd be using it to top up my slowly, but surely collating fund for my dream designer bag: the Louis Vuitton Speedy 30. Part-practical and part-glamour, the tote was the embodiment of all things corporate yet chic for me, and I'd been pining for it since I'd seen it on the desks of my most fashionable colleagues, a year before.
The next morning, my parents left for a wedding in another city, leaving my sister and I in the care of my aunt and cousins. They called to check in (as all Indian parents do once every two to three hours when out of town), and my aunt summoned me over to the living room. My father was on the phone. His voice danced excitedly on the other side of the receiver, as he said to me:
'Listen, I've left all the money you need for your Louis Vuitton bag with your aunt. You never ask for anything and you've always wanted this. Go and buy your dream bag. I love you.'
Hours later, my tear-stained eyes watched with nothing short of pure joy, as the Louis Vuitton attendant monogrammed my initials on to my new purchase in-store. I felt the butterflies in my stomach float from side to side. It was no longer just a whimsical handbag I'd craved to own for years, but one of the most sentimental pieces of my wardrobe. From the moment the brown paper packaging touched my hands, my Speedy became not just a symbol of style, but a warming memory of the special relationship between me and my father. A memory I've kept inside my love bank since that day.
From December 2015 to today, my Speedy and I have travelled the world together and seen many-a-place, from the aisles of planes to the hotels of New York to the streets of India. It's been my fixture of luxury, love and home wherever we've ventured – just big enough to carry my dreams and just small enough to fit between the cabin drawers. It was the bag I moved to Singapore with and the bag I took to my very first job interview. It's the bag I took on my first date and the bag I took to work on my first day at Buro. It's been the companion to all my Sex and the City dreams – a kind of personal interpretation of the sisterhood of the traveling pants if you will.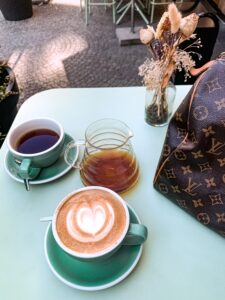 As the years have passed, I've also learned to appreciate the immense craftsmanship that goes into a bag like my Speedy – a notion I couldn't really grasp when I first purchased it. At one time, where my desire for designer came from a lust for showmanship and coveting a 'fashion status' (we can be honest on this platform), it's taken me seven years to truly discern the quality, durability, labour and skilfulness of my cherished handbag. 
Recently, (in what truly feels like a full circle moment) I was cordially invited to a virtual tour of the Asnières (the gallery of Louis Vuitton) in Paris. The behind-the-scenes intimate experience of the Louis Vuitton house was hosted by the rather dashing Benoit-Louis Vuitton, the great-great-great grandson of Louis Vuitton himself and the 6th generation to represent the brand. Though digital, I was still left mesmerised by the immense heritage, history and haute couture of the home, which felt both like a museum of fashion's finest, but also like a loving abode of memories. Built in 1859, the family house in the northwest of Paris also doubles as a workshop for many of the bespoke trunk and luggage pieces created globally today.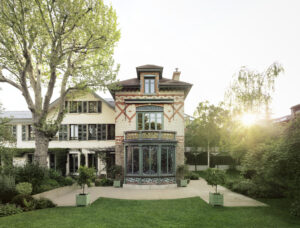 Embodying the future Eiffel-style architecture of the time, Asnières is the heart of the Louis Vuitton savoir-faire, and continues to thrive, producing many of the House's most iconic creations including leather goods and hard-sided designs. The home is both a visual delight and historic snapshot of the clever courage and vision of Louis Vuitton himself, who also positioned the property to be along the river Seine, for easy access to the transportation of wood by ship and boat, and then through later years, railway.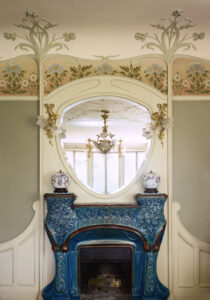 In the 160 years since its creation, the gallery also boasts some of the greatest evolutions of fashion the House has seen over decades. It was only in In 1896, when Louis' eldest son Georges-Louis Vuitton, designed the coveted Monogram we see as the brand's iconic signifier today. Created in honour of his late father, the logo with its interlaced initials, encircled, rounded flower and four-petal flower encased in a concaved diamond, has come to symbolise the essence of the brand in every way, be it through its legacy pieces or contemporary icons.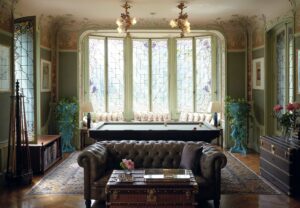 As Benoit recounted tales of his playing in the beautiful gardens of the property as a child, and walked us through the home, everything from the stained-glass windows to the wall decorations to the preserved furniture echoed back moments of sentimentalism, family and times shared together. The home is preserved not just for its history, but for its legacy and the immeasurable value it carries in the hearts of those who have lived in it through the years. The generations of care, respect and loyalty became more and more apparent as we unlocked each new door and left me with an impassioned desire to visit the space on the first VTL flight I could get out of town.
And that perhaps, for me, is what makes my whimsical affair with Louis Vuitton an ever-lasting one. Through every moment that we walked through the virtual halls of La Galerie in Asnières, I felt that same sentimental feeling that evokes inside of me whenever I carry my Speedy and the immense surge of gratitude I feel for my family and my father. For what greater luxury is there today, than that of cherished, unconditional love? 
To find out more about La Galerie in Asnières and how to visit, click here.