Fashion
Five standout looks from Givenchy spring/summer 2022
Matthew M. Williams's first live runway show for Givenchy
Creative director Matthew M. Williams took creative reins at Givenchy at quite an unfortunate time. His first show for the fashion house had to be shown digitally — in fact, it was just a lookbook of images — before a more immersive but still audience-less autumn/winter 2021 presentation. The Givenchy spring/summer 2022 runway show felt like a proper debut and one that didn't really disappoint.
As with the rest of his peers (namely Louis Vuitton's Virgil Abloh and Dior Men's Kim Jones), Williams tapped on a couple of collaborators for the collection and show. American musician Young Thug scored the entire show with previously unreleased tracks as well as new songs that are set to be part of an upcoming album.
Artist Josh Smith, on the other hand, had more of a hand in the spring/summer 2022 collection. "Matt showed up in my studio and we started cooking together…we made some delicious things. We burnt some stuff and that tasted good too. Matt took a to-go bag back to Paris and shared all of this with his sharp creative team," Smith shares in the show notes. The result of that collaboration resulted in the more interesting parts of the collection.
Williams isn't typically known for his colourful collections, but Smith's artworks (mostly translated into prints) informed the infusions of a range of pastels to deep hues for spring/summer 2022. They didn't seem forced into the collection but rather, an evolution of the signatures that Williams began putting in place since his very first for the house. And often, grounded by the creative director's favoured use of blacks.
There was a bit more deviation from that hard, utility-driven aesthetic that Williams is known for. Experimentation came in the form of bridging tailoring with new materials, techniques and treatments to form more modern interpretations of classics. Womenswear especially, was fluid and soft before being juxtaposed with more masculine elements, but still exuded a sense of sensual femininity. There were traces of Riccardo Tisci for Givenchy too but they were more of archival references than bringing back what worked then.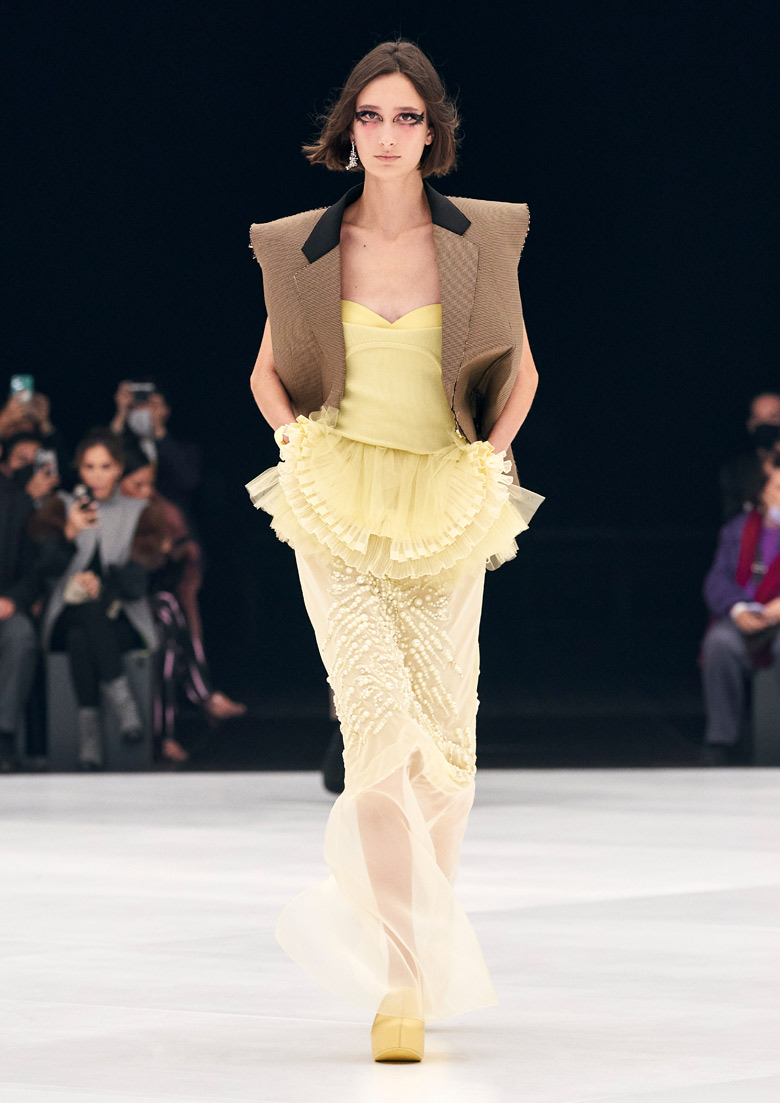 What: A raw-edged tailored vest (possibly bonded with neoprene) worn over a knit top and embroidered skirt.
Why: Strong, structured shoulders are always a plus. Here, they're juxtaposed by the fluidity in that beautifully embroidered and super femme skirt. But once again, still powerful and modern.
What: An updated version of a suit that decorated with textural contrasts as an example of Givenchy's craftsmanship.
Why: There's something simple but at once so technical about the look. And those pumpkin orange tights-boots hybrid was the perfect complement to the entire ensemble.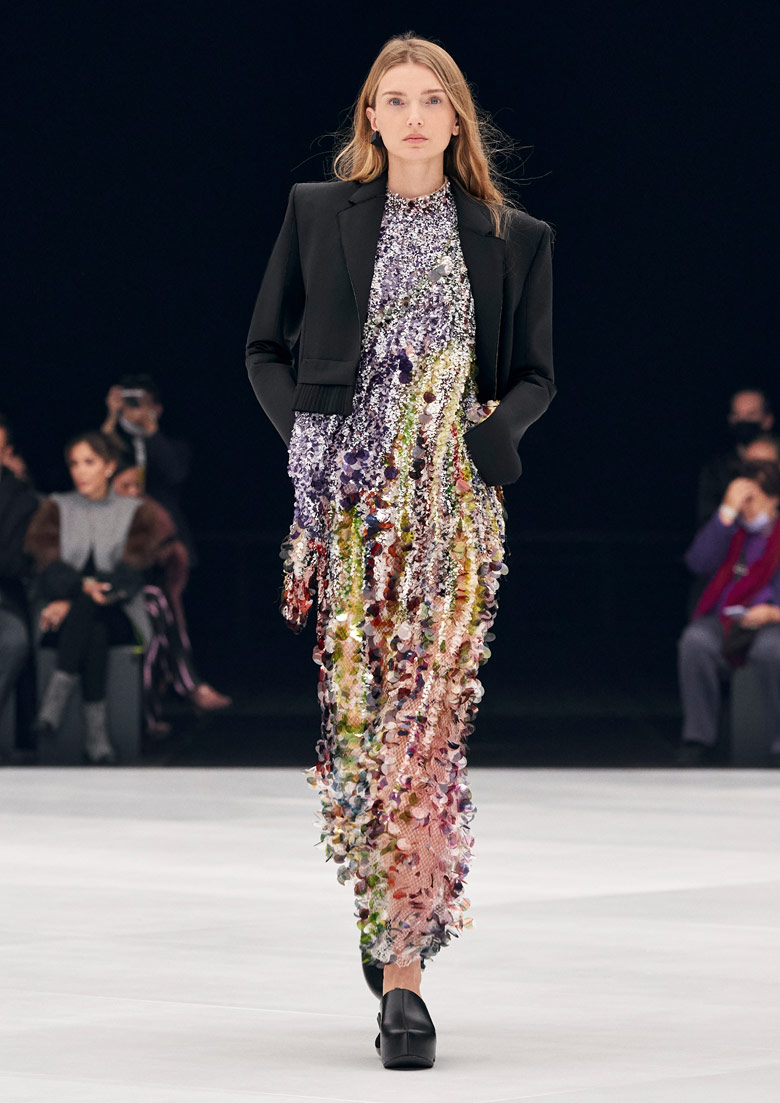 What: A fully embellished dress paired with a cropped blazer.
Why: Hands down my favourite look in the entire collection. The way this moved on the runway was such a sight — like a constant noise distortion of the body that seemed so surreal. Stunning.
What: One of the Josh Smith-incorporated looks that consist of a blazer, a slashed up crew neck jumper worn over an inner layer and finished off with patent leather boots.
Why: This look balances Williams's signature aesthetic wonderfully with the addition of that asymmetrical layer for something that breathed a bit more life and personality to the entire look.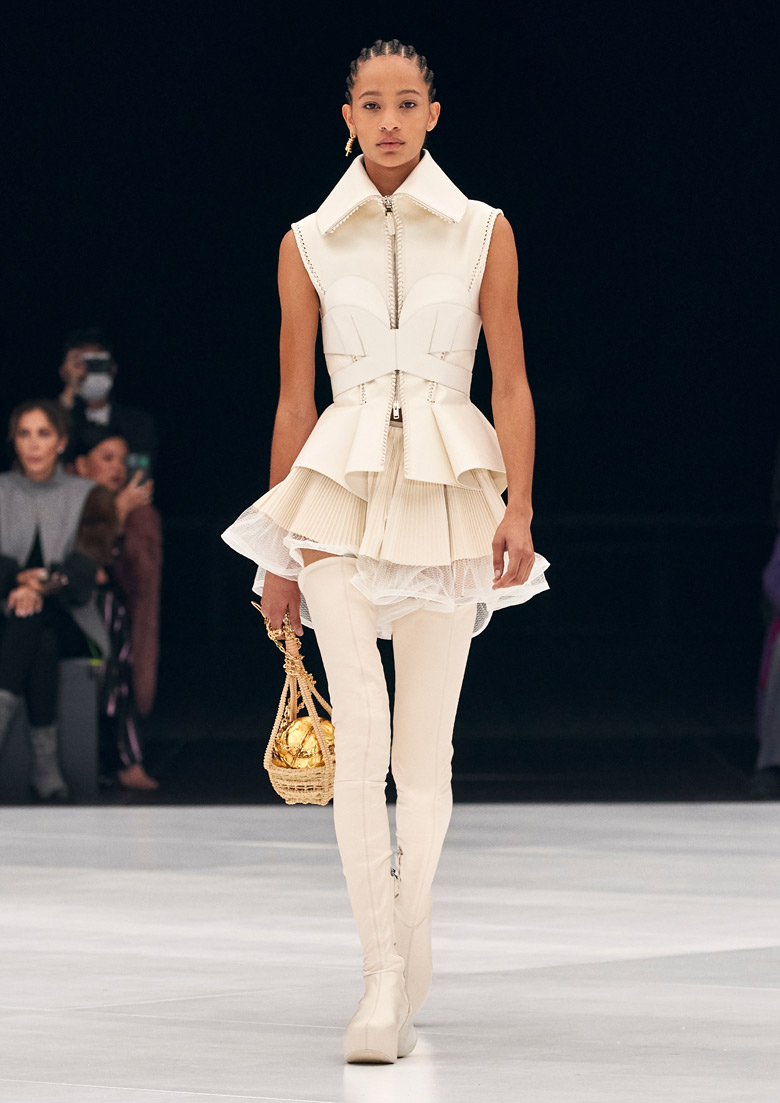 What: An all-white combination of a collared vest layered below a bustier piece and worn with a multi-layered mini skirt.
Why: I can't stress enough the allure of a head-to-toe white look and this is one of the best in the entire collection. The bottoms in this collection are easily one of the highlights for me, and here, the skirt gets all the attention while still remaining a cohesive part of the entire look.
Scroll the gallery above for the full Givenchy spring/summer 2022 collection.